Kaohsiung (高雄), the second largest city in Taiwan, was the fourth major city I visited in Taiwan. It's basically a large boring city, with some attractions thrown in.  Fun fact: Kaohsiung used be known as Takau (打狗 – literally, beating the dog).  I want to be a fly on the wall at the city hall meeting where they decided to change that name.


Zuoying (左營) Old City and Lotus Pond – aka Temples on a Lake
A bit away from Kaohsiung city center is Zuoying Old City, which was absorbed into Kaohsiung over the years. It's got its own architecture, foods, and whatnot, but for all intents and purposes, the entire place is a bunch of temples on a lake.
Lake view:


Temple #1: Cingshui Temple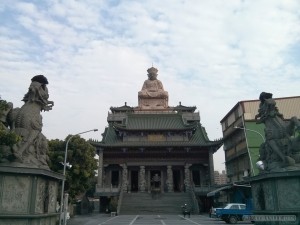 Temple #2: Dragon and Tiger Temples

Great view, from the top of the Tiger Temple:


Temple #3: Spring and Autumn Pagodas, Goddess Riding on Dragon

Temple #3.5: A guy fishing from the Spring / Autumn Pagodas (seriously?), with the City God Temple in the background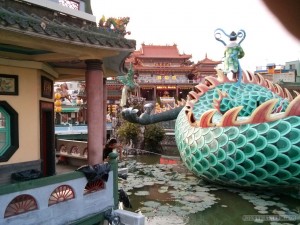 Temple #4: Yuandi Temple (Zuoying Damiao)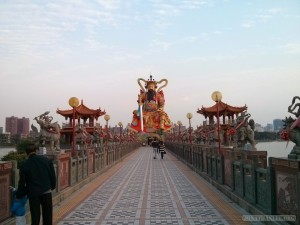 Temple #: another temple.  Before I discovered the HDR feature on my phone camera, I was unable to take good photos of dark objects against a light background.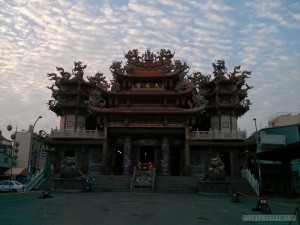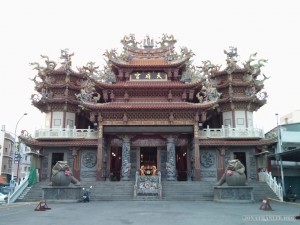 In summary, it's a lot of temples. Also, swarmed by mainland Chinese tourists.  The sunset on the lotus pond was pretty good, though: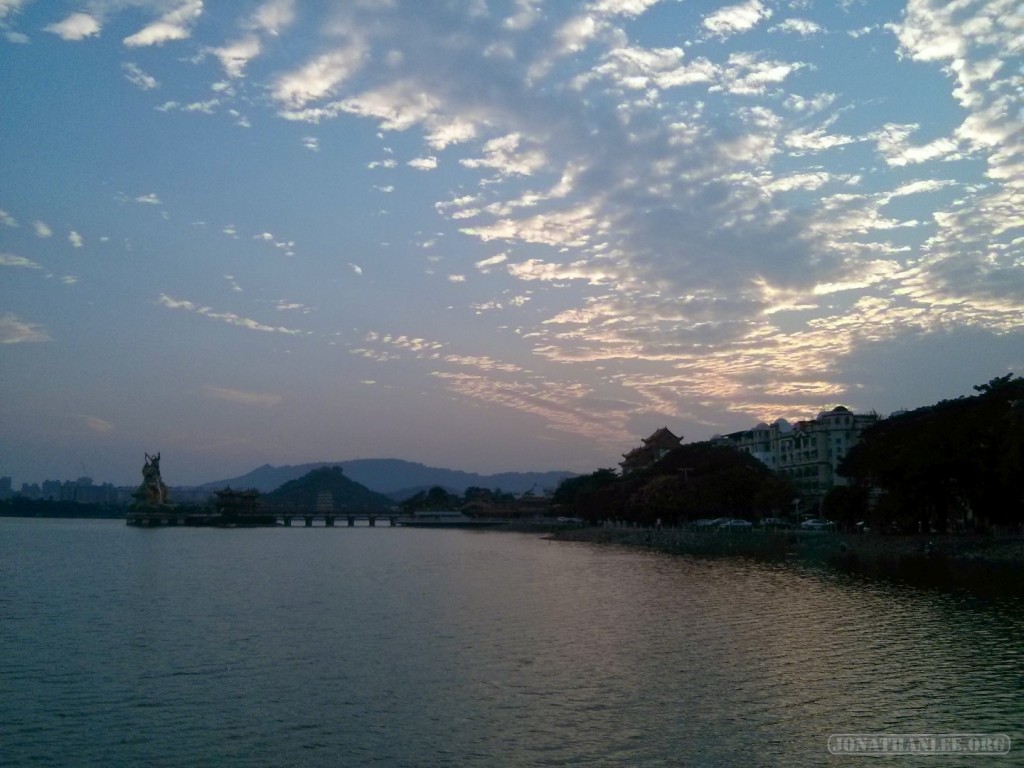 Love Pier: An unremarkable pier near the ocean – unremarkable, except that it is quite secluded and dimly lit, and so attracts a whole bunch of couples every night. Also, it has a decent view of the downtown Kaohsiung cityscape.

From Love Pier, you can see 85 tower – the highest building in Taiwan until the Taipei 101 was finished.  I visited, found it rather boring, and declined to go to to the top.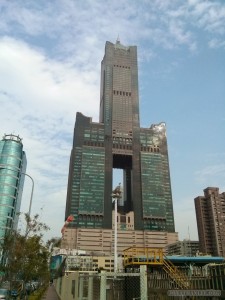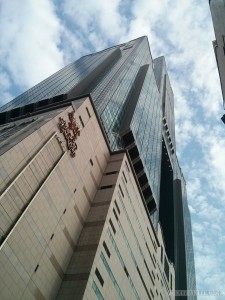 Pier 2 Art Center: A collection of art galleries along the sea, most of which required admission tickets. I wasn't interested in any of the galleries though, so I just wandered around some of the public art sculptures outside.

Now that's a creative No Parking sign: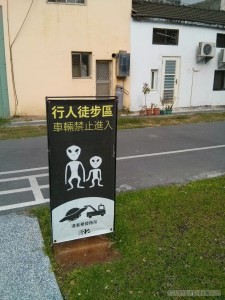 British Consular Residence at Dagou: an old British consular, turned into a tourist attraction. Historical models of British interactions with Taiwan – old Taiwanese vendors, and some Portuguese dentist (tooth puller).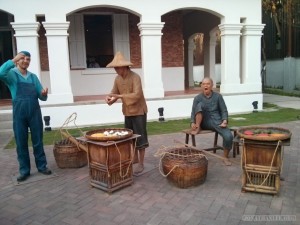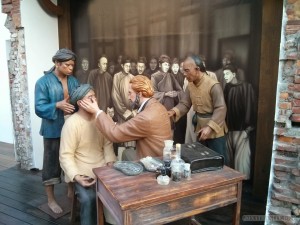 On a sadder note, this tourist attraction was completely filled with mainland Chinese tourists.  It really made me sad, seeing them spit everywhere in spite of their tour guide yelling at them not to do so.
Great views near the British consular:

Kaohsiung Martyrs' Shrine: Dedicated to the Taiwanese who have died in various wars and conflicts, the shrine itself is rather unimpressive, though informative.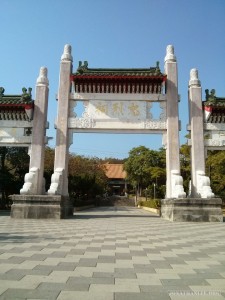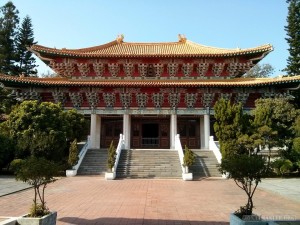 But since the shrine is the mountains, it's a great vantage point to see downtown Kaohsiung.

Cihou (旗後)- Fort, Lighthouse, and Temple: off the coast of Kaohsiung is Cihuo Island, with some historic sights – an (unimpressive) lighthouse, and an old fort, with a great view of the Kaohsiung nightscape:

There were lots of seafood for sale in Cihou.  Overcoming my apprehensions (the last time I had roast squid, in China, I got diarrhea for a week), I found it to be quite good.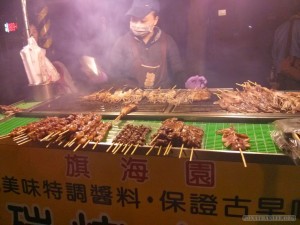 Tian Hou Temple – famous?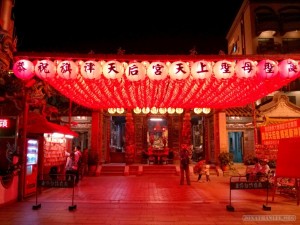 A view of Cihou island in the sunset, from the mainland: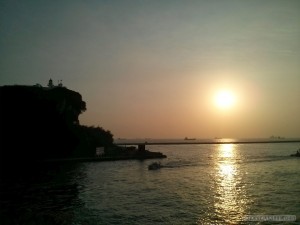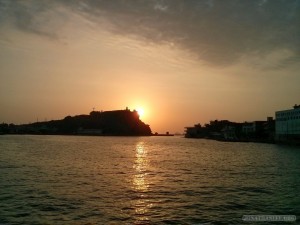 Night Markets:
Kaohsiung has the Taiwan's newest and largest night markets, Kaisyuan (凱旋) and Jinzuan (金鑽) . Unfortunately, it was not open during my stay at Kaohsiung, but I visited Ruifeng (瑞豐) night market instead – a local favorite, it was crowded, but filled with lots of delicious food.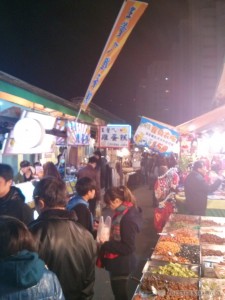 I also experienced the worst (most touristy) night market of all of Taiwan – Liuhe (六合). Nobody here but mainland Chinese tourists, with inflated prices, crappy food, and tourist-oriented tchotchkes. I stayed here five minutes, and left in disgust.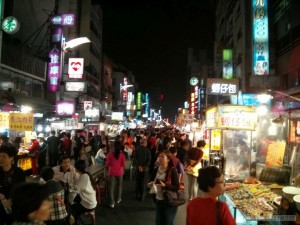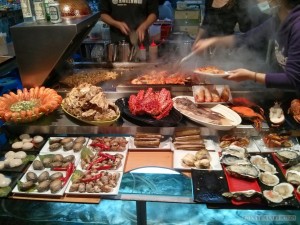 Bits and Bobs:
– I would advise future visitors to Kaohsiung to stay at the 5×5 Guesthouse – clean, modern, and with a very friendly owner.  While I was staying there, there was a dorm party and dinner!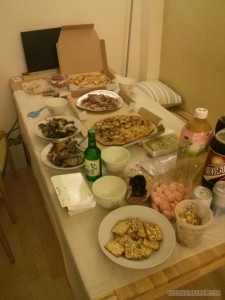 – The Dome of Light?  This is supposed to be one of the artistic attractions of Kaohsiung, but I wasn't terribly impressed.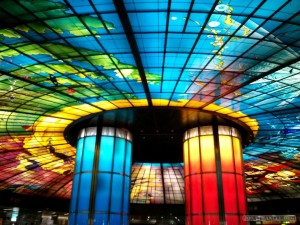 – Giant rubber ducky!  Or not.  Kaohsiung was quite famous for having a giant inflatable rubber duck floating in its harbor, a major tourist destination, but it was collapsed and taken away by the time I visited.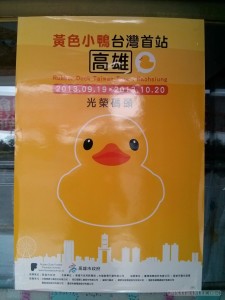 – A while back, somebody in Kaohsiung thought that the city should have a public bike rental program, like Taipei's U-bike system. But it doesn't quite work.
Strike 1: When you try to borrow a bike from the rack, after swiping your credit card, it takes a good 5 minutes for the machine to 'scan' and see what bikes are available. The bikes are RIGHT THERE, they're even CONNECTED to the credit card machine. What gives?
Strike 2: After sitting through the length scanning process, I select a bike, and have to push a button to pull it out. The button is broken. The bike cannot be pulled out.
Strike 3: Trying one more time, and sitting through another completely unnecessary scanning, I select a bike with a working button. And the bike is locked. See, somebody had the bright idea of putting a built in tire lock on every bike. A tire lock that could be activated at any time, by pulling out a key. A key that somebody randomly pulled out. Locking the bike for everyone.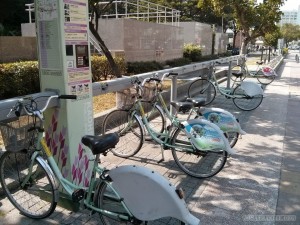 I walked and used the MRT for the rest of my time in Kaohsiung.