Kenting (墾丁) National Park (國家公園), on the southern tip of Taiwan, is a gloriously beautiful landscape, a symphony of water, wind, and earth. From anywhere on the Kenting peninsula, you can see the clear water all around you, undisturbed by heavy industry, great for surfing, diving, and banana boating. From the southeast blows a powerful trade wind, stirring up the waves and cooling the air. And a rolling, forest-covered mountain to complete the set. A glorious landscape, but unfortunately one that's been overrun by mainland Chinese tourists.



I stayed in Kenting for three days, renting a bicycle to explore the peninsula. Originally, I had wanted to get a scooter, but they required a Taiwanese driver's license of international permit, and I had neither. Alternatively, you could get an electric scooter, but I had heard too many stories of power running out and having to push the scooter back. So, foot power!
Little Bay, on the east coast: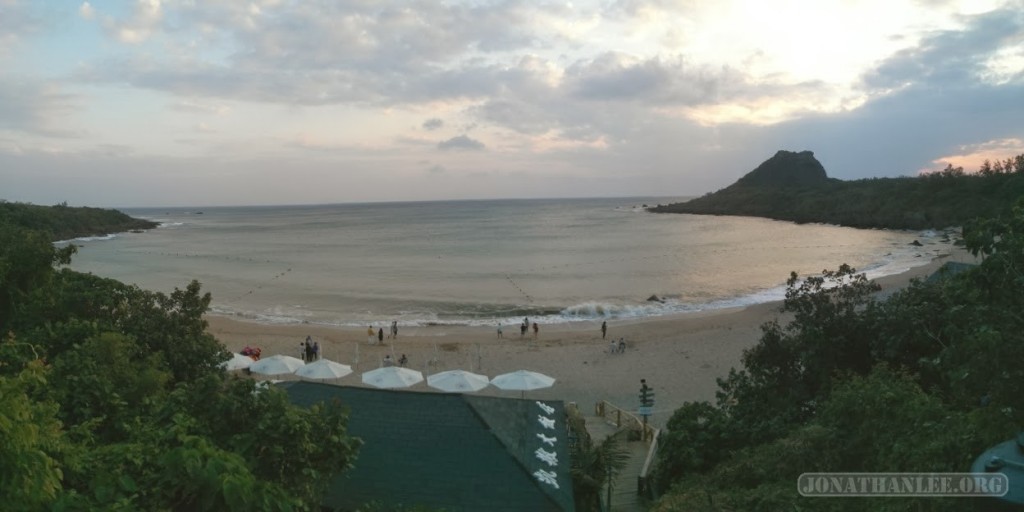 I pedaled this bike up Kenting mountain, huffing and puffing the entire way up the goddamn mountain.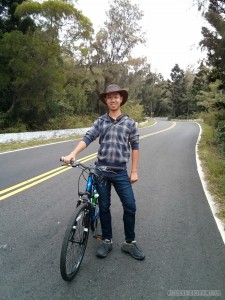 Kenting mountain had some pretty damn good views:

From the top of the mountain, Kenting National Recreation Center was pretty cool. It's got a forest trail (more of a highway, really), showcasing some curious natural sights.

Mangrove forest: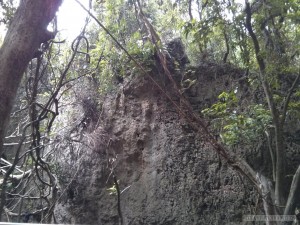 They also had a mini-cave, a great place to sit and think. Nestled inside the earth, there's very little noise of any sort. With no wind, no animals, no ambient forest noise, you can almost hear your heart beat. Sitting quietly, you can extend your senses, become fully aware of your entire body. Or at least, until the next set of mainland Chinese travelers arrive with their babbling.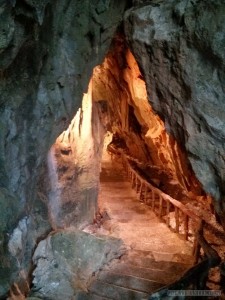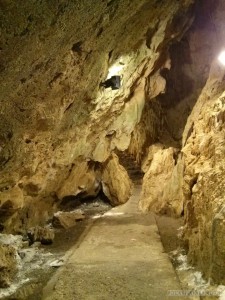 Oh, and the cave had these curiously shaped stalagmites/tites. This one is supposedly shaped like Buddha's ear, but I don't really see it.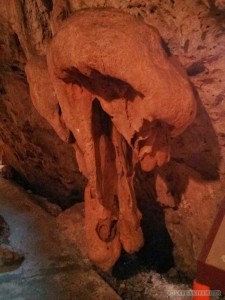 This place was called the Sea Viewing Platform.  Can you see the sea?

Desert plants and aquatic plants display: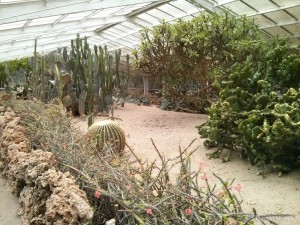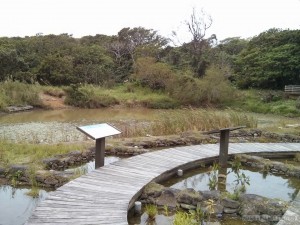 Kenting National Recreation Center also had a cool observation tower, from which you have an amazing 360 degree view of the peninsula:

Crossing over to the eastern side of the peninsula, I was treated to some amazing views.


I should mention the wind.  The wind at Kenting is insanely strong.  Riding against the wind is difficult.  Riding with the wind is awesome.  But when there is a strong wind coming from the side, it's the most annoying thing ever – you can't bike straight!  Once the wind gets strong enough, no matter how hard you try, you're always veering off on side or another.
Seriously, the wind was quite strong here – once, I was cycling downhill against a headwind, and the wind was strong enough to push me to a stop.  While going DOWNHILL!


There's this place called Fengchuisha (風吹砂 – literally, wind blows sand), with amazing views. Almost no sand though, it was all blown away by an earlier typhoon.

Oh, Kenting has surfing!  Pity I didn't bring my swim trunks or rash guard, but I'll have to try surfing next time I'm in the area.


Further north, I visited this place, Jialeshui (佳樂水), famous for its… rock formations? This one is supposedly… a model… of… Taiwan?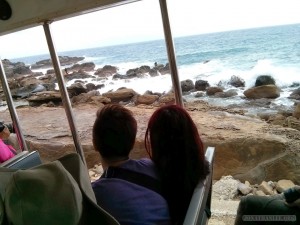 And this is a… frog?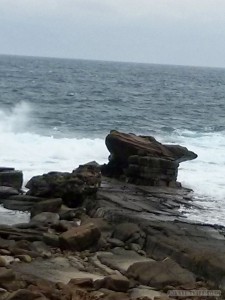 The strong winds here were really nice:

Finally, I biked down to the southern tip of Taiwan, where I saw the Eluanbi (鵝鑾鼻 – goose beak) lighthouse (overrun with mainland Chinese tourists), and the Kissing Rocks:

The scenery along the southern coast: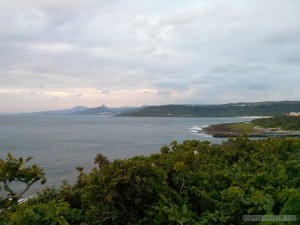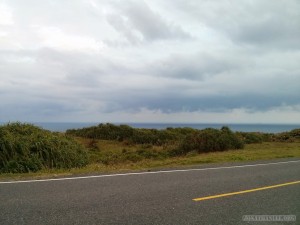 Also, the southernmost tip of Taiwan!

It then got dark, so I had to bike back to Kenting in the dark. It was actually a pretty serene ride, all things considered.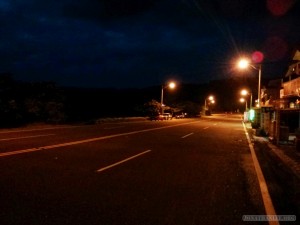 The next day, I explored the west part of Kenting.
Stopping by South Bay:

There was this place, Chuhuo (出火 – fire coming out), where natural gas seeps out of the ground, and a fire burning perpetually. Somehow, I expected a bit more than this: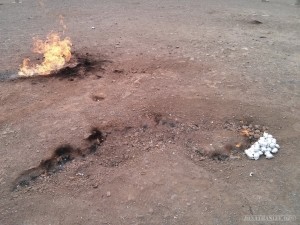 There was a guy roasting corn on the cob and eggs on the fire. The taste was great, but there was somewhat of a natural gas taste: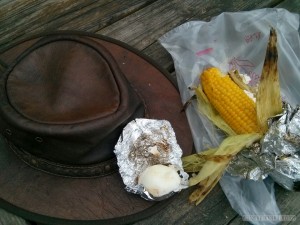 Hengchun (恆春 – eternal spring) Old City:

On the west side of Kenting, the views are pretty damn good:

The beaches are quite nice too.  Even in the winter, there's a good number of people.  This is Baisha (白沙 – white sands) beach:

I found an old bunker / pillbox! It was probably build decades ago, when Taiwan was preparing for an imminent invasion from mainland China.

There's this place called Maobitou (貓鼻頭 – Cat's Nose Cape) with great views of the coast.

It's absolutely flooded with tourists from mainland China, all posing and taking photos. Even monks!  Great job, taking photos in an area where signs tell you NOT TO GO.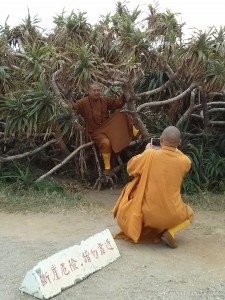 This is the supposed cat: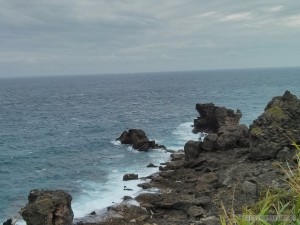 At this other point along the west coast of Kenting, near Houbihu (後壁湖), I got some great photos:

Amazing sunset photos, near South Bay:

I've noticed that I take a lot of sunset photos – they're quite beautiful, and there's no way I'm waking up early to take sunrise photos.
On a side note, the food options in Kenting are very much lacking. There's a night market, but it sucks – completely filled with mainland Chinese tourists.  When there's a pizza truck, you know it's not an authentic night market.

And I really got fed up with all the mainland Chinese tourists. While biking around the mountains, I stopped to use a public restroom amongst a horde of mainland Chinese tourists, and returned to find my water bottle stolen. One morning in my hostel, I left my toothbrush and toothpaste out on my bed, and found that they had disappeared when the one mainland Chinese guy in the hostel checked out. What kind of a person steals somebody's toothbrush and toothpaste??!?
Bits and bobs:
Hitchhike here!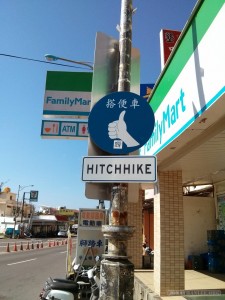 There's scuba diving at Kenting too – but instead of using boats to get out there, you simply wade out in all your gear.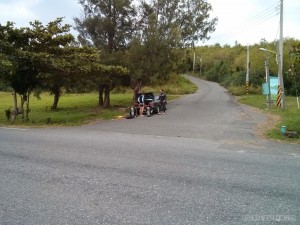 Surfing!  The waves looked pretty good.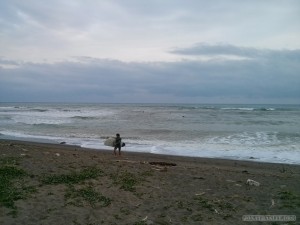 Shark bites toast.  I giant breakfast to prepare for an entire day of hiking: