Although Pai itself was pretty boring, it was well worth the visit – because upon renting a motorbike, I was able to travel to Pang Mapha, home of the Cave lodge and accompanying caves, as well as Mae Hong Son, a trekking town to the Western edge of Thailand.  It was an amazing couple days of motorbiking.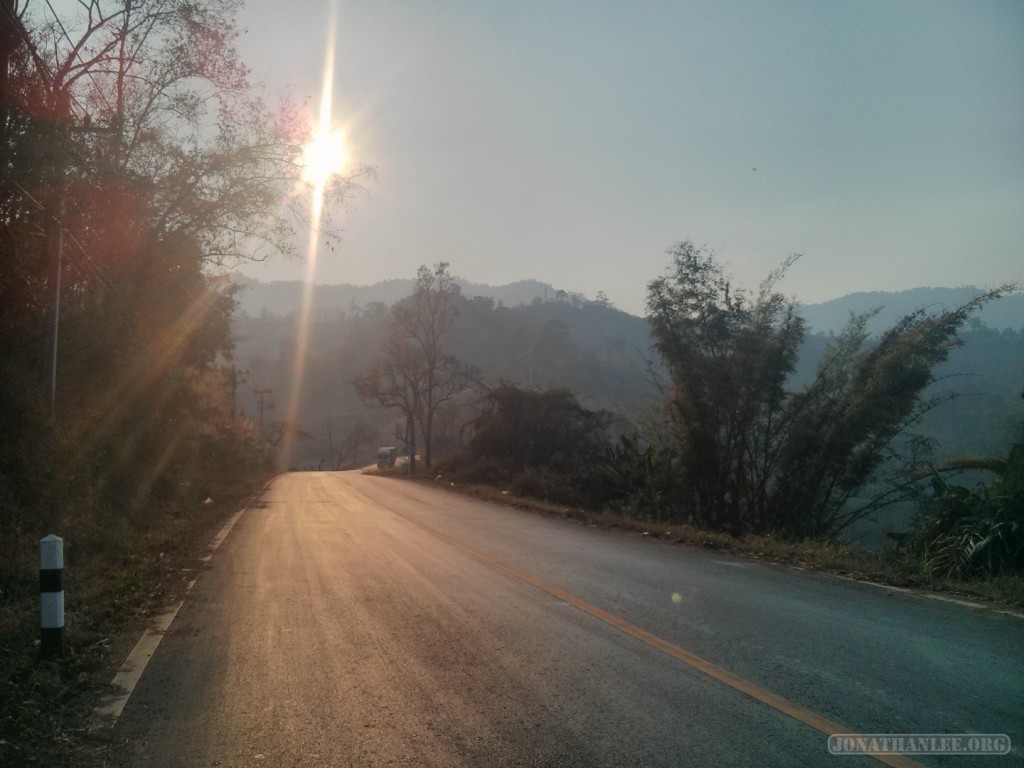 From Pai, I followed the wind and rode my motorbike to Pang Mapha, with my backpack strapped to the back, via two bungee cables.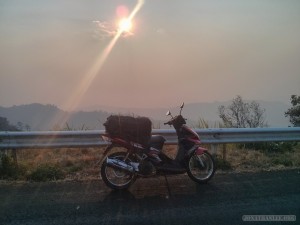 It's not a level road – you go up a mountain, and then down a mountain, winding back and forth.  At first I was quite scared.  Going up a mountain?  That's fine, my bike (actually a scooter) is powerful enough.  Going down a mountain?  That's not fine.  If I skid out of control going down a curve, I am screwed!


After a while though, I got quite used to the handling of the motorbike – and I'm proud to say that in my 4 days of riding, I didn't crash even once, even while riding all day in the mountains, even with my huge 15kg backpack strapped to the back!
The views from the ride from Pai to Pang Mapha were pretty amazing:
Once I go to Pang Mapha (2 hours of riding), I got myself to the Cave Lodge, one of the best lodges I have ever stayed at.  Let me tell you about the Cave Lodge.   This is what you need to know: it is awesome.  Set in the middle of the forest, near a river but elevated for flood protection, it's a perfect lodge for the backpacking solo traveler, the cave enthusiast, the wandering poet.
There's not many food options nearby, but the lodge makes pretty good food.  I especially loved their Shan (Burmese) food.  It's vegetarian, but awesome vegetarian – with eggplant?  I'm not sure what it is, but it's a bit spicy.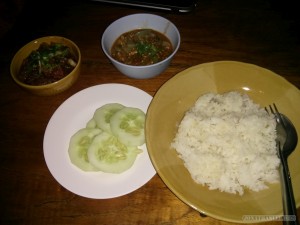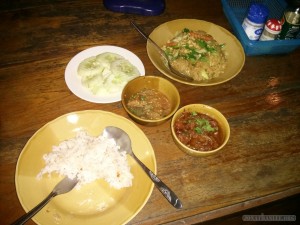 The breakfast at the Cave Lodge is pretty solid too: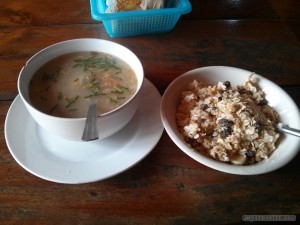 In Pang Mapha, I saw a Thai car wash – in a river! Or at least, a dammed river.  I'm not actually sure what was going on here, but at least one car was being washed: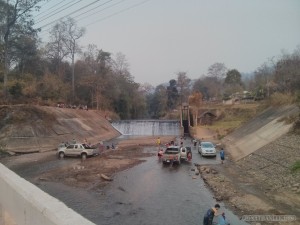 Something else I noticed was how common it was to see small forest fires on the side of the road.  While biking along the road, there would randomly be a small fire, and nobody would care.  Cars would just continue zooming on by!  I'm surprised I never saw any huge fires, only small ones.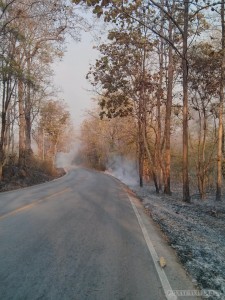 Asking the foreigner owners of Cave Lodge about it a while later, and he simply stated, "Thai people are pyromaniacs.  That is all."
From Pang Mapha, I went on a tour of the surroundings scenery.  It was quite wooded, quite hilly, and very scenic:
The neighborhood school was very fancy.  It actually looks a lot better than a lot of American schools I have seen…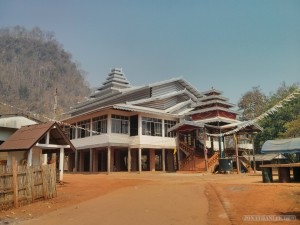 Oh, and while motorbiking around, I visited a Red Lahu village!  They are one of the smaller ethnic groups of Thailand.
When I visited, everyone was out… bowling?  The festivities were divided into two groups – guys, and girls.  Each group would set up a line of 'bowling pins', and throw rocks to kick them down.  I'm not sure what the rules were, but everyone seemed to be having fun, with the spectators enjoying the view under the umbrellas.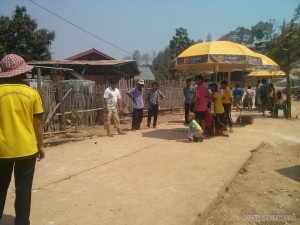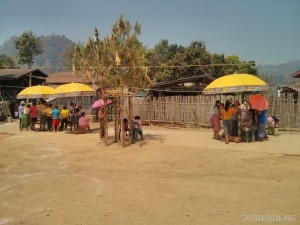 The village also had a very nice school:
And most interesting, the entire village seemed to be powered by solar panels!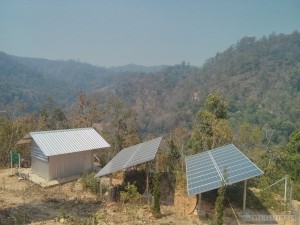 After finishing my tour of the Pang Mapha area, I returned to the Cave Lodge, and went on a caving / spelunking expedition!  This gets its own entry later!
From Pang Mapha, I continued on my trip to Mae Hong Son, a larger town to the western edge of Thailand.  It was another decent 2 hour ride – but straighter and less hilly than the route from Pai to Pang Mapha:
And much like the earlier ride, this ride also had some very nice views:




Along the way, there was (another?) Chinese village, as well as a lot of caves.  I heard that there is a cave along the way, with fish in a glowing (?) pond?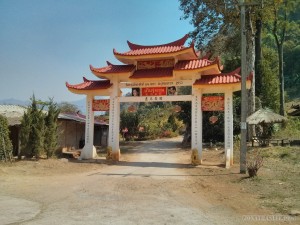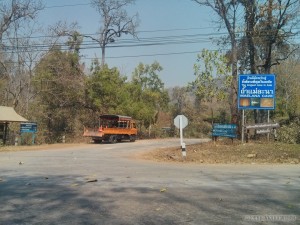 Oh, check out this sign!  Beware of fallen trees, fires, and deer.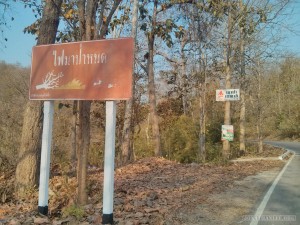 Anyways, Mae Hong Son!  Due to poor planning (having to return to the Cave Lodge before dark), I could only stay in Mae Hong Son for half an hour, but I visited the two big landmarks:
– Wat Chong Kham, a very picturesque temple on the lake: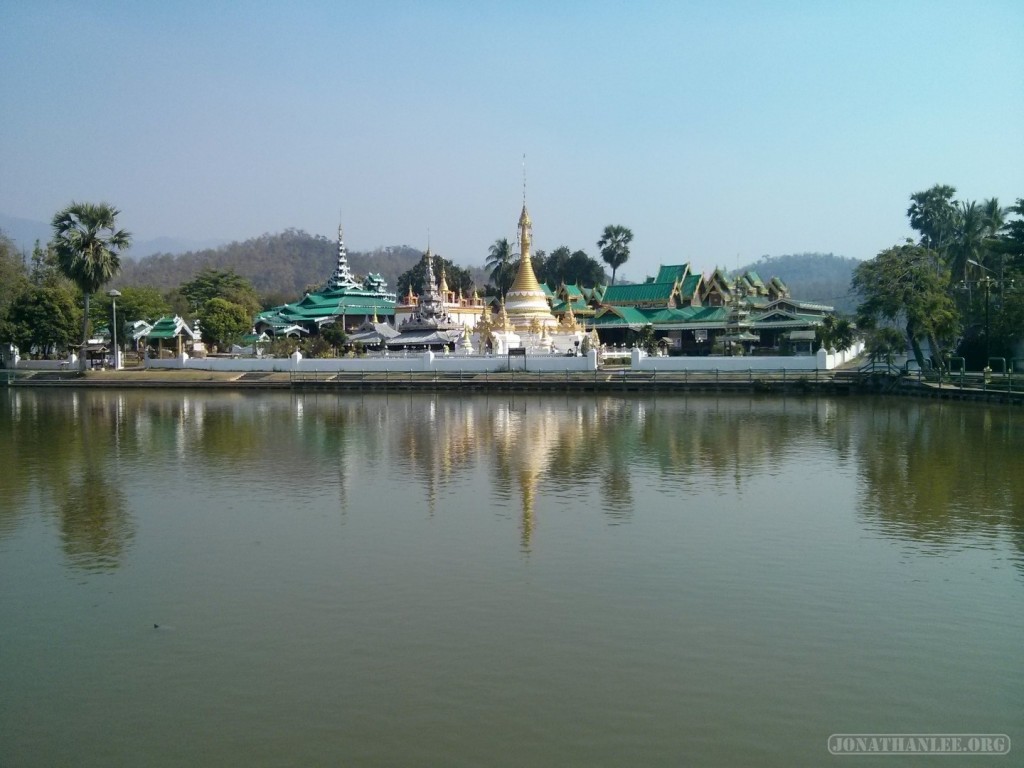 – Wat Phrathat Doi Kongmu, a temple on hill:
This temple had some pretty goodviews: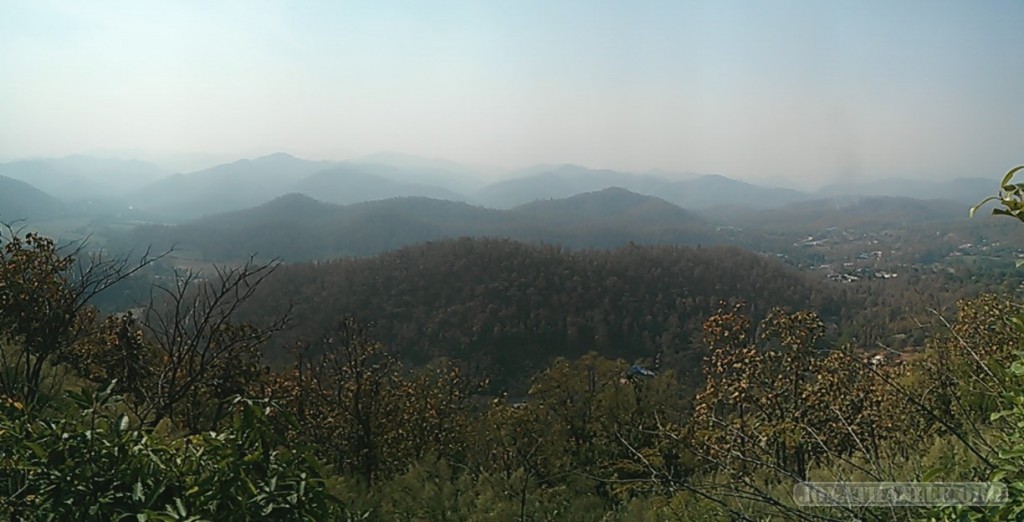 And with that, my motorbike adventure from Pai to Pang Mapha to Mae Hong Son came to an end.  But after having so much fun motorbiking around, I'm definitely going to do this again one day.