From Brisbane, I fell in with a Canadian couple who were traveling on a leisurely road trip from Brisbane to Sydney via the Gold Coast.
Meet Jesse (28) & Kristina (20)!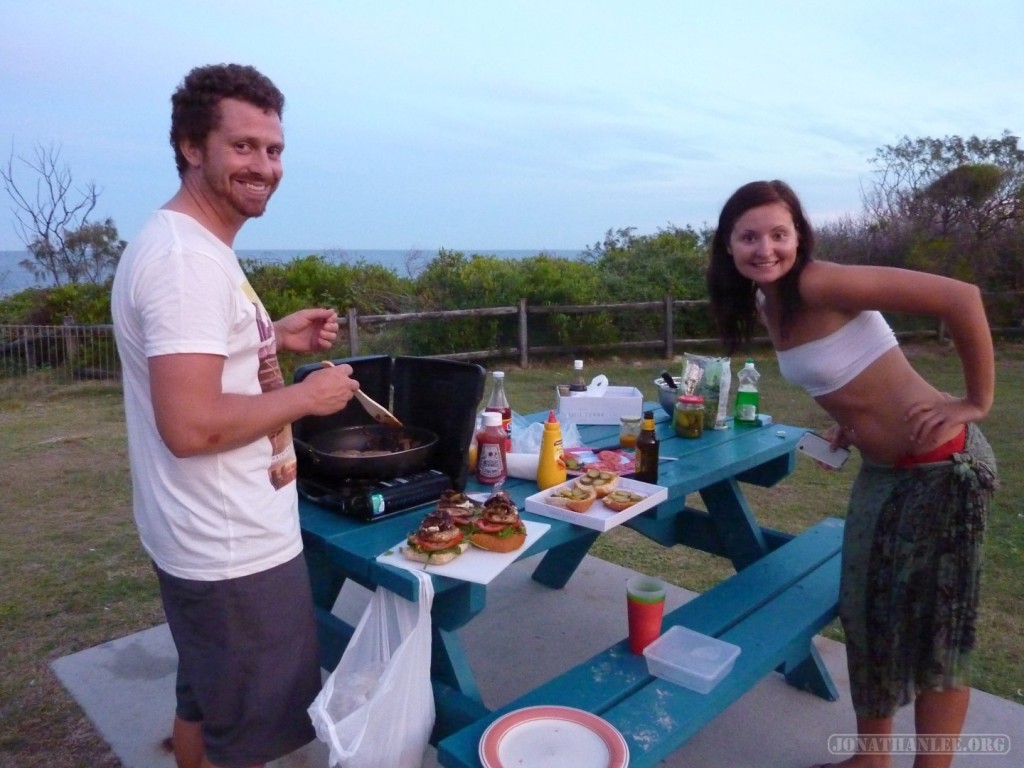 They were traveling in this ancient camper van, at least 20 years old. It used to be rented out by Wicked (one of the many camper van rental companies), but was then sold to a series of travelers before passing into our hands.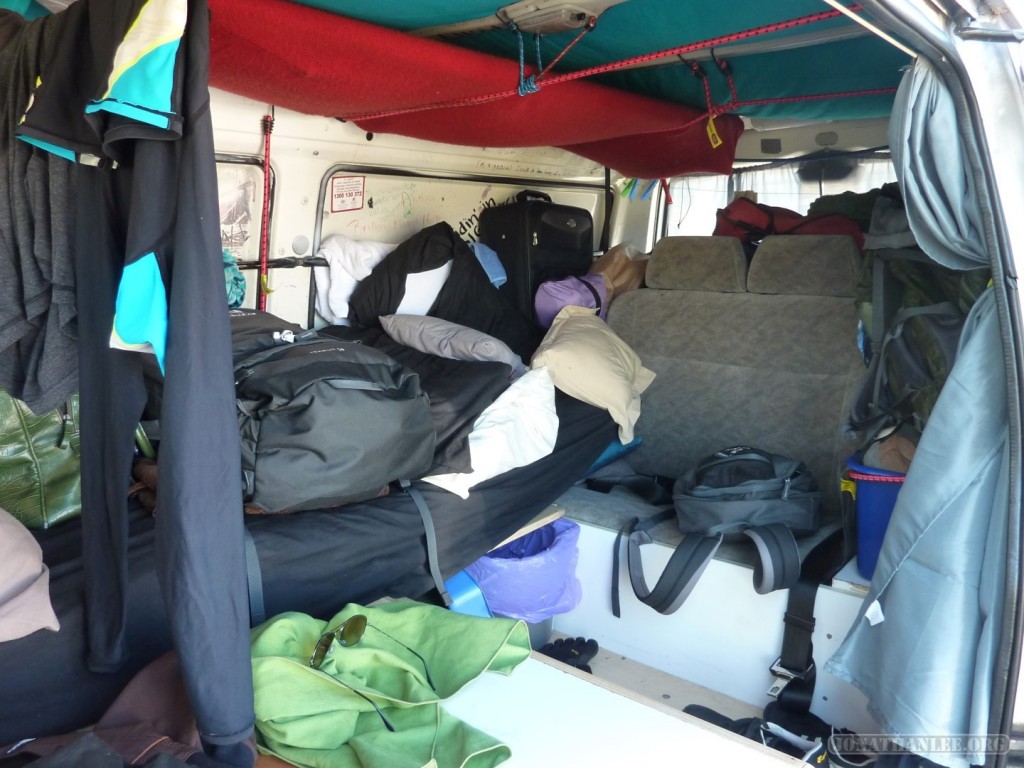 Surfers Paradise
First stop along the Gold Coast is Surfers Paradise, a small town an hour away from Brisbane – apparently a lot of people live here, and commute to Brisbane. I didn't spend all that long here, but I hear that this town was the birthplace of surfing in Australia. The boardwalk here is lot more beautiful and less commercialized than places like Atlantic City.
Here, I found the legendary Australian dropbear: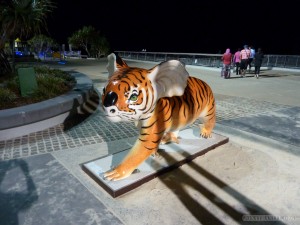 Byron Bay
Holy shit, this place is beautiful! Miles of beach, not touristy at all, with the most gorgeous scenery ever – Byron Bay well deserves its reputation as the most beautiful place on the Gold Coast. We spent three days camped here, and I thoroughly enjoyed my time here – surfing, swimming, and exploring.
At Byron Bay, there is this lighthouse on a hill along the coast, accessible via a lovely hike. Along the way, you get fantastic views of the coast, and can get to the most Easterly point of all of Australia.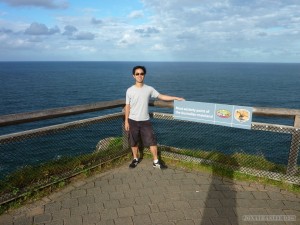 Interestingly, Byron Bay has a large musician population, and has regulated busking – you have to get a permit, and can only busk within specific hours / parts of the city! Amazingly, the city was also hosting a busking competition while we were visiting. If you're a busker, performing on a stage, and not asking for donations, is that still busking? In any case, I was not terribly impressed.
Nimbim
Nimbim is pretty famous as the marijuana capital of Australia. A tiny town in the middle of the hills of Australia, it's the remnants of Australia's hippie movement. Centered around a single intersection are a bunch of stores selling and promoting hemp and hemp products, as well as whole bunch of long-haired hippies offering to sell brownies and weed to visiting tourists. I definitely saw another group of travelers buy a sandwich bag full of weed.
My Canadian companions later indicated that the Australian stuff is way overpriced compared to Canadian stuff – apparently British Columbia is Canada's capital of marijuana? You learn the strangest things while traveling.
Port Stevens
Like Byron Bay, a beautiful place. Port Stevens isn't really a single location, as much as several interesting locations in close proximity, in a peninsula of sorts.
In Port Stevens, Australia's sand dunes are on display, and man they are beautiful: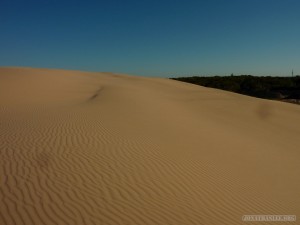 Sunset over the sand dunes: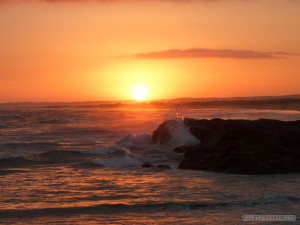 A wild KRISTINA appears!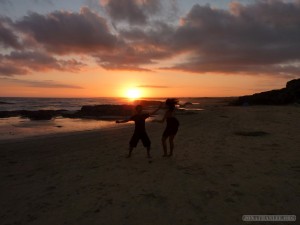 We also tried sandboarding down the dunes – on a boogie board. Apparently, sandboarding is a real thing, but a worn out boogie board is not the best equipment.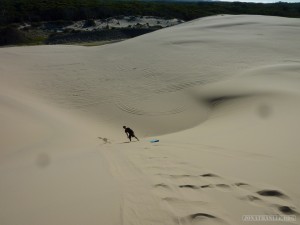 Here in Port Stevens, I also tried snorkeling successfully for the first time – I had tried twice before, but the water was always too murky. Wow, just wow. Before, I had always thought that the snorkeling footage you see on videos is just the highlights, with few fish most of the time. But doing some diving just in the middle of nowhere, I saw all these fish! Frying pan sized fish that I could have for dinner! A huge school of fish 1 millimeter long! A stingray! One of those aquarium sucker fish!
I did not have an underwater camera, unfortunately.
Snorkeling can be pretty tricky though – even with top of the line equipment, you have to hold your head just right, or you'll get a mouthful of salt water – I swallowed at least a liter in half an hour. Oh, and barnacles can be really sharp!
Other interesting notes:
I swear, there was this one flock of birds that followed us down the entire length of the Gold Coast, waking me up every morning with their cries of "uh-oh! uh-uh-uh-oh!"