While traveling, I found this amazing all-purpose New Zealand postcard.  Unfortunately, my pen ran out of ink, so I'm going to post it online: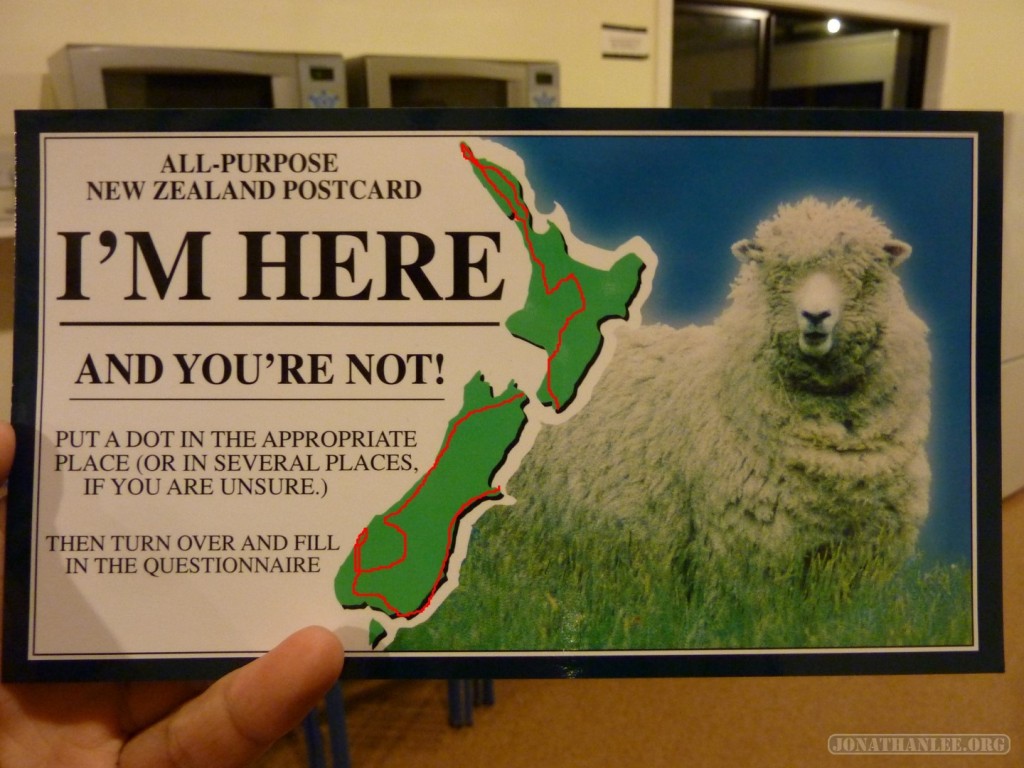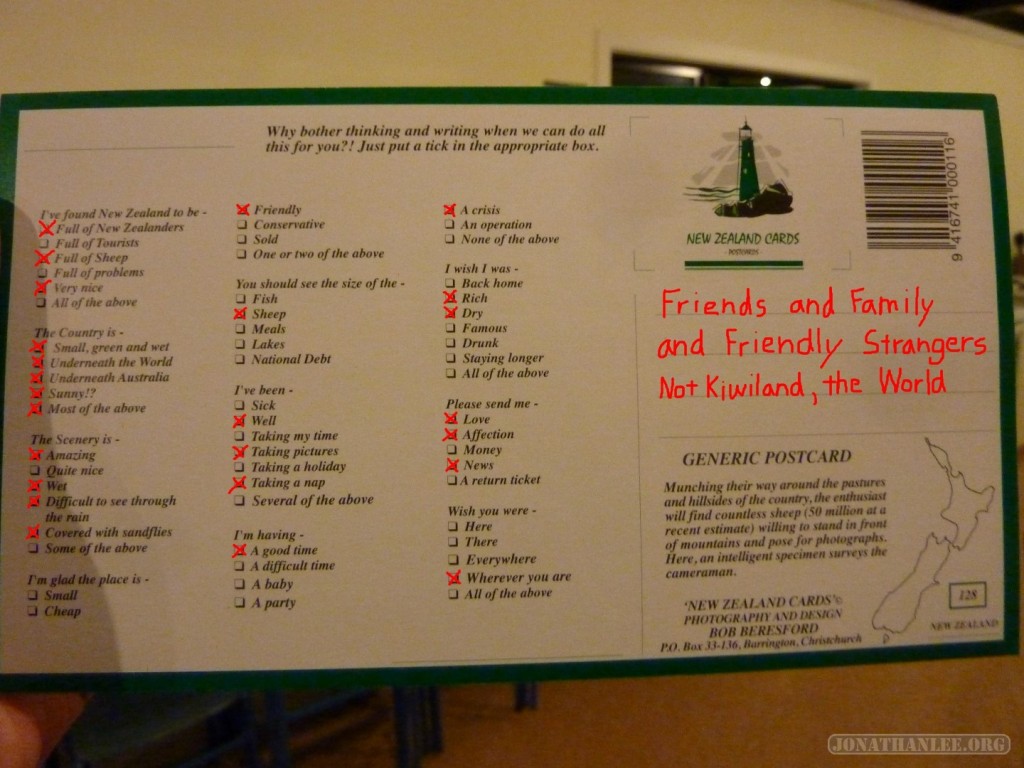 And yes, this postcard was marked using MS Paint – using a touchpad!  On a netbook!  It's a touchpad-marked postcard, sent from New Zealand with Love.
I've found New Zealand to be –
Χ Full of New Zealanders
Ο Full of Tourists
Χ Full of Sheep
Χ Very Nice
Ο All of the above
The Country is –
Χ Small, green and wet
Χ Underneath the World
Χ Underneath Australia
Χ Sunny!?
Χ Most of the above
The Scenery is –
Χ Amazing
Ο Quite nice
Χ Wet
Χ Difficult to see through the rain
Χ Covered in sandflies
Ο Some of the above
I'm glad the place is –
Ο Small
Ο Cheap
Χ Friendly
Ο Conservative
Ο Sold
Ο One or two of the above
You should see the size of the –
Ο Fish
Χ Sheep
Ο Meals
Ο Lakes
Ο National Debt
I've been –
Ο Sick
Χ Well
Ο Taking my time
Χ Taking pictures
Ο Taking a holiday
Χ Taking a nap
Ο Several of the above
I'm having –
Χ A good time
Ο A difficult time
Ο A baby
Ο A party
Χ A crisis
Ο An operation
Ο None of the above
I wish I was –
Ο Back home
Χ Rich
Χ Dry
Ο Famous
Ο Drunk
Ο Staying longer
Ο All of the above
Please send me –
Χ Love
Χ Affection
Ο Money
Χ News
Ο A return ticket
Wish you were –
Ο Here
Ο There
Ο Everywhere
Χ Wherever you are
Ο All of the above
On a side note, this is the world's most awesome postcard – even if you don't know what to write, the postcard has already figured it out for you!  Plus, it is hilarious.  If I could, I'd buy the equivalent for every single country I visit.