Bangkok, the gateway to Southeast Asia. It seems like Bangkok is a favorite of first time backpackers – I met so many folks in their gap year, backpacking for their first time. Compared to all these young whippersnappers, at 27 I'm definitely an old fart :-)
There are two sides to Bangkok – the expensive & modern side, and the cheap & historical side. Unsurprisingly, I (and most fellow backpackers) ended up spending most of my time in the cheap district (paying $7-$17 per night for accommodation!).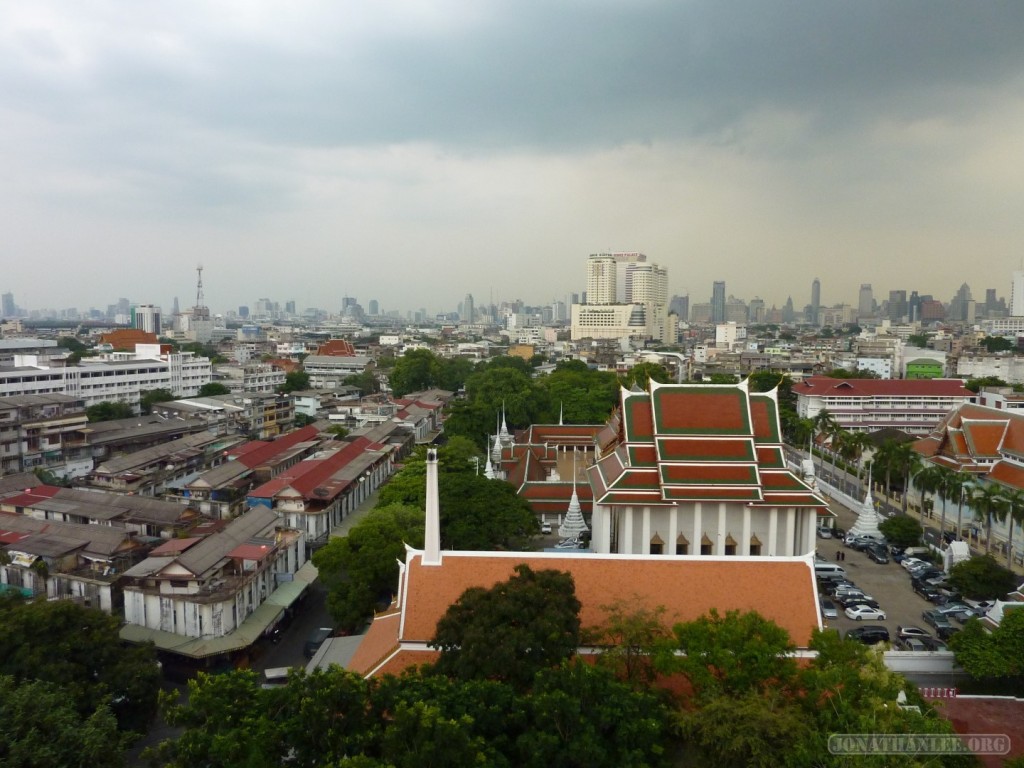 The Part with All the Backpackers:
For my first couple of nights in Bangkok, I stayed in Khao San Road, the backpacker mecca. Accommodation here is cheap, the food ($1 pad thai!) is squarely aimed at Westerners, and every night is a Friday night: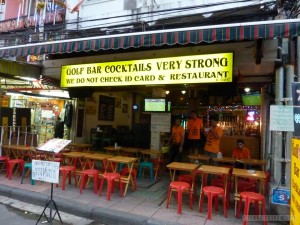 There were also a surprising number of 'bookstores' selling English-language books: Lonely Planet guidebooks were prominently featured, showcasing how they are now well off the beaten track: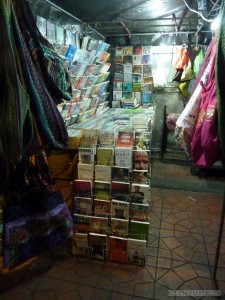 There were also a number of legitimate massage parlors in the area. $4 for a half-hour long foot or Thai massage? Cool!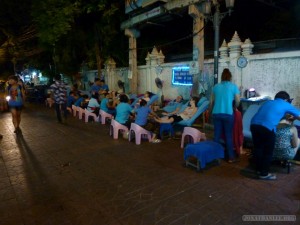 I found it sad, that so many backpackers would only stay around Khao San Road, never venturing out to see everything else Bangkok has to offer. While exploring at night, I discovered a night market just 10 minutes away, with people selling all sorts of goods – clothing, food, DVDs, everything!  Here, I got a pretty good haircut for $2.
And yet, I literally saw one westerner the entire night. When I made a couple of friends at my hostel, and took them to the night market, they were impressed, but said they preferred drinking at Khao San road instead. Alas.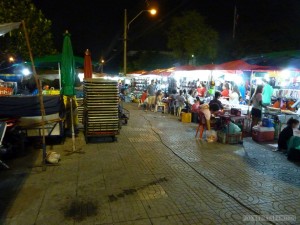 I had myself a dinner of… something! Some kind of very spicy noodles, a bottle of cola, and a cup of ice – for about $2. I still have no idea what it was, but it was delicious: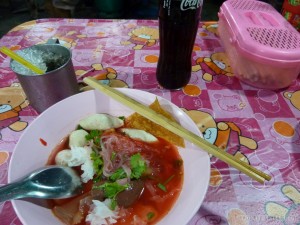 Interesting, while walking around Bangkok at night, I saw a lot of people who would just sleep on the street. Not that it was cold, but hey would just spread a straw mat on the ground, and go to sleep on the sidewalk. There were also a lot of unlicensed massage parlors – nothing sexual, just freelancers making a living by spreading out a straw mat and giving massages.
The Part with All the Tourist Attractions:
Yeah, there were a lot of them. Oddly enough, there were almost no backpackers at the tourist attraction (I heard a lot of backpackers complaining about a $17 entrance fare for the Grand Palace), but there were busloads and busloads of Chinese tour groups.
The Golden Mountain: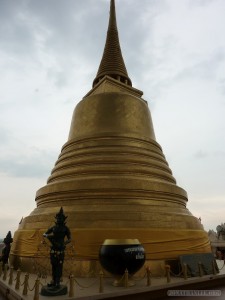 The Grand Palace at night: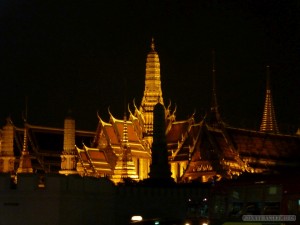 The Grand Palace had a lot of wonderful gold-leafed murals on the mythical founding of Siam: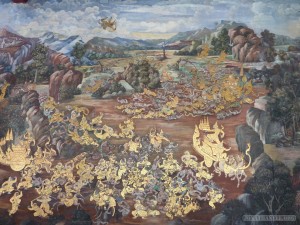 The Grand Palace also had a lot of these creatures – the ones wearing shoes are monkeys, and the barefoot ones are demons: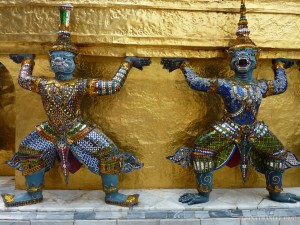 The Reclining Buddha (it's pretty big):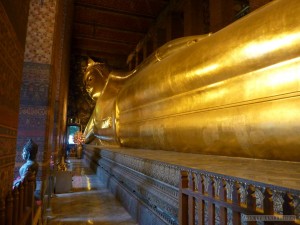 The Feet of the Reclining Buddha (mother of pearl):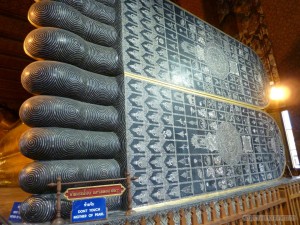 Wat Arun, the Temple of Dawn, was my favorite: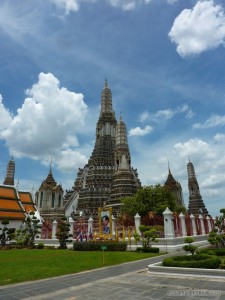 The stairs of Wat Arun are actually really steep – it's fun to watch people descend, while gripping onto the hand rails for dear life: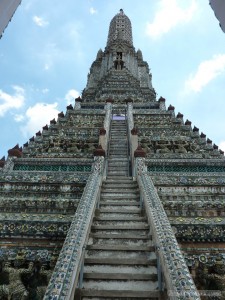 One of many, many Buddhas: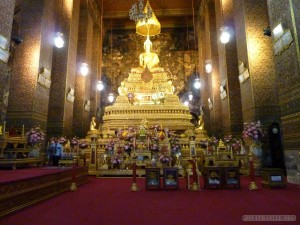 The Part where Taxi Drivers in Bangkok are Useless:
If you're in Bangkok over the weekend, you have to visit the weekend markets, but there are two different places: Taling Chan, the floating market,and Chatuchak, the biggest market in all of Asia.
I decided to visit Taling Chan first – since backpacking severely limits my carrying capacity, it made sense to end my trip at Chatuchak, so I could buy lots of souvenirs to bring home. So, Taling Chan floating market. But first, I have to get there! So I flag down a taxi. Then, another taxi. They both have no idea what I'm talking about.
Fortunately, third time is the charm, and the third taxi (it's a numbers game!) agrees to take me. He takes me to Chinatown instead – the exact opposite direction.
I'm a bit miffed, but I shrug my shoulders, hop in another taxi, and we're off again. He drops me off at Siam Paragon, Bangkok's premier luxury mall, which is even further away from Taling Chan.
So at this point, I shrug, grab myself a $1 bubble tea, watched a passing political protest, and then jumped onto the skytrain to Chatuchak instead of Taling Chan.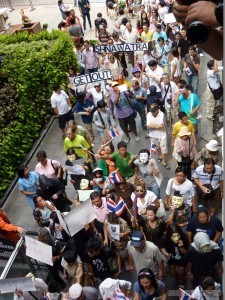 I found it rather odd, that many of the protesters were wearing Guy Fawkes masks and waving English signs. Was this protest aimed at western news?
So anyways, Chatuchak – holy crap, this place is huge! There are reportedly more than 9,000 stores in here, so you can walk around for an entire weekend and still not see it all. There were stores selling clothing, silk, animals, Buddhas, paintings, everything under the sun. This market is a real-life Escher print though – I swear I would walk in a straight line, and end up right where I started.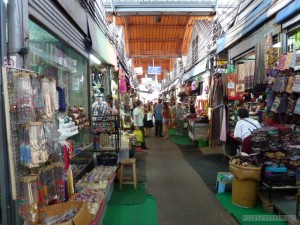 I had fun pretending to be in the import/export business, and inquiring about wholesale prices as well as shipping policies. It's really interesting, how once a shop owner thinks you are a wholesale buyer, you get his whole attention and learn so much about the business. I also had some delicious coconut ice cream – served, of course, in a coconut shell: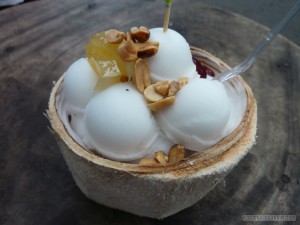 The Part where I spend Three Days Meditating in Buddhist Temple:
This gets its own post!
The Part with other Bits and Bobs:
Delicious breakfast, for $2: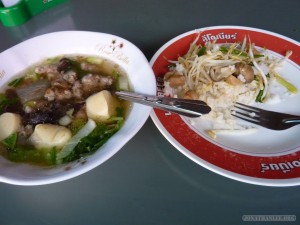 This is how they river freight transportation works in Bangkok: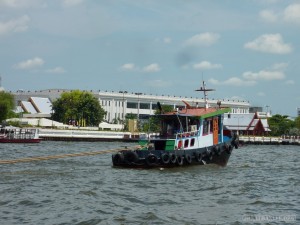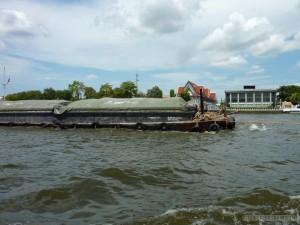 The Part where I Finally Leave Bangkok:
And finally, after spending more than a week in Bangkok, I decided to leave for the island of Koh Tao. After getting lost in a taxi twice (again), I hiked it the rest of the way to the train terminal, which was oddly at least 50% filled with foreigners: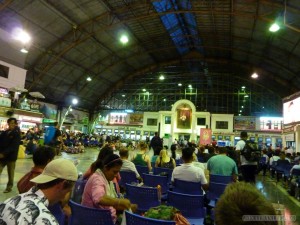 And from the train terminal, I took the surprisingly comfortable overnight sleeper train down to Chumphon, and from there the ferry to Koh Tao!