Koh Tao, or Turtle Island, is the scuba diving certification capital of Southeast Asia. Since the cost of getting a scuba diving certification here is 1/2 or even 1/3 the cost in Europe, many backpackers opt to pick up their certification here. I decided to do the same!
To get to here, from Bangkok I first took an overnight sleeper train (that arrived 3 hours behind schedule) to Chumphon, then a ferry from Chumphon to Koh Tao.
Approaching Koh Tao: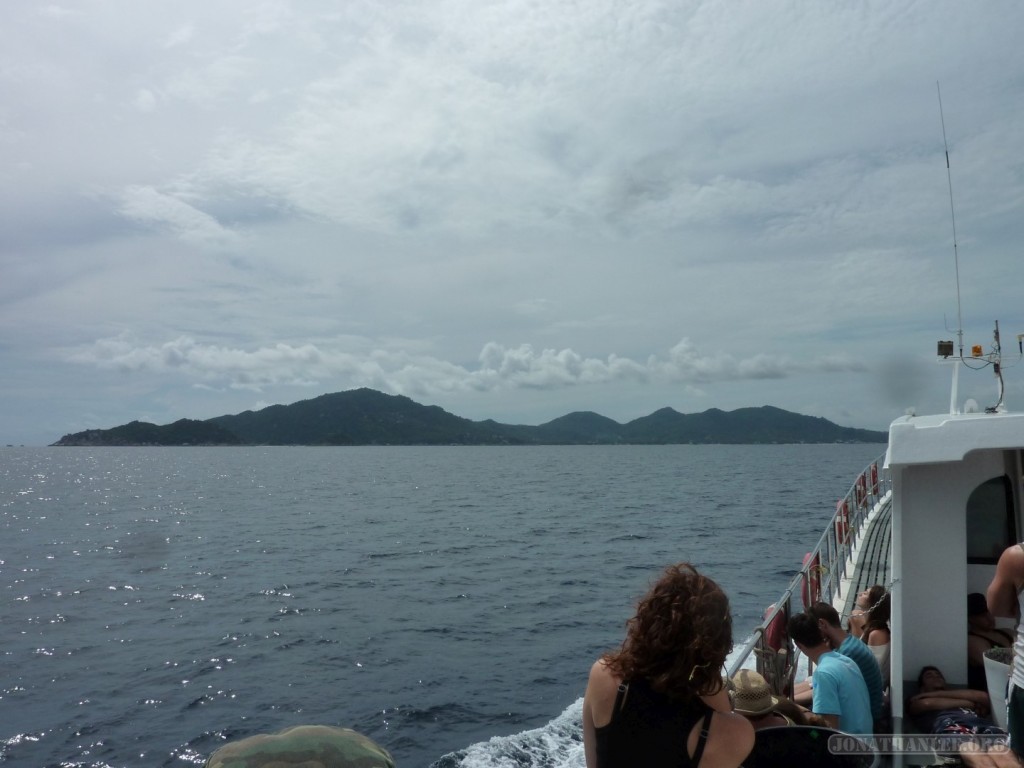 Koh Tao is this paradise of an island that straddles the fence between civilization and the wilds.  The beaches are beautiful and clean, the water is perfect for snorkeling, and while the island is filled with tourists, it is much more laid back and relaxed than Khao San Road.
It is very much a backwater town though – water and electricity often cut out, there is only one semi-paved road, and the largest store on the island seems to be a 7-11.
The beaches of Koh Tao during the day & night: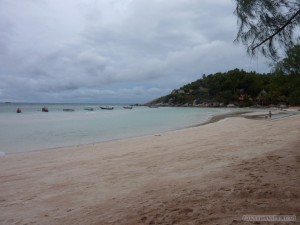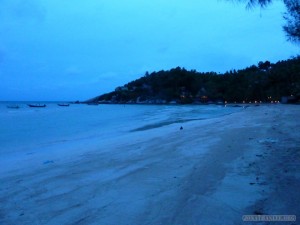 The 'common room' of the my hostel: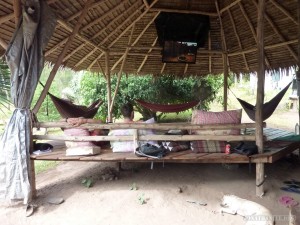 A resort I stayed at while getting my scuba diving certification: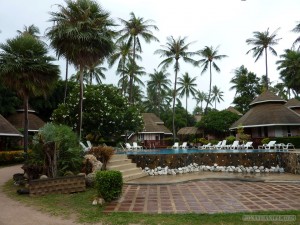 Scuba Diving on Koh Tao:
It's mind boggling – on an island with a population of 5,000 people, there are 70+ dive school and resorts. I ended up getting my scuba (PADI) open water and advanced open water certifications here on Koh Tao, as well as taking a freediving (SSI) class. These will be covered in later posts!
Backpackers on Koh Tao:
There seems to be something about backpackers and behaving foolishly. On Koh Tao, this takes the form of cliff jumping and motorbikes. Cliff jumping, for the uninitiated, is simple: you climb on top of a cliff or large rock, jump 10+ meters into the ocean, and pray that there are no submerged rocks. Unsurprisingly, you see a lot of backpackers walking around the island with bandaged limbs.
And then there's the "Koh Tao Tattoo" – not an actual tattoo, but instead massive road rash on one's limbs from motorbike accidents. Every travel resource gives the same advice: don't rent a motorbike. The roads are extremely hilly, there are no street lights, and scammy rental places fine you hundreds of dollars for pre-existing scratches. And yet, all the backpackers continue to do it.  I met a guy who rented a bike on the second day of his vacation, totaled it while drunk, and ended up with road rashes on all four limbs and across his entire body. There go all of his vacation plans!
The Koh Tao Festival:
I happened to be here during the once-a-year Koh Tao festival ("Save Paradise!" was the tagline), and it was pretty awesome. For an entire day, many of the food stalls and restaurants were giving out free food, no strings attached. Over the course of four hours, I stuffed myself with a coconut, fried chicken, pad thai, a mini-cupcake, corn on the cob, various meats & vegetables over rice, and at least five thai iced teas.
Here are three different types of sticky rice (coconut, red bean, and corn flavored), and some kind of a sticky bean paste desert: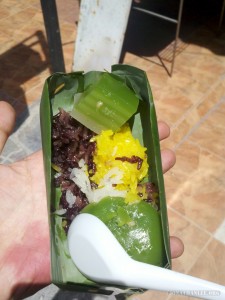 Jellyfish floating in the sky: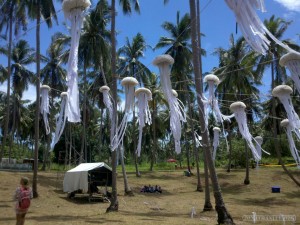 There was also a stage, with concerts and performances! I was not impressed by Thai pop, and stared in bewilderment at an interpretive dance featuring paper mache fish.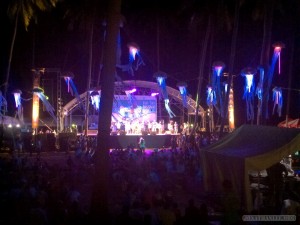 Later on that night, one of the guys at my hostel stole a shark from the interpretive dance: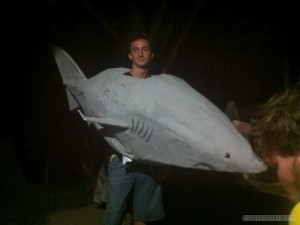 Bits & Blobs:
Netball? It's almost exactly like volleyball, but you use your ankles and feet!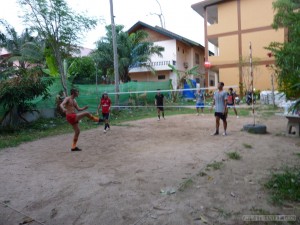 Koh Tao is pretty far away from everything: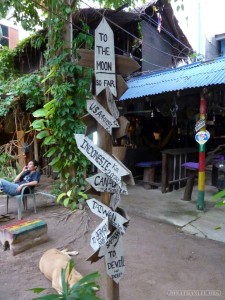 The hostel owner getting a haircut from a backpacker, cutting hair for her first time (unsurprisingly, it turned out pretty bad).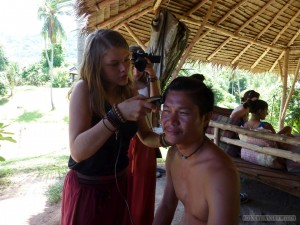 The Queen's Cabaret: girls dressing up and lip syncing popular songs.  There's a joke here somewhere, but I can't find it.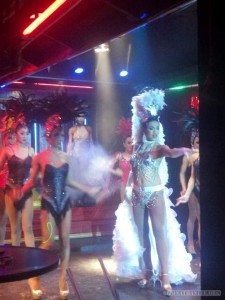 After Koh Tao, I traveled to Koh Phangan for the full moon festival!