After getting tired of the shopping in Kuala Lumpur, I hopped on a bus to Malacca (Melaka), the other UNESCO world heritage site in Malaysia. Malacca has a reputation amongst backpackers as being very boring, only worth a one-night stopover, but I found the city to be quite enjoyable and beautiful. A pity it was somewhat lacking in accommodation, or I would have stayed longer than 3 days before heading off to Singapore.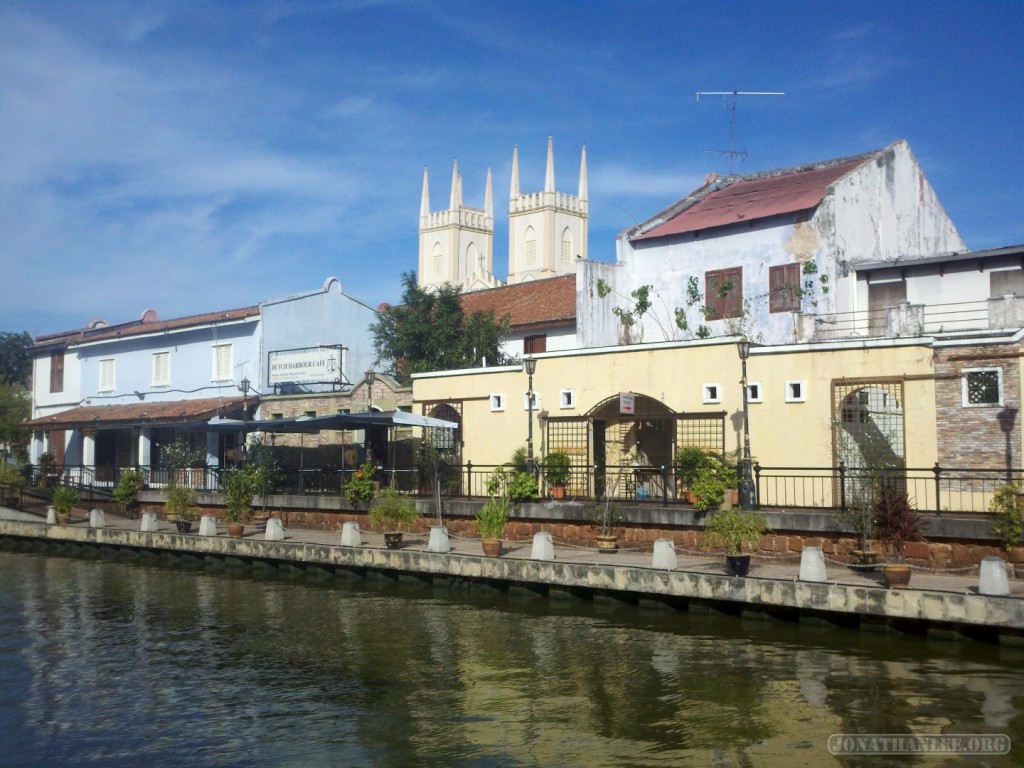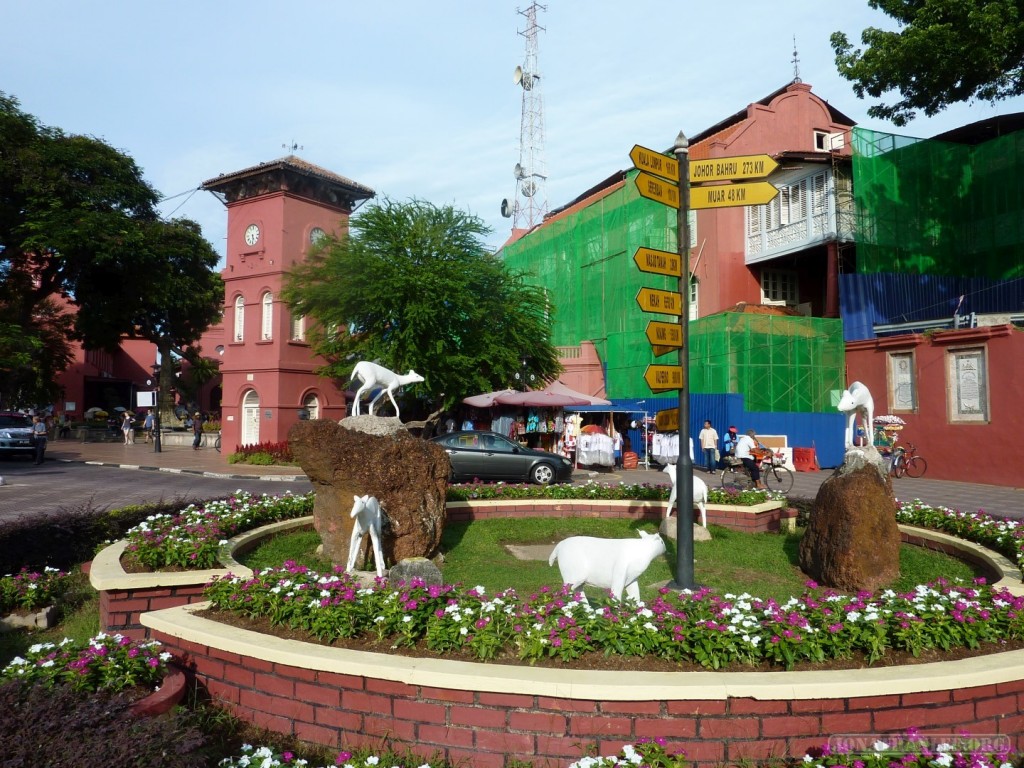 Places of Interest:
Jonker Street (Chinatown): somehow, I've ended up staying in Chinatown in every city in Malaysia – not only is the food great, but the cheapest hostels are there.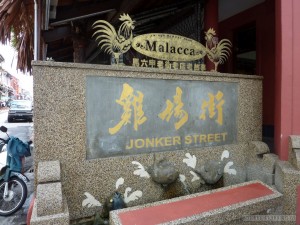 Baba and Nyonya Museum: when Chinese folks married with Malaysian folks in Malacca, an entirely new culture developed, that of the Baba and Nyonya. This really cool museum showed off a preserved 19th century house from the Baba and Nyonya culture. Unfortunately, no photography was allowed. Interestingly, in this culture, a groom and bride would usually meet for the first time on their wedding day.
Living Museum: an old preserved house, open for visitors (and photographs). I loved how Malaccan architecture has real courtyards – essentially, holes in the roof letting in the sun, wind, and rain. Inappropriate for more temperate climates, unfortunately.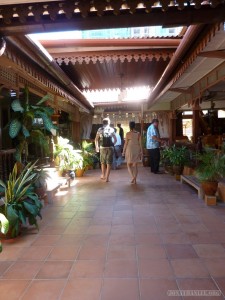 In the days before air conditioning, this is how you would stay cool: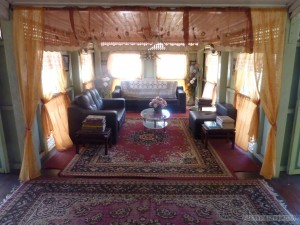 For Malaccan architecture, courtyards seem like a great place to grow plants: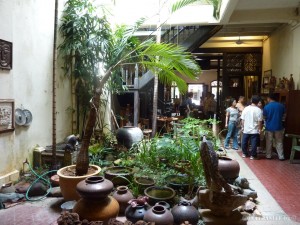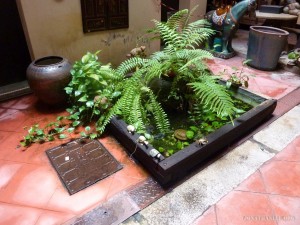 Sultanate Museum: a reconstruction of the Malaccan Sultanate palace, I got the impression that the sultan was not very rich – or at least didn't like excessive displays of wealth.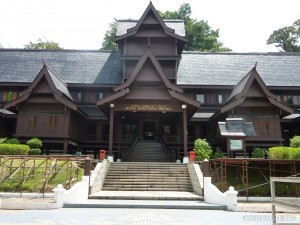 Still, the Sultanate Museum had some interesting displays of history – traders to Malacca, art, Nyonya dress, etc

River Walk: very tranquil!

While taking a walk, I chanced upon a coffeehouse, where I made the acquaintance of an Indian-Malaysian gem trader. Chatting with him over an hour, I not only learned the average gem markup (50%+ from wholesaler to retail store), but also more about Malacca.
For instance, this artsy-looking arch above the river is actually a white elephant – it's the remains of an ill-conceived monorail project that only ran a tram twice before it broke down.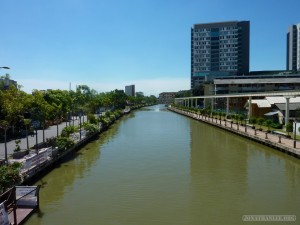 Furthermore, the tranquil-looking river used to actually be a real river with sand banks, where you could watch frogs and snakes swim and catch fish. And now? It's basically a sewer. So much for progress.
Food:
Chicken rice balls (chicken flavored rice balls?) – unique to Malacca, but overrated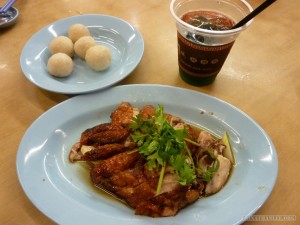 Two types of Laksa – Malacca Laksa, and Nyonya Laksa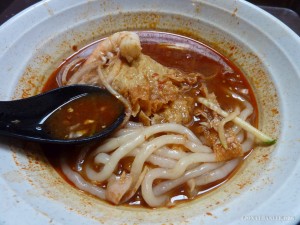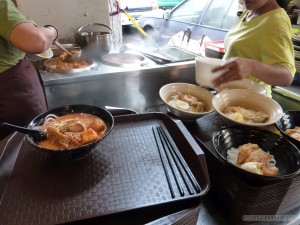 Chendol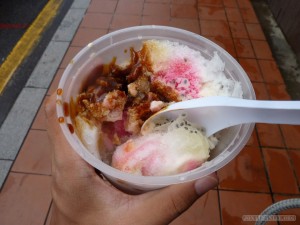 Traditional Nyonya food (basically, Chinese)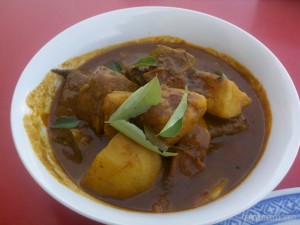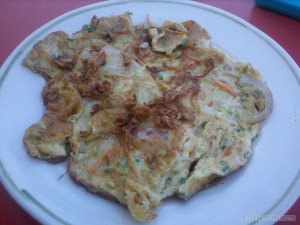 You know those really annoying drivers that turn up their music (and bass) all the way, open their windows, announce their presence to the entire world? In Malacca, the bicycle taxis mount speakers to their rides and do the exact same thing.