After my quick stopover in Singapore, I hopped on a last-minute flight to Bali, where I made a beeline for the backpacker mecca of Kuta. Twenty years ago, in the '90s backpacker world, the most famous backpacker destinations were the three Ks – Khao San Road (Thailand), Kuta (Indonesia), and Kumatra (Nepal).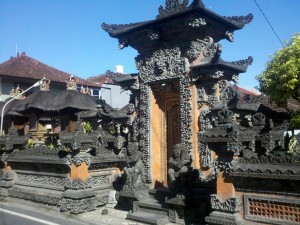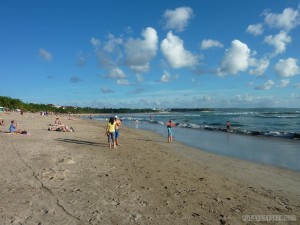 Since then, resorts, shopping centers, and restaurants have sprung up like weeds, making it into a general tourist destination, especially amongst Australians, but it's one of the cheapest and best beginning surf spots in the world.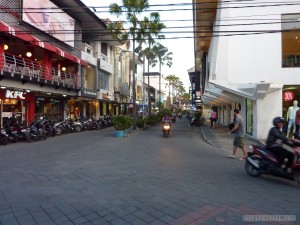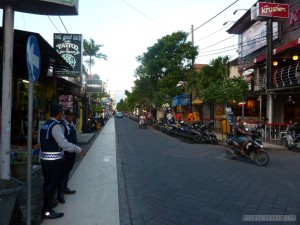 And like a moth to the flame, I came to Kuta.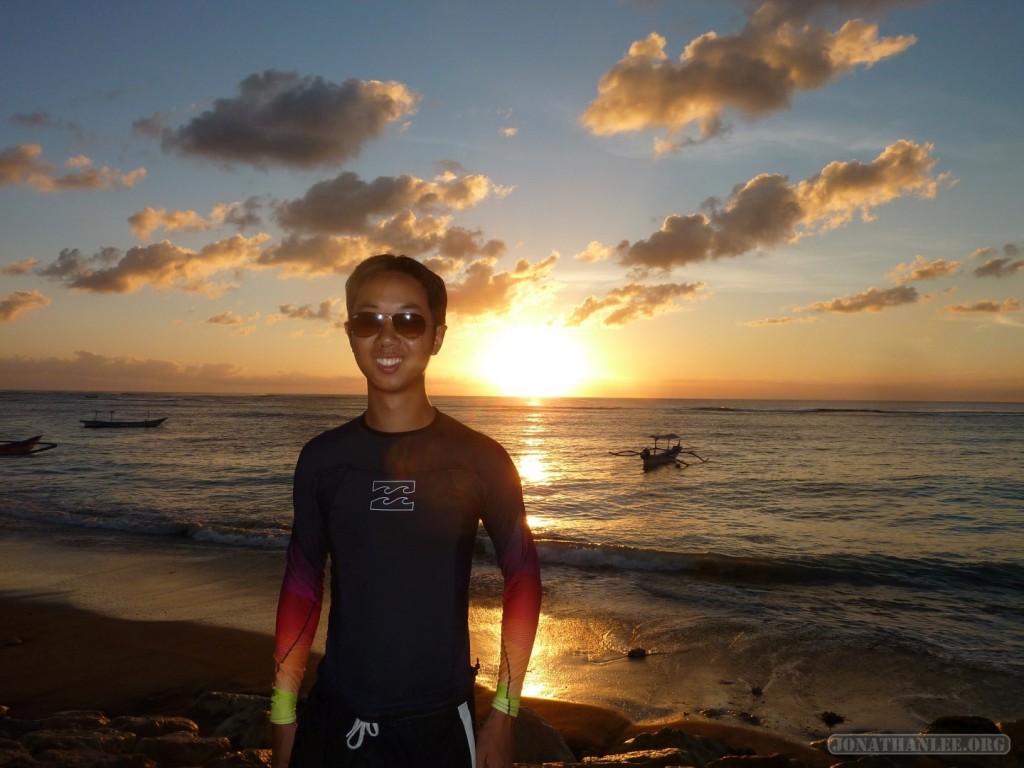 Here in Kuta, I made two new friends – Saraina and Simone, both from Switzerland! We would go surfing together and travel together for a bit.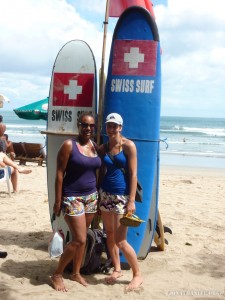 Surfing
It's pretty amazing, the surf here. Right off of Kuta beach, the surf is perfect for beginners – sand bottom, low chop, and waves that come in like clockwork. And even if you're not catching waves, you can easily catch the whitewater and ride it all the way to the shore. It's got a great rhythm too – for maybe 5 minutes, a set of large waves will come in one after another, then there will a lull for 5 minutes to give you time to paddle out. You do have to time it right though – otherwise, you end up struggling against the breaking waves to get out onto the water, exerting all your energy, and you get out there just in time for the boring lull.
Renting a board here is also dirt cheap, starting from $5 per day! I popped a fin on my first day, and only had to pay $5 for repairs. I became good friends with one of the surfboard rental guys – so much, that he kept trying to convince me to go with him to a brothel – $50 for an hour of jig-y-jig, he claimed. Interestingly, in this part of the world, sex is constantly referred to as boom boom or jig-y-jig.
Unfortunately, I have no surf photos – no waterproof camera or girlfriend to station on the shore on photo duty.
Oh – and I surfed with baby turtles! One day, while surfing, I discovered that whoooooooaaaa, there were baby turtles swimming in the ocean! Further investigation showed that Kuta hosts a daily tourist event, where baby turtles are released into the sea.

I'm not sure about the logistics of this event, but it seemed to be a massive tourist attraction.
Food
Indonesia food is pretty amazing – and cheap! A full meal would usually cost less than $4. Some delicious foods I tried were:
– Mie Goreng: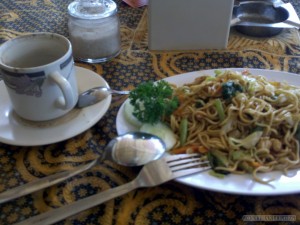 – Catfish with rice: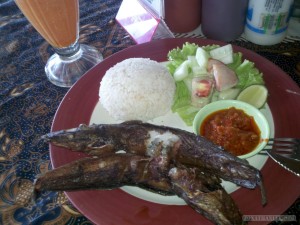 – Two crabs for only $4: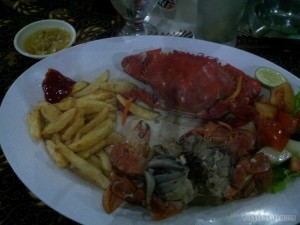 – Satay Ayam, from a food cart: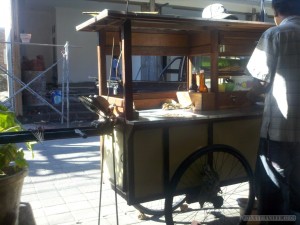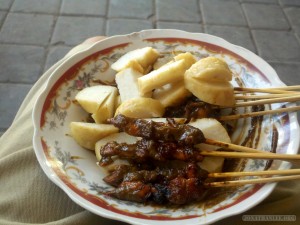 – Bakso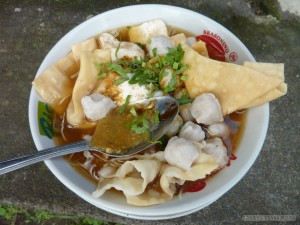 – Gado-gado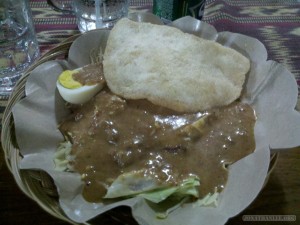 – Soto Ayam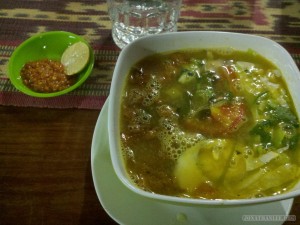 – Nasi Babi Guling (roast suckling pig).  Most of the shops selling Nasi Babi Guling will also have the actual pig on display!

– Nasi Goreng: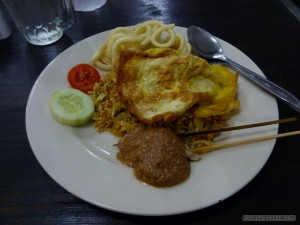 – Cap Chay: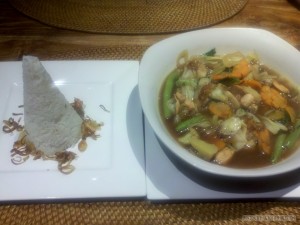 Nasi Camphur:

– Other delicious Balinese food:

There's a reason I always try to eat local food. Once, after a particularly tiring surf session, I decided to get steak. $5 got me minced meat doused with barbecue sauce, masquerading as steak. Outside of my ill-fated encounter in Thailand with Same Same burger, I've never had a worse meal.
Architecture:
I find the architecture of Bali to be fascinating. The Balinese have a reputation for being reknowned stone carvers, and it's visible anywhere you look. It's not even a tourist thing – it's just how the architecture is around here.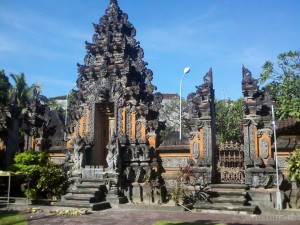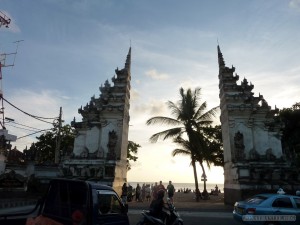 Oh, and there's also the memorial, to the victims of the 2002 terrorist bombing of Bali.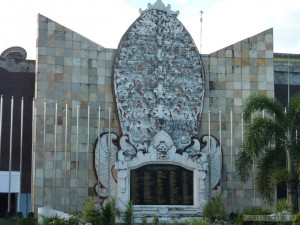 I spent some time chatting with a fellow traveler, who had been at Bali during the bombing, and he metioned how the incident completely killed all tourism in Bali, along with the local economy, for many years. Coming to Bali afterwards, you could be chased around by vendors desperate to make money for upwards of half an hour. We talked about the US and Australia, politics and religion, for a good three hours, and I discovered that this young Australian was wise way beyond his years.
I also spent some time chatting with another fellow traveler, another Australian, who tried to convince me he had mental powers, as evidenced by him waking up that morning with an omen, and later finding out his boat back in Australia had sunk the same night. Oh, and he was drunk out of his mind. There really are huge differences in travelers.
Sunsets in Kuta: Amaaaaazing

Balinese massages: Also amazing. It's the polar opposite of Thai massages, which are rather painful. In contrast, Balinese massages use sweeping, swishing strokes to massage away knots in your back. I also tried something called a "creambath" – which is basically a shampoo and scalp massage. Way overrated.
The Lost Keys Story: Between locking my bungalow room, going out to eat at a restaurant 3 minutes away, and coming back, I managed to lose my key. An hour of searching and even digging through the trash at the restaurant later, I still had no key, so I had to wait while the guy with the master key flew from Java to Bali (!!). I lost both a key ($10 replacement cost) and a surf session (board locked in room) that day. I still really want to know what happened to that key. Apparently I have a key-shaped mini black hole in my pocket.
Bits and bobs:
I picked a cheap bungalow for only $9 per night, which turned out to be pretty great – until demolition started right next door, and I was woken up by the thunk-thunk-thunk of sledgehammers and jackhammers. Oh well, great alarm clock for getting up and going surfing.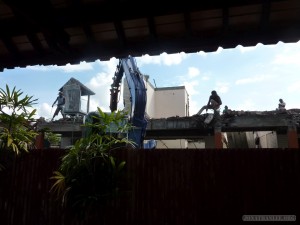 In the backpacker section of Kuta, there's a famous bar called Sky Garden. The first time I was there, I saw a whole bunch of Indonesian girls standing around and watching the go-go dancers. I couldn't figure it out until I had a few drinks – they were working girls!
Sally Selling Seashells by the Seashore: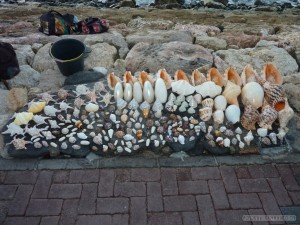 After getting my fill of surfing in Kuta, Bali, I traveled up to Ubud, the cultural capital of Bali!