After finishing up Kuta and Ubud, I spent two days in Padang Bai, a smallish town on Bali's east coast, primarily known for being a pit stop before boarding a boat to the Gili islands. And so, every two meters, you would see a shop selling boat tickets. Other than that, I found the town quite charming – there were almost no long term tourists, mostly locals and a few travelers stopping over before heading off to the Gili Islands.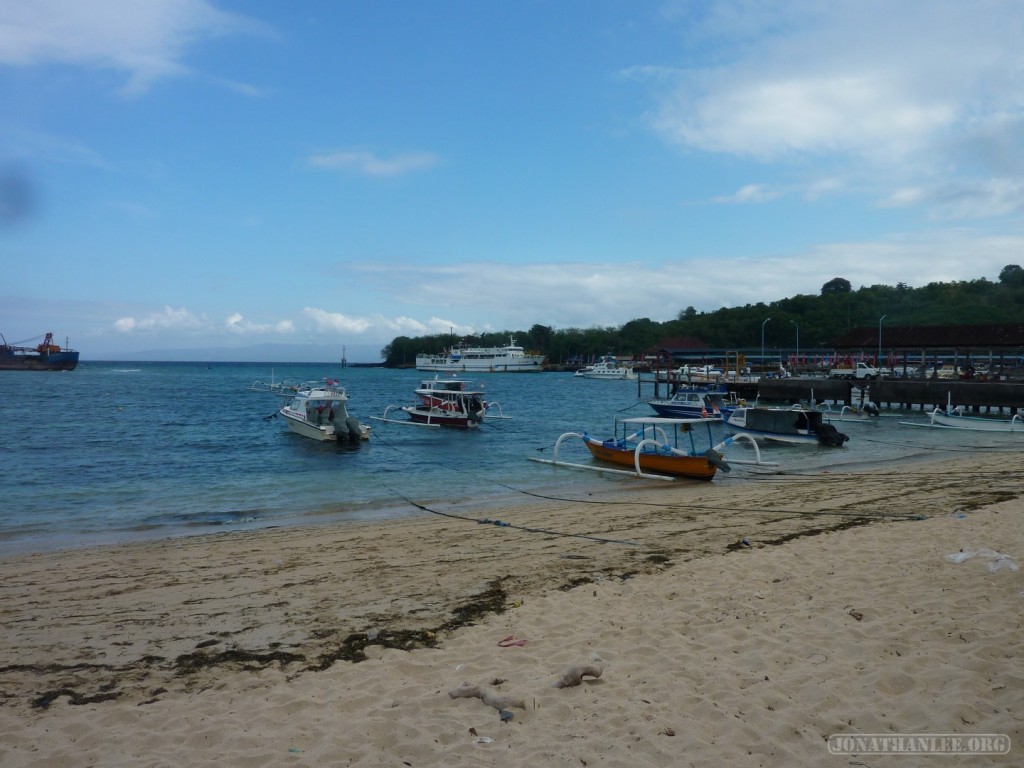 When I was considering traveling from Kuta to Padang Bai, I got fed up with the ease of getting around Bali. With a tourist travel agency every 10 meters, it is pathetically easy to book a ticket anywhere on a nice, western, air-conditioned minibus. So, fuck this, I decided, I was going to travel the old fashioned way – by bemo, or public bus.
Take a thirty year old van, completely gut the interior, strip out any paneling, kill any heating or air conditioning, possibly remove a door for good measure, and you've got a bemo: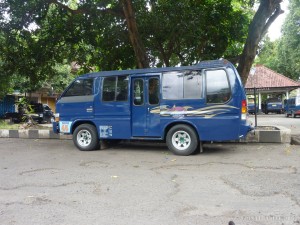 When empty, a bemo is tolerable. When full, it's an ordeal. You might have 20 people stuffed into a single bus meant to carry 6 people, plus any luggage. I was (un)lucky – I only had to share my ride with some coconuts, sacks of rice, and some plumbing pipes. Plus, of course, with 19 other people, two of which were hanging out the door. Other travelers told me stories of sharing a bemo with live chickens, dead pigs, and once even a cow.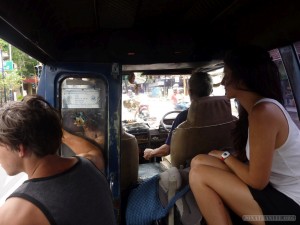 And the best part is, this bemo ride took an extra hour (vs. 2 hours by private shuttle), and saved $3 (vs. $8 by private shuttle). Totally worth it for the experience.
Padang Bai itself was unremarkable: one decent small beach, one trash-filled harbor beach filled with boats going to the Gili islands.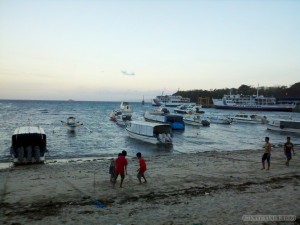 Oh, and I visited my first reggae bar in Padang Bai! It's somewhat like elevator music, but much more enjoyable.
While in Padang Bai, I fell in with some locals, who invited me to join them for some Arak on the beach. Sitting on the beach, drinking local arak mixed with coke, laughing at Arak Obama jokes, listening to the waves, feeling the wind in your hair – it's an amazing feeling. It must be hard, being a local in Padang Bai. Even though a lot of tourists come through the city, they rarely stay more than a day or two, before continuing on their journey to the Gili islands. And while selling boat tickets does bring in a lot of money to the town, nobody ever stays.
I bet this is how it feels to live in flyover country.
After two days in Padang Bai, I rejoined the herd, and boarded a boat for the Gili islands: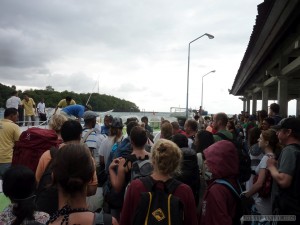 On the boat, there were 100-some people crammed onto a single speedboat, maybe 30 feet long. Thank you for flying cattle class with Padang Bai seaways. I took one look at the clausterphobic seating, decided I didn't want to be in a confined area as people got seasick, and climbed onto the roof of the speedboat.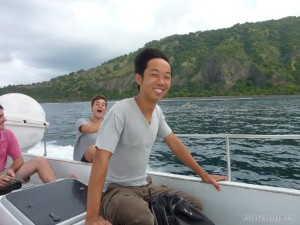 Here, I could feel the wind through my hair (I took off my leather hat, for fear of losing it), endure cold sea spray exploding from the waves, and watch as we Bali receded in the distance and the Gili islands appeared off in the distance, like the New World must have appeared to explorers of yore. I also tried "surfing" the speedboat, but unfortunately I had lost my sea legs already.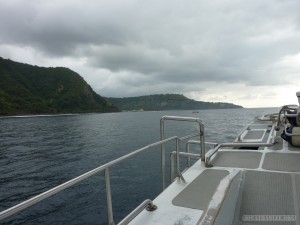 And so, I sailed from Padang Bai in Bali to the the Gili islands in Lombok.