While traveling lounging around Kuta Lombok, I overheard a conversation between a fellow traveler and a travel agent: What is there to do in Lombok? Well, there are the Gili islands, the beaches of Kuta and Senggigi, and Mount Rinjani. What if I've already done those? Well, then you're basically done with Lombok.
Challenge accepted, climb Mount Rinjani – at 3,726 meters, the second highest mountain in all of Indonesia.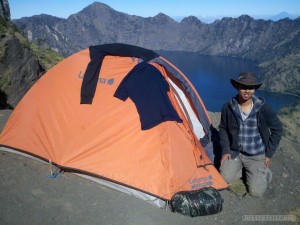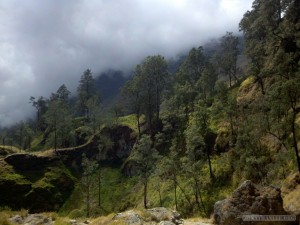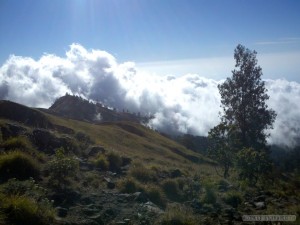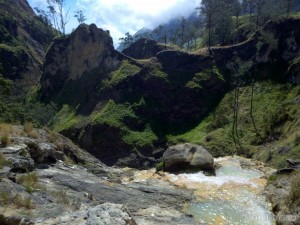 Since I didn't bringing any camping gear with me on this backpacking trip, I opted to go with an all-inclusive three-day package of trekking up Mount Rinjani. For $100, I got camping equipment, prepared meals, porters to carry equipment and meals, and a guide – an absolute steal!
Interlude 1: Senaru
While lounging around in Senaru the day before the hike, I took a quick hour-long hike to the two waterfalls of Senaru. after an easy warm-up hike before the real trek, I reached the first waterfall, admired the view, and then pulled a classic Jonathan – I took a nap.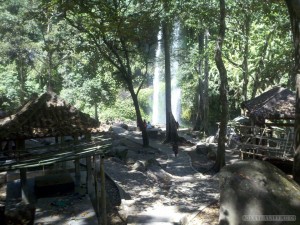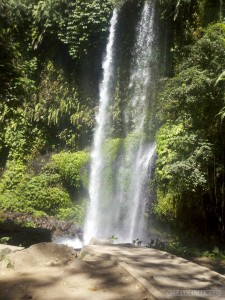 Listening to the crashing of the waterfall, I fell asleep. Refreshing!
After another short hike, I reached the second waterfall – a larger, wetter, and more spectacular waterfall.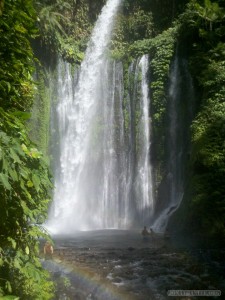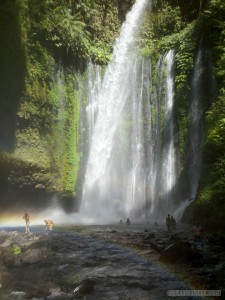 Such was the size and throughput of the waterfall, that the water created a gigantic aura of mist that enveloped the area. Just standing near the waterfall, a thin coating of water droplets would form all over your body, combining very well with the occasional gentle breeze for some much-needed relief from the heat. Oh, and permanent rainbows!
On the way back, I take a shortcut – through a water tunnel!  The guys that go before me swear it's safe, but I've got my doubts.  Wading through knee-deep running water, in a dark tunnel?  Who knows when you might fall into a hole!  In spite of my better judgment, I went on ahead…

… and I swear a bat flew right over me!
Interlude 2: Camera
My camera broke. Wonderful timing. The day before a three-day trek with amazing views, and of course my camera breaks. Exhibit 1: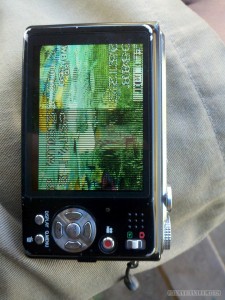 Sometimes, the camera oddly zooms in and out, before reporting a zoom error. Sometimes, the camera turns on as normal, but the shutter button no longer takes pictures. Sometimes, the LCD is garbled. And sometimes, the camera decides to simply ignore me when I hit the power switch.
I guess I'll have to rely on the camera of my (dying) Droid X cell phone. My cell phone, which randomly freezes up and requires a hard reset.
I'd better hope some of my trekking companions have cameras.
Mount Rinjani: Day 1
Hike… Start!
Bright and early, we start hiking. Mount Rinjani, here we come! Surprisingly, the hiking path is quite crowded. Not only are there multiple tour groups climbing up, but there are multiple tour groups climbing down. "Good luck", a few hikers chuckle. Thankfully, the path is easy going. Even though it slopes upwards, there are plenty of tree roots forming steps, and the forest cover provides some very nice shade.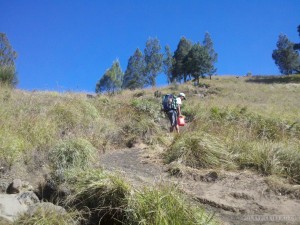 During the lunch break, the porters take a break from carrying all our gear, while the guides started preparing lunch. Noodle soup – Soto Mie!

Notice all the trash. Apparently, "leave nothing but footprints, take nothing but photos" does not apply to Mount Rinjani. According to the guides, this is because we can only climb Mount Rinjani during the dry season. In the wet season, a deluge of water washes over Mount Rinjani, washing away all trash down the mountain. Classy.
After lunch, the going gets harder. Leaving the gentle slopes under forest cover, we start climbing up the mountain proper. And this is a real mountain! With absolutely beautiful views!

And the last bit is the hardest – a dirt path leading to the crater of the mountain. Under normal circumstances, it would be a strenuous but straightforward climb. Unfortunately, with the dry season and the endless stream of people walking up and down the mountain, the path turned into a dust storm. And nobody told us to bring a dust mask.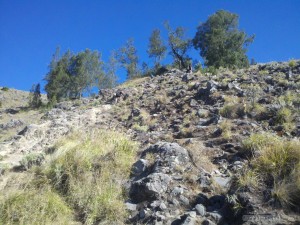 Once we get to the rim of the crater though, the view is spectacular. On one side you have an amazing view down the mountainside – we're above the cloud line!

And on the other side, you have an even more amazing view down into the crater, with its lake and mini-volcano: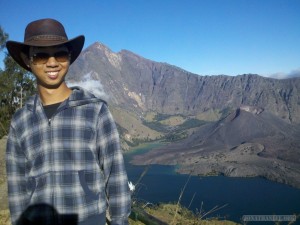 Oh, and did I mention the sunsets?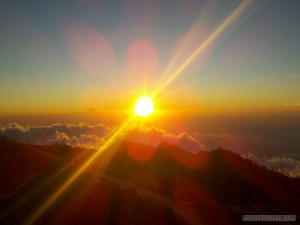 Unfortunately, the night is cold, the wind is harsh, and I don't get much sleep.
Mount Rinjani: Day 2
once again, we are up bright and early, for some amazing photos:

I see this trident stuck into the mountain – part of Lombok lore about Mount Rinjani?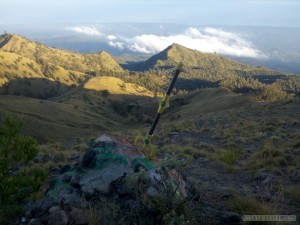 After breakfast (banana pancakes, of course), we clean up – by tossing all trash into the cooking fire. Cardboard boxes, plastic bottles, everything. I'm pretty sure that burning plastic bottles is worse than just leaving them lying around.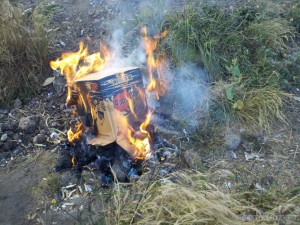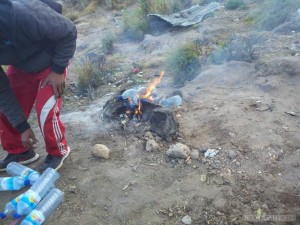 Then, we descend down into the crater of Mount Rinjani!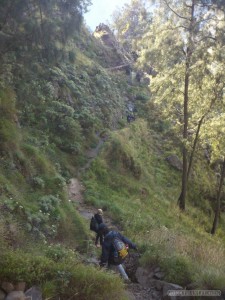 Remember that lake from earlier? Yeah. All of us are dusty and tired, what do you think is going to happen? Of course we all strip and jump in – and discover that the water is FREEZING!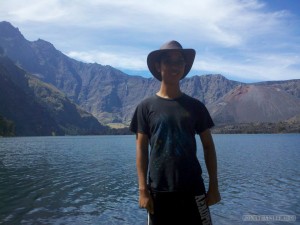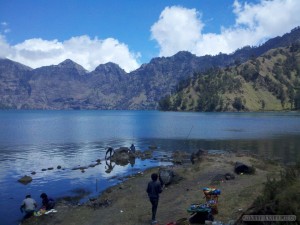 Fortunately, the guides inform us that not ten minutes away, there's a set of hot springs – HOT SPRINGS! I book it over, jump into the hot springs, and decide I never want to leave.

And the view from the hot springs….

Move over New Zealand, you no longer have any claim to the most beautiful view in the world.
Near the hot water springs, the guides refill our water tanks from a… spring?

Once we're refreshed from the hot springs, we regretfully started climbing again, climbing to another part of the rim of the crater. The views are pretty damn good:

The path, however, is not. Hikable paths have given way to semi-rock-climbing, where we have to scramble up ledges. Thankfully, I have billy goat blood, so the climb isn't too bad. Today though, we climb into the mist. Or rather, I climbed into the mist – I had gotten separated from my climbmates. And let me tell you, climbing into mist is nowhere as awesome as climbing above the clouds.
Again, nice sunsets: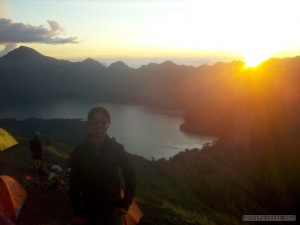 That night, we make camp again on the rim of the crater again, but on the opposite side from last time. Once again, the night is cold, the wind tries to blow me off the mountain, and I don't get much sleep.
Mount Rinjani: Day 3
To reach the summit of Mount Rinjani by sunrise, we have to wake up at 2 AM. We have to wake up at 2 AM, after two days of tiresome trekking and low-quality sleep. We have to wake up at 2 AM, after two days of tiresome trekking and low-quality sleep, and climb three hours up to the summit, in the pitch black darkness. What the hell was I thinking, signing up for this expedition?
And so, we hiked up to the summit. But this morning's hike differed from the previous two days' hikes in two crucial ways. First, instead of climbing up the side of a mountain, we were now climbing up along the edge of a crater. Very similar, except that now, on both sides of the path, there are steep 45-60 degree incline drops, either down the side of the mountain, or into the basin of the volcano. And in the areas where the path is narrow, a good wind might easily blow you down one side or another. Oh, and it's pitch black dark outside!
Second, almost the entire trail is a gravel path. Not a level gravel path, that would be too easy.  A gravel path sloping steeply upwards. And without solid footing, it's one step forward, half a step slide back. One step forward, half an agonizing step slide back. In the pitch black darkness, unable to see your final destination, only focusing on taking that next step.
I'm still not sure how I made it, but FUCK YEAH, I MADE IT TO THE TOP OF MOUNT RINJANI. Ten minutes after sunrise. Oh well, you can't win them all.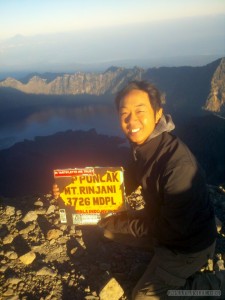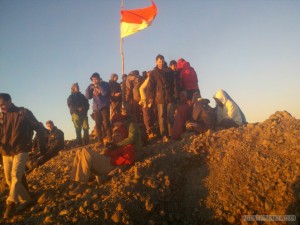 The views at the top? They were pretty good, but not great enough to justify a sunrise climb. Also? It was quite cold up there, with very high winds.

Also? Fuck physics. "What goes up must come down". I've got to climb back down from the summit. Or rather, slide back down from the summit. Slippery gravel, remember? So you've got two options. You can either try to make it down slowly but surely, or throw caution to the winds and just run down at top speed. Neither option worked for me – no matter how I tried to go down, I would keep slipping, falling, and rolling down the mountain.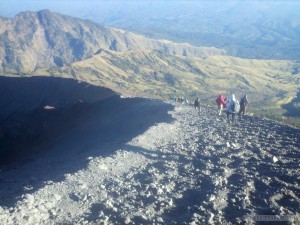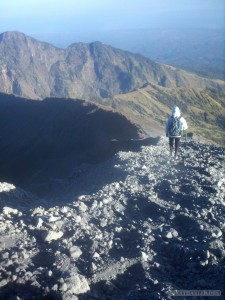 I briefly considered how awesome it would be to bring a snowboard (gravelboard?) and slide down the mountain, but decided the risk of sliding off the mountain was too great.
The porters prepare to bring all the equipment back: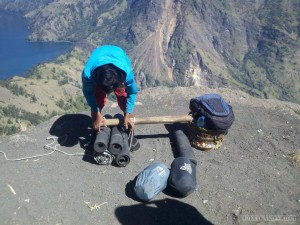 Since the hordes of people climbing down the mountain via a gravel trail generated an obscene dust cloud, I opted to sit and wait for the path to clear, so that I could hike alone, alone with my thoughts, without breathing in clouds of dust. And it was actually a really peaceful hike, all quiet except for my thoughts. Then, I realized that it wasn't actually quiet – pressure had simply built up in my ears, preventing me from hearing anything. Yes, the path was that steep.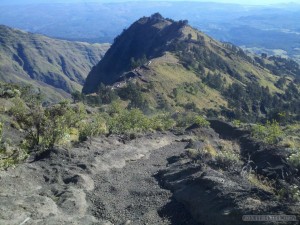 And so, we descended all the way from the summit of Mount Rinjani, to the base of the mountain. In one day. Not much to say, other than there was a lot of dust, and I took a lot of dust baths from slipping and falling.
Holy shit I'm covered in dust: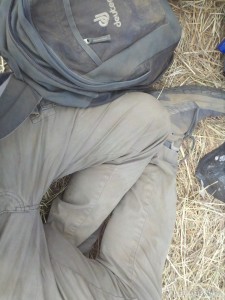 The remains of a forest fire (?):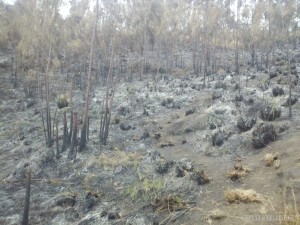 Cows!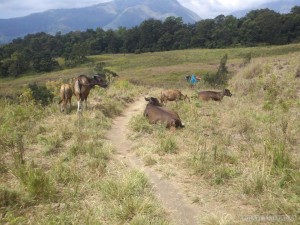 And thus, I conquered Mount Rinjani. Tick one off the bucket list. One of the hardest (three) days in my entire life. But totally worth it.