Yogyakarta (Jogjakarta / Jogja) is a town that can't seem to decide what to call itself, so I'll go with Jogja.  It's the cultural capital of Java, so I decided to visit for a couple of days, and see what the fuss is all about.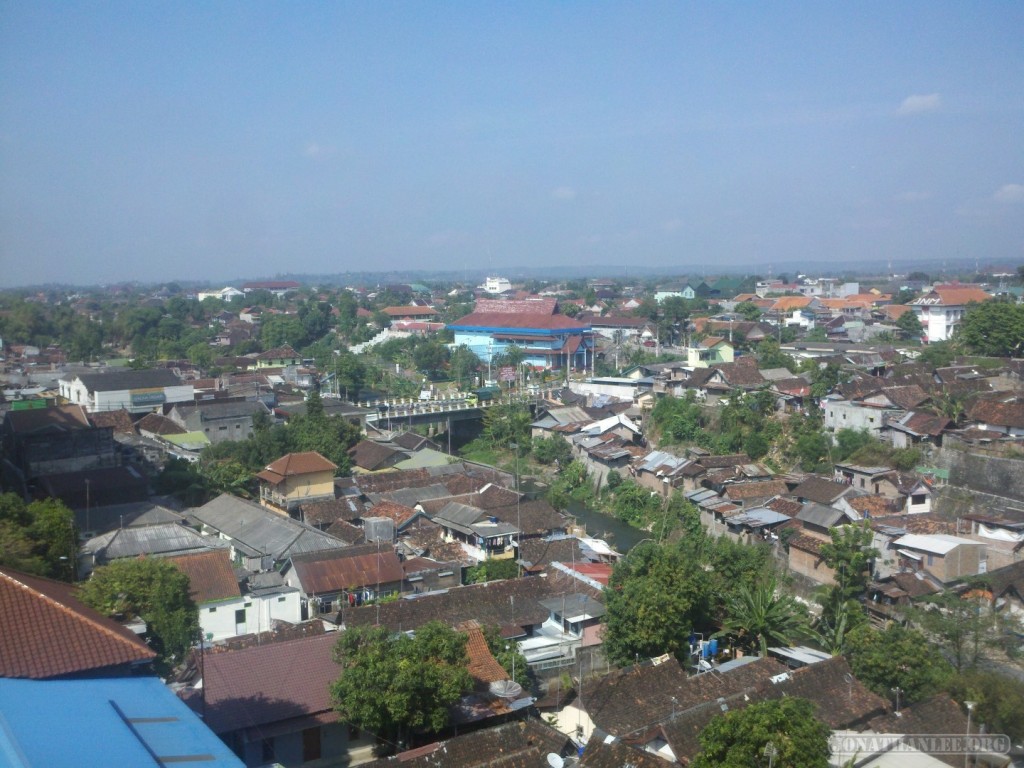 Unlike Bali and Lombok, which are flooded with western tourists, Jogja is more of a vacation place for local Indonesians.  While you would occasionally see some western tourists around, especially on Jalan (road) Sosrowijayan, the main strip for hotels and homestays, it's primarily locals that you see.  And as a result, the streets aren't filled with people trying to prey on western tourists.  Which I really appreciated.
Since there's so much around Jogja, I'm separating out the arts and culture of Yogyakarta into a separate post.
Bugs, bugs everywhere!
My first night in Jogja, I arrived late to the city, and found that the most popular accommodation spots were already full. So, I made the questionable decision of staying at less than reputable homestay.  While it seemed to be clean enough, I managed to get bitten something like 20 times in one night.  Including this one insect bite on my leg that swelled up into a blister almost an inch across and half an inch high.
After this experience, I decided to raise my housing standards – saving a couple of bucks isn't worth 20 bug bites.  Seriously, in one night in Jogja, I got more insect bites than the rest of my time in Indonesia combined.
Kraton (Grand Palace)
In an odd twist of history, Jogja is one of the few areas of the world still ruined by a Sultan, and the Kraton palace is his home in Jogja.  Part of the palace grounds have been converted into a museum for tourists, so I went and took a look!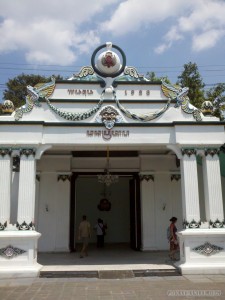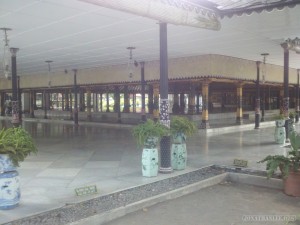 As it turns out, the grand palace is quite boring – it reminded me of the Forbidden Palace in Beijing… but less grand.  It has daily displays of Javanese culture (wayung kulit, dancing, poetry readings, etc) as well as some interesting museum pieces, but overall is quite badly curated.  Also, no English explanations.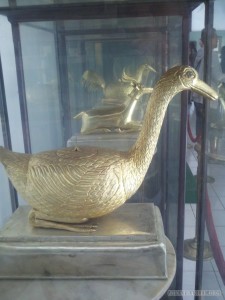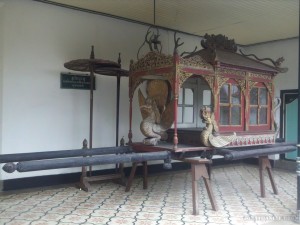 Taman Sari Water Palace
My first thoughts of the water palace were, "this place is a dump".  Following the signs saying "water palace", you get to this old partly collapsed and ruined building on a hill.  And that's about it – not much to see, just some ruins where you see a lot of local kids hanging out.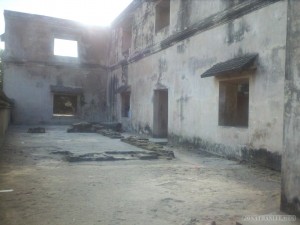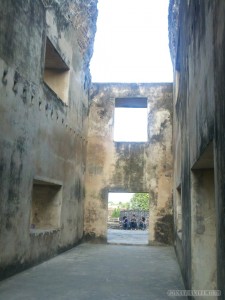 The trick is, the signs are lying.  If you go behind the ruins, following this long underground pathway (that used to be a water canal?) you get to the real water palace.  According to the stories, while the sultan's many wives bathed in one part of the pool, the sultan would choose one per day to join him in his own private pool.  Exquisite.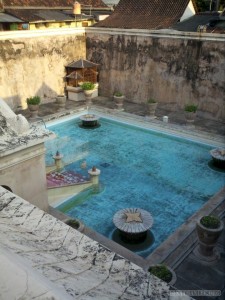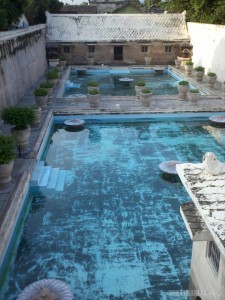 Since the water palace is no longer used by the sultan, the immediate surroundings have been turned into a tax-free residential area for former servants of the sultan.  It's a nice park-like area, but full of people trying to sell batik (Indonesian art) to tourists at grossly inflated prices.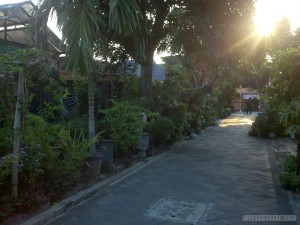 Bird Market
Whoa, there are a lot of birds being sold here.  The bird market of Jogja is this huge park filled with people selling all sorts of birds:

There were even people selling crows – who buys crows?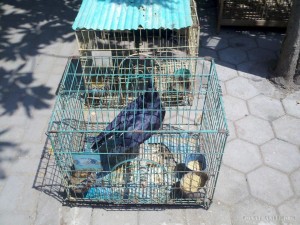 The entire place was an assault on the senses – a veritable rainbow of birds, a cacophony of bird calls, an inescapable smell of bird poo.

You rather feel sorry for the birds.
Though this place is known as a bird market, it's also got other types of animals:
– Rabbits and guinea pigs sharing a cage: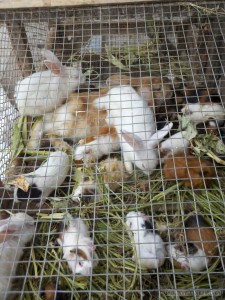 – Adorable hamsters munching on corn: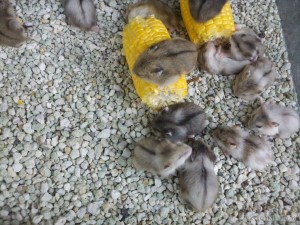 – Baby chickens, dyed a rainbow of colors.  My cute-o-meter exploded: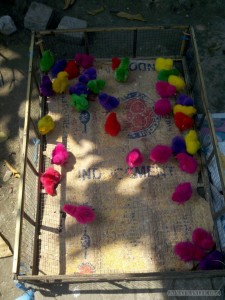 Amazingly enough, I also saw a guy selling leeches, for use in bloodletting!  What century do we live in again?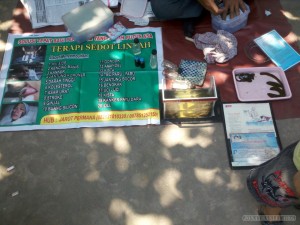 Nightlife
Jogja has a pretty cool night market.  As evening approaches, vendors begin setting up shop along the main tourist area of Jogjakarta.

While most of the stores are pretty generic, I liked the popup roadside restaurants.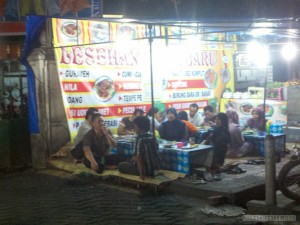 Being my usual self, I would just sit down and order something random off the menu.  Sometimes, it works, such as when I tried nasi gudeg, a sweet and delicious jackfruit-based dish.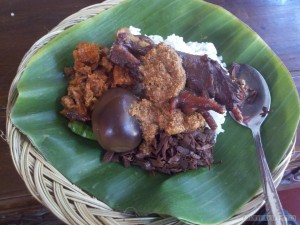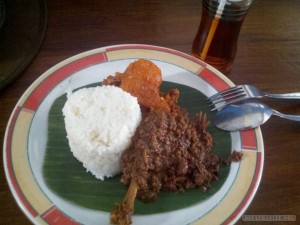 On another night, I tried this dish called oseng oseng mercon, and got what looked like a beef stew.  I took a bite, and found it delicious.  Another bite, and it's chewy but tasty.  Third bite, and oh god my mouth is on fire.  As I later found out, oseng oseng mercon roughly translates to "chilis with meat".  Not "meat with chili", but "chili with meat".  I have never, ever eaten anything more spicy, and my stomach was most upset with me for the rest of the night.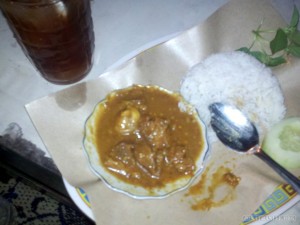 Getting around in Jogja
Mostly, I just walked.  Normally, people take a trishaw (a three-wheeled foot-powered cart) when getting around Jogja, but I really felt bad doing so.  Here I am, a young man in the peak of my youth with strong legs.  And over here, we've got an old man, who wants to charge me $1 to bike me around for half an hour.  There's something very, very wrong with this.
Bits and bobs:
A monument to Indonesia's independence movement, with some additional history nearby:

There's also this traditional Indonesia market, selling all sorts of clothes.  I wasn't interested.