Jakarta is the capital of Indonesia, but that's about all it has going for it. As a generic big city, it has neither character, nor interesting places to visit. It does, however, have a lot of traffic.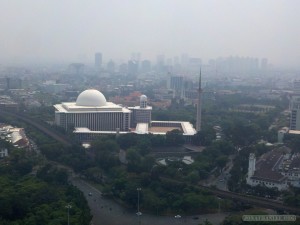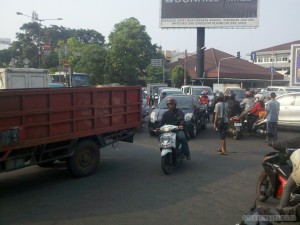 And so, I only spent three days in Jakarta, trying to take a break before flying off to my next destination.
Or at least, I tried to take a break. After arriving in Jakarta, I headed to Jalan Jaksa, the main backpacker district of Jakarta. And it was the slummiest, sleaziest, dirtiest backpacker district I've ever seen. I should have just gotten out, sprung for more expensive accommodation elsewhere, but… I didn't.
Surprise! Bedbugs!
It wasn't just one bug, either – it was a whole infestation of them. Unlike mosquito bites, bedbug bites are long-term; it can take several hours for them to show up, and they can last for weeks! I was bitten on the neck, and wow, it's pretty bad.
While bedbug bites aren't terribly itchy, they make you look like you have the plague / leprosy:

I went on a talk show! While in Malaysia, I had met this guy, Farid, and he works as a radio talk show host. So when I visited him in Jakarta, he naturally thought that he might put me on the air to talk about my experiences traveling. And so, even while I was breaking out from bedbug bites, I was on a talk show!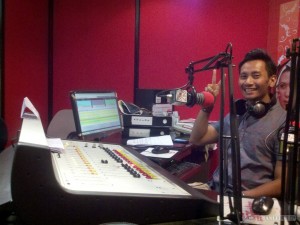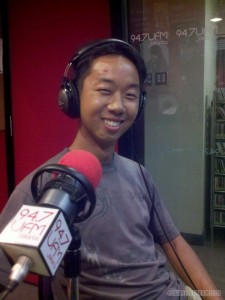 Another tick on the bucket list! On the show, I talked about how I decided to travel, my favorites places so far, and my favorite Indonesian foods. I also tried to read out an announcement in Indonesian, but distinctly failed. On a scale of 1 to 10, I scored a -1.
Other sights to see in Jakarta:
– Traffic: self explanatory. While driving around Jakarta with Farid, we were stuck in traffic, just before a toll booth, for half an hour. Stuck in traffic, as in we might as well have parked the car and turned off the engine. We talked about sports, hot girls, and fast cars while waiting for traffic to clear up.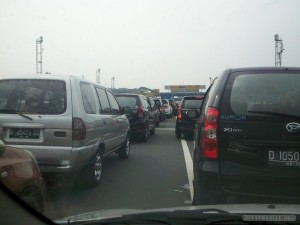 The bus system in Jakarta is pretty good though – they've got dedicated bus lanes! Jakarta's got this thing going, where it's got air conditioned bus stops, and the lane by the bus stop is for buses only – no cars! It helps a lot in making mass bus transportation more effective!
The buses themselves are pretty nice too, decades more advanced than anything you'd find in Bali or Lombok.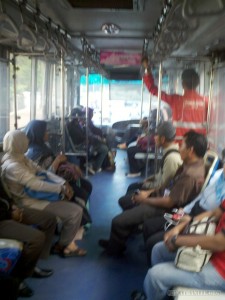 – The national monument: Celebrating Indonesian independence! Supposedly, the flame at the top is made of real gold! It's an urban legend that magician David Blaine once asked for permission to perform a magic trick, making the flame disappear – but the Indonesian government declined, afraid he'd actually pull it off and steal all the gold.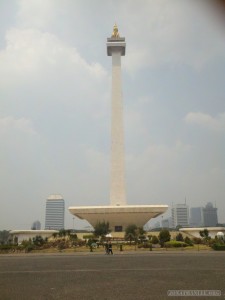 Taking an elevator ride to the (almost) top, you get a great view of Jakarta – or at least, of the pollution around Jakarta.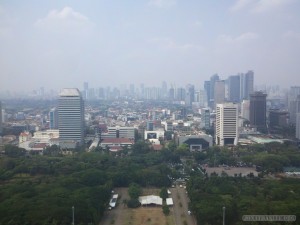 There was also this – the dick building. Supposedly designed by a gay politician. Once you see it, you can't unsee it.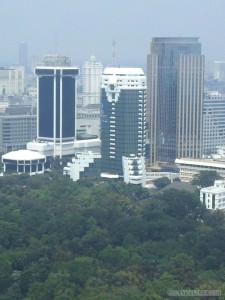 There's a cool mural near the national monument too: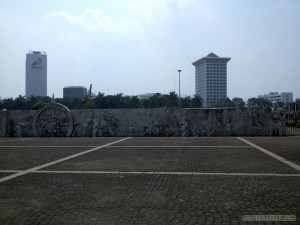 – Taman Mini Indonesia Indah (TMII): Since Indonesia is a collection of thousands of islands, it's also a collection of thousands of cultures and architectural styles. This outdoor museum showcases cultures and architecture from all over Indonesia. I didn't get to spend much time here, but I was amazed at all the different architectural styles:

Oh, and it also had a zoo – with Komodo dragons! Since I had decided to not visit Flores and Komodo, I thought I would not get a chance to see wild Komodo dragons. BUT HERE, I GOT TO PET A KOMODO DRAGON! It feels… not very special. Kind of like a fake alligator skin purse. Man, they do not take good care of Komodo dragons at this zoo; this one is obese as hell!