I spent New Years 2014 in Taipei, watching the fireworks at the Taipei 101.  There were a lot of other events going on for New Years – concerts, parties, and clubs – but I simply wanted to enjoy the fireworks.  And they did not disappoint!

For New Years 2014, there were a bunch of different cities that held fireworks – Taipei (2), Taichung, Kaohsiung, and Hualien.  But really, I only had one choice – celebrating New Years 2014 in Taipei, watching fireworks at the Taipei 101.
It was surprisingly easy to get near the Taipei 101.  Not the impromptu concert hall filled with celebrities and pop idols – that filled up much earlier in the day.  Not that I had any interest in Taiwanese pop music.  But heading to the Taipei 101 two hours before New years 2014, I was able to get a pretty good spot, with a great view of the Taipei 101.

It got crowded!  Since all the roads near the Taipei 101 were blocked off, early arrivals were spread out a picnic blanket, and sat down to await the fireworks.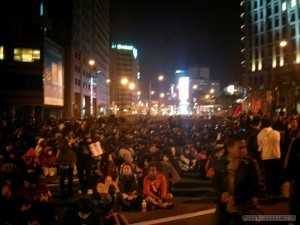 But once it got more crowded, it became standing room only.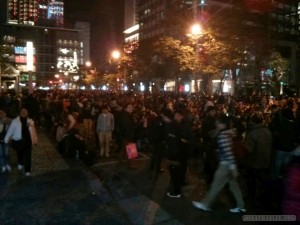 And then, the fireworks started.  Amazing.

Notice all the smoke – if you tried to watch the fireworks near the New Years 2014 fireworks downwind from the Taipei 101, all you would see is smoke!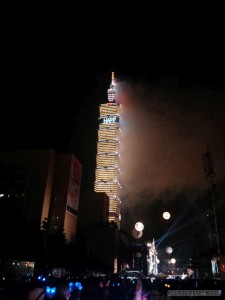 Videos are now available!

Once the fireworks ended (only 5 minutes long), I amscrayed – since I was on the edge of the crowd, where I still had some breathing room, I wanted to get out before the rest of the crowd came and overwhelmed the subway stations.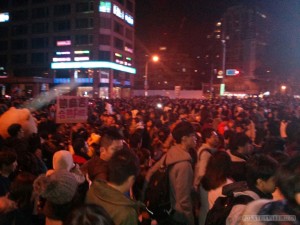 Even though I was amongst the first out of the crowd, the subway stations were already way packed – people couldn't even get into the entrance.  Even walking 10 minutes to the next MRT station, there was a huge line: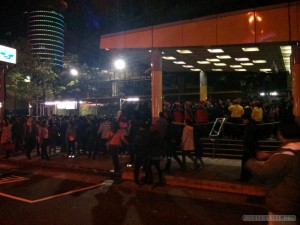 I was really impressed with how the authorities handled the crowds though – instead of letting everyone into the subway and crowding the platforms, they coordinated and only let people into the station a few at a time.  It only took me an hour to get home to Taishan.  Usually, it would have taken me half an hour, but I expected the New Years 2014 crush to take up to 3 hours.
All in all, it was a pretty good New Years, spent with my sister watching fireworks at the Taipei 101.