Taipei (臺北 / 台北)! In some countries (e.g. Australia, New Zealand), the capital is simply the administrative center, not the biggest or most important city. Not so with Taipei! Taipei is not only the administrative capital of Taiwan, but also the largest city, the arts and culture center, and clearly the most important. So I was lucky to spent quite some time living with relatives in Taishan – part of New Taipei City, which in turn is basically the suburbs of Taipei City. From here, I visited the many cultural and historical sites and Taiwan!


Taipei 101: this will get its own post in a bit!
National Palace Museum (國立故宮博物院): when Chiang Kai-Shek and his nationalist army fled to Taiwan, away from Mao and his communist army, they brought with them the best of China's great treasures and historical artifacts. Since Taiwan still claims to be the legitimate government of China (it's complicated), those great treasures have stayed in Taipei, where they remain on display at Taiwan's National Palace Museum. And amazingly enough, they have so many antiques and treasures that only 1% can be displayed at any time. This museum is considered to be one of the best in the world, so I had to visit.

Unfortunately, I was quite disappointed.  I can sum up most of the museum in four phrases: bronze pots, calligraphy scrolls, jade decorations, and ceramic bowls. I'm sure there's a lot of history behind all these antiques, but I did not find them terribly interesting. Also, photography of museum pieces was completely forbidden. but in any case, there were three main important pieces at the National Palace Museum (photos courtesy of Wikipedia).
– The Jadeite Cabbage:

– The pork-shaped stone:

– The Zong Zhou Zhong (a bell, covered with engravings):

The jadeite cabbage and pork-shaped stone were mildly interesting (but incredibly small, like ~10 centimeters?), but since I visited on a weekend, there were way too many tourists from mainland China there.  Wait 30 minutes to see an exhibit?  No thanks.

For me, the most interesting part of the museum was a contemporary exhibit, among which there was a face capture exhibit:

A… palm robot?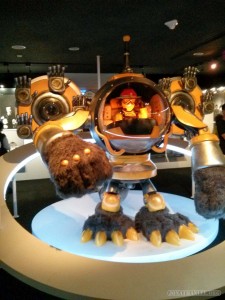 228 Memorial Peace Park (二二八和平紀念公園): a park near city center, it's got the 228 Memorial Museum, dedicated to the 228 incident, where protests against a corrupt Kuomintang government led to a crackdown and an imposition of martial law. The museum's narrative is a bit lacking – to somebody who isn't familiar with the incident, it misses the forest for the trees. However, it very nicely covers Taiwan's history before, during, and after Japanese rule.
National Taiwan Museum (國立台灣博物館): near 228 peace park, this is more of local museum, with science and cultural exhibits aimed at visiting school groups, covering topics such as biodiversity and conservation.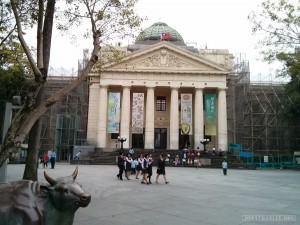 Discovery Center of Taipei (台北探索館): An unassuming building attached to City Hall, it's sort of like a Taipei history museum. It shows off Taipei's old city gates, fortune telling, and historical districts, among others topics.  Very interesting and worth a visit.

For a while, this was Taiwan's national flag, while Taiwan (unsuccessfully) tried to fight to resist a Japanese takeover.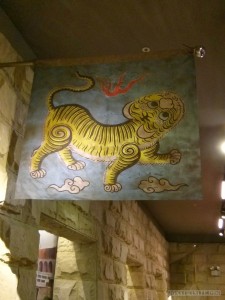 It also had a rotating theater! I'm not sure why it has to rotate, but Moments in Taipei was a pretty good (but propaganda-ized) mini-movie.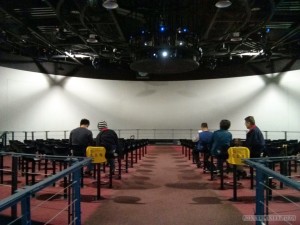 Chiang Kai-Shek Memorial Hall (中正紀念堂): Huge gates, a concert hall, an opera hall, and one gigantic building with a statue of Chiang Kai-Shek. It's also got some art galleries, and a mini museum of Chiang Kai-Shek, showing off his kick-ass presidential car. Oh, and the statue of Chiang Kai-Shek has an honor guard with an hourly changing of the guard ceremony, which draws boatloads and boatloads of tourists from mainland China.

Sun Yat-Sen Memorial Hall (國立國父紀念館): It's quite poignant, the name of this memorial.  While in English it's just the Sun Yat-Sen memorial hall, in Chinese it's the Memorial to the Father of the Nation. Unfortunately, there's not terribly much here: a  low-key statue of Sun Yat-Sen, some art pieces and murals, and a nice park. Again, an honor guard, the accompanying changing of the guard ceremony, and an absolute boatload of mainland Chinese tourists.

Some folks (Mainland Chinese tourists, definitely) decided that the memorial hall would be a great place to take a nap: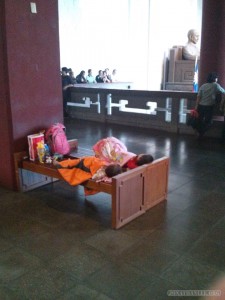 Ximending (西門町 – literally, west gate area): the youth shopping center of Taipei, filled with the latest in fashion and accessories from Tokyo, China, New York, and all over the world. But since backpacking severely limits my carrying capacity, I wasn't terribly interested. Very crowded, overly filled with school-aged kids.

Nearby is the National Theater and the Red House (西門紅樓), an octagonal old market converted into a small arts and crafts market:

– Guanghua (光華): Taiwan's largest electronics market under one roof. On the bottom floors, you've got the big brands – Acer, Lenovo, etc – selling big ticket items: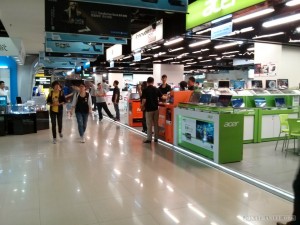 A few stories up, you've got a whole bunch of smaller stores, selling all sorts of miscellaneous electronics: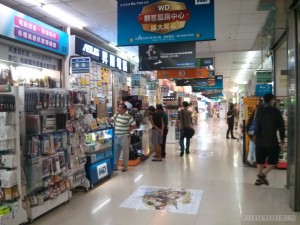 And towards the top of the building, you've got the more specialized stores – including this one, selling nothing but multi meters. Seriously, multimeters. I guess if you're in the electronics business anywhere in Taipei, you come here for all your multimeter-related needs?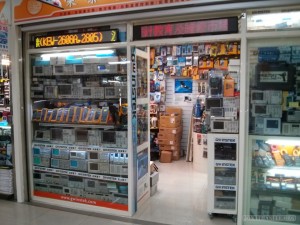 And the entire area around Guanghua mall also sells electronics!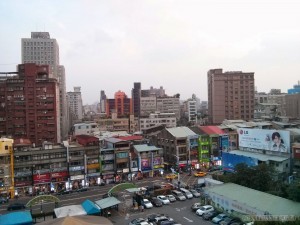 On an interesting note, Taipei has a camera street, dedicated to selling cameras and camera-related accessories!  Here, I found that my old Panasonic digital camera had basically died for good.  Oh well, guess I'm using my camera phone!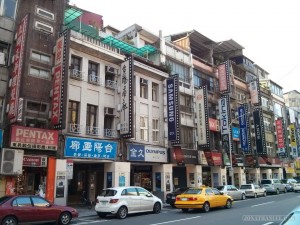 – Longshan Temple (龍山寺): a pretty famous temple, quite popular and with some very nice views.

Interesting, not one block away from Longshan temple is a red light district: walking by towards the river, middle aged women with way too much makeup on kept accosting me – want to meet cute girls?
And from the park along the Tamsui river, right outside the hustle and bustle of Taipei, it's almost a pristine wetlands.

– Tamsui (淡水): one of more popular scenic areas of Taipei. It's got a fisherman's wharf, lover's bridge, and night market!

Now that's an odd shaped hotel… and a huge duck!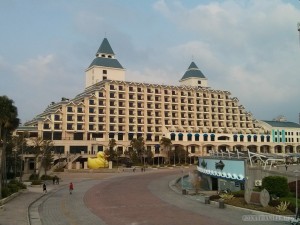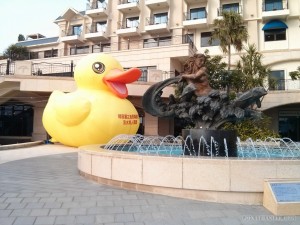 This is apparently how port dredging works in Taipei. Curiously, my cousin mentioned to me he suspects the government intentionally keeps the harbor silted up – otherwise, an invading force (*cough* China *cough*) could sail right into the heart of Taipei.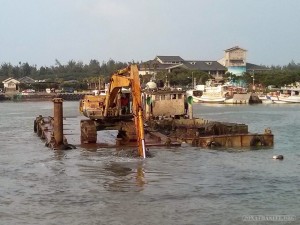 – Bali (八里): opposite to Tamsui, with some nice views.


Bits and bobs:
– Scooters are amazingly popular in Taiwan, but especially Taipei: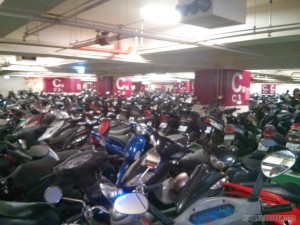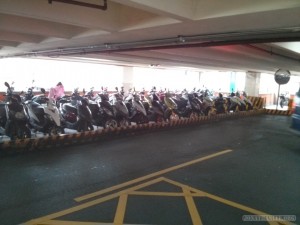 – Beef noodle soup is amazingly awesome: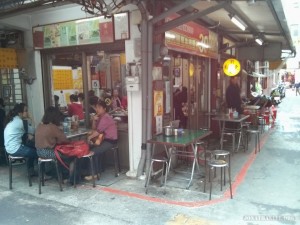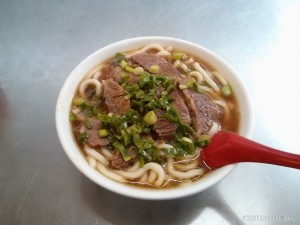 – But lately, a lot of ramen shops have also been popping up in Taipei: