I initially thought that Taitung / Taidong (臺東, literally East Taiwan), the largest city on Taiwan's east coast, would only be a pit stop on my way to beautiful Hualien, but I was pleasantly surprised, and ended up staying in Taitung for several nights.  Here, I enjoyed this old and park-covered city on Taiwan's eastern coast, as well some of the scenic points near the city.



There is some pretty good scenery on the train from Kenting to Taitung:

There wasn't terribly much to do within Taitung city proper – just a 20km long bike path that loops around the city: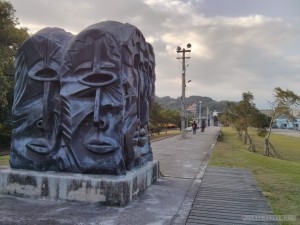 A seaside park:

The National Geographic frame?  Lots of folks taking photos with this frame.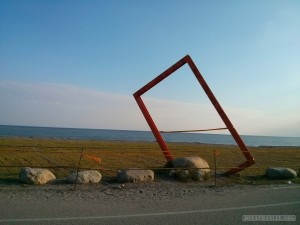 A forest park:

Riding along a converted railroad:

A tug of war festival??!? Unfortunately, I missed the content, and only got there in time for the awards ceremony.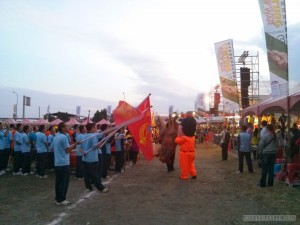 A railway station, converted into a park: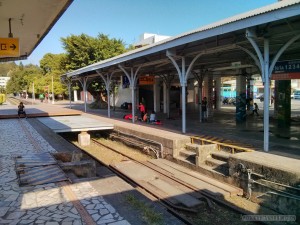 Oh, there's Tiehu village!  It's a musical village in Taitung that plays aboriginal music every night at 8pm.  Entrance is NT300, or ~$3.  Or, you could listen to the music from the outside.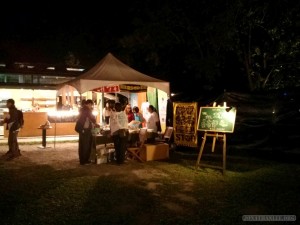 The real points of interest in Taitung are outside of the city, accessible only by car/scooter or bus. I took the bus. From Taidong, there are two bus routes – an oceanside route, and a route into the mountains. I did both!
Oceanside route:

Xiaoyeliu / Xiaoyehliu (小野柳 – a smaller version of Yehliu, known for its rock formations): Rocks in a park along the ocean. It sounds boring, and it is somewhat boring, but it's also kind of interesting – it's only rock, but you've got a bunch of different rock shapes and formations right next to each other – cuesta, tofu rock, coral reef rock, mushroom rock, honeycomb rock. Mildly interesting, in a boring sort of way?


The park had some surprisingly nice flowers, too.  Normally, I'm not somebody who takes photos of flowers, but I liked, how the plant on the left seems to have two different types of flowers on the same plant!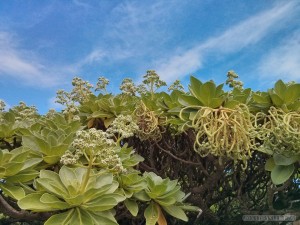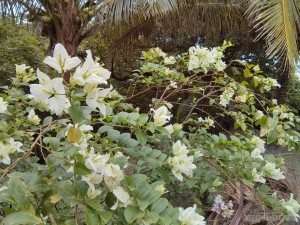 There's also camping here, but with wooden platforms, trash cans, and even hot water, it's totally city camping.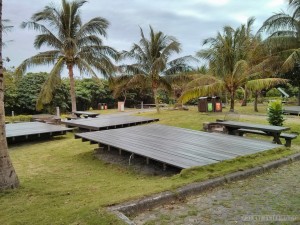 Donghe (東河 –  east river) Steamed Buns: famous and delicious! I had a couple of these buns for lunch, as well as this fruit called a super-apple (釋枷).  Sugar apples are pretty delicious – you'll want to pick a soft fruit, break it open with your hands, and scoop out the inside with a spoon.  Don't forget to spit out the seeds.

Donghe bridge: An old bridge, with some quite nice views:

Amis Folk Center: A cultural center showing the culture of the Amis, one of Taiwan's aboriginal tribes. On display were the history, music, and clothing of the Amis:

Also, games! Error screens on public displays amuse me greatly.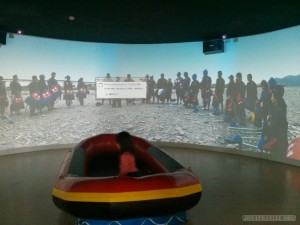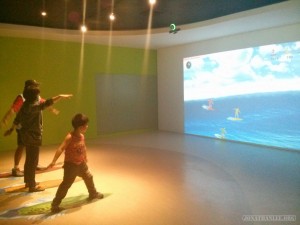 Sanxiantai (三仙台 – three immortals tower): According to legend, where three immortals once visited Taiwan, and manifested as three mountains on an island of the coast. I'm ambivalent about the mythology, but the views here are pretty amazing.

A bridge over troubled waters: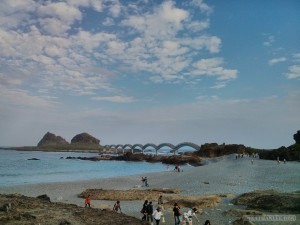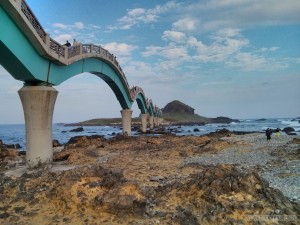 The three mountains:

I passed through an unlit cave, passed numerous fisherman, and ended up on the far-most edge of the island.

Here, I watched the surging waves. and it's scary, watching a wave surge towards you. In a matter of seconds, water in the channel rises six feet, threatening to overflow. You know that it won't reach you – but if it does, and you slip into the channel, you are basically dead. Surging water is not to be trifled with.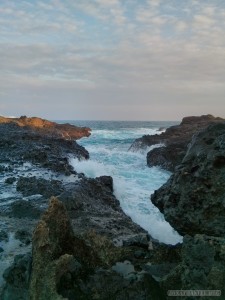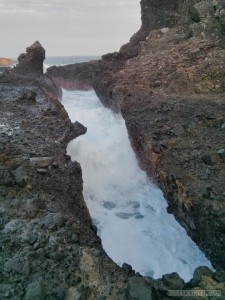 On the far-most mountain, there's a lighthouse! I climbed up to the lighthouse (lots and lots of stairs), and found that you could climb to the very top of the mountain – with only a climbing rope to keep you on the mountain. I'm a rebel, but not foolish. Wearing only worn-out sandals, with the sun going down, and high winds blowing in from the ocean, I decided not to head to the top.

The sunset views were amazing:

Mountain route:
Chulu Ranch: A ranch with sheep, goats, and other animals. I had to skip this due to rain, but I hear it's pretty good.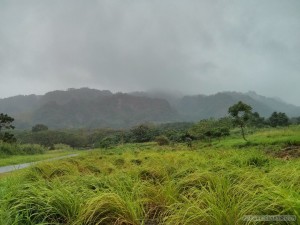 Luye (鹿野): A scenic viewpoint atop a mountain, there's not terribly much to do except enjoy the view, and perhaps drink some tea.



During the warmer and dryer months, there is paragliding from Luye, but unfortunately I arrived on a cold and rainy day.
Bits and bobs:
I hitchhiked!  Traveling up the oceanside route by bus, I mistimed and missed the bus, and found myself walking along the side of the road, thumb outstretched.  And lo and behold, a mysterious benefactor appeared – a guy from Hualien who comes down to Taitung every weekend to teach youth soccer.  He gave me a five minute ride along the oceanside route to my next destination, saving me an hour of walking.  Thanks, guy!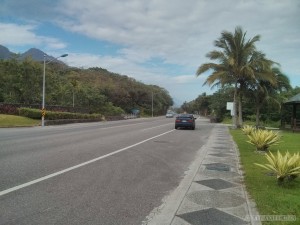 "Famous" stinky tofu: not stinky enough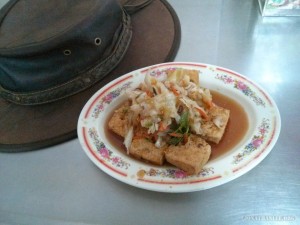 "Famous" fried chicken: 2/10