Macau, the other Chinese special administrative region, is smaller and considerably less well known than Hong Kong. Whereas one can arguably call Hong Kong the Pearl of the Orient (I would not), Macau mostly exists to serve the gambling needs of the greater China region, and is supposedly the biggest gambling destination in the entire world! There's not terribly much to see though – I took a day trip from Hong Kong to Macau, and half a day was sufficient to see all the interesting parts of Macau.


There are three parts to Macau.
First, you've got the Portuguese parts – much like the British controlled Hong Kong until 1999, Portugal controlled Macau until 1999. As a result, there's still a lot of Portuguese architecture, especially churches. The buildings are picturesque, the streets are cobble stoned and pedestrian-friendly, and there's a very relaxed European feeling. The tourists congregate in these areas.  Lots of parks:
Second, you've got the massive hotels and casinos. Along Macau's waterfront, there are these gigantic super modern towers and skyscrapers, neon lights and water fountains, luxury stores and 'art' displays.
And finally, you've got the rest of Macau, looking quite ordinary and boring in comparison.
The Portuguese parts:
Lots of churches: St. Joseph's Church, St. Augustine's Church, St. Dominic's Church
Macau also has a lot of Portuguese-style public squares, with Senado Square being the most crowded and urban (surrounded by western shopping stores)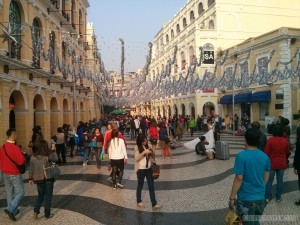 This Christmas tree, in Senado Square, is a very sad tree: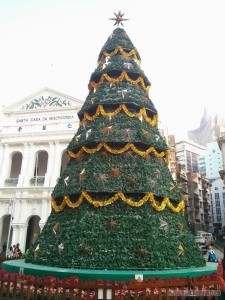 Ruins of St. Paul's: a series of fires took down most of the church, leaving only the stone facade. It's quite picturesque. A single freestanding wall is quite weak structurally, so some clever engineers put up supporting beams behind the facade (not shown) to help prevent hurricanes and high winds from further ruining the Ruins of St. Paul's.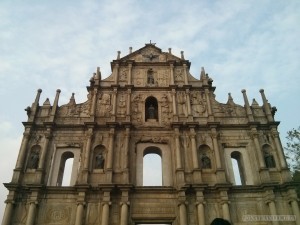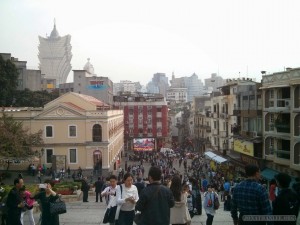 Monte Fort: a fort on a hill, with some very nice views of the city.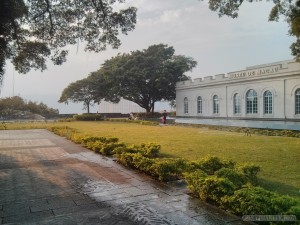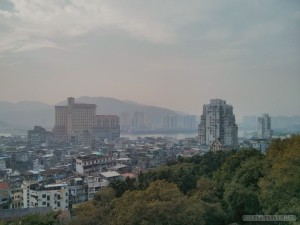 That's a very well-polished glass mirror wall: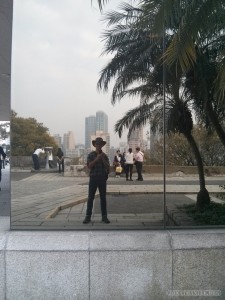 Curiously, all of the fort's surviving cannons are all pointed at the hotel and casino district: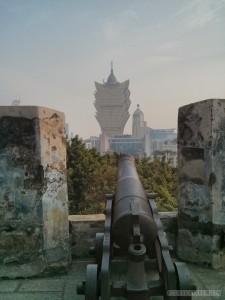 Guia Fortress: another fortress on a hill (this one is higher), with even better views of the city. The sunset here was good, but strange. As the sun was sinking into the horizon over China, it just faded away into the smog over China. Usually, the sun disappears behind a building, a hill, or a cloud, but over here it just simply faded away. Quite anti-climatic.


Lots of folks were taking wedding photos here: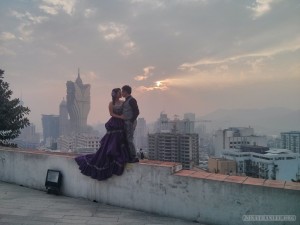 Interestingly, before modern technology arrived in Macau, weather forecasts (for typhoons) were announced at Guia through these signs: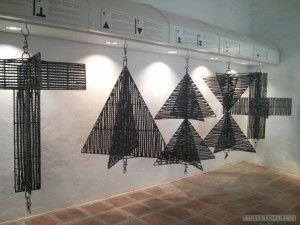 The Casinos
I visited three casinos – the Grand Lisboa (the grand-looking structure that shows up in earlier photos), the Wynn, and the MGM Grand. Honestly, they were rather lackluster. Very few people playing slots, lots of people playing Baccarat, some poker tournaments. It really struck me, how the entire casino was so unemotional. No displays of joy. No displays of sadness. Just a lot of bored people resigned to slowly bleeding away their money. Maybe because I went on a weekday?
The light displays of the casino district were neat though: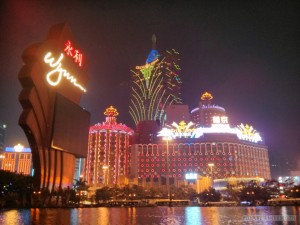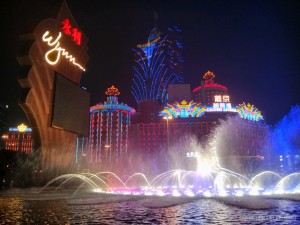 Am I the only one who sees bamboo steamers on the ceiling of this casino lobby?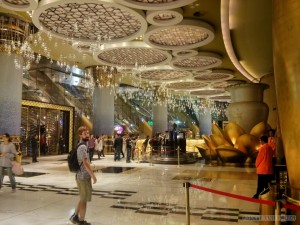 Grand displays of wealth in a casino lobby: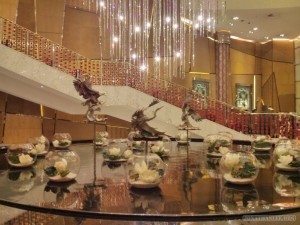 I really can't tell if this is elegant, gaudy, or just plain too colorful: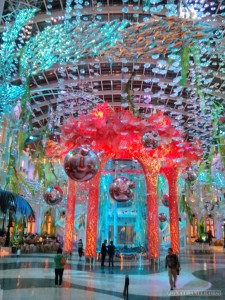 The rest: it's rather unimpressive. Some buildings resembled the Kowloon Walled City in their slumminess, others were more ordinary.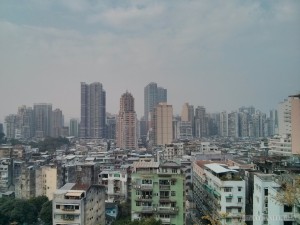 This street reminded me of Taiwan, for some reason: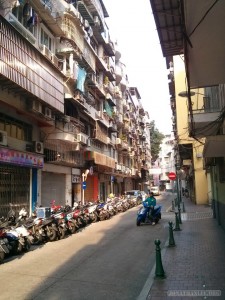 Bits and bobs:
– A Portuguese egg tart! I tried one of these tarts, and they're quite good. Imagine scrambled eggs, cooked just long enough so that the egg starts to come together, but not long enough that it dries out and starts to burn. The lightest, softest, moistest scrambled eggs in the world. Take that, and put it into a tart. Delicious.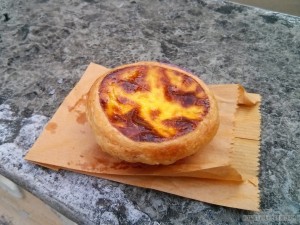 – The Temple of A-Ma precedes the rest of Macau, and is cool outdoorsy, hilly temple compound.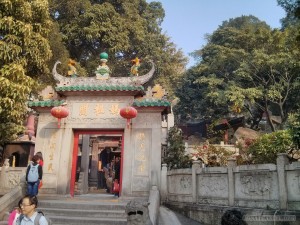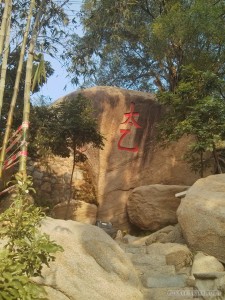 The temple goes a bit too heavy on the incense. Every time somebody lights up incense, it's never just or or two, but instead an entire fistful. I think you light them all at once, but then going around sticking them in different alters? Clearly, I am not a religious studies major. Also, check this out:
– These are not wind chimes. These are gigantic incense spirals.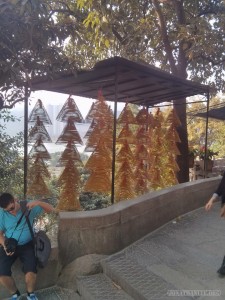 – This idea. This idea, it is amazing.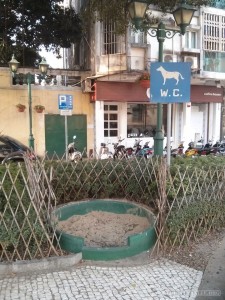 It takes an hour to get from Hong Kong to Macau… by hydrofoil! Tickets are ~$20 to $25 USD each way.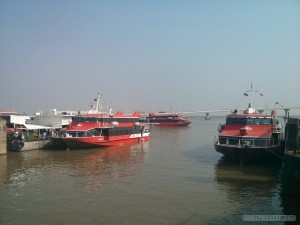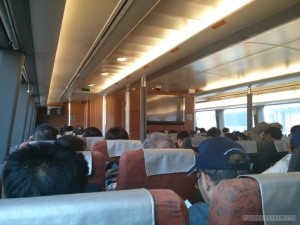 Interestingly, leaving the ferry terminal in Macau, you are greeted by a wall of girls advertising hotels and casinos, with shuttles ready to spirit you to your gambling destination of choice: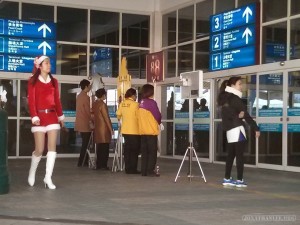 Oh! And Macau has this weird thing going on, for their currency. Hong Kong has the HK Dollar, and Macau has the Pataca (MOP), which is pegged at 1 HKD : 1.03 MOP. By itself, this seems like just an oddity (why 1.03?), but if you add in another factor, it becomes a conspiracy. And that factor is, most merchants in Macau accept the HKD – but at a 1 : 1 exchange rate. If a visitor buys a postcard for MOP $3 with a HKD $100 bill, he receives MOP $97 in change – and has effectively paid twice as much, MOP $13, for a postcard. Diabolic!