Before leaving Taiwan, I saved the best for last – Pingxi, a scenic area about an hour and a half away from Taipei by train.  This area is actually a collection of towns – Pingxi (平溪), Shifen (十分), and Jingtong (菁桐).  All used to be known primarily for coal mining, but have since become a major tourist attraction, especially with tourists from the mainland.  This area has decent scenery, but is primarily famous for its sky lanterns.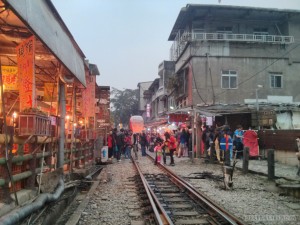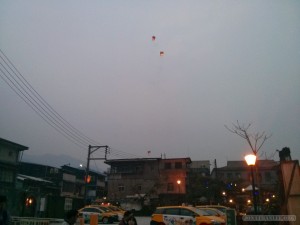 I visited on a weekend, and holy hell there was a lot of people.  Trying to get off from the train on the first stop, i encountered an absolute crush of people, and so decided to worm my way back from the last stop.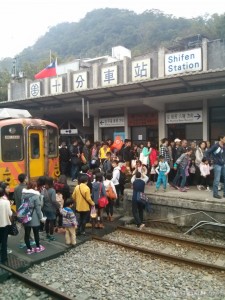 Jingtong (菁桐), the last stop on the rail line: not much here except for some decent views.  Don't do sky lanterns here.


The train station here is also quite traditional, and the train design is quite nice: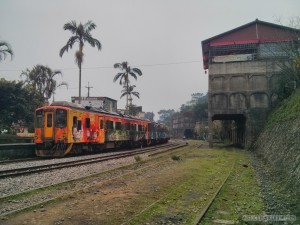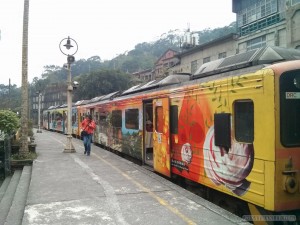 Lots of wishes.  This seems to be a common theme amongst temple and tourist attractions in Taiwan – buy a trinket, write down your wish, and hang it up.  Is there a yearly wish wipe?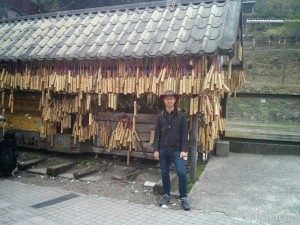 A Japanese-style dormitory for miners, dating back to the times when Japan occupied Taiwan: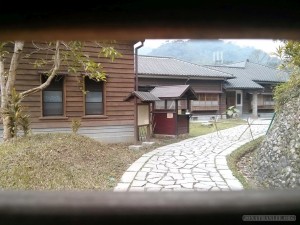 A coal mining statue!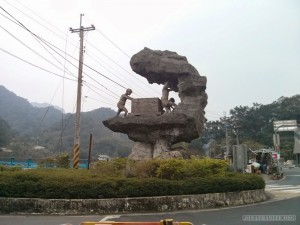 A coal memorial park?  That's what it said on the map, but I was somewhat underwhelmed.  I think it's just an old mining shantytown, torn down to allow nature to return?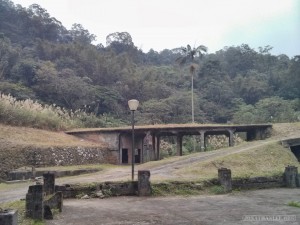 Oh, and an awesome slide.  I'm sure there's a valid reason to have these slides, other than being awesome, but I can't find it.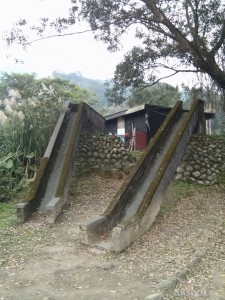 Pingxi(平溪), the intermediate stop.  There's not terribly much here, other than the old streets – a small market built onto a hill.  Don't do sky lanterns here.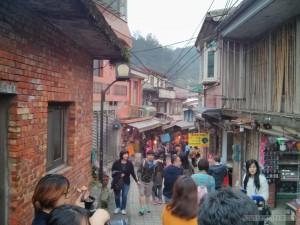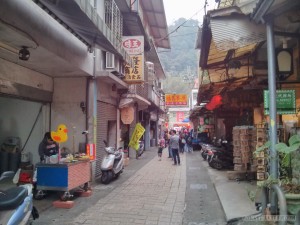 It's got an antique mailbox, which is… an attraction?  While I'm on the subject, I've noticed that stamps are huge in Taiwan.  Not stamps as in postage stamps, stamps as in rubber stamps.  Each area in Taiwan has different rubber stamps, showing off their local attractions.  And tourists (usually from mainland China) come with a stamp book – like a diary, but expressly meant to collect these stamps.   I guess it's a mainland Chinese thing.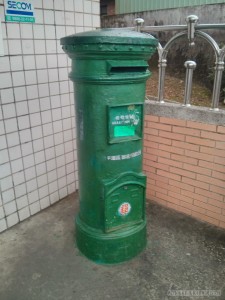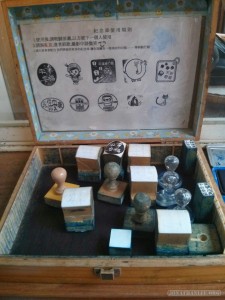 Shifen (十分), the first stop.  Curiously, this city is built around the the railroad tracks – the main road of the town is the railroad tracks.  When the train comes, everybody has to get off the tracks, but otherwise, everybody walks and sky lanterns on the tracks!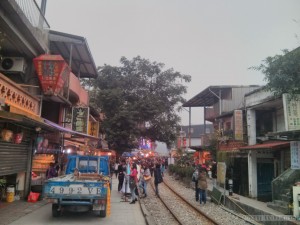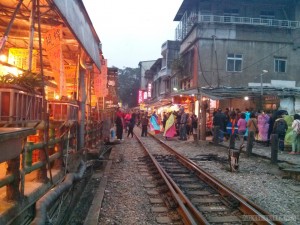 The scenery at Shifen is pretty good:

And THIS place, Shifen, is where you should try sky lanterns.  It's pretty simple.  For about $7, you get a (paper) lantern, which you decorate with your wishes, drawings, or scribbles: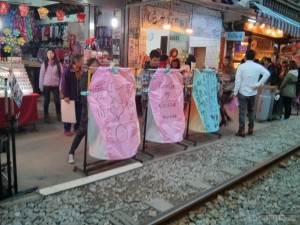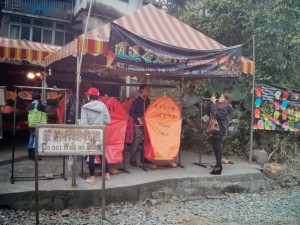 Then, you light a flame underneath the lantern, hold it, take a couple of photos of you and your mates holding the sky lantern, release it, watch it soar into the sky.

It's really relaxing, just sitting, enjoying a snack, and watching people set off sky lanterns over the town.  It's too bad I won't be here in Taipei during the lantern festival (February).  For that holiday, sky lanterns are set off en masse – hundreds at once, to light up the night sky.  It must be quite a sight to see.
Here's a video that I took during my time in Shifen:

Shifen waterfall (十分大瀑布): nice views.

On a side note, when I was first coming to the Pingxi area, I got off on the wrong railway stop – and tried to make up for it by walking along the railroad tracks.  And it's a lot harder than you expect, walking along the tracks.  The path is uneven, the stones are loose, and the railroad ties are exactly the wrong distance apart.

On either of the side, there's nothing but pure wilderness…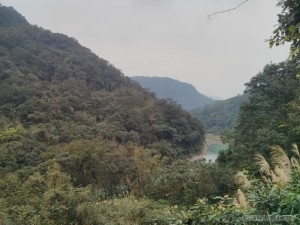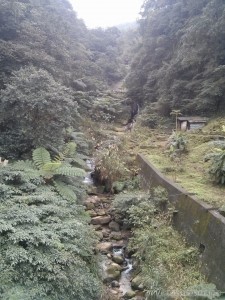 Food:
– Pork roll of the Yang's: like a sausage, but not as good.  Pass.