After the touristy madness of Siem Reap, I decided to visit Battambang, a very chill town. Even though it is Cambodia's second largest city, there's not much to see here – mostly the bamboo train and the bat cave, so there aren't many tourists. I stayed here for a couple days, just soaking in the ambiance – and of course, visiting the bamboo train.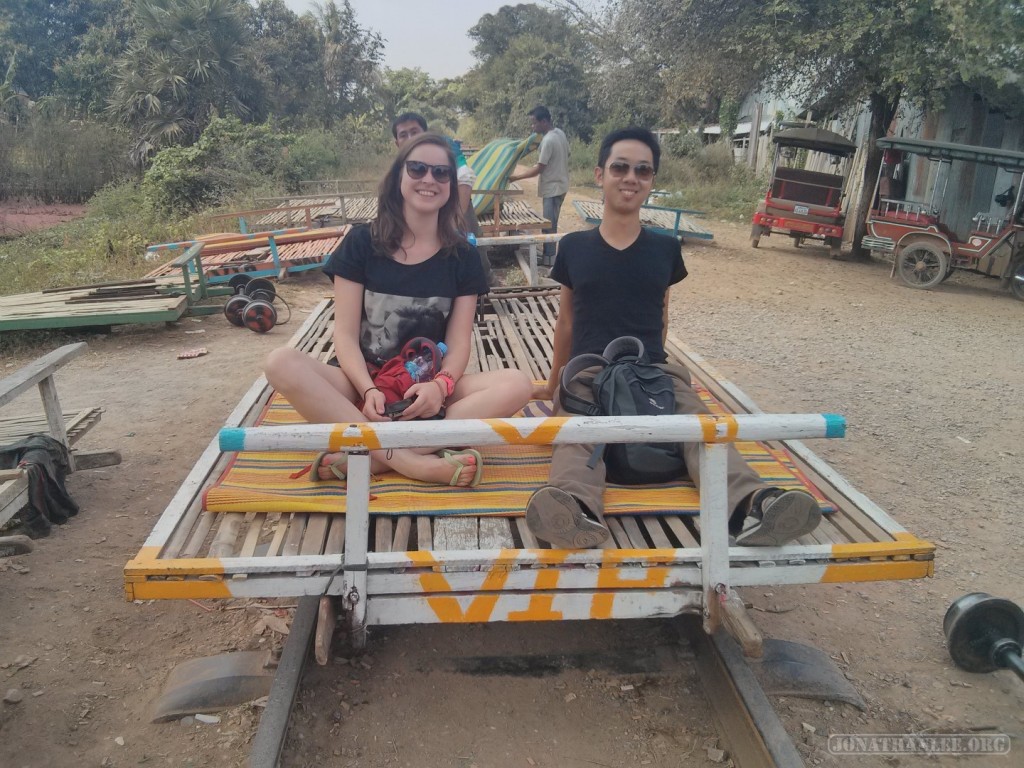 The city of Battambang itself is quite interesting, you can see the French influences in the architecture: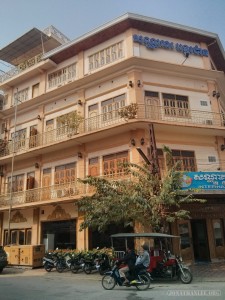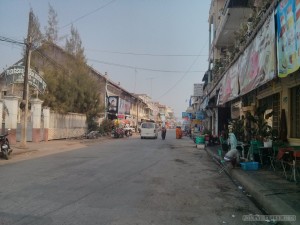 Of course, no Cambodian city is complete without its temples: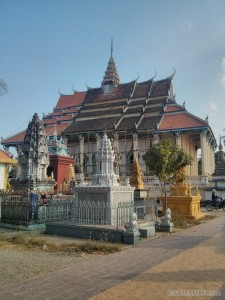 Bamboo Train:
A couple of decades ago, Cambodia built a long railway stretching from Phnom Penh to Thailand, passing through Battambang. After a while, the train was discontinued (political tensions?), but the railway remains. So what do you do with a railroad track without any railroad trains? You use a 'norry' – or its more common name, the bamboo train.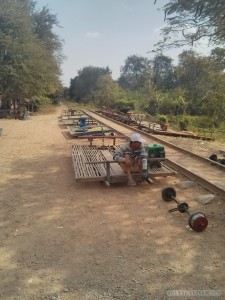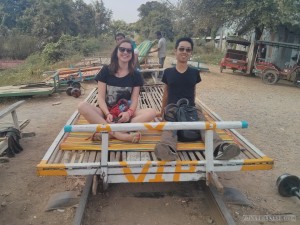 To call this thing a train is a severe stretch of the imagination. At best, it's a motorized bamboo handcar. A very rickety bamboo handcar, rocketing along at ~50km/hour. And the axles are not even attached to the bamboo train! The bamboo train simply sits upon the axles, relying on gravity and a smooth ride to stay on the axles!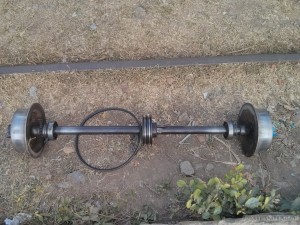 And let me tell you – it's not a smooth ride. Clickety clak, go the wheels. The first couple minutes, it is terrifying. Speeding along at 50 kilometers per hour, hoping that there are no serious bumps….

At the end of the trip, you come to an old village – filled with children giving visitors bamboo figurines and urging them to buy bracelets.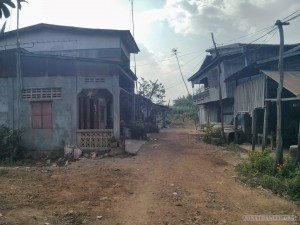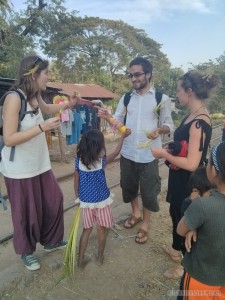 There's also a rice factory: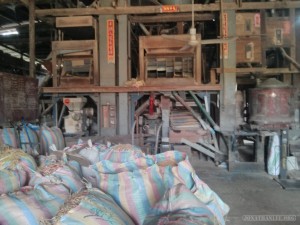 The local children will cheerfully offer to show you the factories, bring you along for a quick 2 minute tour, and then demand that you pay them. They can't actually force you to pay them, of course, but sure as hell can guilt you. And they're quite good at it too, the guilting part – they've had lots of practice.
Oh – and the bamboo train is only a single one way track! Going towards the village, I did not encounter any problems. However, on the way back, we ran into a couple of cars headed towards the village. So what do you do? You get off, pull your bamboo platform and axles off the track, and let the other car pass.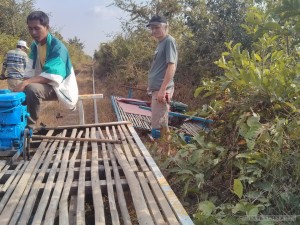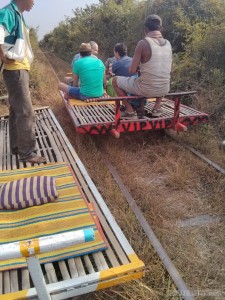 I helped!

Bat Cave:
It's a bat cave. A cave, filled with something like a trillion bats. For most of the day, the cave looks rather innocuous – simply a smallish hole in the mountain.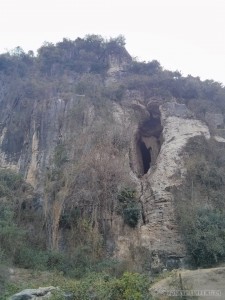 But every night, a crowd (mostly of tourists) gathers in front of the cave at around 5:30 pm, waiting for the bats.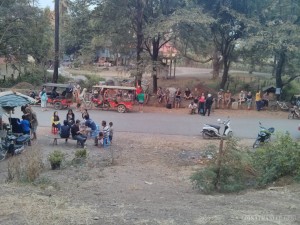 And you sit there, waiting. For the longest time, you can hear the bats calling, you can small the guano (poop) of the bats, but you don't see anything. But then suddenly, it all hits you at once, as an endless stream of bats come flying out.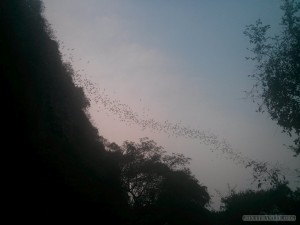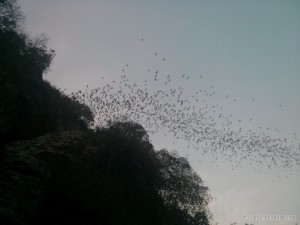 For almost an hour, they fly out, an endless stream of bats, the line of bats waving back and forth, almost resembling a windows screensaver.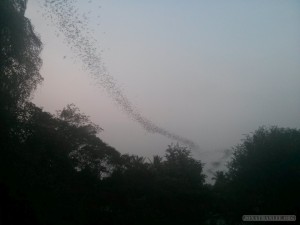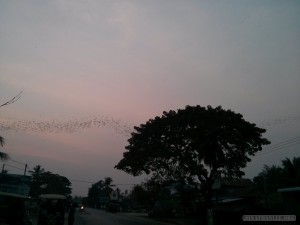 If the bats fly above you, remember to keep your mouth shut – or you risk getting a mouthful of bat poop.
As almost an afterthought, near the bat cave is the killing cave – a cave on top of a mountain, where the Khmer Rouge killed men, women, and children and threw their bodies into into a cave. Disturbing.

It's quite a climb, to get to the top: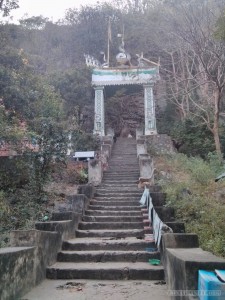 There are lot of temples and Buddhas on the mountain of the killing cave. After Ankor Wat though, I feel quite templed out – no desire to see any more temples.

Wine Tasting:
Battambang has one of the only wineries of Cambodia! I met up with a Californian girl who really loved wine, so we rented bikes and rode off together, towards the winery – 10 kilometers or so away from city center. It's a bit of a rural area, so along the way you can see traditional Cambodian houses – elevated!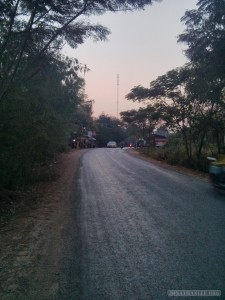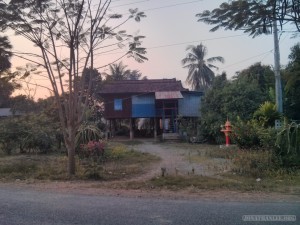 The winery itself was was… underwhelming.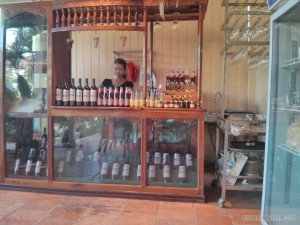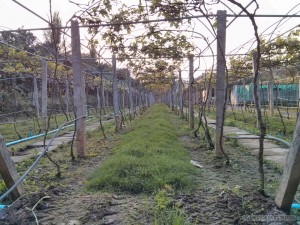 For the wine tasting at the winery, there was a red wine, brandy, grape juice, and honey ginger juice. Unfortunately, the alcohols were quite rubbish.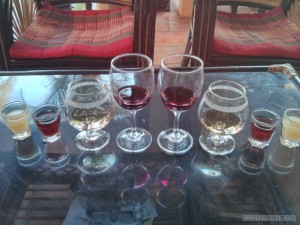 – Noodle soup #1: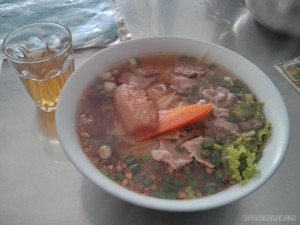 – Noodle soup #2: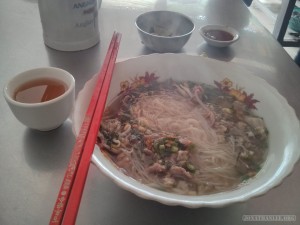 Honestly, I have no idea what some of these dishes were. I simply strolled up to a roadside vendor and pointed at something edible. It was usually pretty good.
– There's also this – an egg, of sorts. But to prepare the egg, they make a hole i the egg, drain out the contents, mix the egg contents with mystery incredients, pour the mixture back into the egg, and then grill until done. Delicious with salt, pepper, and lemon.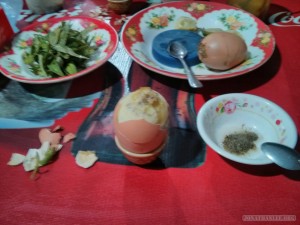 Bits and bobs:
– While staying in Battambang, I stayed at a place named Here Be Dragons – a very nice hostel, perfect except for the lack of hot water showers. Amazingly relaxing: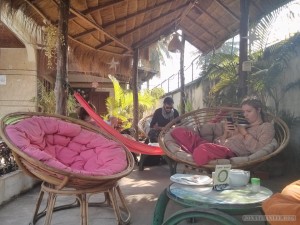 I joined in the hostel's quiz night – where the most losing team won a round of shots. Chili shots. I'm told they tasted quite bad.