After finishing Phnom Penh, Battambang, and Siem Reap, I traveled to Kampot, a laid back town in southern Cambodia, known primarily as a place to chill and relax near the beach. Most of my fellow backpackers would choose to go to Sihanoukville, but I've heard it is too much of a drugs and partying town for my tastes, so I avoided Sihanoukville and visited Kampot  instead. I was quite happy spending a couple days lounging about in Kampot and seeing the sight sof Bokor mountain.



The first thing that struck me when entering Kampot, is the durian statue / durian roundabout. It's one of those "huh?" moments – somebody was clearly in an altered state of mind when they decided that this was a good idea.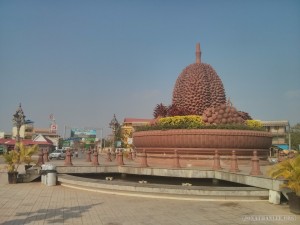 Kampot doesn't really have any beaches, but it has a very nice riverfront street:


The sunset over the river is quite picturesque too!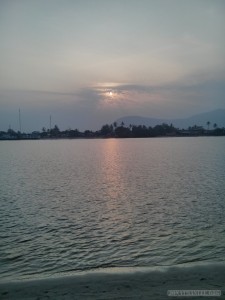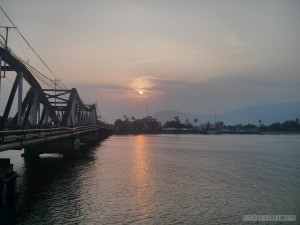 There isn't much to see around Kampot – the one thing is Bokor mountain, a scenic mountain a ways away from the city, accessible by tour group (yuck) and motorbike. I chose to go by motorbike. The road to Bokor is quite refreshing – smooth roads, the wind through your hair, the sun shining down.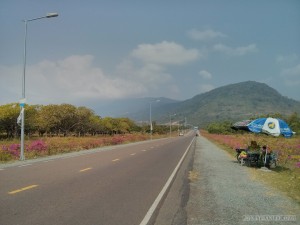 The road up the mountains is quite nice, but somewhat dusty. When you get towards the top of the mountain, you're motorbiking through the clouds!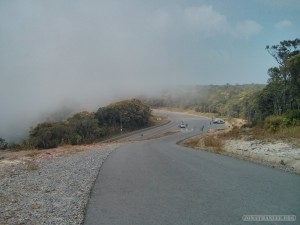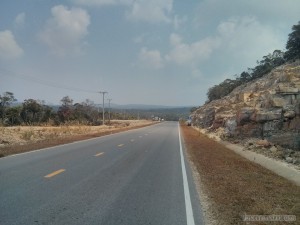 There's not many places to see at the top of Bokor mountain, but some of the more interesting ones were:
– Some kind of… female Buddha?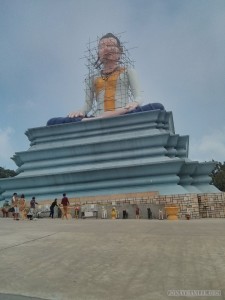 – A casino resort. Built on top of a mountain. 30 minutes away from anything of interest. Completely deserted.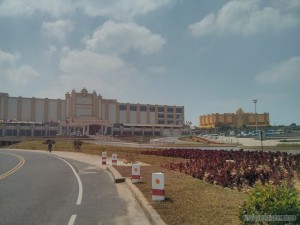 – An old French church. Before the Khmer Rouge kicked the French out of Cambodia, Bokor was somewhat of a resort area, where the French came to relax and unwind.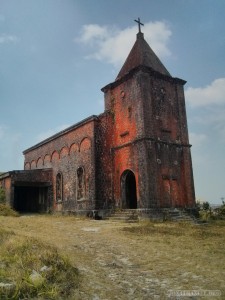 – Near the old French church, a group of black Christians, singing in a circle?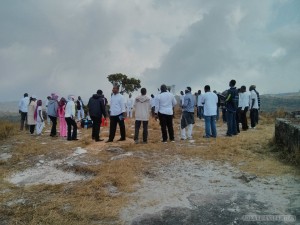 – An old hotel, abandoned but still intact.

The only problem I ran into was coming down the mountain – while coming down and going through a turn, I discovered that the rear brakes on my bike were completely dead.  A bad time to make such a discovery, going downhill at high speeds and turning.  My bike wiped out, I got myself a nasty road rash – the southeast Asian backpacker's tattoo.  Thankfully, it was fairly small, and I could treat myself very easily.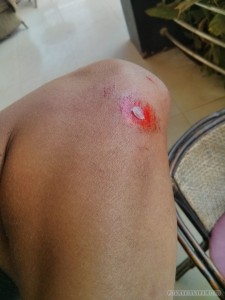 Food:
– Embryo egg (balut)! It's a fertilized egg, given time to develop, before being cooked and eaten. And it tastes pretty good too – like a cross between a standard boiled egg and chicken. Just don't think about it too much. Best with lemon, salt, and pepper.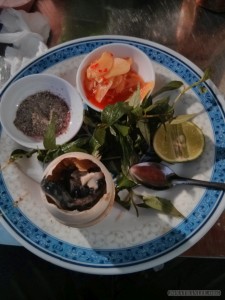 – I finally figured out why coconuts sometimes look green, smooth, and round, and sometimes brown, rough, and hairy. It's the same coconut, but with the sides chopped off!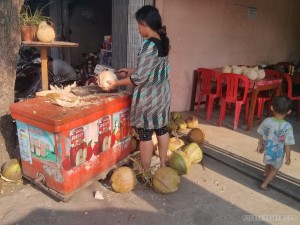 – Lunch of champions (I have no idea what this is, I just pointed to a random item on the menu).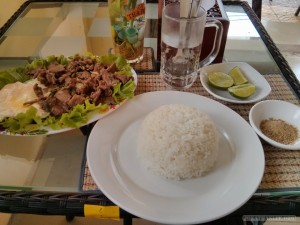 Bits and bobs:
– Kampot prison.  This does not look like a fun place to do time.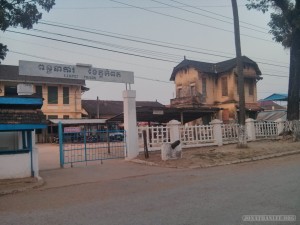 – This is a lot of cash. Or at least, it looks like a lot of cash. All those bills probably add up to around $100 USD. The problem with Cambodian money is that you can have an entire wallet stuffed full of bills, and it'll only be worth $5.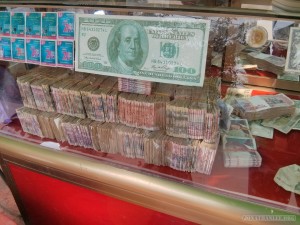 – Kampot market: a traditional market. Every time has at least one of these markets, and I've noticed that they're usually divided in two – a wet market and a dry market.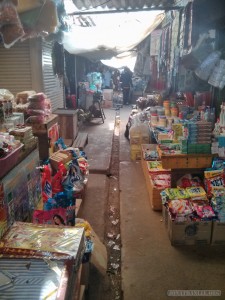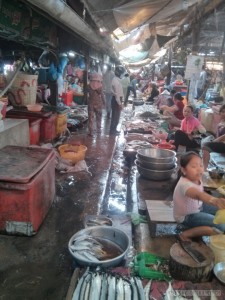 – While exploring around, I found a ton of people playing Chinese chess. A ton of old men, sitting around, playing Chinese chess, and drinking coffee.  I sat and watched them for a bit.  Does that make me an old man?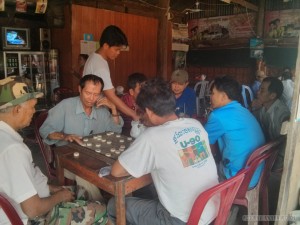 Overall, I'm quite happy with my decision to skip Sihanoukville and visit Kampot – though I'm somewhat sad I missed Koh Kong off the coast of Sihanoukville.  While here, I also made a quick day trip to Kep (by tuktuk), before heading off to Vietnam for Tet (lunar new years!)