After getting tired of all the tourists milling about the old city of Hoi An, I took a bus to Hue, the old capital of Vietnam during the Nguyen dynasty (pre Ho Chi Minh). It's a city with quite a bit of history, but it's also got some pretty bad weather – it was cold, cloudy, and rainy every day I was there. In most people's minds, Vietnam is a warm sub-tropical country, but north of Hoi An, it can get pretty cold! For the first time in a month, I had to pull out my jacket.



As the old capital of Vietnam, one of Hue's major attractions is the Imperial Citadel – Dai Noi. Unfortunately, in the Vietnam war, American forces bombed the city pretty heavily, so a lot of the Citadel was damaged or destroyed.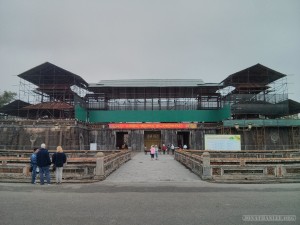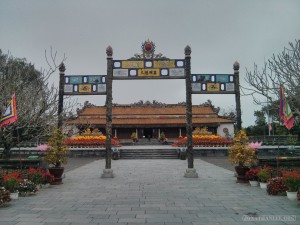 Interestingly, the entire Imperial Citadel is surrounded by a moat. I think this is the first moat I've ever seen!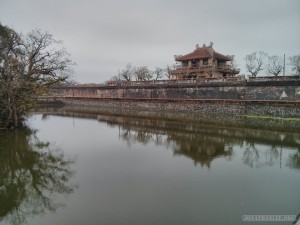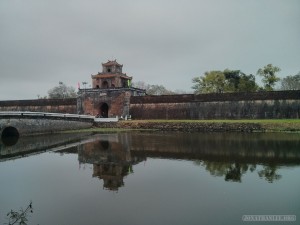 Inside the Citadel, you can see the huge impact of Chinese culture of Vietnam – almost all buildings are built in the Chinese style:

Even this alter to one of the emperors looks quite Chinese: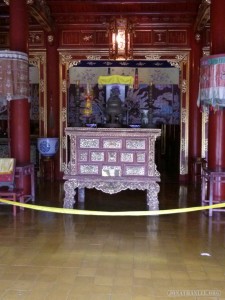 There's also the Forbidden Purple Palace, built for the emperor and his consorts and eunuchs, but it's been mostly destroyed. I'm not sure why it's called the purple forbidden palace – I saw nothing purple – but even the name itself is a derivative from the Forbidden City of China.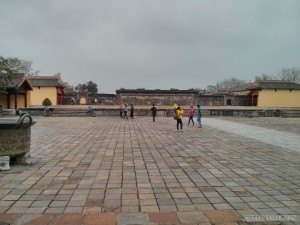 There's a lot of rubble in the Citadel: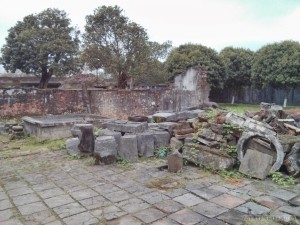 Some nice gardens and lawns though – if the weather were better, this might be a great place to just sit and read.


The flag pole of the Citadel, as well as 4 of the 9 holy cannons defending Hue: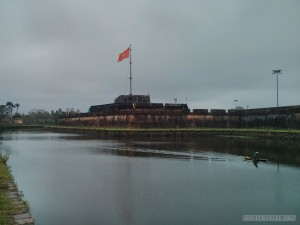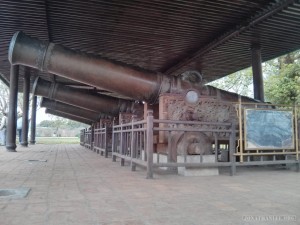 The weather was pretty miserable during my entire stay in Hue, so most people at my hostel went on pre-arranged shuttle buses. But not me! A while back, I was reading a book, the Millionaire Fastlane, and it had one idea that really stuck with me – that when you choose to follow somebody else's system, you surrender control of your own destiny, and are forced to follow somebody else's roadmap. In contrast, by doing things your own way, you have absolute freedom to do as you please. More on this later. But along these lines, I chose to rent a mountain bike, and spent a day biking around and visiting historical sites on the outskirts of town.  Through the rain.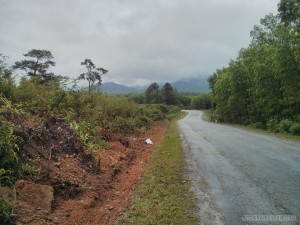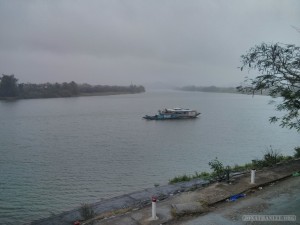 – Thien Mu Pagoda: the sight of this temple, more than anything else, 'represents' Hue. And it's a pretty nice pagoda!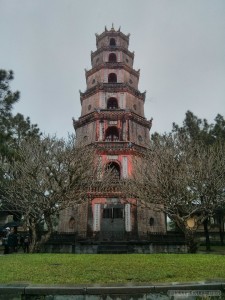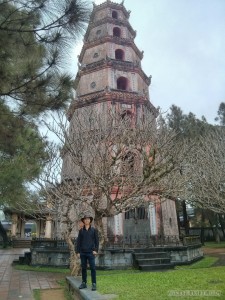 The rest of the Thien Mu temple compound is pretty unremarkable though.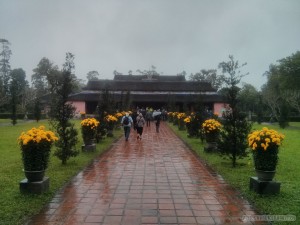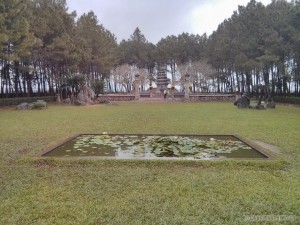 For some reason, they've got this car on display at the Thien Mu pagoda, the car used by monk Thich Quang Duc when he self-immolated in protest of the southern Vietnamese government during the Vietnam war.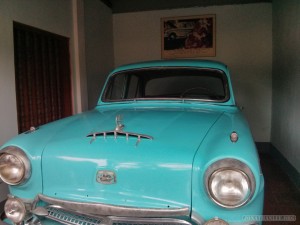 – Rice paddies in the rain: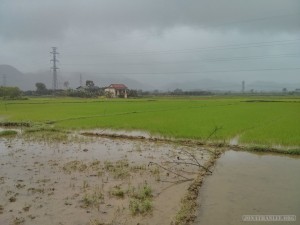 – A high end resort under construction, in the rain: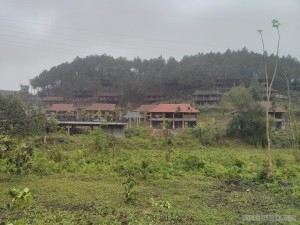 – Cows in the rain. I stopped to take a photo, yelling "Howdy, cow!" at a cow on the side of the road. But then suddenly, an unseen cow right behind me responded, "MOOOOOO", sounding very much like "WHOOO?". This unseen ninja cow scared the dickens out of me, and I almost fell off my bike. I had not expected a response.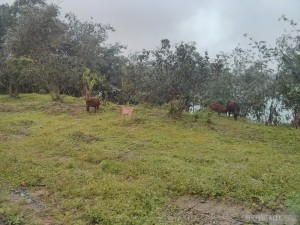 – Tomb of Minh Mang: after the French took over Vietnam, the Nguyen dynasty was kept in power, but were little more than symbolic heads of state, reduced to doing little more than building elaborate tombs for themselves. Minh Mang's tomb is like a nature retreat – lakes, gardens, very zen.



– Tomb of Khai Dinh: in contrast to Minh Mang, whose tomb sprawls across a couple of acres, Khai Dinh's tomb is built into a hillside and much more compact. It's quite elegant though.

The inside of Khai Dinh's tomb reminds me a lot of Wat Arun of Bangkok. It's a completely different building shape, but it's the way small pieces of ceramic are pieced together to create massive mosaic-like surfaces.

I liked the statues, eternally standing guard for Khai Dinh:

At the end of my bike trip around Hue in the rain, I was all wet and sandy: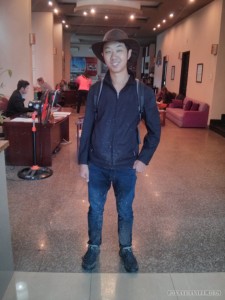 Oh, and while visiting this city, I went on a food tour, tasting imperial Hue cuisine!  I went with my hostel, Tigon Hostel (which I highly recommend – a very chill hostel with a good social scene, but without the drunken backpacker partying).
– Banh Loc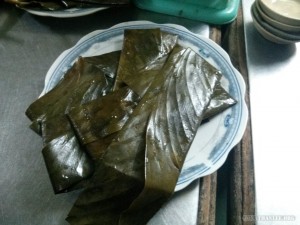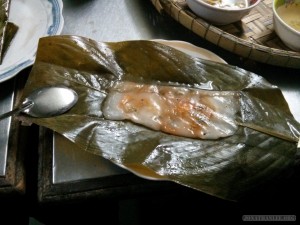 – Banh Beo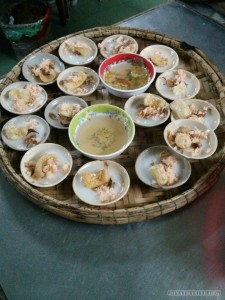 – Banh Khaoi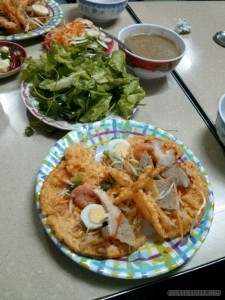 – Bun Boe Hue (beef noodle soup, Hue style)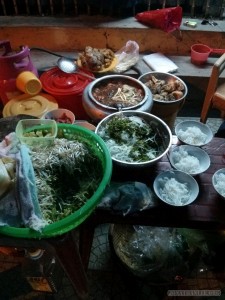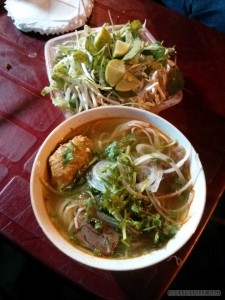 Bits and bobs:
– The river through the city is called the Perfume River.  No idea why, it does not smell perfumed.