Finally, I arrived at the capital of Vietnam, Hanoi! My first impression was not great – miserable cold weather, overcast all day every day. And I didn't end up liking Hanoi very much, but the food was pretty damn good.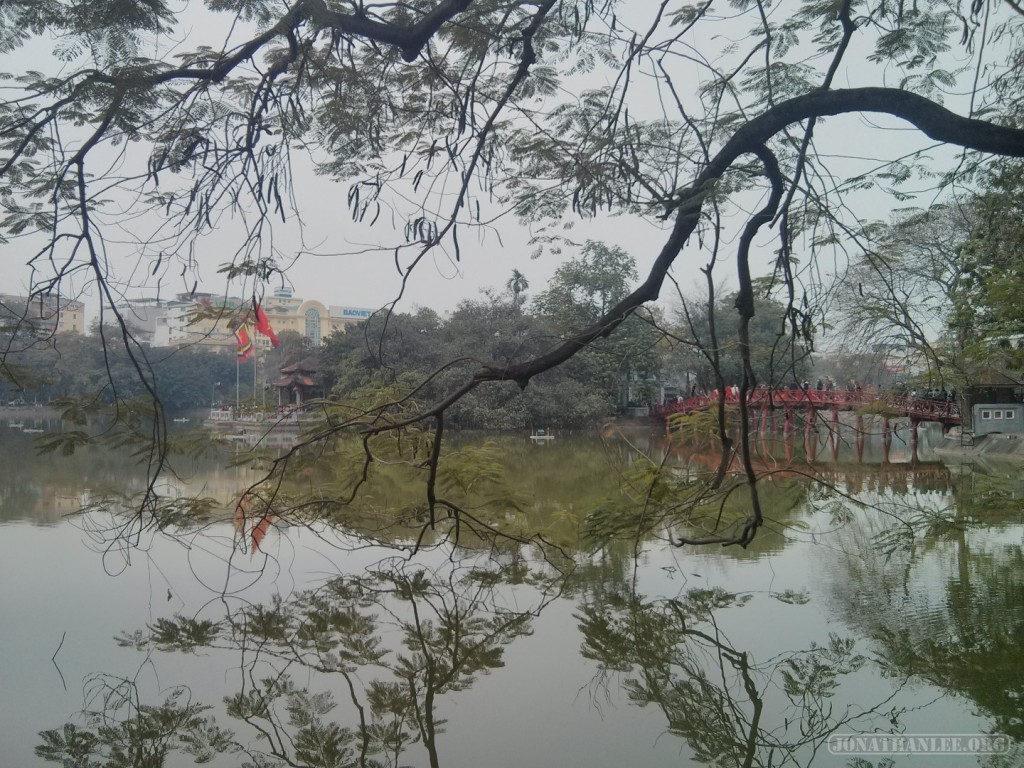 Temple of Literature: The first 'university' of Vietnam, in charge of administering a national exam of sorts.  Architecturally quite pleasant.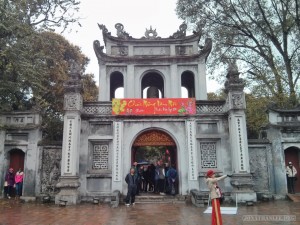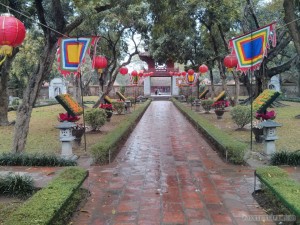 It's got a bunch of steles showing the names of students who passed the exam to get positions with the Nguyen Dynasty administration.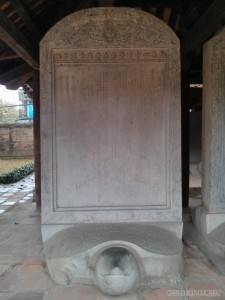 The crane is the symbol for intelligence and wisdom: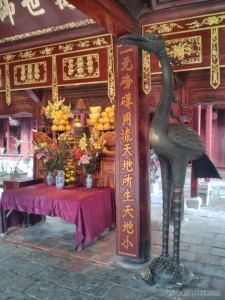 As fitting to a scholarly temple, there are alters to Confucius and other scholarly figures.

Lots of school groups come to visit: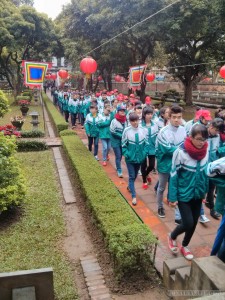 Tran Quoc Pagoda: A pagoda on a lake, not terribly impressive.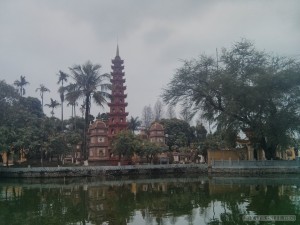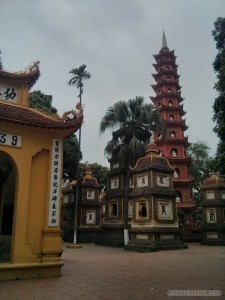 Woman's Museum: Okay. It shows off the role of women within Vietnamese society – from all the street vendors of the modern day, to their role as spies and soldiers during the Vietnam war.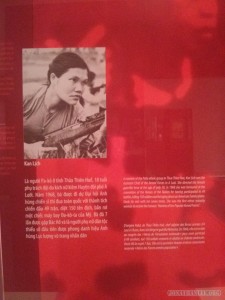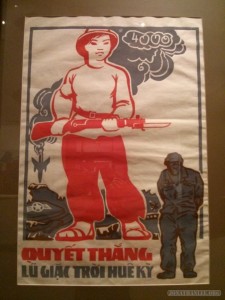 It's also got a bit about Vietnamese women's fashion, which wasn't as interesting to me.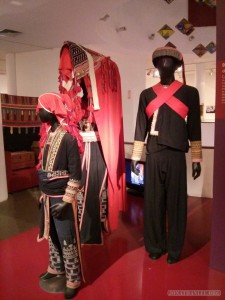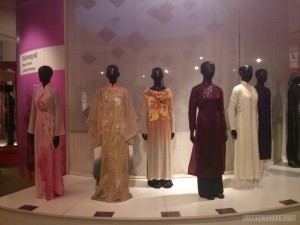 Hoan Kiem Lake: A lake in Hanoi's historical district, with an inaccessible "turtle temple" in the middle.  Supposedly the tortoise together with the phoenix, dragon, and unicorn, are the four traditional symbols on Vietnam's coat of arms.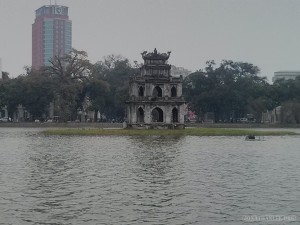 It's a nice view, and is great for morning strolls and jogging – if only the weather was better!



Ngoc Son Temple: A temple on Hoan Kiem lake, supposedly the most photographed icon of Hanoi. Probably because everything else is so boring. This temple is also quite boring, as well as crowded.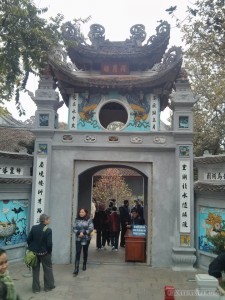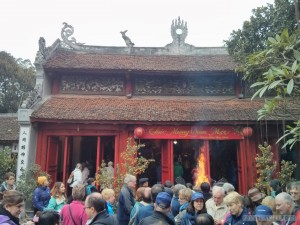 St. Joseph's Cathedral: eh.  Somehow a big tourist attraction, probably due to its proximity to the old district, tourist central.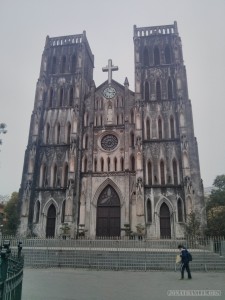 Dong Xuan market: A market. I've seen way too many already. Wholesale. Boring.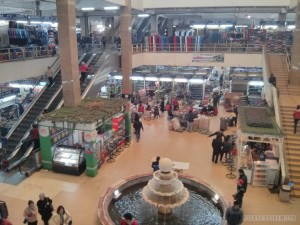 Night market: what city doesn't have a night market nowadays?  Surprisingly, it's supported not only by tourists, but also by locals.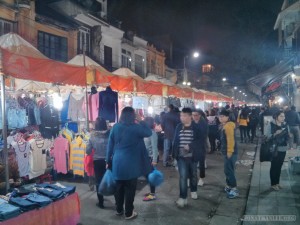 Ethnology Museum: A very cool museum, the best in Vietnam! Apparently, Vietnam has 54 different ethnic groups! The vast majority of Vietnam's population belong to the majority Viet group, but especially in the mountains and rural areas, there are still a lot of minority tribes – each with their own culture and dress.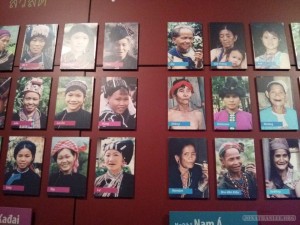 It's got a bunch of displays of culture too:
– Sewing via loom.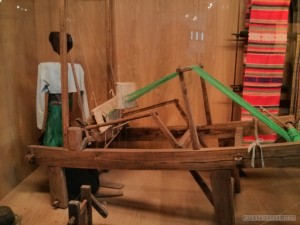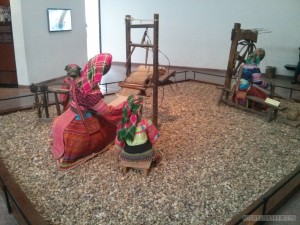 – Religious rituals and daily life at the market.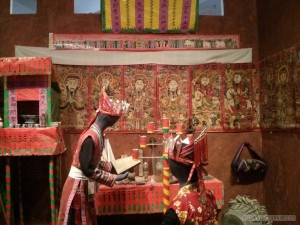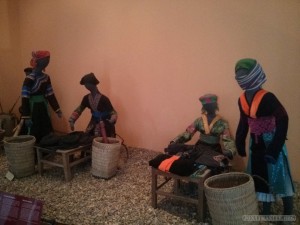 – A whole ton of fish traps on a the back of a bicycle.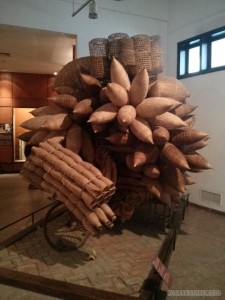 – Hats from different minority groups – TF2 would be proud.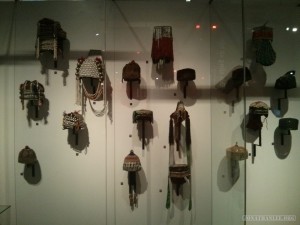 – The making of traditional bamboo hats.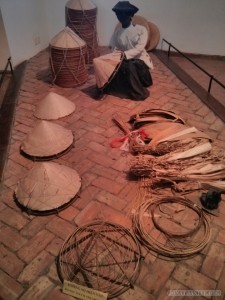 – Water puppets.  I like how many many southeast Asian cultures have their own puppets – like shadow puppets in Indonesia, there are water puppets in Vietnam.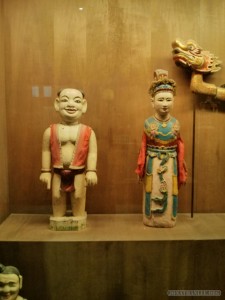 Outside the museum, they got really cool displays of tribal buildings:
– A long house, used by some matrimonial tribes (husbands join the wife's family, not the other way around).  There are two ladders up to the building, one for men and one for women.  The one for women has boobs.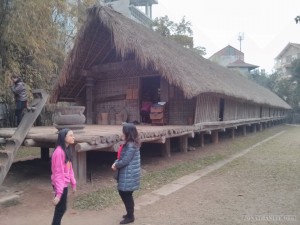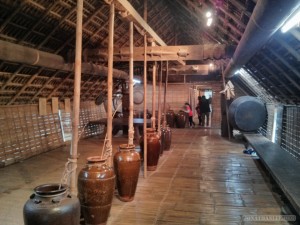 – A tall building. Each village would only have one, owned by the chief (or chief equivalent).  I'm in awe that such large buildings can be made out of just wood, bamboo, and leaves.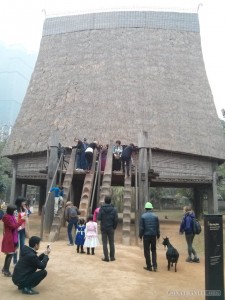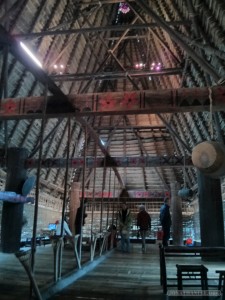 – Group burial grave, as well as individual burial grave.  Check out the carvings.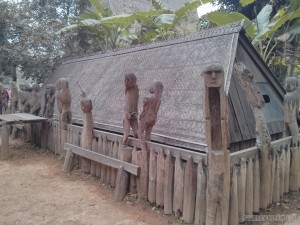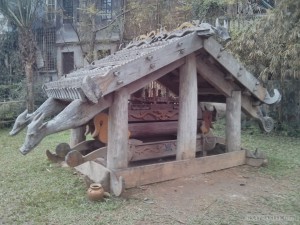 Oh, and the museum also had a mini water puppet show! It's a puppet show, where the puppets float above the water, through some mysterious control mechanism – some kind of underwater stick, I'm told. As such, most shows tend to revolve around water and lakes – buffalo plowing the field, catching fish, swimmers, etc.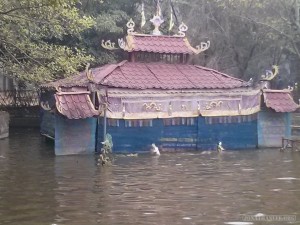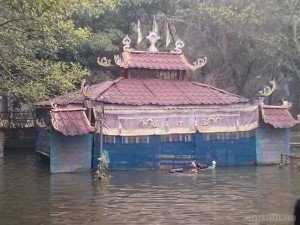 Also, goats!  They were just wandering around the museum grounds, and are so cute!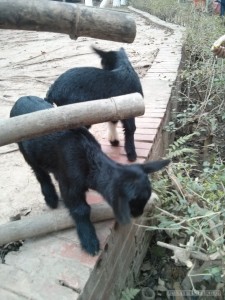 Amusingly, there were also some stilts laying around – I guess a local toy, since PS4s are quite rare in the minority villages.  After some practice, I became a stilts master.

Bamboo swings were also quite fun.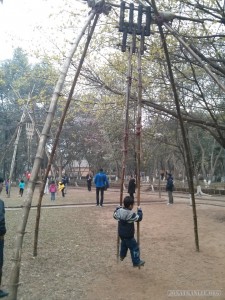 Lenin Statue: self explanatory.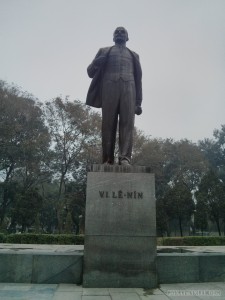 Ho Chi Minh Museum: it's a weird mix of modern art, Ho Chi Minh slogans, and historical artifacts.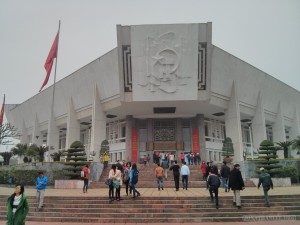 "My ultimate wish is that our entire party and people, closely joining their efforts, will build a peaceful, reunited, independent, democratic, and prosperous Vietnam, and make a worthy contribution to the world revolution."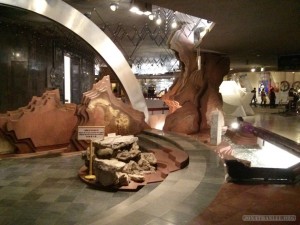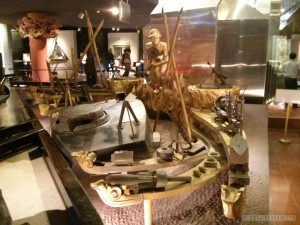 "My duty is like that of a helmsman who may steer safely the boat the father land through storms and take the people to the shore of happiness."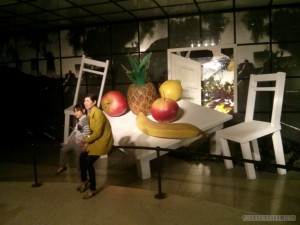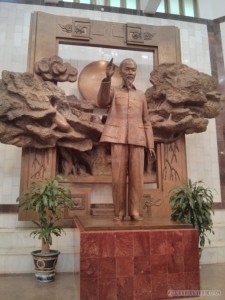 Ho Chi Minh Mausoleum: there's not much to the mausoleum. It's only open in the morning, so you have to wake up early, trudge to the mausoleum, and stand in line, waiting your turn to enter the mausoleum and see the waxed body of Ho Chi Minh.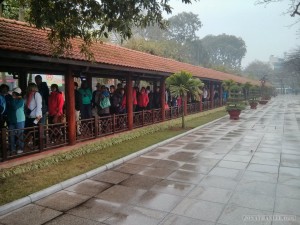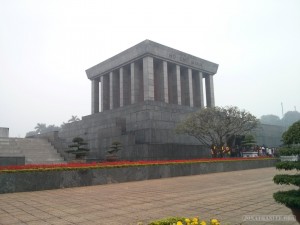 It's an odd experience – soldiers line the entire path, making sure that you keep walking forward, preventing you from taking photos, and telling you to keep your hands straight by your sides at all times. And the waxed corpse – it's so… white? They could replace the corpse with a wax figurine, and I would never know.
One Pillar Pagoda: Completely pointless.  Absolutely, completely pointless.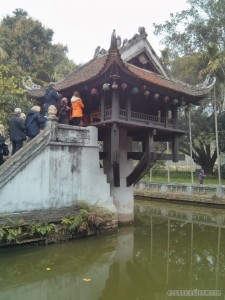 Presidential Palace: Quite boring. All you see is some old rooms used by Ho Chi Minh, showing off how sparsely he lived.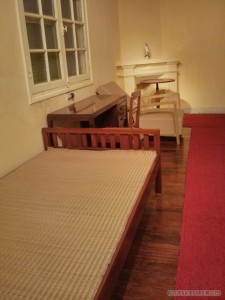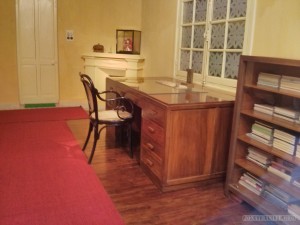 Hoa Lo Prison (Hanoi Hilton): Whitewashed. Walking through the prison, you see all these displays on how the French cruelly treated Vietnamese freedom fighters, locking them up forever.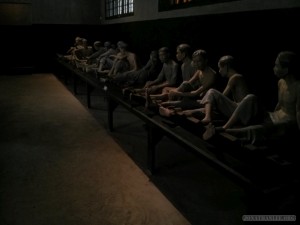 In contrast, Americans were "well treated" during the Vietnam War – allowed to play basketball, socialize, and totally not tortured.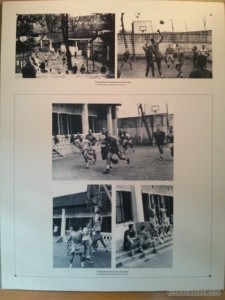 They've also got McCain's flight suit – the same McCain who can't raise his arms higher than his shoulders due to torture at Hilton Hanoi.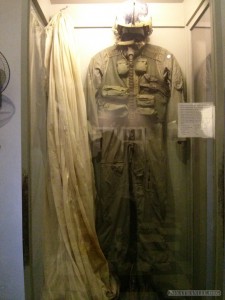 A… memorial? Of some sort?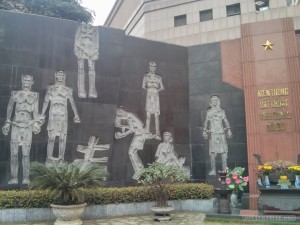 Amusingly, nearby are the Hanoi Towers (similar, but not the same as the Towers of Hanoi)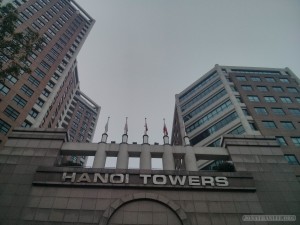 Vietnam History Museum: covers this history from Vietnam, starting from pre-history (archaeological artifacts, of course).
– In the ancient era, Buddhism and Chinese culture played a huge influence on Vietnamese culture.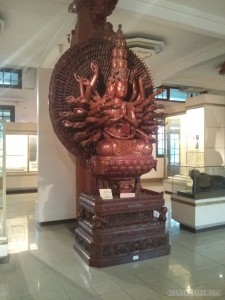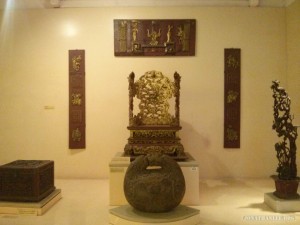 – There was also the Cham empire, which vied with the Siam (Thai) for power and territory.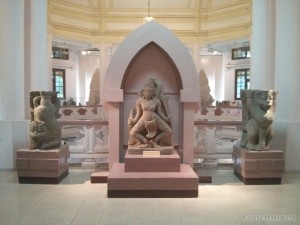 – Then, the colonization began – from the French, who wanted to take Vietnam's bountiful resources. These two photos, comparing French and Vietnamese navy military might, say it all.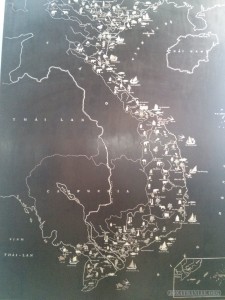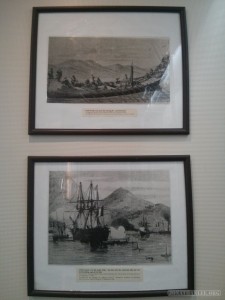 – After that came Ho Chi Minh and the communist revolution.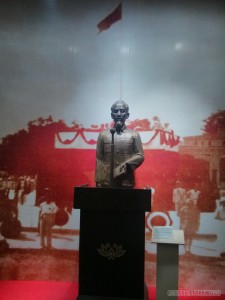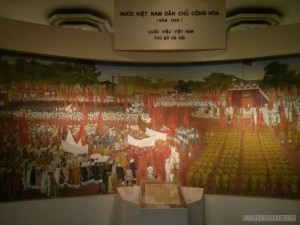 – And finally, the imperialistic USA carpet bombing the innocent peace-loving people of Vietnam.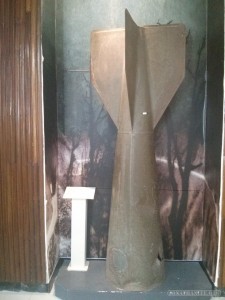 The museum also has a nice garden, filled with historical artificats and bonsai trees (??)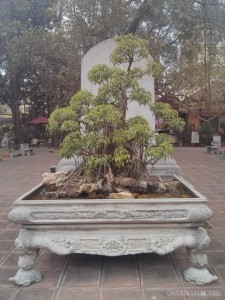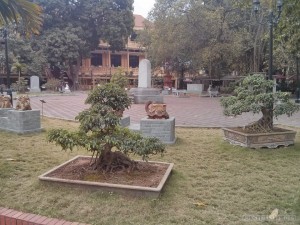 Food:
– Thit luoc cuon banh trang.  Grilled meat with vermicelli  noodles, wrapped in rice paper and sauce?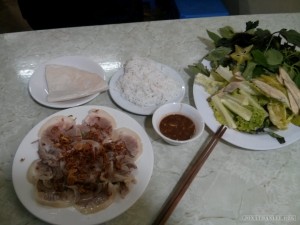 – Banh xeo.  You take rice paper, wrap grilled egg with bean sprouts and vegetables, dip in sauce, and enjoy.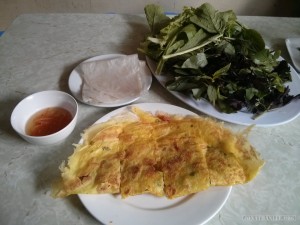 – Cha ca: fish stir fried with vegetables, eaten with vermicelli noodles.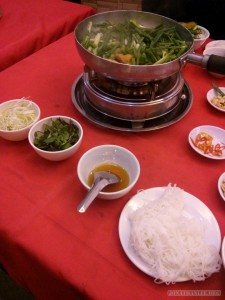 – Bun cha.  Grilled minced meat and bacon in soup, with vermicelli noodles, soybeans, and vegetables.  Delicious.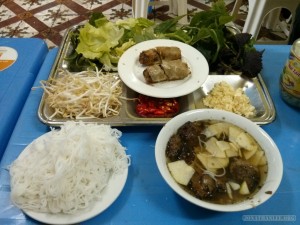 – Pho dac biet.  Pho with everything.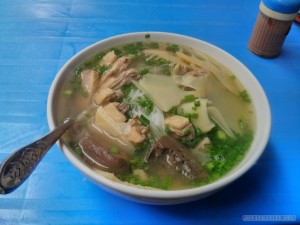 – Banh cuon.  Shrimp (?) wrapped in rice noodles, steamed, with sauce.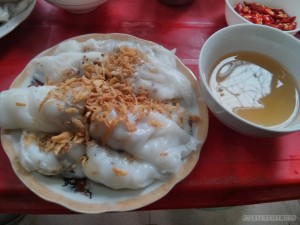 – Rice dac biet.  Rice with everything.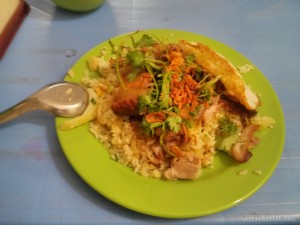 – Mini banh mi: like banh mi, but smaller?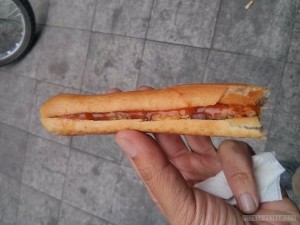 – Pho bo.  Since Pho is a northern dish, much better than in Saigon!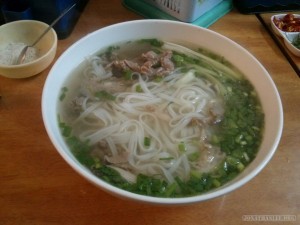 – Bun Suon Chua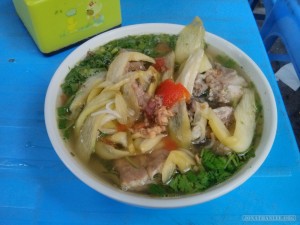 In general, I found that the best places to eat in Hanoi were the holes in the wall – the small vendors on the side of the street or down some dark alley, with lots of locals enjoying the food.  With such good business, there's no reason for them to try to rip off tourists, charging tourists twice or three times the price.  I'm not a fan of this type of dual pricing.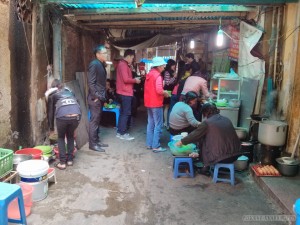 Bits and bobs:
– Pedicabs amuse me.  A tour bus of tourists arrives, everyone gets out and onto a pedicab, and they wait to get pedaled around Hanoi in a line of silliness.