Ha Long Bay is one of the great scenic destinations of northern Vietnam, and there is no shortage of day trips and overnight trips leaving from Hanoi. But with my aversion to tour groups, I chose to make a trip myself to Cat Ba, the island right next to Ha Long Bay. Although the weather was uncooperative, the sights were totally worth it.



The first day that I arrived on Cat Ba, the weather was absolutely magnificent. Walking around the town, I got some amazing views of the port, the town, and the surrounding scenery.


Unfortunately, the next day, when I booked a day tour of Ha Long Bay by boat, the weather turned cloudy and cold. I guess you can't win them all? A couple days ago, I spent some time chatting with an ex-investment banker traveler from the UK, about out travels in New Zealand. Whereas I had a great experience at Fox Glacier and struggled through the fog at Tongariro Alpine Crossing, she had amazing views at Tongariro but couldn't climb the glacier due to adverse weather conditions.
I took an untold number of photos of the scenery of Lan Ha Bay:



I also went kayaking in Lan Ha Bay! I didn't take any photos (didn't want to destroy my phone by accidentally overturning the kayak), but it was absolutely amazing. Paddling by myself through a tranquil lagoon, it's quiet enough to meditate. All around you are mountains thrust into the skies, there's not a ripple in the water, and it's almost totally silent except for occasional birdsong off in the far distance. You can even hear drops of water dripping off your paddle into the lagoon…



There's this particular rock formation – during low tide, you can see that it's a huge pillar of rock supported by just a tiny foundation. One day, the sea will wear that away, and that'll be the end of that pillar…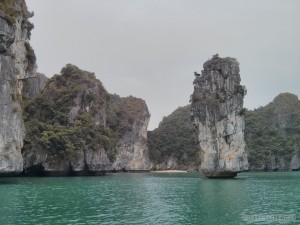 Even though the sights of Lan Ha Bay were pretty nice, I ended up being quite disappointed in the day tour I went with. It was marketed as a Ha Long Bay tour, but almost all of the time was spent in Lan Ha Bay (Lan Ha Bay is also pretty good, but Ha Long Bay is the UNESCO world heritage site). We were only for Ha Long Bay for half an hour… to visit a cave.

The cave had 'bongo' stalactites/mites – you could bang on them (awful conservation, eh?) to create drumming sounds.  Apparently they once held a wedding in this cave, and used it for the band!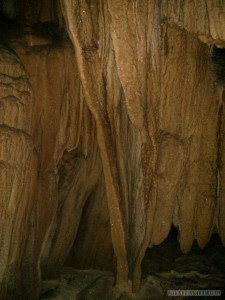 And right after the cave, we turned back and went home. Talk about false marketing.


On the way back, we sailed through a floating village – a bunch of fish farms!


On one fish farm that we stopped at, we saw a 50kg fish, raised by the fish farmers for 7 years as a pet. Crazy.  If you squint, you can see its outline in the photo below.

One of my fellow travelers tried out a tobacco bong at the fish farm. Apparently, all you do on these fish farms is sit around, wait for the fish to grow, drink tea, and smoke bongs. Crazy.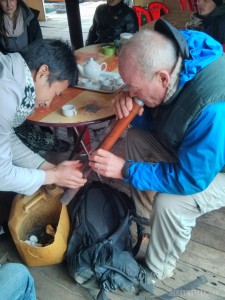 The next day, after my disappointing Ha Long Bay tour, I spent some time motorbiking around Cat Ba island. The weather wasn't the greatest, but I still got some good views.
Local color: schoolkids in uniform leaving school, and an ice factory discharging ice onto an ice boat (?)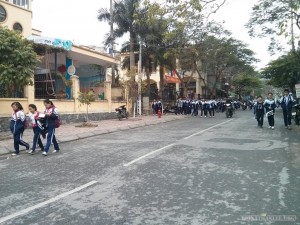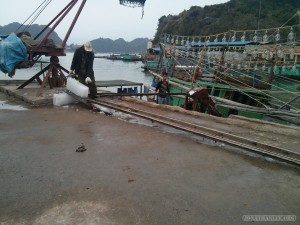 I really like rural Vietnam – I got myself a three-course lunch for just $2.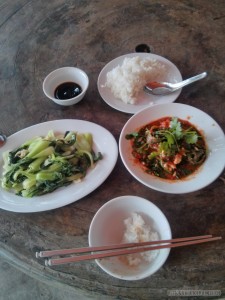 Cat Ba National Park: a nice half an hour hike.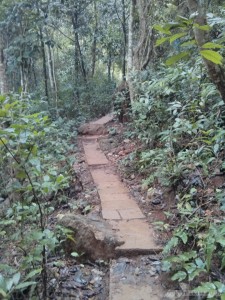 Unfortunately, the view from Cat Ba summit was shrouded in fog.


There was also this thing – the "hospital cave" – a bomb shelter and hospital built into a cave – with electricity!

Biking along the coast, I took some pretty good photographs:


A… waterpark??!?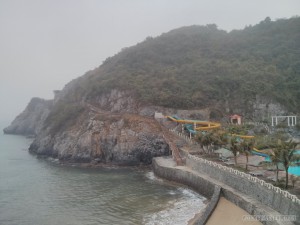 The beaches seemed quite nice – maybe during peak season, when the water is warmer than 20 degrees?