From Vientiane, I crossed over the First Laos-Thai friendship bridge into Nong Khai, where I spent a day wandering around enjoying the sights before taking the sleeper train back to Bangkok. Which ended up being an unfortunate choice – if I had known that this would be so interesting, I would have stayed for another couple days, relaxing and enjoying the ambiance. But instead, I had to catch a night train to Bangkok.  But Nong Khai was very nice while it lasted!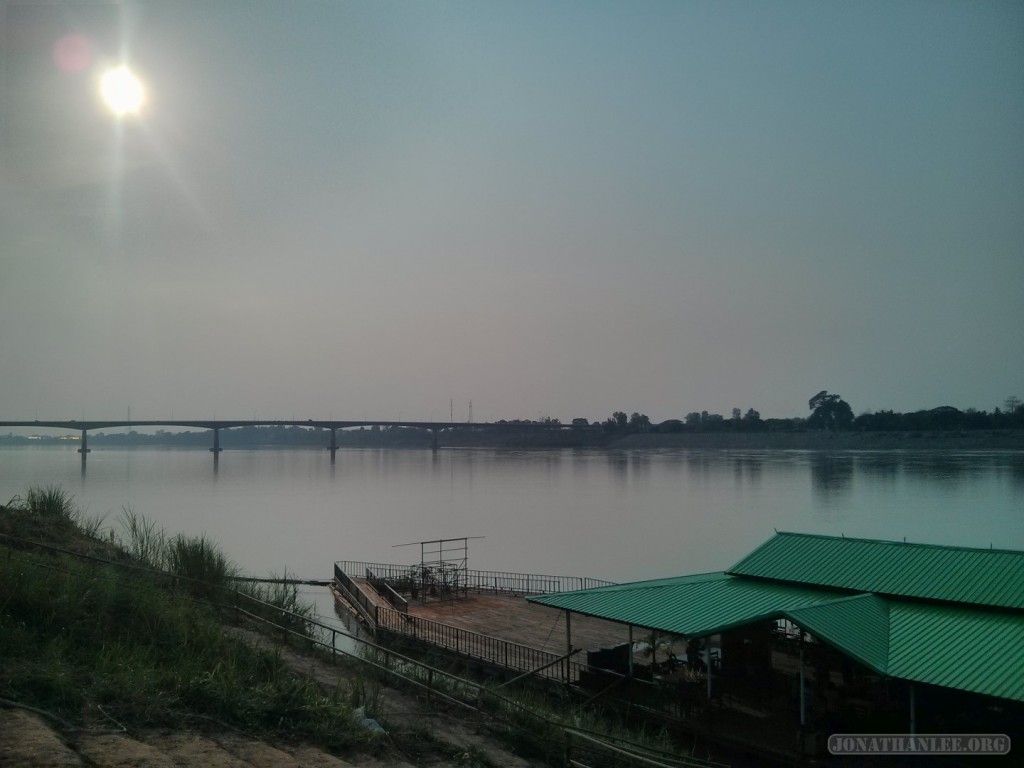 Like Vientiane, Nong Khai is a pretty relaxed city, with not much to do and see (with one exception, Sala Keoku).  So while waiting for the train, I got myself a bicycle, and just pedaled around exploring this city.  Compared to Vientiane in Laos, it's a lot more developed, a lot more lively here.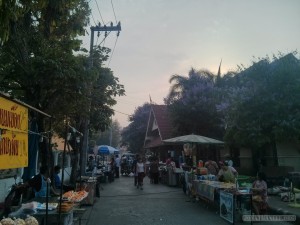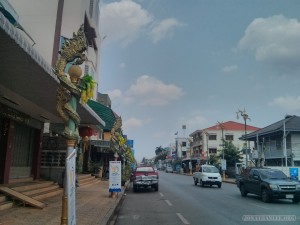 If you look across the river, you can see the quite barren Laotian side of the river: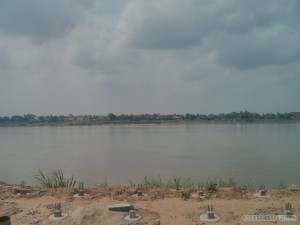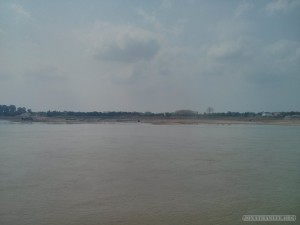 Whereas the Thai side of the border has a very pleasant riverside trail and bike ride:
Right along the riverside was the Taa Sadej market, selling all sorts of goods: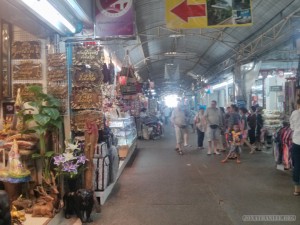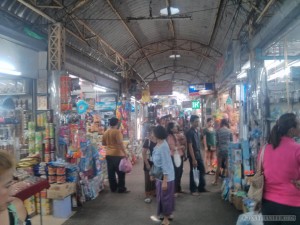 There were a lot of cool-looking temples right alongside the riverfront biking path:
Sala Keoku: it's a surreal sculpture park, within biking distance from town.  No other way to describe it, it's a large park, filled with enormous sculptures.  Each of the sculptures had a title (in Thai, which I couldn't read), so I just gave them my own names!  Kind of like MST3K – Mystery Sculpture Theater 3000!
An elephant in a world of dogs: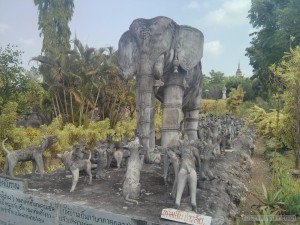 This looks painful: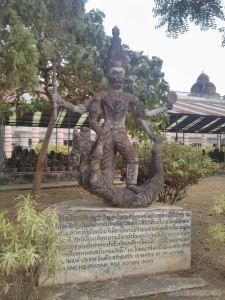 More faces and arms than a Hindu god: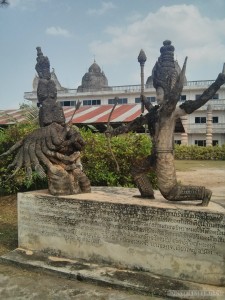 A real bird would not sit on a real snake tongue: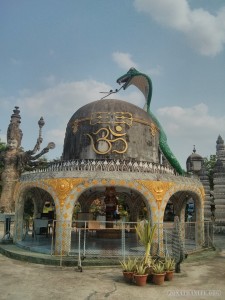 Smashing four baht: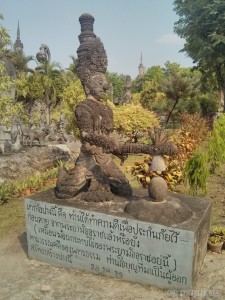 Sniffing a vase: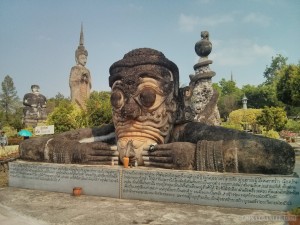 Buddha and the snakes: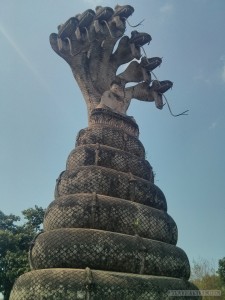 Beating a pet rock: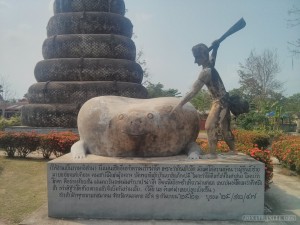 Many races worshiping the Buddha: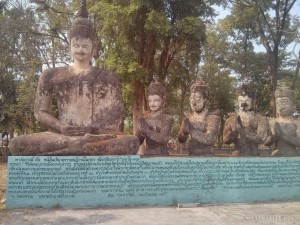 Together forever in death: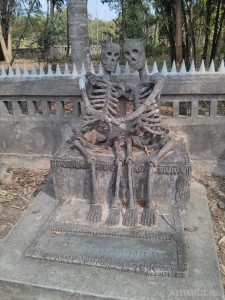 The circle of life:
Tall statues, like of like Maoi statues: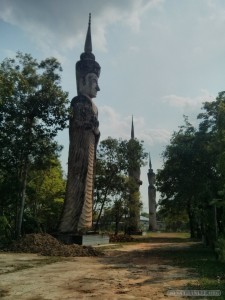 Archer with great balance standing on duck: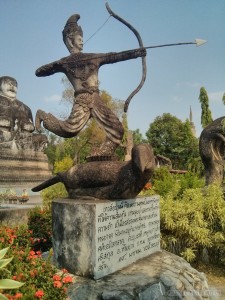 The scales of justice: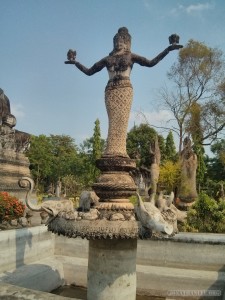 Totally giving you the finger: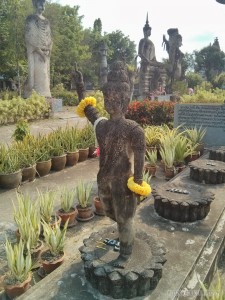 Buddha and the snakes: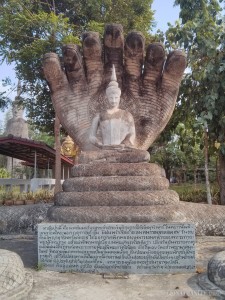 Clearly a snake lover: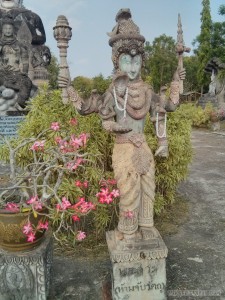 Man on elephant slaying Buddha: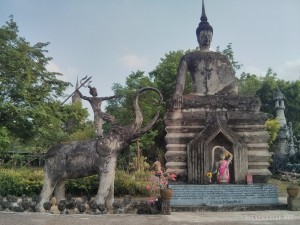 Half human, half fish – mermaid or naga?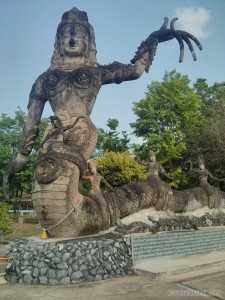 Meditating by the lake:

Archer fighting a dog and a snake: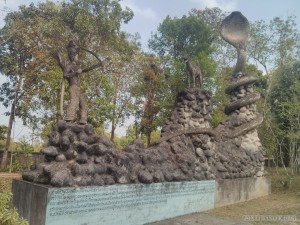 The fattest Buddha in the world: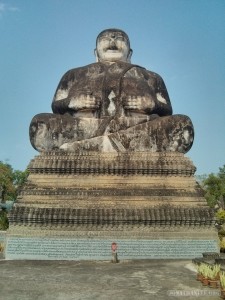 But there were also a whole bunch of other statues, that I couldn't name:
There was also a small temple of sorts attached to Sala Keoku, which was pretty unimpressive, except that they had these huge gongs you could ring!  It's amazingly satisfying, to take a large mallet, and just thump away at the gong.  GONNNNGGGG.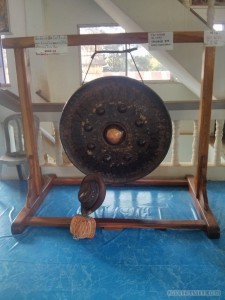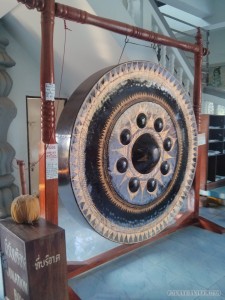 Wat Phochai: apparently a pretty big temple in Nong Khai.  The outside is somewhat unremarkable for a temple.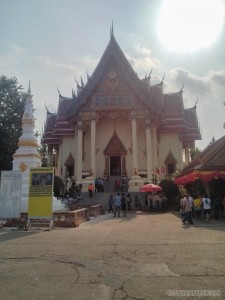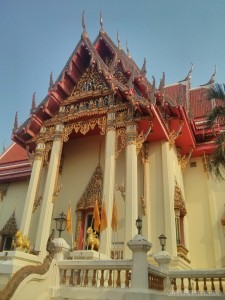 However, what's really cool are the murals all over the entirety of the building's inside.  At the bottom of the murals are the depiction of everyday life in Thailand – villages, markets, everyday people, and even visiting tourists.  As you move up the wall, you see more spiritual landscapes, with lots of temples, etc.  And finally, at the top, you have the gods!
Finally, before boarding my train back to Bangkok, I visited Nong Khai's Sunday Walking Market – basically, a huge impromptu market that pops up every Sunday on a large field near the train tracks.  And I was quite impressed, especially when comparing this market to the one in Chiang Mai.  Whereas the one in Chiang Mai was flooded with tourists, and sold mostly useless trinkets, this one seemed more my style – almost all locals in attendance, selling more useful items (and delicious food for my train ride) instead of souvenirs.
Bits and bobs:
– Excellent chair transportation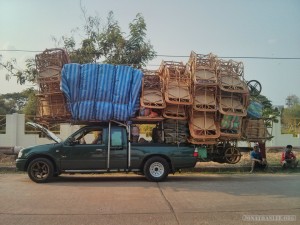 – An old man sweeping the train tracks.  I can't say why this caught my eye, but it did.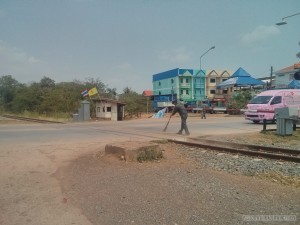 – Nong Khai also has a couple of parks you can visit and bike around, but they seemed somewhat run down and mostly deserted: