Songkran, the Thai New Year!  It's a time of respecting your elders and washing away your sins from the past year.  Or for most westerners (and most younger Thai folks), it's known as the water festival, home to the biggest water fight in the world!  There are actually a couple of countries that celebrate Songkran – Thailand, Laos, Cambodia, and Myanmar, but Thailand's is the biggest and most awesome.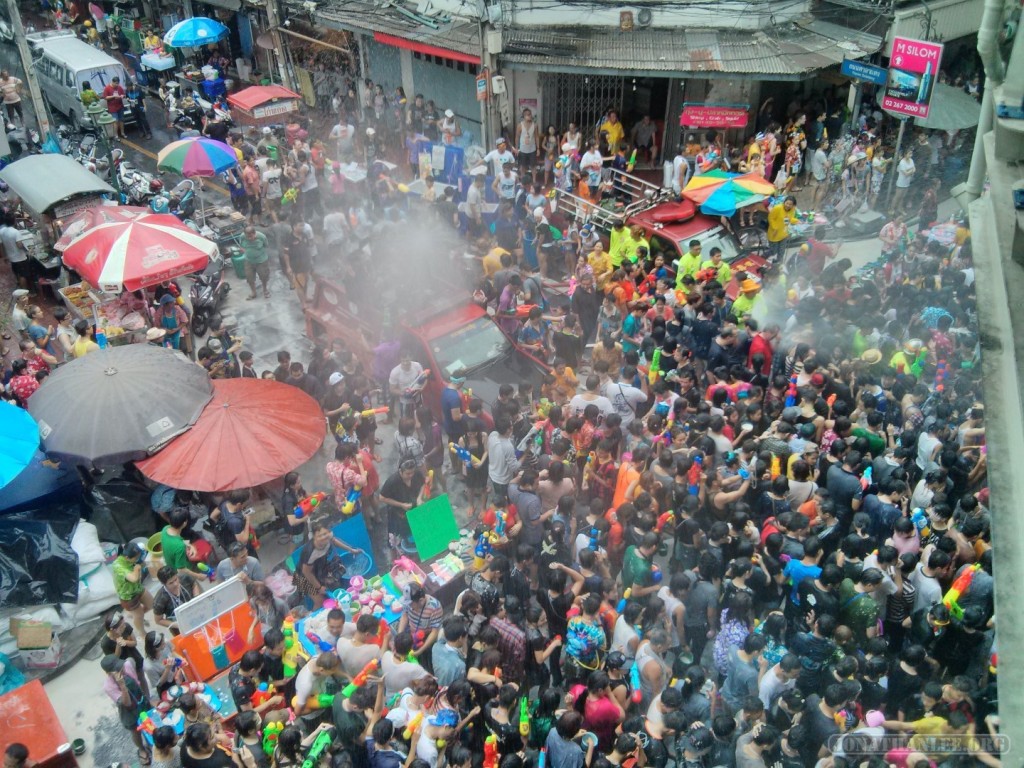 Even within Thailand, there are many places to celebrate – primarily Chiang Mai and Bangkok, but Phuket and Pattaya also show up on the radar.  I wanted to celebrate in Chiang Mai, but all buses, trains, and flights were fully booked, so I settled on celebrating Songkran in Bangkok.
The day before Songkran starts (different cities celebrate on different dates, it's on the 13th – 15th of April in Bangkok), I was at Chatuchak weekend market.  Even though Chatuchak is by no means a Songkran hotspot, things were starting to heat up!  Or in this case, cool down.
A kiddy pool filled with water: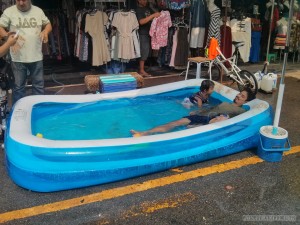 Kids playing with water guns around water stations: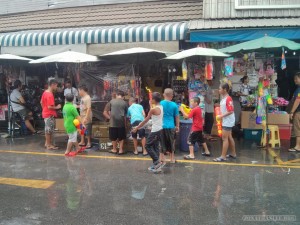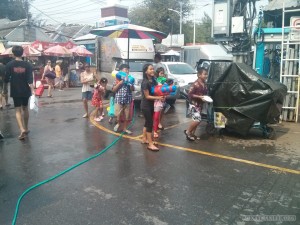 A mobile blessing truck!  Take a cupful of water, and pour it onto the Buddha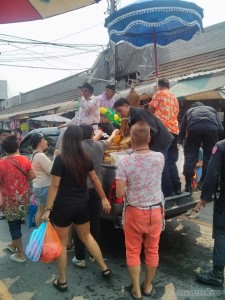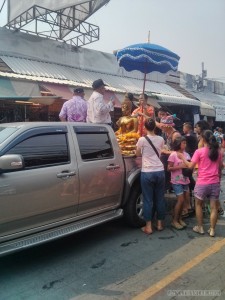 A mini parade!
And then, Songkran!  In Bangkok, there are two main places to celebrate Songkran – Khao San Road, and Silom.  Silom is the bigger party, but Khao San is wilder!  And so I figured, why not try out both?  Starting with Khao San!  Thankfully, I still had a small waterproof pouch from Vang Vieng, so I could bring my phone to take photos!
Flagging down a taxi and heading towards Khao San, we passed numerous water stations, where kids gleefully splashed water all over the taxi.  I was thankful I we were in a sealed off taxi, and not in an open tuk-tuk!  Cool Songkran taxi: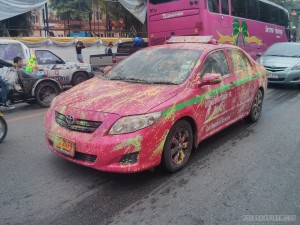 As we got closer to Khao San Road, you could feel the excitement in the air!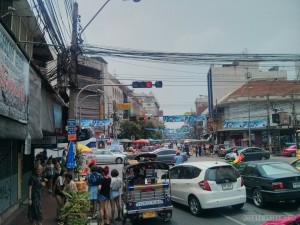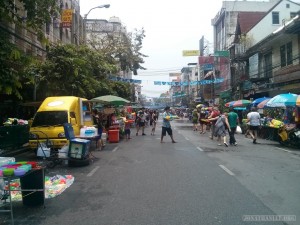 More tangibly, you started to see all sorts of vendors, selling water guns, masks, and this white powder, which you mixed with water to create a highly annoying face paint of sorts.
I especially liked the LINE and Angry Birds themed gear.  I doubted they were properly licensed!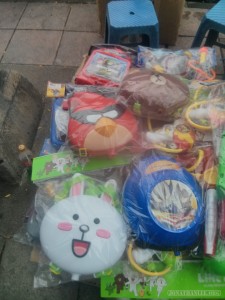 Closer to Khao San, you start to see the water fights!  Folks walking around with water guns, soaking wet from being on Khao San road:
Two kids dueling with water pistols: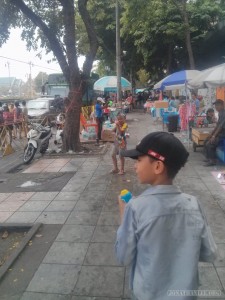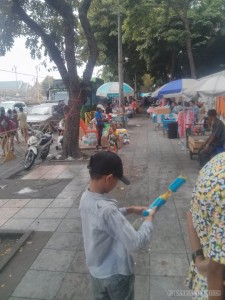 On Khao San Road proper, it's like a war zone – the entire street has been shut down of all normal business activity, and has been re-dedicated to being the ultimate water fight battleground.  Vendors along side the streets sell water refills – or even ice water refills, for the particularly malicious.  Everyone, EVERYONE is walking around with a super soaker.
And there's more!  Live music, from a DJ in a waterproof booth!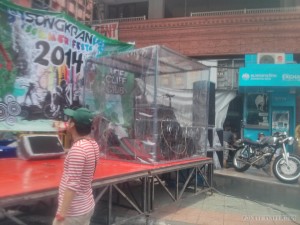 Stages, from which you can use a water hose to spray the crowd!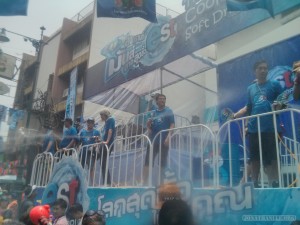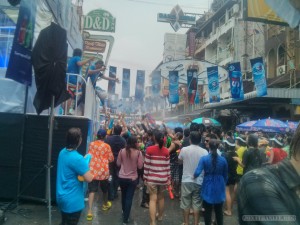 I don't think these booth girls get paid enough to stand here and sell protective eye-wear.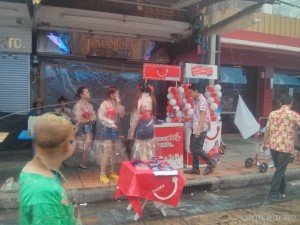 And of course, a whole lot of water fights!  Usually, it would just be people spraying each other as they walked by, but occasionally you'd see some really great fights break out – two teams wearing red and blue duking it out, a mob of kids with lower-powered water guns swarming a foreigner wielding a Super Soaker 9000!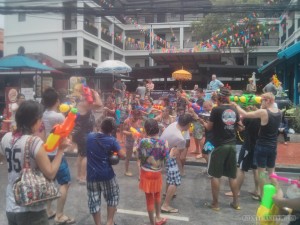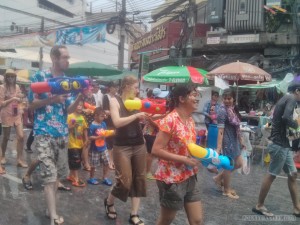 It ended up being quite difficult to take photos – even though I had a small waterproof for my phone, when the bag got wet, it could get quite difficult to take good photos: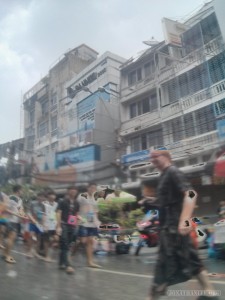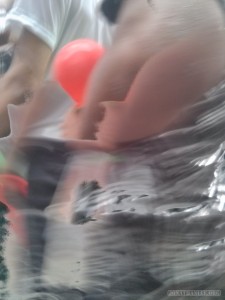 A note here – I understand the whole water guns part of Songkran, but I don't understand the white power face paint.  It's just white face paint.  You take the powder, put it in a small bucket, add water to create a paste, and then proceed to smear it all over other people's faces.   I don't quite understand.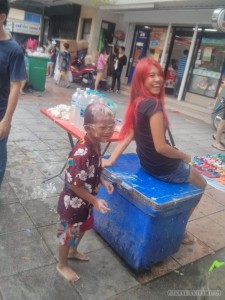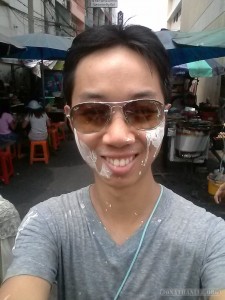 After this, I decided I had quite enough of Khao San, and so went to check out Songkran at Silom!  Along the way, I saw some of the more mundane Songkran celebrations – large tubs of water sitting out on the streets, manned by gangs of both kids and adults, soaking passersbys with water guns, buckets, and hoses.  Classic fun on a hot day.
As you approached Silom, you could feel the excitement in the air, see the streams of people all marching towards the crowd.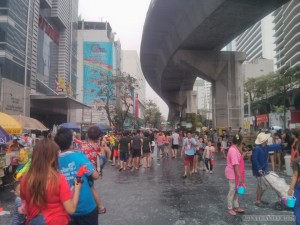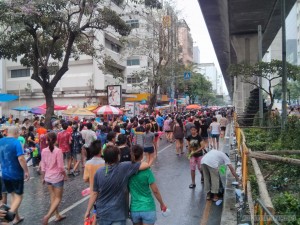 Once I got to Silom, I could see that yeah, Silom's Songkran party is way larger than Khao San's.  Whereas Khao San is a small street cordoned off for water fights, Silom is a huge avenue cordoned off for the celebrations.
And whereas Khao San is a competition to see who has the largest water gun, Silom seems more of a relaxed, chill party.  It's got a soap bubble cannon!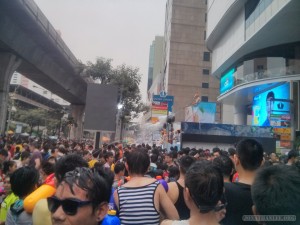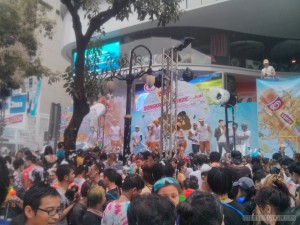 The fire department has gotten in on the action, bringing a fire engine to spray a stream of water at everyone!  It's pretty amazing for cooling off!
Even the police are enjoying themselves!  They'll probably be needing a new uniform though…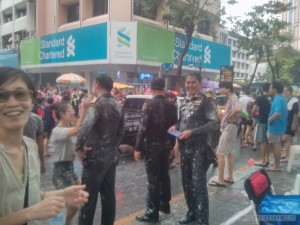 An enterprising company decided this would be a great place to advertise waterproof cell phone covers: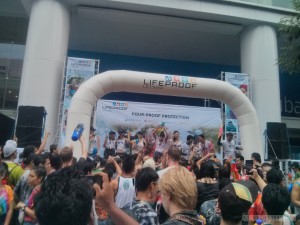 There was officially a ban on the white powder, but it was completely ignored: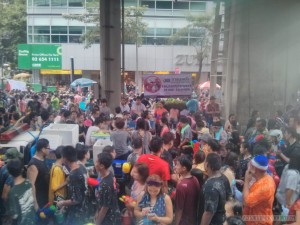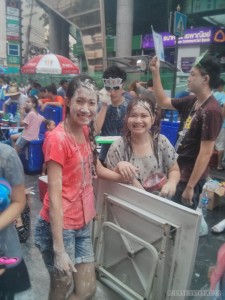 Whereas Khao San would be a place to go with a huge water gun, Silom seemed like more of a place to chill, to enjoy the sights, to get sprayed with water to cool down.  I quite enjoyed it.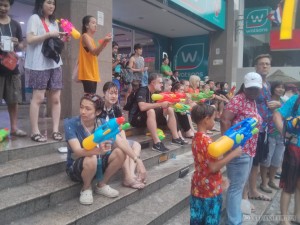 And since Silom is right under a suspended light rail station, you could climb onto the top, and watch the festivities away from (most of) the water cannons.  It's one hell of a party.