While I was in Yangon, I caught the tail end of Thingyan, the Burmese New year, which like the Thai New Year is celebrated with a huge water festival all throughout the country.  Stores are closed, everyone goes home to visit family, and business grinds to a standstill as everyone washes away the burdens of last year and begins a new year afresh.  And Yangon throws the best water fight of all of Southeast Asia – smaller than Thailand, less advanced than Thailand, but still the best.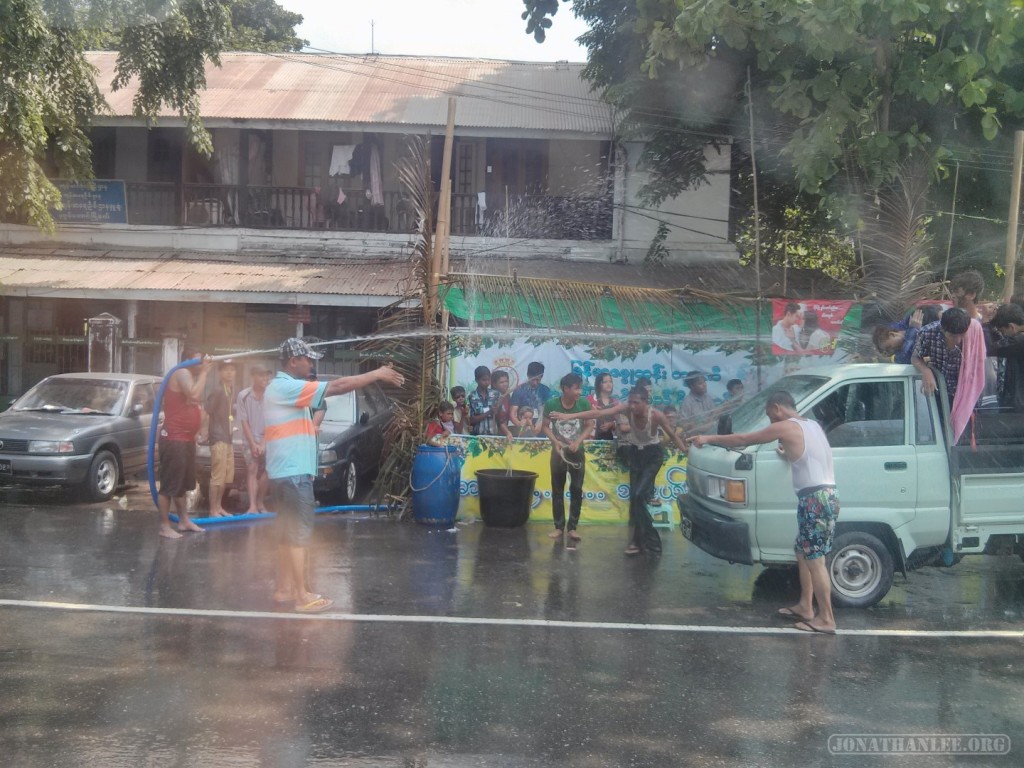 Interestingly, this is the fourth New Year celebration I attended in four months:
– The western New Year at the Taipei 101 in Taiwan (Jan 1)
– The lunar / Vietnamese New year of Tet in Saigon, Vietnam (Jan 28 – Feb 5)
– The Thai New Year of Songkran in Bangkok, Thailand (April 13-15)
– The Burmese New Year of Thingyan in Yangon, Myanmar (April 13-16)
Like Thailand, the water festival is celebrated in Myanmar with water stations all over the city, from which gleeful children and young-at-heart adults splash everyone passing by.  Unlike Thailand, which mostly relies on western-style super soaker water guns, Myanmar is less westernized, and so relies mostly on buckets and water hoses.  Notably, this also allows for water to be more efficiently splashed onto folks passing by.
While these stations are found all around Yangon, splashing even unwilling participants (almost ruining my phone), the water festival is celebrated in other ways too – walking down the street, I had a bucket full of water almost dumped on me!  Even walking within the hostel, there were some kids running around with water guns.
But if you really want to get involved in the water fight, the thing to do is get a bunch of friends together, rent a truck taxi for a couple of hours, and drive to all the different water stations, getting soaked.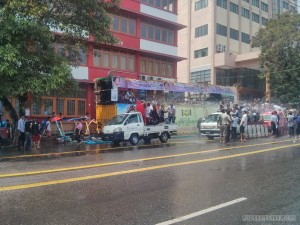 And while there are water stations all over the place, there are two main strips – Kandawgyi (right near Kandawgyi lake park), and Maha Bandula main street.  At Kandawgyi, yo usee these huge stadium seating like structures erected right by the road, from which folks use hoses to soak all pedestrians and trucks driving by.  People come here specifically to get soaked!  Oh, and there's also music, DJs, etc – it's a party!
Amusingly enough, the water for the pumps seems to come directly from Kandawgyi lake: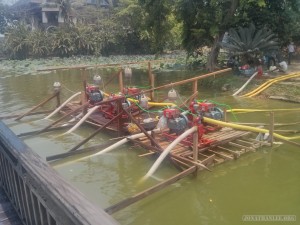 And of course, on the outskirts of the area, there's a decent food market, where I grabbed some lunch amidst a large crowd of folks taking a break from getting soaked.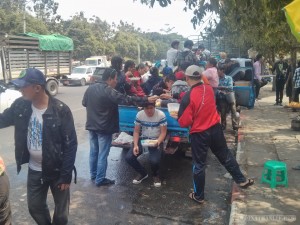 Another place to take part in the festivities was on one of the main streets, right near Sule Pagoda, also with a whole lot of stages set up to hose down folks.  Large lines of trucks formed for the privilege of getting hosed down!
Oh, and right near Yangon City Hall, there was a pretty big crowd too.  It had the atmosphere of a party, or a rave, even as giant hoses were watering everyone down!
And of course, there's no point in just watching a festival, you have join in!  And so, I joined a group of folks at my hostel in climbing into a truck, driving around, and getting completely doused.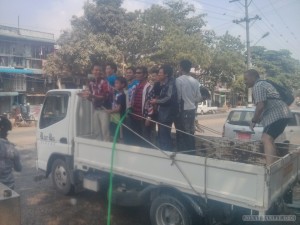 There's two parts to the fun in doing this.  One, you've got a tub of water in the truck itself, so as you drive around, you can exchange fire with other trucks.  This is mostly awesome, but occasionally you get some truly evil folks, who add chunks of ice to their water, and so throw ice water at folks.  And let me tell you, getting a bucket of icy water to the face, is not fun.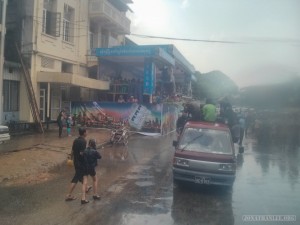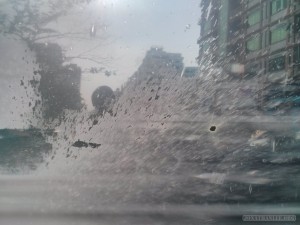 Then, there's the proper water stations, where you drive up, and wait for your turn to get hosed down.  Some folks choose to dance while getting hosed down.  And again, it's pretty awesome, except for some folks who choose not to use regular hoses, but industrial high pressure hoses.  That I'm not cool with – I'm having a water fight, not reenacting the civil rights movement getting hosed by the Birmingham fire department!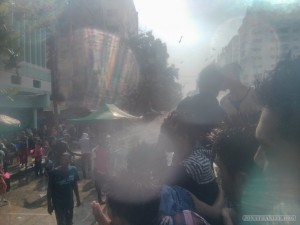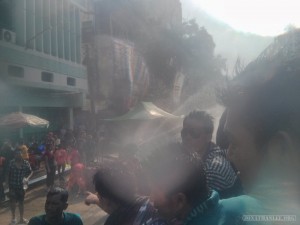 And the amazing thing is, when you usually rent one of these trucks to take you around, you do so for six hours!  I'm amazed that people had the constitution for this – after two hours, I was basically done, and excused myself from the truck.  Great experience, but probably not something I want to do again.