After finishing my bike and boat exploration of Inle lake, I hopped on a bus to Bagan.  Arriving around 10pm, the first thing I noticed was the overpowering heat.  Even at 2am in the morning, the temperature hovered around 100 degrees.  So lying in my bed, unable to sleep, I vowed to try and see all of Bagan in a single day, so that I could get out of this inferno.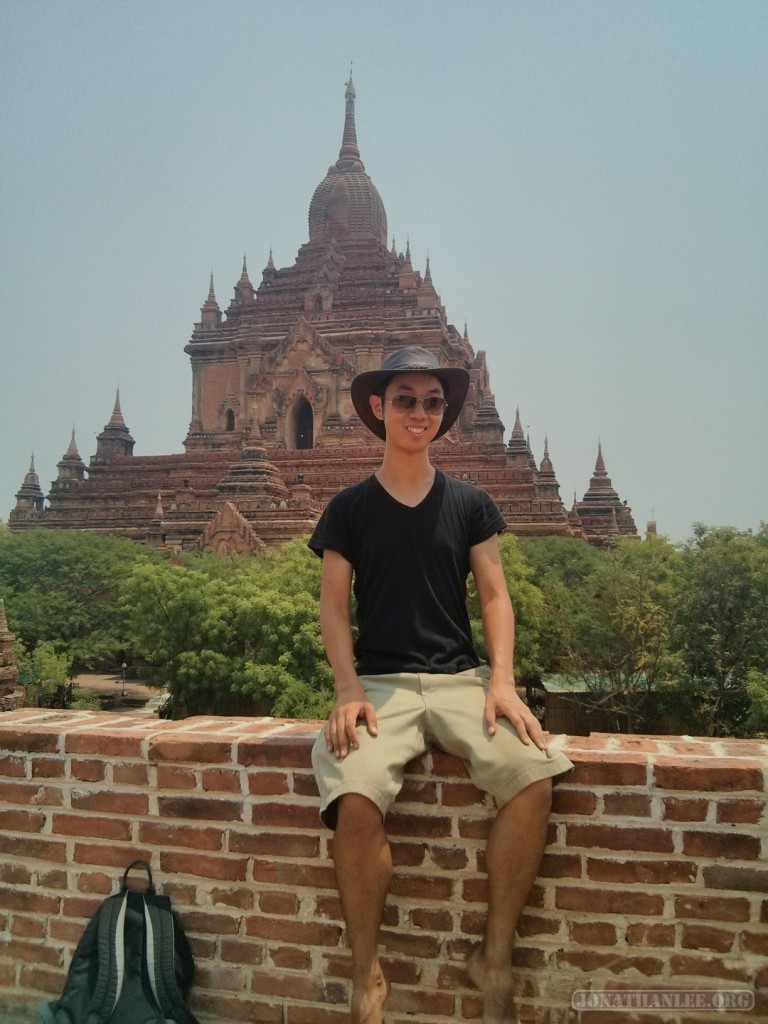 In practicality, it's impossible to see all of Bagan in a single day.  Whereas Angkor Wat consists of a few very large temples scattered over the area, Bagan is a whole ton of smaller temples scattered all over the damn place.  You've got large stupas and small stupas, old stupas and newly built stupas, rundown stupas and well maintained stupas, stupas for every occasion.
But I tried my best – I rented a bicycle, mapped out a path that would allow me to see the biggest and most important stupas, and set out!
When you first start out exploring Bagan, everything seems awesome.  There's temples!  Everywhere!  I saw these fine examples near the town of Nyang U, where I was staying.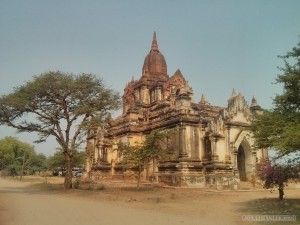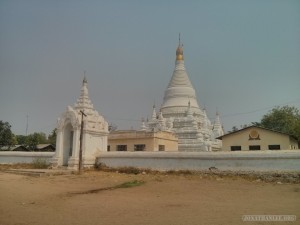 And wow, with so many temples around, there are also a ton of monks – walking around, receiving donations, and generally being very monk-y.
First up on the list of major temples is Shwezigon, which allegedly contains a bone and tooth of Buddha's.    I think it would be fun to draw up a list of temples claiming to have one of the Buddha's body parts, and see how many bones you end up with.
I hit my brakes hard when I saw this random pig on the side of the road: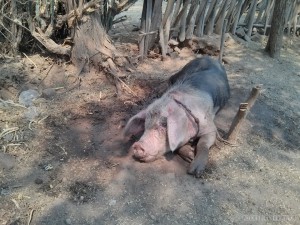 Continuing down south from Nyang U to Bagan, I see a whole lot of random stupas just off the side of the road, mostly forgotten and decrepit.  I understand building a huge building like Shwezigon to hold a relic from the Buddha, but I'm not sure why there are all these smaller stupas, built all over the place.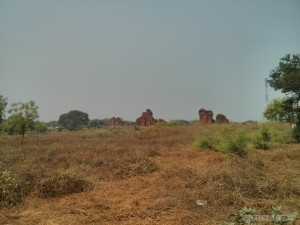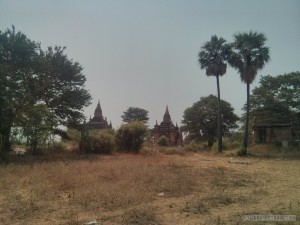 A random stupa by the name of Lawka-Chanthar catches my eye, and I stop to explore.  Here, I meet the first of many sand painting vendors, sitting inside the temple and offering to sell me various paintings of Buddhist murals and Bagan landscapes.  When I decline to pay his extravagant prices, he follows up with the Classic Southeast Asian Vendor Question – "how much do you want to pay?"  I walk away.
Next up is Htilominlo, the tallest of all of Bagan!
You're not allowed to climb Htilominlo, but there's a nearby structure from which you can get a panoramic view of the landscape.  Just looking out at the landscape, you can feel the oppressing heat of Bagan.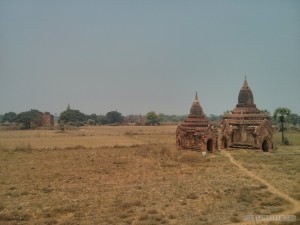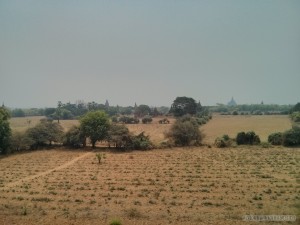 Continuing on, I take a gander at  Upali Thein, which quite resembles a mausoleum to my untrained eyes: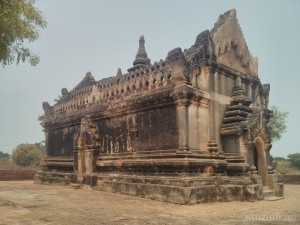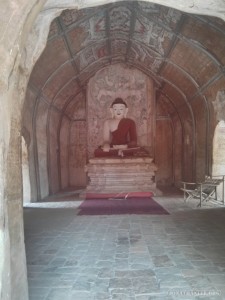 So the thing about Bagan is, there's such a huge variety of temples and stupas – some large, some interestingly shaped, and some that come in a set, like Khay Min Gha here.
Is it just me, or do these temples (names unknown to me) resemble a Confucian temple, a church, and a mosque?
Taking a break, I have lunch at what I'm going to call a pop-up restaurant.  Basically, you've got some folks who prepare a whole bunch of food at home, bring it in pots, and open up the restaurant under a tent on the side of the road.  This was the most delicious meal I've had in all of Bagan.  I only ordered one dish, a meat, and it comes with rice, a soup, and four or five assorted vegetable dishes.  Absolutely delicious, and a steal at only $2 for the entire meal.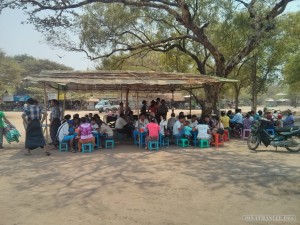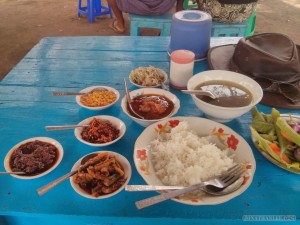 After lunch break, as the sun oppressively shone down on the lands, I continued on my bike tour, passing by the Bagan Golden Palace, a display of a previous Burmese kingdom.  And while it looks great, it's complete conjecture – not a single pillar of this fancy looking building is original, and people aren't even entirely sure this is where the original palace stood.  So, tourist trap?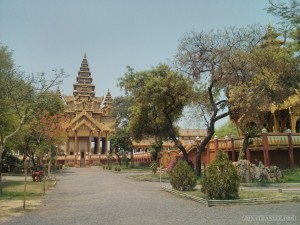 Next, I arrived in Ananda, another famous temple of Bagan.  Is it just me, or does its spire resemble a pineapple?
Inside, there are four huge Buddhas, facing the four cardinal directions.  But more curiously, there were also a whole mess of people just sleeping inside the temple, on the floor.  I'd hazard a guess it's because while it's 100+ degrees outside, it's nice and chill inside the temple, and so prime for a midday nap.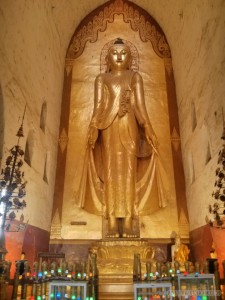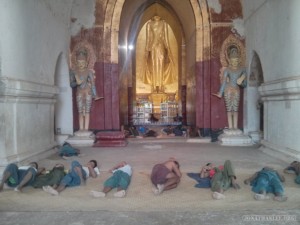 At this point, temple fatigue starts to set in.  Whereas I started out bright eyed and bushy tailed, staring at all the stupas, now it's starting to feel like there are stupas everywhere, and they're not very special.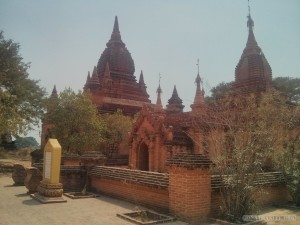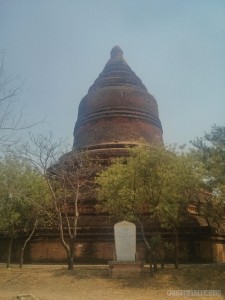 Nonetheless, I power on and make it to Sulamani, a fairly major temple, supposedly quite popular and very visited.  A lot of maps and guides talk about how the architecture of certain temples influence each other, but I just see a temple and think, that looks cool.
And next on the list is Dhammayangi, mostly notable (to me) for smelling like bat guano.  Also, a vendor displaying dolls for sale by hanging them from a tree.
And then there's Thatbyinnyu, notable (to me) for having a painting of itself inside the temple.
Oh, and there's a 'sunset temple' Shwesandaw, a popular place for tourists to gather to watch the sunset, and for vendors to gather to sell postcards and cold drinks to tourists.  I hear it gets quite crowded at dusk, but since I arrived mid afternoon, it was completely empty.
In the search for refreshments, I passed by Lawkaoushaung and Mya Zedi, but I'm starting to get annoyed at all these temples.  Why are so many needed?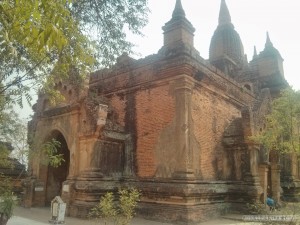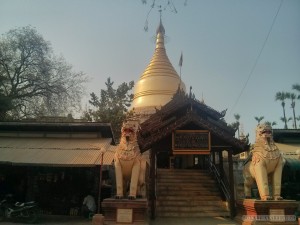 And, refreshment break!  The store sells lime juice, strawberry juice, mango juice, and watermelon juice.  Which one should I get?  At 50 cents, why not get them all!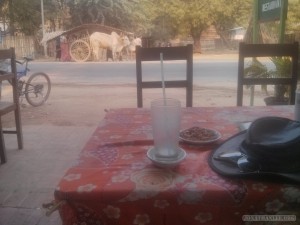 Properly refreshed, I continue on my bike tour, visiting Gu-byauk-gyi, the Archaeological Museum (closed, after spending too much time enjoying juices), and Gawdawpalin.
I'm in the final stretch now!  As it approaches sunset, I visit Bupaya, a temple right on the river.  It's got this gourd-shaped stupa.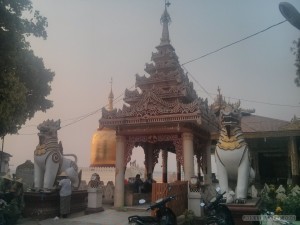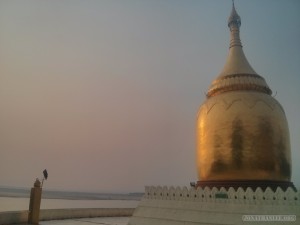 Oh, and it also has some pretty nice views over the Ayeyarwady River.
Finally, I make my last stop – Shwegugyi, a "hidden sunset" temple!  You get as good as views as the popular sunset temple, but without all the crowds.
From here, I got panoramic views of Bagan – views to the North, West, South, and East.





The sunset, unfortunately, proves to be a bit disappointing, as the sun simply fades into the clouds.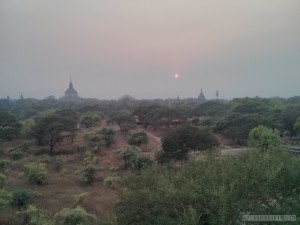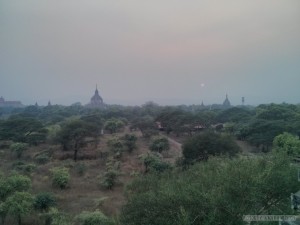 I have no idea what this is.  Nuclear Catastrophe Overcome Pagoda?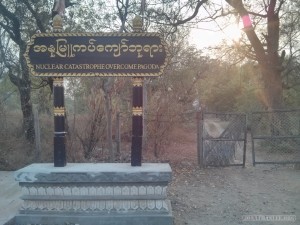 In the end, with a huge amount of effort, I succeeded in seeing everything I wanted to see in Bagan – in one day! On a bike! In the heat! So it's definitely doable, but quite strenuous. I took the night off, relaxed, and then hopped on the bus to Mandalay the next day, finally escaping the heat.