Mandalay, the old capital of Myanmar, is pretty hot, but it doesn't have the excruciatingly blistering heat of Bagan, so after spent a single day exploring Bagan in the searing heat, I escaped to Mandalay to explore the old capital.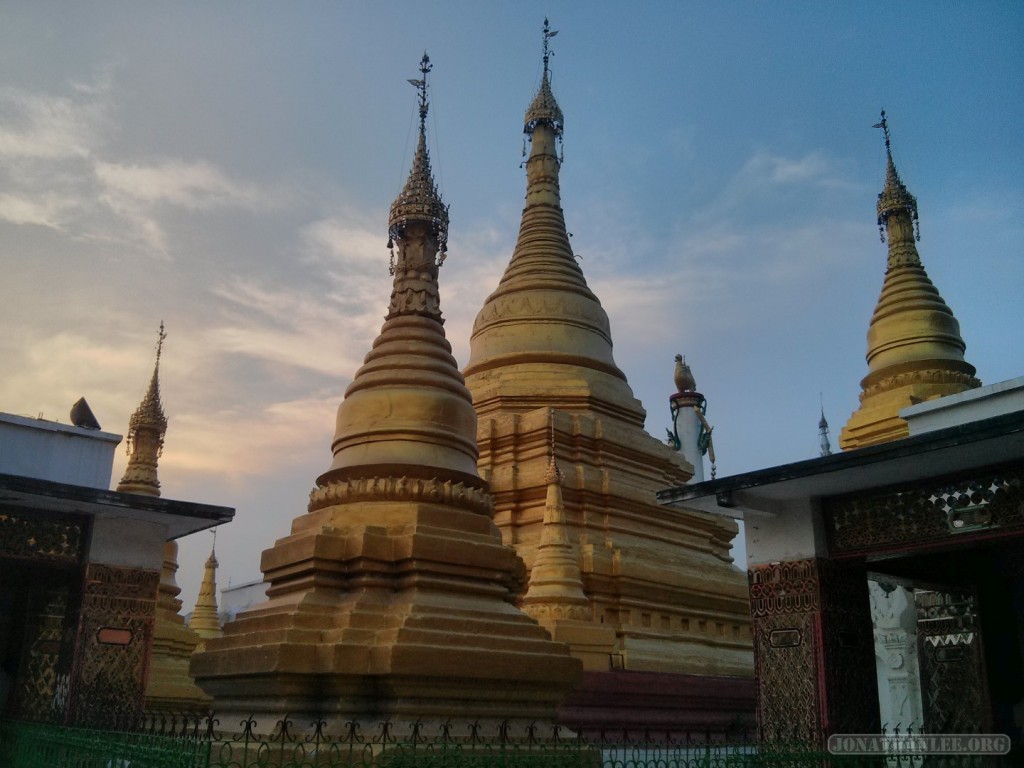 After the heat of Bagan, I tremendously enjoyed having reliable AC at my hostel, Yoe Yoe Lay Homestay, which I would highly recommend to future travelers.  Here, after spending literally spending a day just lounging about the hostel in the AC, recovering from Bagan, I rented my usual bike, and went to see the sights around Mandalay.

The reason why I like biking so much, is that it give you so much freedom to explore.  With a tour, taxi, or bus, you're simply going from point A to point B, with not much flexibility to see everything in between.  But with a bike, I'm free to stop and check out random things – like this modern art Buddha statue, or a Burmese university – State Pariyahti Sasana University.  That's quite some architecture!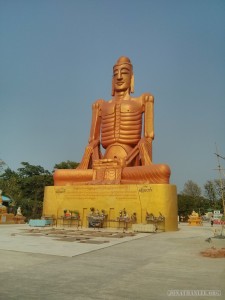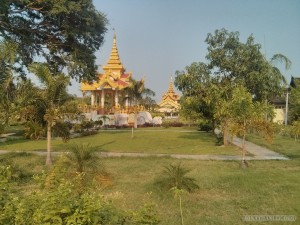 Much like with Bagan, I looked up some interesting landmarks, found them on Google Maps, and plotted myself a bike course to visit them all!
Shwenandaw Kyaung (Monastery) without a doubt looks like a Japanese castle, and is intricately decorated with teak carvings.
I stopped and chatting with a scholarly team from the University of Florida who were using some kind of 3D positioning / scanning / modeling technology to capture the monastery in 3d, which was pretty cool.  I wonder if this allows them to print a miniature version of Shwenandaw with a 3D printer?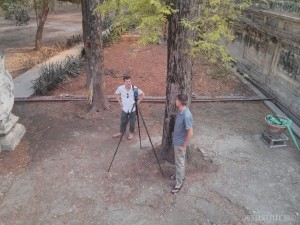 Next, there's Atumashi Kyaung, another monastery, whose architecture vaguely makes me thing, Mayan or Incan.  With a lot more golden color.  But other than the architecture, there's not much to see – the building itself looks quite shiny, but it's rather empty.
Next, there is Kuthodaw Pagoda, a much more traditional Burmese pagoda.  It's like a mix of Shwedagon in Yangon, and Inn Dein if Inle Lake.  It's got that bit central spire like Shwedagon, but it also has grid of smaller stupas, somewhat like Inn Dein.  The orderliness of the grid of stupas also reminds me of a cemetery.
Like Shwedagon, Kuthodaw has a orb, vane, and umbrella at the top of its center spire, but it's not quite as fancy as Shwedagon.  It's also got a starflower tree.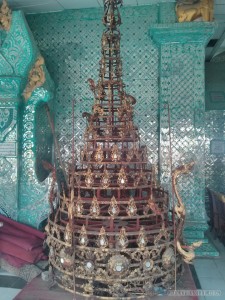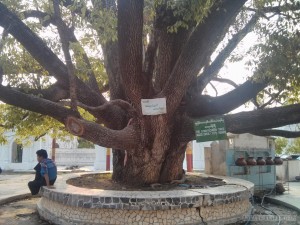 Next, I visited Kyauk Taw Gyi Phaya, which is mostly unremarkable, but for its inside color scheme, which is a very nice shade of blue.
And this brought to me to my end goal – Mandalay Hill!  As its name implies, it's a large hill in the middle of Mandalay, which you can climb for a temple and some pretty good views – kind of like Luang Prabang.  The main difference is, Mandalay Hill is a much longer hike.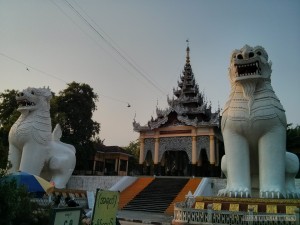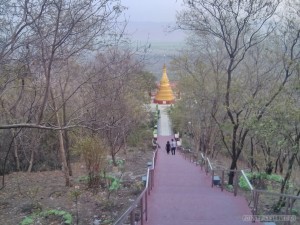 Since there was also a  road going to the top, I decided to bike up!  Which turned out to be a massive mistake, as I discovered that Myanmar-made mountain bikes are complete rubbish.  Knowing I wanted to ride up the hill, I had rented a *new* mountain bike, so I could shift into low gear to go up the hill.
However, I had not known about the shoddiness of Burmese bike construction.  First, the freewheel mechanism broke.  Usually, if you stop pedaling and just coast forward, you can resume pedaling at any time with no problem.  However, with the freewheel mechanism broken, while the bike is moving, the pedals become linked to the back wheel and automatically turn even without me applying foot pressure.  And if I hold the pedals still while coasting, slack is created in the bike chain, so further pedaling does nothing at all.  This is not a situation to be in.
Then, the shifters broke.  They simply broke, and I was unable to shift for the rest of the night.  It wasn't due to a crash, it wasn't due to long term wear and tear, it was simply shoddy construction.  Climbing and then descending a hill, with a broken freewheel mechanism and broken shifters?  Not fun.  0/10, would not rent a Burmese made bike again.
But in any case, the view from Mandalay Hill was pretty great.
Oh, and there's a temple at the top of the hill, Su Taung Pyi Pagoda, which is nice.  Most annoyingly, there was a bullshit "westerner photo and video charge", where you had to pay a couple of dollars in order to take photos.  I refused to pay the fee, and then took photos anyways.  This temple also seemed to be the place for Burmese students to practice their English with visiting tourists.
A washing station, with multiple Buddhas that you could pure water over: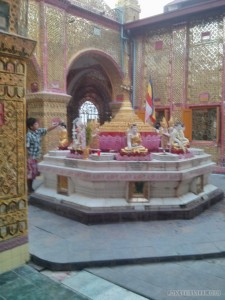 A demon with his army of demon followers: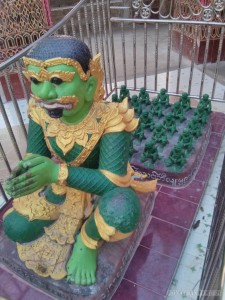 Due to cloud coverage, the sunset from Mandalay Hill was somewhat disappointing.  And riding back down the hill with a bike with broken gear and broken freewheel mechanism?  Not fun, in the least.  Curiously, on my way back to my hostel, I spotted a crashed moped holding and overflowing which chickens.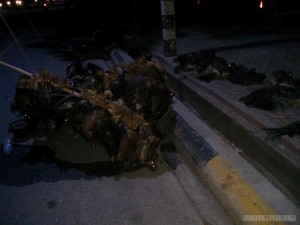 The next day, I set off on another (better) bike – a beat up Giant bike, at least 30 years old, imported from Taiwan.  It gave me no problems for the entire day.  First, I stopped by Shwe In Bin monastery, supposedly famous, but looking like a lighter version of Shwenandaw.
There's also the Mahamuni Budhha temple, the most popular of all the ones I visited.
In the center, there was a gathering place of sorts, in front of a golden Buddha statue.  Which is unremarkable, except for the segregation of worshipers – women at the very back, men in the middle, and monks at the front.  Gender equality is clearly not a priority.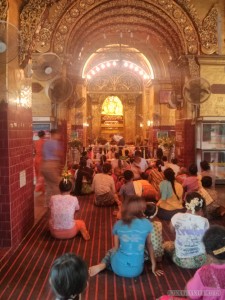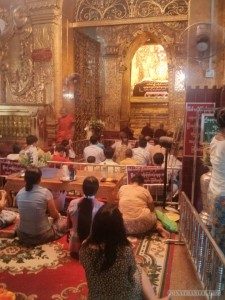 Finally, a whiles away from Mandalay, over Taung Tha Man lake, there is the U Bien (U Pien) Bridge, the world's longest teak wood bridge.  I just missed the sunset, but the view was pretty good nonetheless.
One major place in Mandalay I haven't mentioned yet is the Royal Palace area, located on an island in the middle of a lake.  In a bit of a spate of paranoia, foreigners are prohibited from visiting most of the island, except for a small (and reputedly quite boring) museum.  I just skipped it.  Nice views though!
Also noteworthy is the bike ride along the Ayeyarwady River, to the west of Mandalay.  It's a nice views with great views.
Curiously, there's also a water world type amusement park.  I guess some things are universal?  I would not have expected this in Myanmar.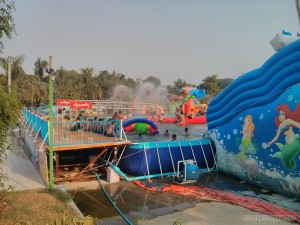 Bits and bobs:
– Mandalay has these interesting beer bars – a place for men (only men, I have seen no women at all here) to sit, drink beer, socialize, and watch games on the big screen TV.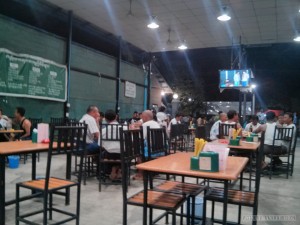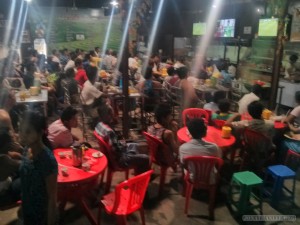 The food is decent, the beer is cheap.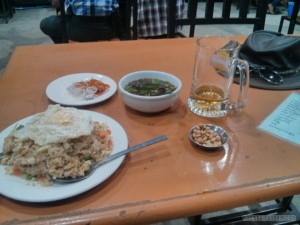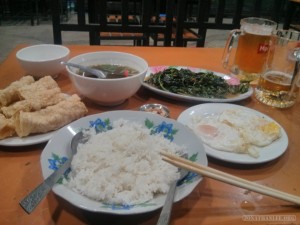 – Mandalay doesn't just have monks, it also have nuns!  Most appropriately, in pink!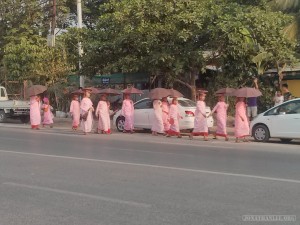 – Something I've forgotten to mention is that in Mandalay, as well as Bagan, Inle Lake, and yangon, you see public jars of water all over the place.  Ceramic jars of (tap) water, probably not terribly clean, but cool and invaluable in the heat.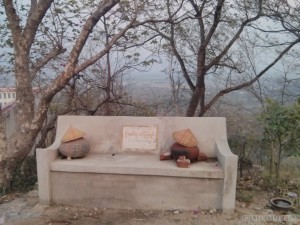 All in all, Mandalay is pretty nice place to visit – not that much to see, but nice to hang out.