From Mandalay, I took a small trip to visit Pyin U Lwin, a much cooler city in the northeast of Myanmar.  This city was apparently the summer capital during the British Raj, and I can see why – whereas Yangon and Mandalay are blisteringly hot during the summer months, Pyin U Lwin is much cooler, much more comfortable.
The British even built a very nice botanical garden in Pyin U Lwin, the National Kandawgyi Gardens, which I very much enjoyed visiting.


So how did I get from Pyin U Lwin?  By truck!  But since the main cargo area of the truck was full, I sat on the roof for two hours, hanging on for dear life.  Thankfully I only brought my day bag with one change of clothes, so my big backpack wasn't bouncing around with me.
But the feeling of the wind through my hair, and the sights, are just amazing.  I just had to make sure to apply lots of sunscreen, so that I didn't get sunburned beyond recognition.
Once in Pyin U Lwin, I admired Purcell Tower (supposedly modeled off the Big Ben, but this claim is highly questionable), grabbed some lunch, and went to explore on a rental bike!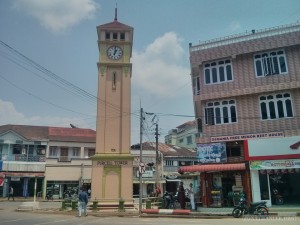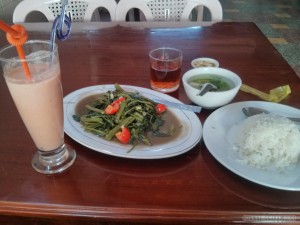 Due to the historical British influence, during my biking around I noticed a significant European architectural influence.
Pyin U Lwin has a roller derby?  It doesn't seem to fit in with Myanmar's image.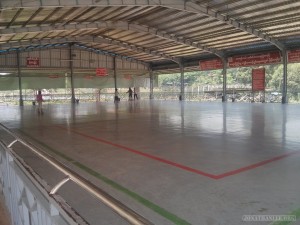 There's also a pretty big market, but it was fairly unremarkable, except for a shop fully stocked with bananas.  I wonder, why bananas?
While the city of Pyin U Lwin was quite nice, I found the main attraction to be the National Kandawgyi Gardens, a British-constructed park modeled after the Kew Gardens of England.  Just a short bike ride away from the city, I found it to be relaxing, tranquil, and most beautiful.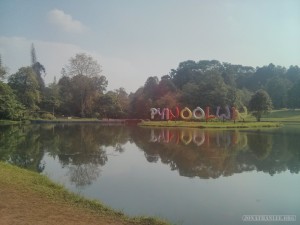 Though it's called a botanical garden, and it does have some botanical displays, it's mostly just a large, peaceful park, perfect for a tranquil stroll or a picnic.
It's got a petrified wood museum, which is pretty cool:
Also, it's got this animal, called a 'takin'.  To my eyes, it's like a cross between a sheep and a buffalo (or, according to Wikipedia, a goat-antelope ).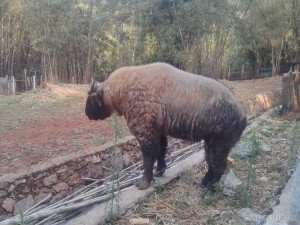 Also, an enclosed aviary!
A pagoda on an island, appropriately named Pagoda Island: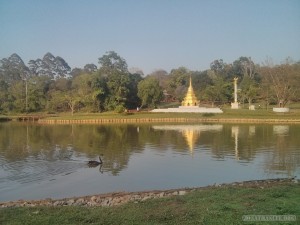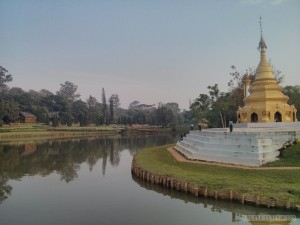 The botanical garden also has this really cool tower, Nan Mying tower.  It's like a half-steampunk, half-corkscrew, fully-awesome thing.
And from the top, you get a very nice view of Pyin U Lwin:


Finally, the sunset, over the tower (I'm changing my position, the sun is not going down sideways) – definitely one of the best sunsets I have seen during my travels.
Curiously, there's a pretty strong Indian influence on Pyin U Lwin, so I had great curry and other Indian food: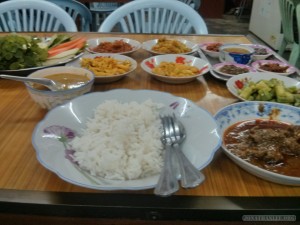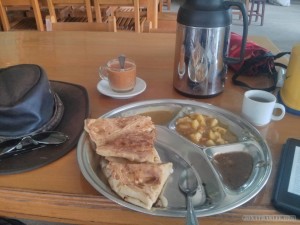 After staying a great single day in Pyin U Lwin, I hopped on a truck back to Mandalay, once again sitting on the roof of the truck for great views, grabbed my bag from my previous hostel, and then hopped onto a bus back to Yangon, to catch a flight out of Myanmar.  I somehow ended up on the most luxurious bus ride I have ever experienced, not something I would have expected in Myanmar.