From Auckland, I found a travel mate (Juan, 29, from Costa Rica), rented a campervan, and set off on a 38-day tour of New Zealand, starting with the North Island!  Renting a campervan is quite cheap too – When I get more time, I'll do a business analysis on the costs of traveling by campervan.
On the North Island, we first toured Northland, the northernmost bit of the north island, looping along the Twin Coast Discovery Highway.  Upon returning to Auckland, we drove south and saw some tourist attractions along the Thermal Explorer Highway, before finally heading down to the capital of New Zealand – Wellington.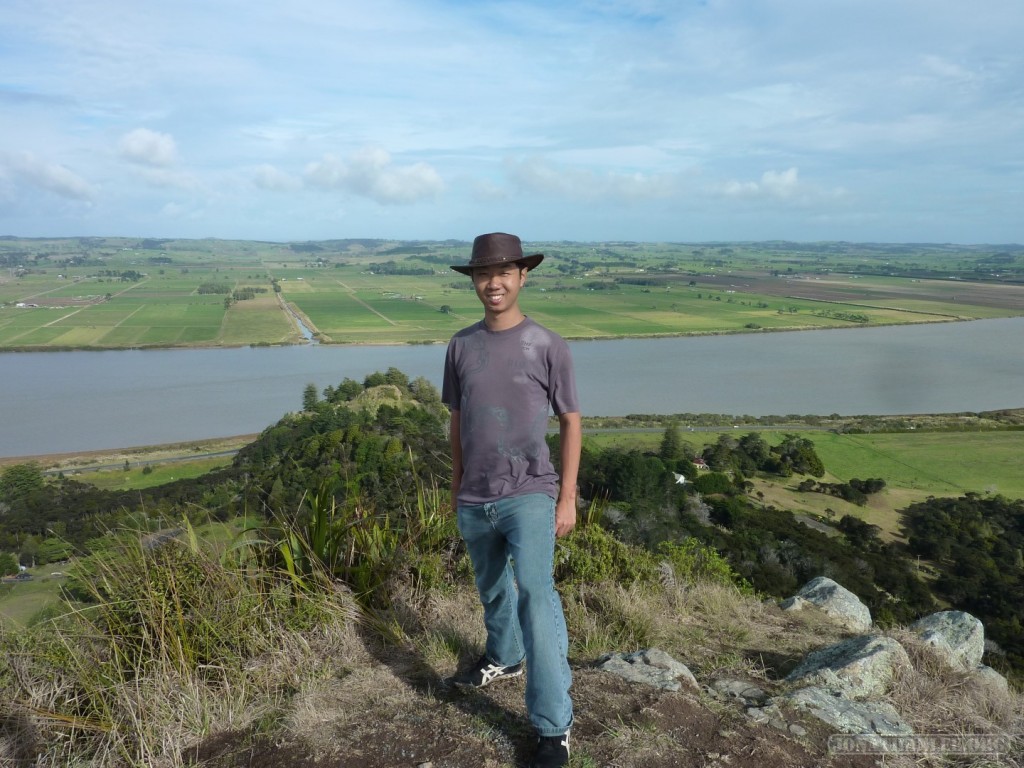 My route plotted on Google Maps!
Twin Coast Discovery Highway: The rain clouds from Auckland chased us all throughout our northern expedition. We tried to outrun and evade the clouds as much as possible, but they still found us every day.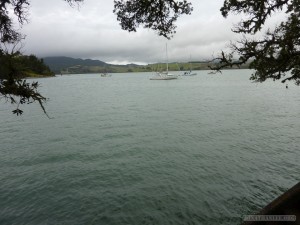 Bay of Islands: The 'thing' to do here is to take a ship on a cruise through the 'hole in the rock', a large hole in a large rock.  We decided to pass.  Additionally, this town is home to the Waitangi Treaty Grounds, a museum on the land where Maori chiefs first agreed to recognize the sovereignty of the English crown, in return for promises of recognition and protection of their land and fishing rights.  And as expected, the English later broke these promises, just like how the US broke treaties with the Native Americans.
The museum exhibited a pretty impressive war canoe though!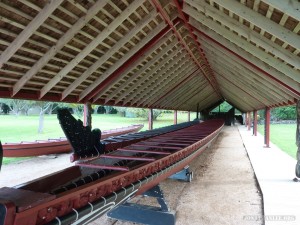 Also, check out the size of this stump – it was used to make the above war canoe!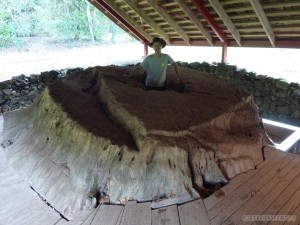 Cape Reinga: on the far northern tip of the north island, along 90 mile beach (which is puzzling, not only in the use of imperial units in a country that otherwise uses metric, but also in the fact that it is less than 90 miles long), is Cape Reinga, where the souls of Maori departed are said to gather, before traveling back to the Maori ancestral home of Hawaiki.  Interestingly, my travel partner tried to do a hike in the area, but got horribly lost.  Good thing he wasn't born a Maori, or when he died, he would get lost trying to pass on, and instead end up haunting someone.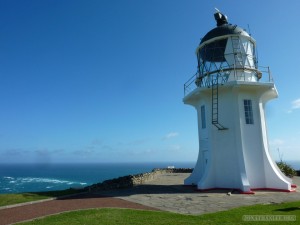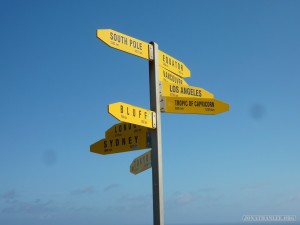 Here, you can see the clash of oceans as the Pacific Ocean and Tasmanian Sea collide.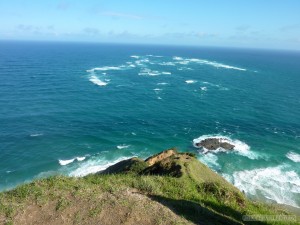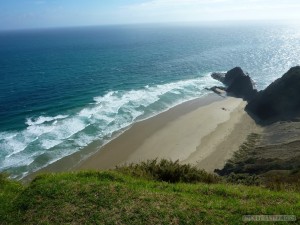 Waipoua National Park:  Seeing the Kauri trees, we observed how size does matter, but it's not length but girth that matters.  Kauri trees, of course, are the world's thickest trees, with Tane Mahuta, the Lord of the Forest, measuring in with a truck height of 17.7 meters (and 51.5 meters of total height) and a girth of 13.8 meters.  That's a metric ton of wood!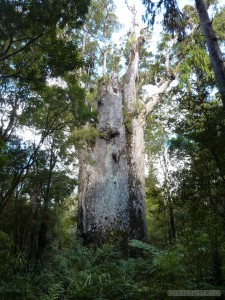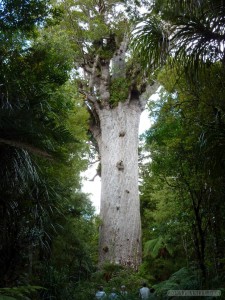 Interestingly, because foreign fungus seem to be destroying Kauri trees, you have to brush and wash your feet before you can tramp (in this part of the world, hiking is called tramping) and see the trees: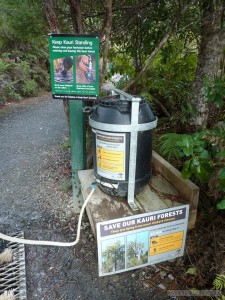 Kauri Museum: on our way back to Auckland, we saw there was a museum showing off products made from kauri.  $25 to see a bunch of furniture?  We passed.  I did notice, though, that products made from kauri have this ethereal sheen to them – much like certain 3D bookmarks, as you look from different angles, the pattern seems to ripple and change.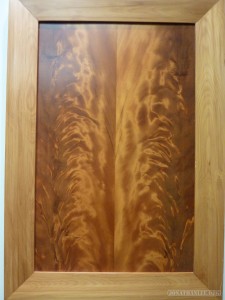 Thermal Explorer Highway: still being chased rainclouds, we made our way south of Auckland, visiting some of New Zealand's famous tourist attractions.
Waitomo Black Water Rafting & Glow Worm Caves: Waitomo is famous for its glow worm caves and for its black water rafting, so I figured it would be most efficient to do both at once!  This will get its own travelogue later on – I purchased a dvd of pictures from the trip, but give as my netbook is too small to have a dvd drive, it'll have to wait.
Hobbiton (the Shire): I'm not a huge Lord of the Rings fan, but I still had to visit the movie set, if only to lord it over hardcore fans who are longing to visit.  It's — decent.  Interesting, but note quite worth the $75.  Here are some photos:
Standing in front of a hobbit door: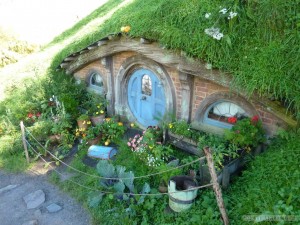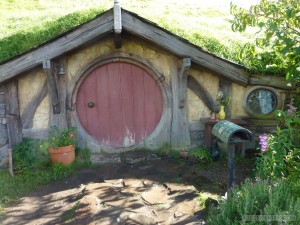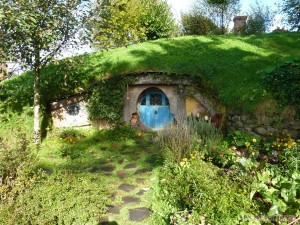 Behind most of the doors, there's nothing but empty space: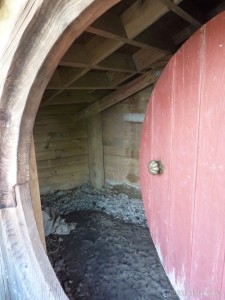 But that hasn't stopped some enterprising birds from using a hobbit hole as a nest: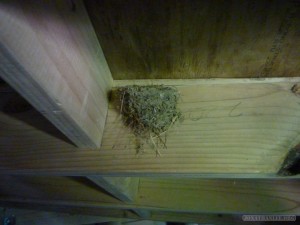 This tree is 100% artificial: it was chopped down from another location, carefully tagged and reassembled on site, and then covered with fake leaves imported from Taiwan (explicitly mentioned in the guidebook).  It's good to know that my ancestral home is known for high quality fake leaves.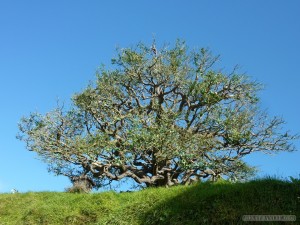 The Green Dragon Inn: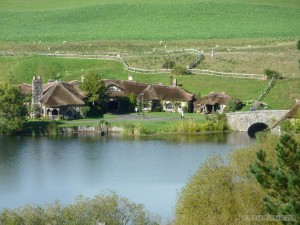 The information center near Hobbiton was decorated as a Hobbit house!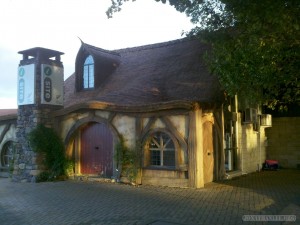 Rotorua: the tourist town that perpetually smells of rotten eggs, where I visited a Maori village, took a time machine to before The Land Before Time, and relaxed in thermal hot springs.  This town gets its own post later.
Ruka Falls: beautiful view, great hike.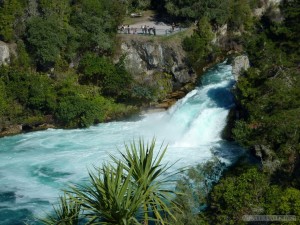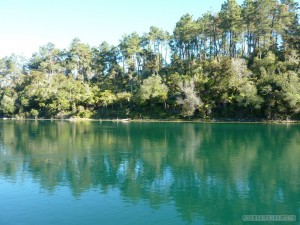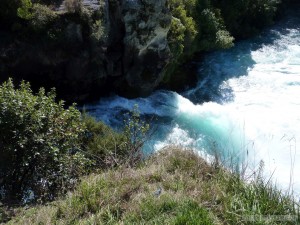 A hot water spring joins a stream, resulting in spa-like waters.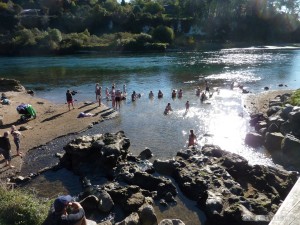 Tongariro Alpine Crossing: my first extended hike in New Zealand!  At almost 20 kilometers in length and 1 kilometer in height, it's a decent hike.  Not wanting to slip and break my neck, I had to buy a pair of Australian-made, Nomad-braded hiking boots – $100.  This is the supposed view from the top (from wikipedia):

This was my view from the top: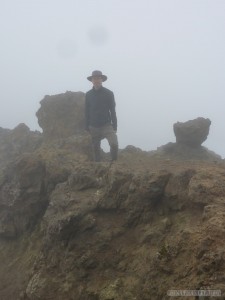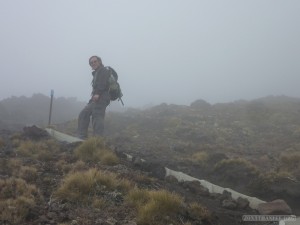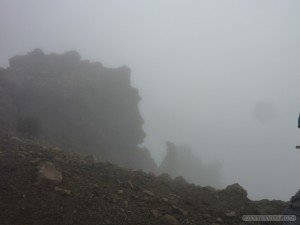 Indeed, we experienced the Mists of Mount Tongariro.  At least it didn't erupt we were on it.  The rain did catch up to us though, right as we were descending from the summit – and so we had to hike 2 hours back in the rain.  Time to get some waterproof gear.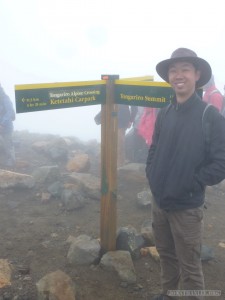 Finally, on our way down to Wellington, we made pit stops in two towns:
– In Wanganui, we saw the not-yet-leaning Tower of Wanganui, and climbed up 176 steps to the top: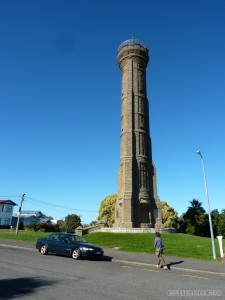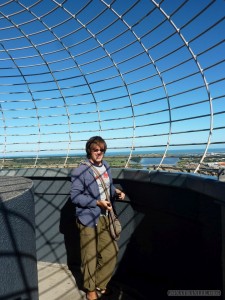 – In Levin, we visited the most non-traditional library ever – not only does it have a common space with video games for kids (and teens and twenty-somes), and host all sorts of community events, but it charges for book rentals.  Whoa.  It was a very popular library.
And then, after almost two weeks on the road, we reached the capital of Wellington!
Interestingly, I still haven't seen a damn kiwi bird yet. I'm beginning to wonder if it's a cousin to the Australian dropbear.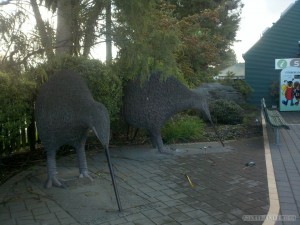 Miscellaneous unclassified photos: