While staying in Ubud, I hired a car and driver, and spent some time traveling around Bali, all for $35 per day including gas. Split with my two Swiss friends, that's about $12 per day to be driven around to wherever you want to go, much cheaper than taking a pre-arranged bus tour.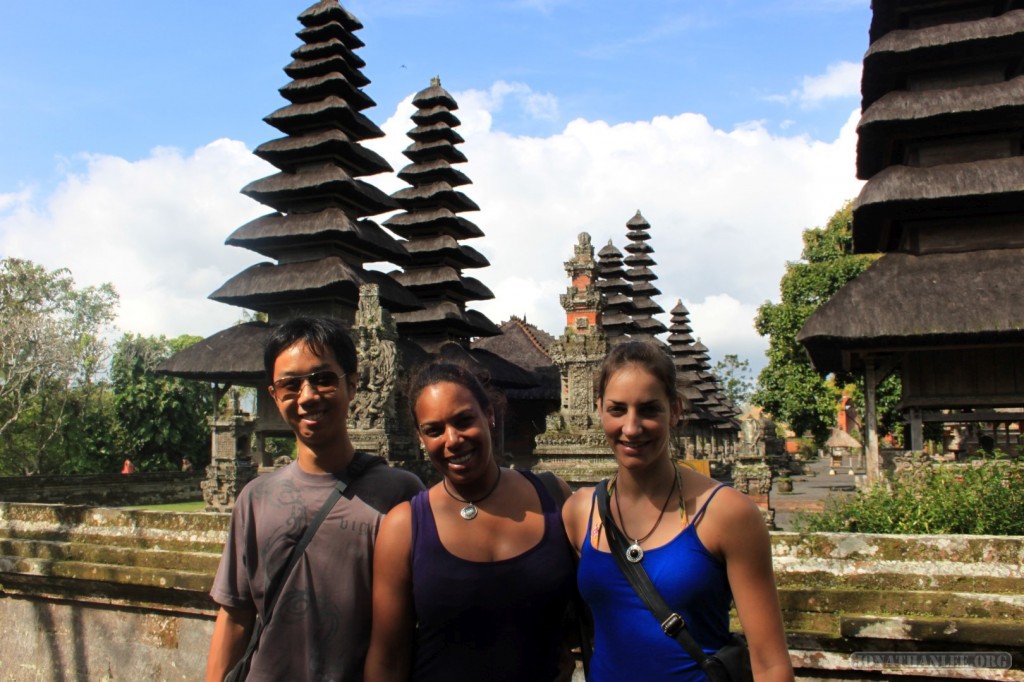 Our driver was great fun too – his full-time job was actually managing an IT / electronics shop, but his brother (who managed our homestay in Ubud) roped him into coming to give us a tour and traveling around Bali. Surprisingly, it was the first time he had toured Bali, so he had a whole ton of fun.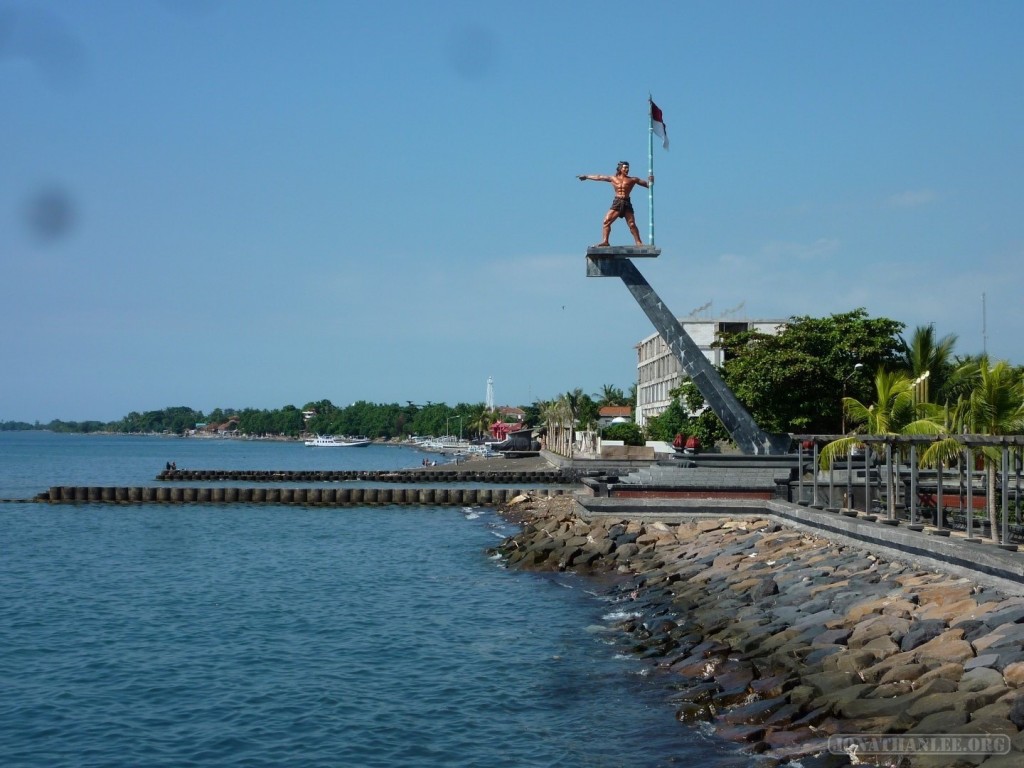 Tannah Lot: a temple on this rock in the ocean with fantastic views at sunset, Tannah Lot is a huge tourist attaction. There's not much to say about this place, other than that it's swarming with tourists.

Oh, did I mention the beautiful sunset?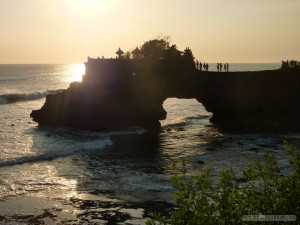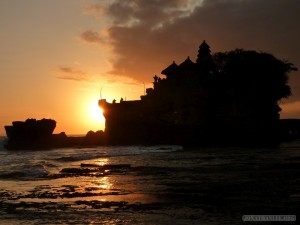 Uluwatu: a temple on a cliff, populated by lots of terribly behaved monkeys,Uluwatu is a huge tourist attraction. The terrible monkeys are in a habit of jumping on tourists, stealing their sunglasses and hats, and not giving them back unless bribed with treats. One poor tourist got a pair of perscription sunglasses stolen, chased the monkey onto the roof, and tried to out-alpha the monkey. It didn't work. He only got his sunglasses back after bribing the monkey with candy – and the monkey still broke the sunglasses!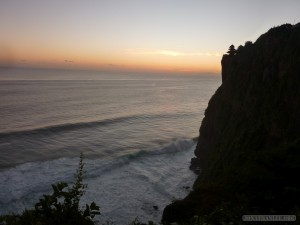 Sherlock holmes at Uluwatu: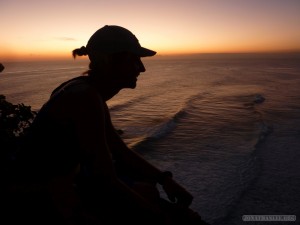 Temples
The thing about Bali, is that you've got to enjoy seeing temples. If you don't like seeing temples, there will not be much to do when touring Bali. Fortunately, I love temples!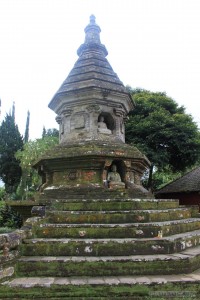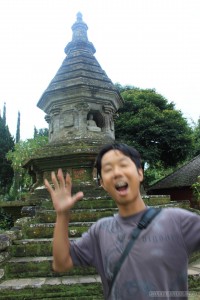 Not only is the architecture really cool, but the temples are placed in all sorts of interesting places.
Temple in the plains (at Mengwi):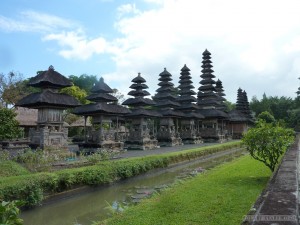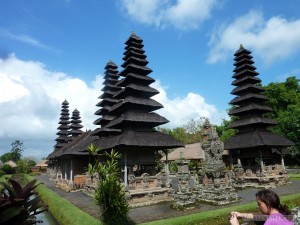 Temple on the lake (at Bedugul):

Temple in the jungle (at Bitukaru):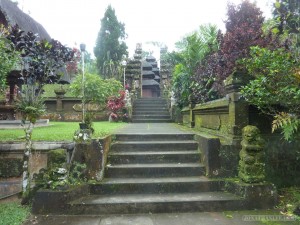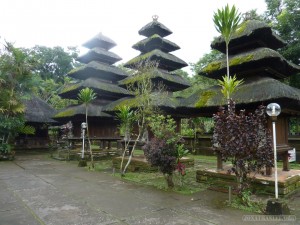 Temple in the mountains (at Tampaksiring):

Waterfalls!
While traveling around Bali, we decided to check one more off the bucket list – waterfall jumping (at Gitgit). Bali has some really nice waterfalls, and not just for admiring – you can also scramble up onto the ledge, and leap into the freezing cold pool with a giant whoop. The first time, it's terrifying. What if the pool isn't deep enough? It's pretty far down! But the second, third, fourth, and fifth times, it is breathtakingly awesome (and cold).

To get to the waterfalls though, you have to go on this long trek though the jungle, seeing vegetation all around you and hoping that none of them are poison ivy.  That's when you know you've been in SE Asia too long, when you start referring to hiking as trekking.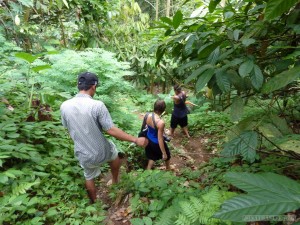 Waterfalls are very cool:

Rice Paddies: the rice paddies of Bali are world-famous as a UNESCO world heritage site that you can't miss while traveling around Bali, and will get their own page later!
The black sand beaches of Bali (at Lovina):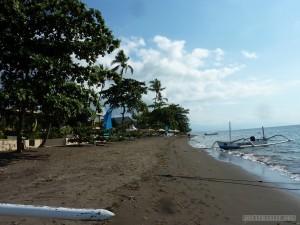 Since Bali is a volcanic island, a lot of the beaches are of black volcanic sand. It sounds really impressive, but black sand is just black sand. It's nothing much to write home about.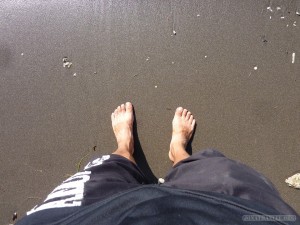 Hot springs (at Banjar)! You can sit under the stone mouths, and have them drool water onto you :-)

A traditional Balinese market (at Gianyar), selling all sorts of stuff from kitchen knives to flowers to toiletries:

Forget water world, this is the real splash mountain (at Nusa Dua).  You can stand on path (or rocks, if feeling particularly dry) and wait as incoming waves crash against the rocks and send water flying sky high:

Bits and bobs:
The griffon-like statue of Singaraja (Lion King), the old capital of Bali: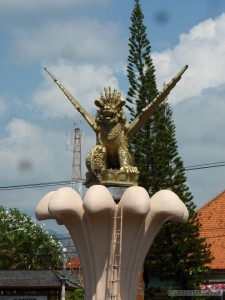 Since the Balinese people are master stone carvers, we saw a lot of statues while traveling around Bali: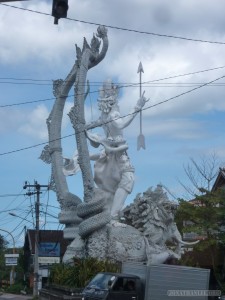 Our guide fishing (yes, that is an umbrella):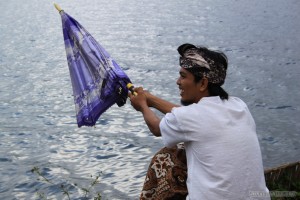 More fishy fun, at the temple on the lake:

Some kind of candy-like fruit, which we picked from trees and ate: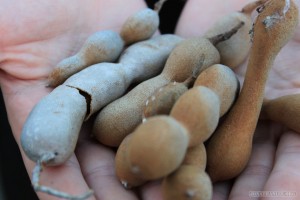 Is this a real photo, or cg?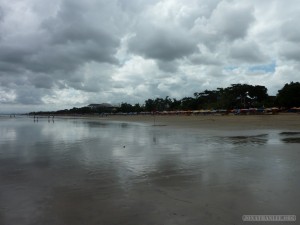 A giant diamond (at Sanur), which you can rent out for wedding ceremonies.  Talk about setting high marital expectations!