Back on the road, in Phnom Penh! Oh, how I've missed it, backpacking!  Sure, taking a break in Taiwan is awesome, but there's something about the rest of southeast Asia – the noise, the heat, the endless tuktuks, the feeling of adventure.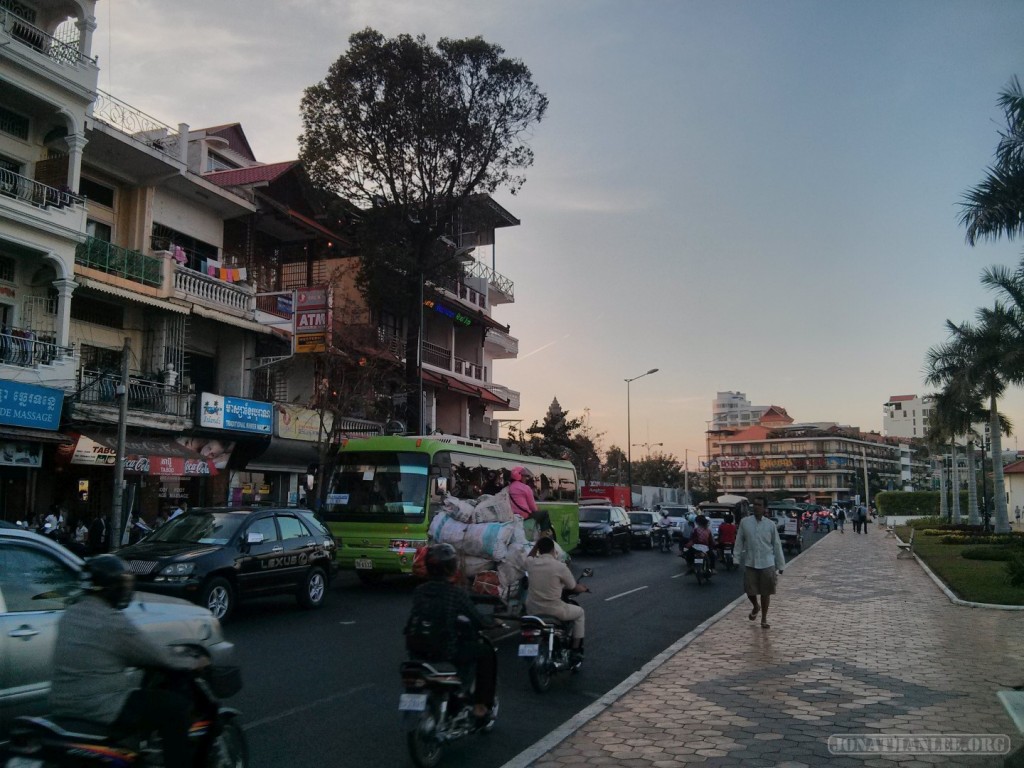 Choueng Ek Killing Fields: from a aesthetic point of view, there's not much here. A field, some holes, a pagoda. There's not much here. But from a historical and sentimental point of view, this is one of the saddest and most depressing places in Phnom Penh. The holes, now partly filled from erosion, used to be six meters deep and full of dead people, the legacy of four years of killing by the Khmer Rouge. When you come to the killing fields, a $6 ticket buys you an audio guide, with survivors of Choueng Ek telling their stories.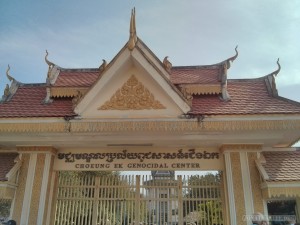 Before coming to Cambodia, I had read the First they Killed my Father, so I intellectually knew about the genocide, about how up to a fourth of Cambodia's population was killed off by the Khmer Rouge. But seeing it yourself is an entirely different thing.
You see the Choueng Ek pogoda, simple and yet dedicated to to all the dead from the killing fields.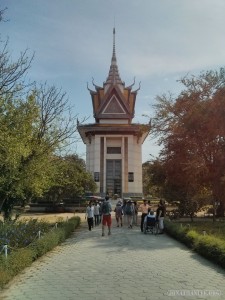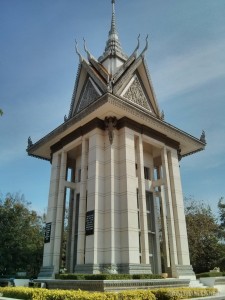 And inside the pogada is a collection of skulls and bones, excavated from the mass graves.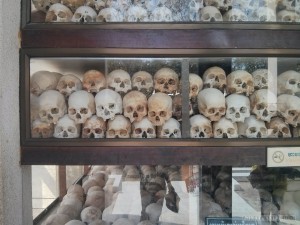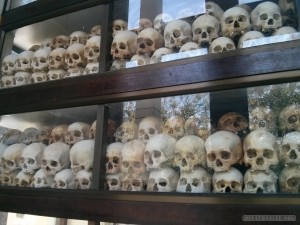 Walking around, there are photos of skulls dug up, as well as bones that wash up with every rainy season.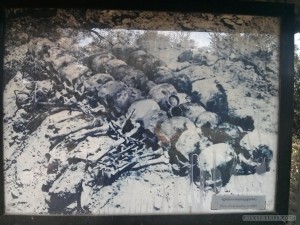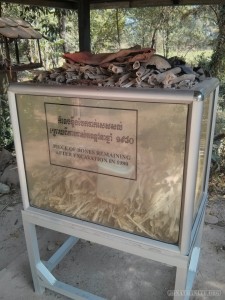 There are the remnants of mass graves – formerly six feet deep, but now filled by time. Many of the former mass graves still lie undisturbed, covered by nearby rice paddies.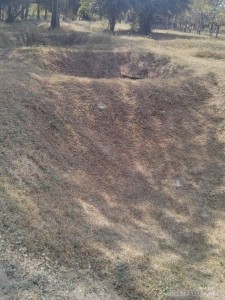 There's the killing tree, where babies had their fragile skulls dashed against the wall to save on time.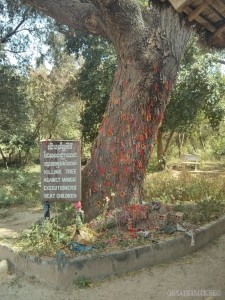 And yet, the entire kiling fields are surrounded by tranqil rice fields. Quite a juxtaposition.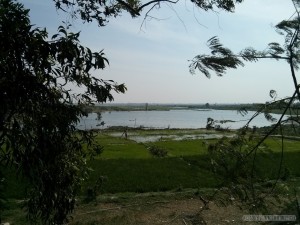 Toul Sleng (S-21) Genocide Museum: more sadness. The Killing Fields were bad enough, but there wasn't much to see – only some empty fields, a stack of skulls, and an audio legacy of the killings. At Toul Sleng, you can see so much more – Toul Sleng is an old school converted into a detention and interrogation center for enemies of the Khmer Rouge, a pit stop before they were sent off to be killed off at the Choueng Ek killing fields.
From afar, S-21 looks so innocent. Who would have guessed that this was the site of interrogation and torture before prisoners were sent off to the killing fields?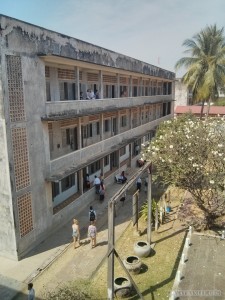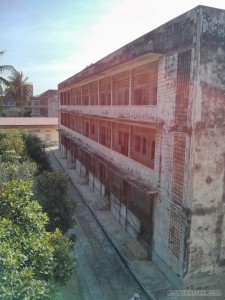 Looking closer though, and it starts to unnerve you. A set of gallows, for hanging prisoners upside down. Barbed wire keeping prisoners inside.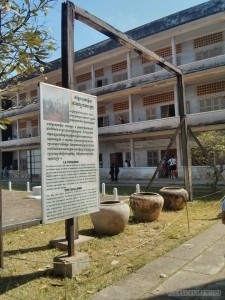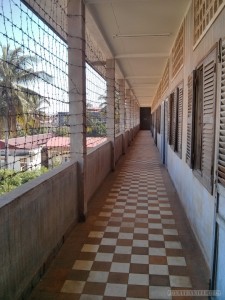 Political prisoners and former VIPs were treated somewhat decently, judging by their jail cells.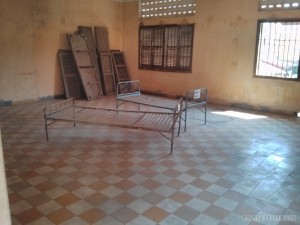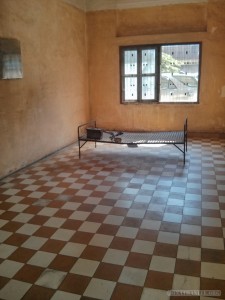 But for ordinary prisoners, nothing but tiny jail cells await.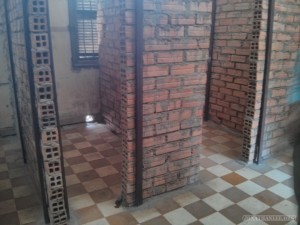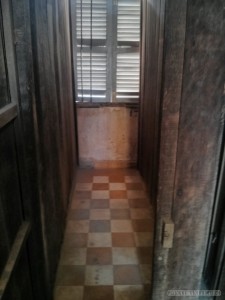 Here at S-21, prisoners were subject to harsh rules, before finally being sent off to the killing fields for execution.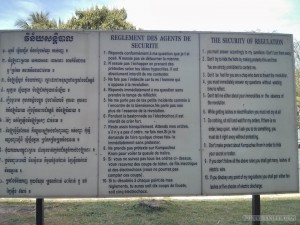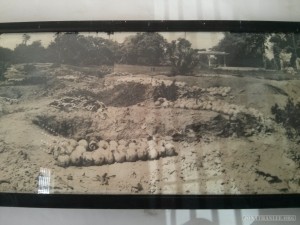 And the records that were kept… histories and confessions extracted from each prisoner.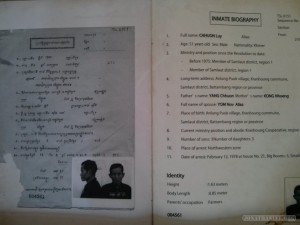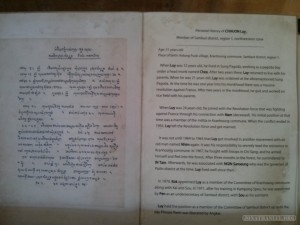 And photos. Photos of every prisoner, taken for the records. Every single person in these photos, taken 40 years ago, is now dead.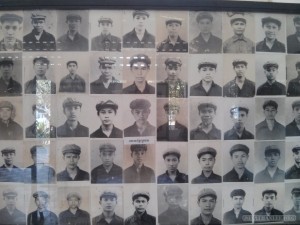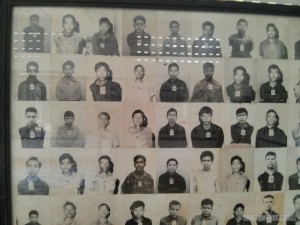 Finally, a memorial and the graves of the last people to be killed at S-21.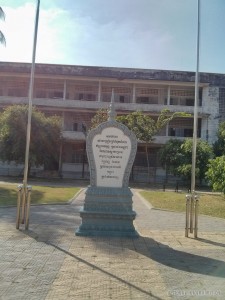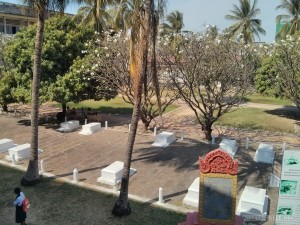 On a brighter note, Phnom Penh has a lot of monuments, which are nice:
– Independence Monument: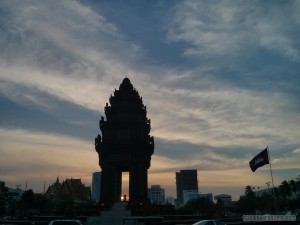 – Lady Penh: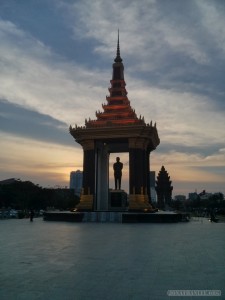 – Vietnam Friendship Monument: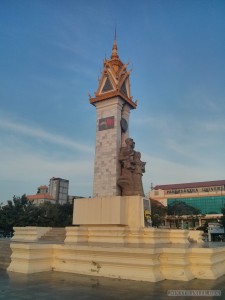 There are also a bunch of temples too:
– Wat Ounalom: it's a temple.

– Wat Phnom: it's a temple.  Most guides recommend you visit this temple, but I find it rather boring.  I guess as its name applies, it has some history with Phnom Penh?

– The outdoor clock of Wat Phnom: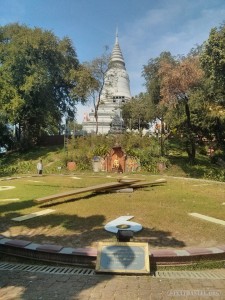 – Some kind of a Buddhist park?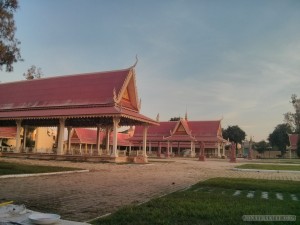 Central market: it's huge!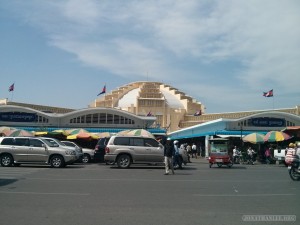 In the center of the market, there's a vast jewelry market, surrounded by sub-markets selling everything you can think of – groceries, lunch, trinkets, toiletries, clothing, industrial goods, and all sorts of souvenirs.

Russian market: it's a market selling counterfeit clothing, shoddy trinkets, and other souvenirs. Worth a look-see on the way to Toul Sleng, but otherwise unremarkable.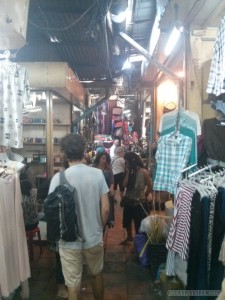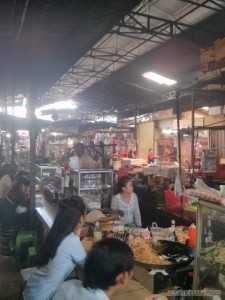 There's also a bunch of smaller local markets: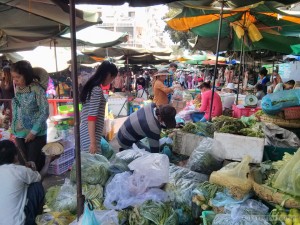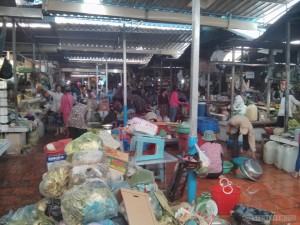 Royal Palace: It's kind of like a cross between the Kraton of Jogjakarta and the Grand Palace of Thailand.  It's a big open area like the Kraton, with a lot of intricate ornate buildings like the Grand Palace.


It's got a model of Angkor Wat!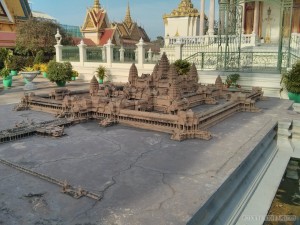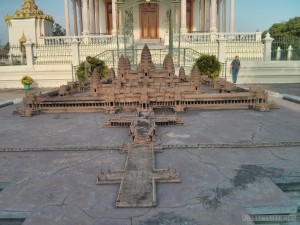 Murals!

Some kind of monument: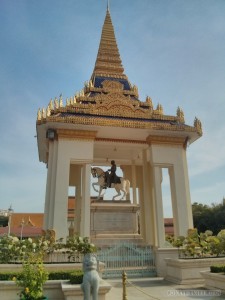 More notably, the royal palace also shows off some of Cambodia's culture.  There's the weaving of Cambodian patterns: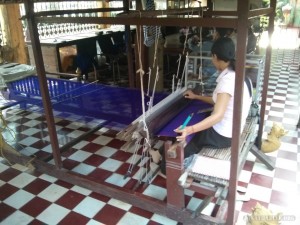 Cambodian costumes: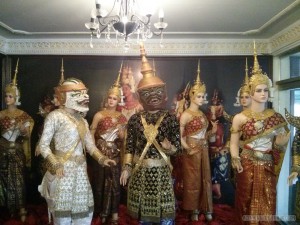 The royal golden dress of the king – it's very shiny.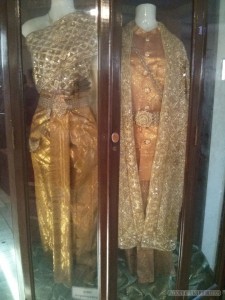 In Cambodian culture, every day has an associated color, and you should wear clothing of that color?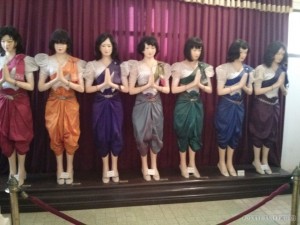 An elephant, and accompanying elephant stairs: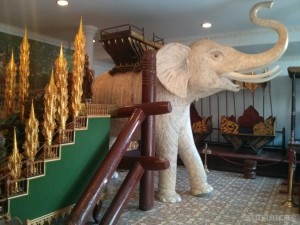 National Museum: the museum looks interesting, but I'm told it just holds Cambodian artworks and relics, which didn't interest me, so I passed.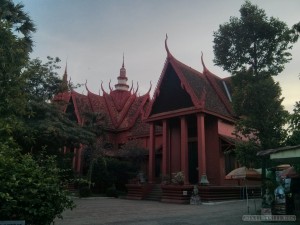 Food:
There doesn't seem to be anything really special about Cambodian food – rice and noodles, mostly, and it doesn't have any of the special flavors that mark Vietnamese and Thai food.  Still, even if it's quite basic, it's still pretty good.
Pork with rice, for breakfast – very simple, but very nice, and very cheap – less than a dollar!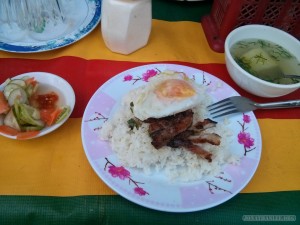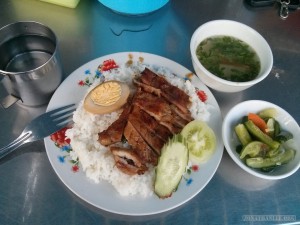 Noodles are quite popular for lunch:

This stuff is delicious – it's like a crepe with condensed milk sauce and coconut shavings: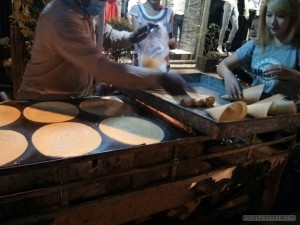 Oh!  And there's this.  Happy pizza.  Smoking weed is illegal in Cambodia (though of course, I see plenty of people bypassing this restriction), but it's legal to use as a food additive.  So, happy pizza.  Along the riverside of Phnom Penh (with all the bars), there's at least five pizza places in a row, all offering happy pizza.  Or for the heavy smokers, extra happy and extra extra happy pizza.  Of course, I just enjoyed a regular pizza while a friend had the happy pizza.  Of course.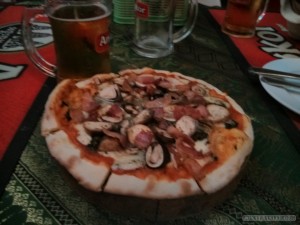 Bits and bobs:
– This is how you use a toilet: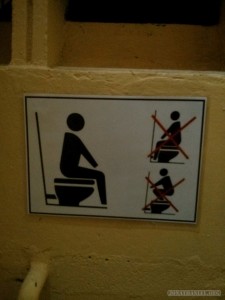 – The sunset over the city: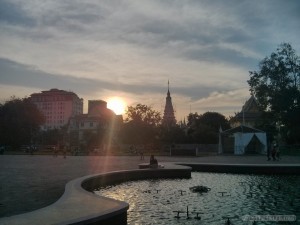 – Compared to many other cities, the nightscape in this city is relatively dark – very few skyscraper lights: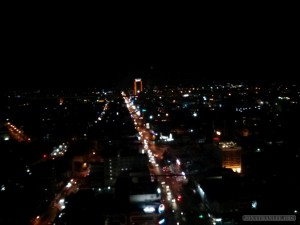 – Since Cambodia is a Buddhist country, you see a lot of monks around.  Every morning, bunches of monks visit the marketplace, getting offerings of rice and food in return for giving blessings: