Don't be in Saigon during Tet, everyone says. Everything is closed, everything is three times the price, there's nothing to do, and it's impossible to get out. Contrary to all this advice, I decided that I HAD to be in Saigon during Tet, the lunar new year celebration. After all, it's the biggest holiday of the year for Vietnam, surpassing both Christmas and New Years. Plus, I always have to be a rebel.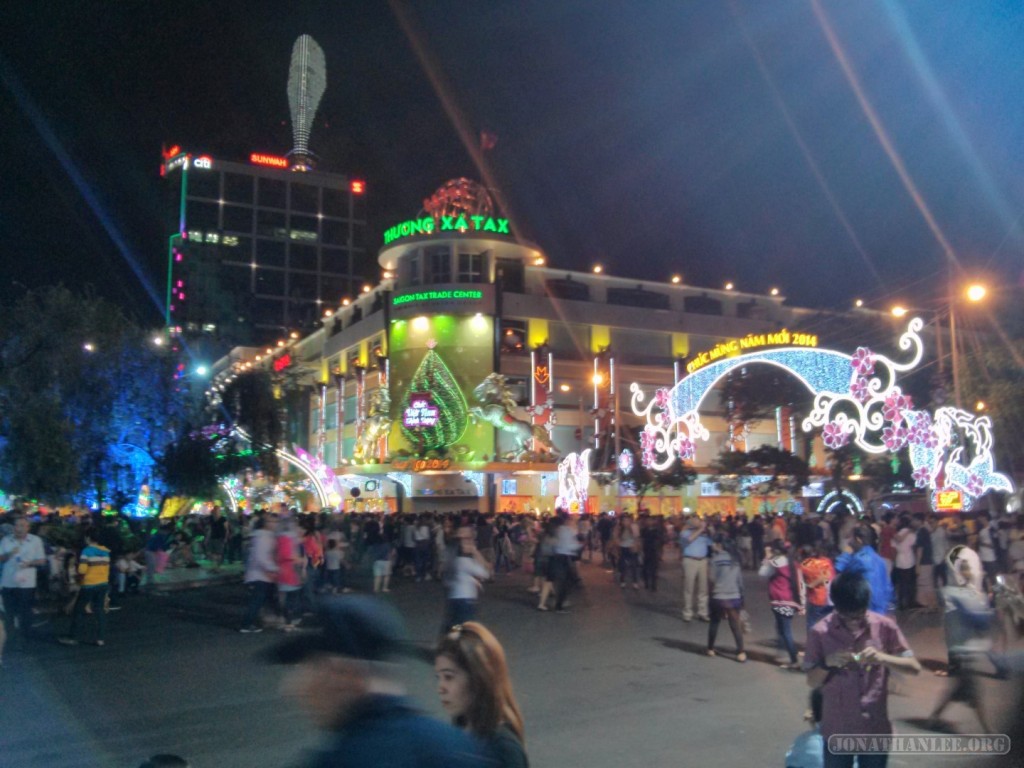 Conclusion: Saigon during Tet is totally awesome, and completely worth it.
Tet in Vietnam is very different from New Years in western countries – whereas New Years in the west is a one day event of partying and watching the ball drop at midnight, in Vietnam it is two weeks of taking time off of work, going back to your hometown, and spending time with family. As a result, everything is closed, and it's impossible to travel as all forms of travel have already been fully booked. So during Tet, cities like Saigon almost become ghost cities, whereas small villages outside of Saigon suddenly swell to twice their size as everybody returns to their hometown.
But anyways, the prime attraction of Saigon during Tet is flowers. Right in the city center, there's a street completely filled with flowers. Millions upon millions of flowers, arranged into the shape of larger shapes, horses, scenes from Vietnam, and other decorations. I got quite a nice collection of photos:


Amusingly, it took me a long time to figure out that it was the year of the horse.  Walking through the flower displays, I thought to myself, "why are there so many horse displays?"  It was only until the next day that it hit me: "ohhhhh, it's the year of the horse!"
Fortunately, I managed to visit the flower street on a great day, Tet Eve, when the crowds were at their minimum. In the following days, there was an incredible crush of people at the street, making it next to impossible to take good photos: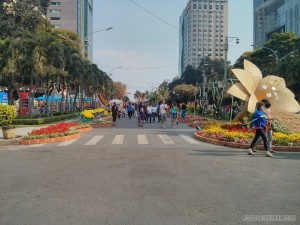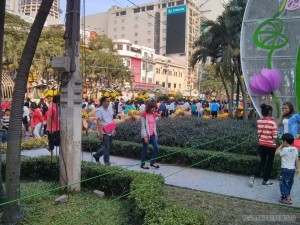 For Vietnamese people, it's traditional to celebrate the new year by dressing up in their special New Years clothing (quite gorgeous), and pose for photos with the flowers.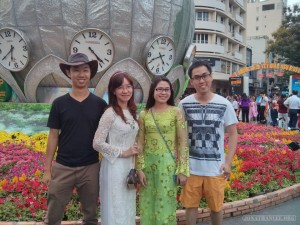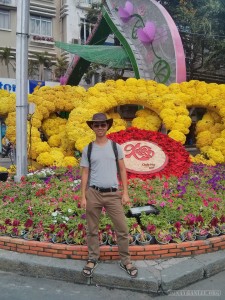 But with all the people posing with the flowers, unfortunately get quite trampled and manhandled.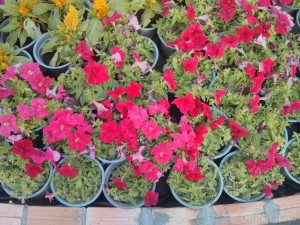 At the flower street, there were also cultural displays – weaving via loom, lion dance, etc.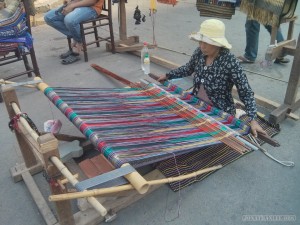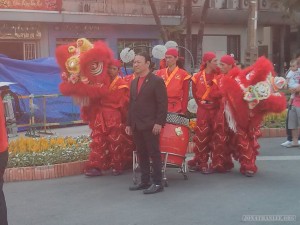 Oh, and there was also a book festival!  With my love of books, I had to visit, but unfortunately all the books were in Vietnamese.  But some cultural icons translate across languages: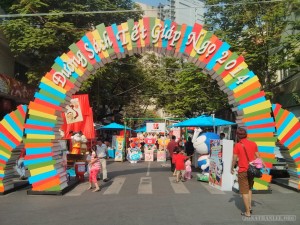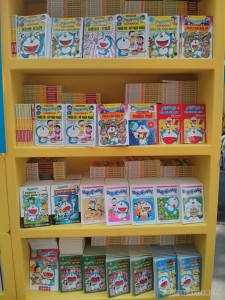 These characters look quite familiar.  It's interesting how widely copied the Doraemon pattern is – I saw another similar set of characters in Taiwan!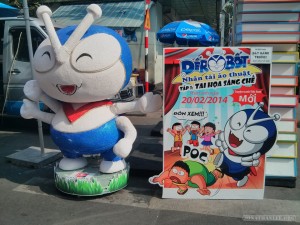 I liked these Vietnamese characters.  Is it just me, or do so many children's TV shows use the same archetypes over and over?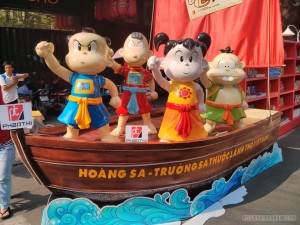 On the subject of flowers, in the days leading up to Tet, Saigon is home to a massive flower market right in District 1, with vendors selling all sorts of potted flowers for people to take home. Yellow flowers are the most traditional, but other types of flowers are also represented.

I'm told that virtually all cities and towns in Vietnam have their own flower markets for Tet. Indeed, large cities like Saigon have multiple! I visited another flower market, a floating one:


And the best part is, very few people have cars – so how do you get huge flowers pots and shrubs home? Popular solutions are motorbikes and mini trucks.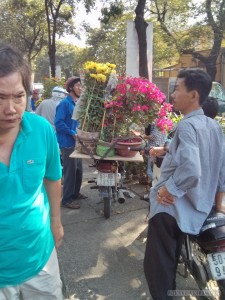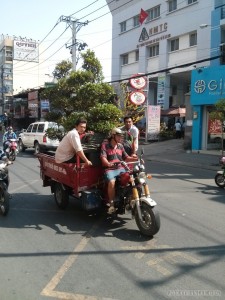 For a few days after Tet, everything was indeed closed:
– Binh Tay and Ben Thanh markets: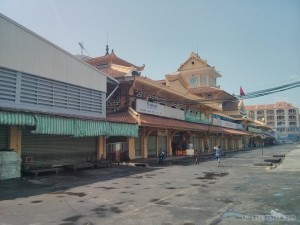 – Local markets: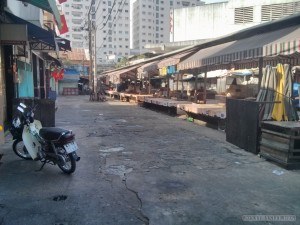 – All stores along the street are also closed! Normally, I would be fine with all these shops being closed, since I don't buy much anyways. However, right now I wanted to get a local Vietnamese SIM card for my phone. It took a good half an hour of walking around before I found a shop open.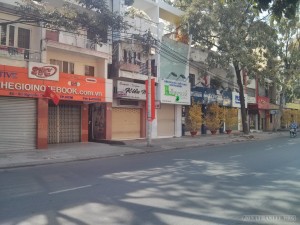 Oh, and there's fireworks, visible from the river. They're not quite as grand as those from the Taipei 101, but still, not bad.

The morning of the new year, I went to check out one of Saigon's local pagoda / temples.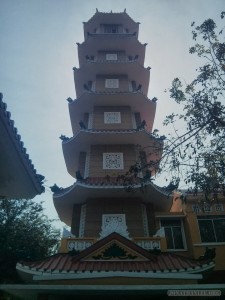 The pagoda by itself is rather unimpressive (but quite crowded), but I noticed that there were a lot of disabled people hanging about, asking for money. Apparently, for Tet it's considered good karma to give money to those less well off.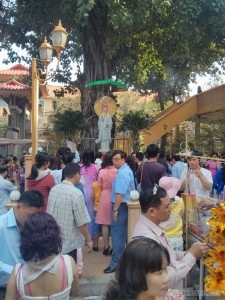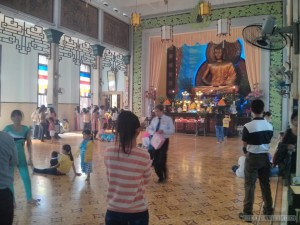 It's also traditional to buy birds and turtles, and then set them free at the temple. Again, good karma.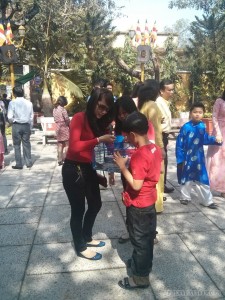 Bits and bobs:
– There were a lot of balloon vendors around for Tet, like this one. He's got got something like a hundred balloons, all tied to a bamboo pole that he carries around. How much does it weigh? Does bamboo pole + balloons weigh more or less than just the bamboo pole itself?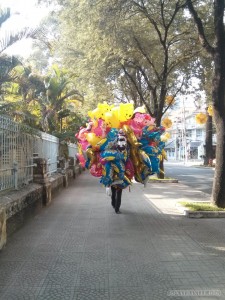 – Circus performances at a lotus stage: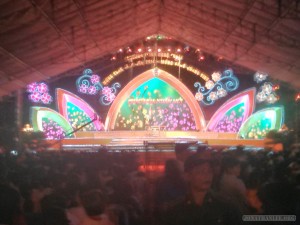 – My friend Sally playing with horsies: