On my first trip to Thailand, I spent almost all my time in Bangkok and the southern islands – which which were very nice, but reportedly very different from Chiang Mai, the jewel of the north of Thailand.  So this visit, I had to take the train up toe Chiang Mai,  where I enjoyed the fact that nights are much cooler than Bangkok, which was an absolute furnace.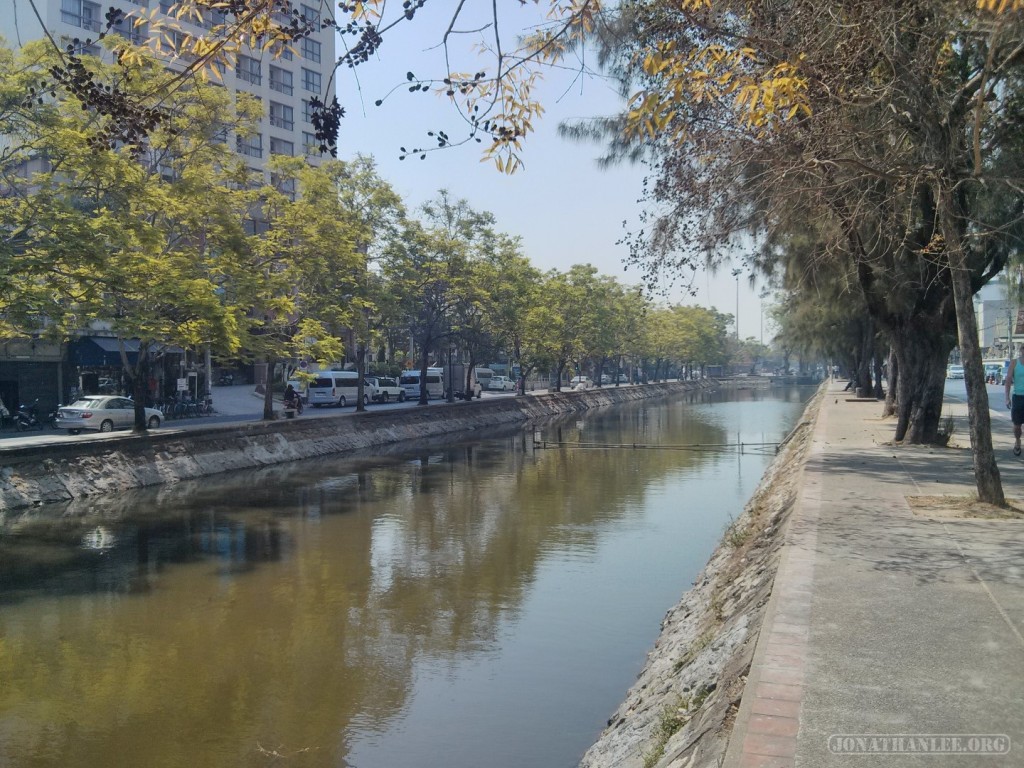 The heart of Chiang Mai is this old walled city, very calm and chill, a world apart from the crowds and bustle of Bangkok.  It's just got this small town feel to it, where everything is spread out horizontally, and not stacked up vertically.  I quite enjoyed it, especially compared to the concrete jungle of downtime Bangkok and unrestrained chaos of Khao San Road.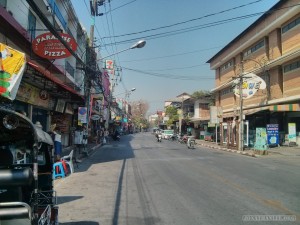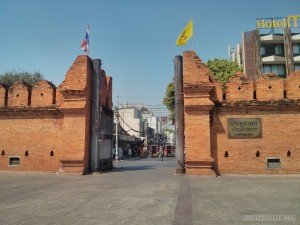 Muay Thai – I watched a Muay Thai boxing match! It didn't seem particuarly 'authentic', with mostly foreigners in attendance, but with matches by Thai Muay Thai trainees.  It's a cool experience.  First, there's a round a ceremonies – the contestants stand in the ring, do some ritual stretching, almost like putting on a performance!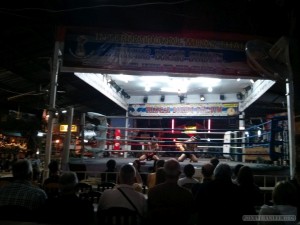 And then, the fights begin!  I saw a series of Muay Thai fights, ranging from absolute beginners to moderately experienced fighters.  As expected, there's a good amount of kicking in Muay Thai, but at the lower skill levels, there was also a lot of grabbing – if you've grabbed onto the opponent, that prevents them from hitting you with all their power.
After watching 5 matches between relative newcomers, it actually got a bit boring, so they spiced it up a bit, with a mass blind boxing match.  All the previous fighters came onto stage, got blindfolded, and then started at the same time.  Chaos!  Sometimes, two fighters would find each other, and start boxing.  Other times, one fighter would lunge at a ghost, find nothing, and fall down face first.  And once in a while, somebody would start throwing blows at the referee!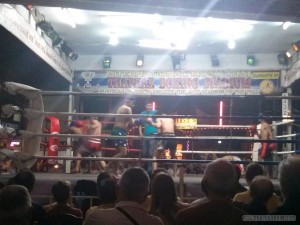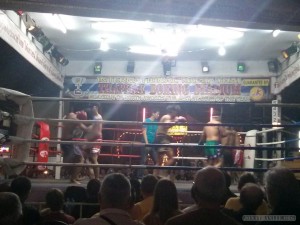 Cooking Class. I took a cooking class! Chiang Mai is somewhat famous for having cooking classes for learning to cook Thai foods, so I took a opted to take a cooking class 'on the farm' (a short train ride away from Chiang Mai, not an actual farm, no actual plants or crops being grown). This was my outdoor kitchen!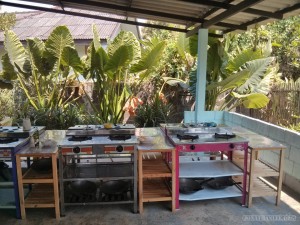 Before the actual cooking, there was a perfunctory 'introduction' to Thai herbs and vegetables, at a market in Chiang Mai.  Vegetable overload!  Even I don't know what all these things are, and I'm a cook!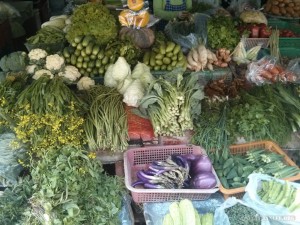 The actual class wasn't really a class in cooking, as much as a class in chopping vegetables and mixing it all together. Great for a beginner cook, great if you're bored and want to meet people, but not the best for actual learning to cook.  At this place (and most cooking places,) you had your choice of dishes to make. I chose pad thai, chicken in coconut milk soup, papaya salad, mango sticky rice, and khao soi curry.
Ingredients preparation – like I said, it's not much a cooking class as much as a vegetable chopping class.  Chop stuff up, and add it to the pot, and cook til done.  I guess it works, but it wasn't what I wanted from a cooking class.  I was hoping to get more into the philosophy of Thai cooking, the overall tastes, the spirit of the cuisine.  After all, cooking is an art (but baking is a science).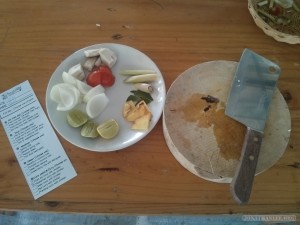 Curry powder preparation was pretty cool though – I got to mash up a whole bunch of herbs and spices into curry paste – using a mortar and pestle!  Easier than it looks, I'll have to try this again later.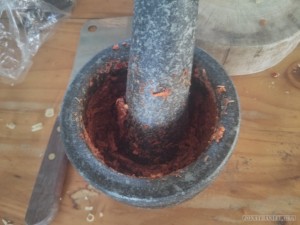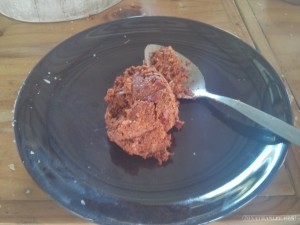 Once the curry paste is completed, it's used to make Khao Soi: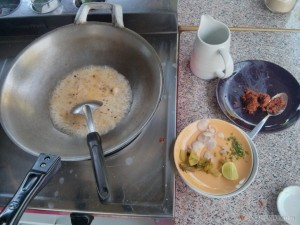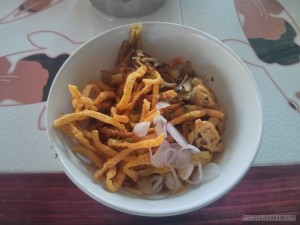 Pad thai and chicken in coconut milk were pretty straightforward.  I discovered that like 'light' pad thai, not adding in too many ingredients.
Papaya salad sucks.  No two ways around it, it sucks.  Easy to make though! You just chop up some veggies, toss them into a mortar and pestle, and abuse for a bit.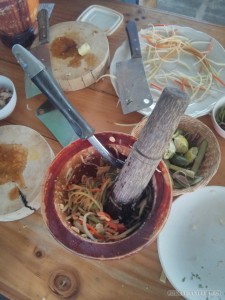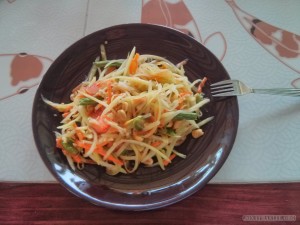 Mango sticky rice though?  It is awesome.  Even when made by my unskilled hands.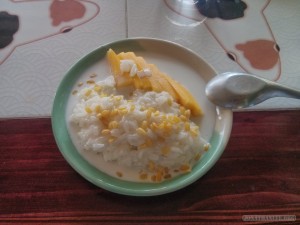 Temples
– Wat Chedi Luang: the main temple inside the old city of Chiang Mai, most of the temple compound is unremarkable.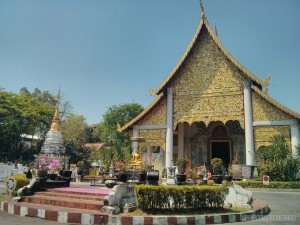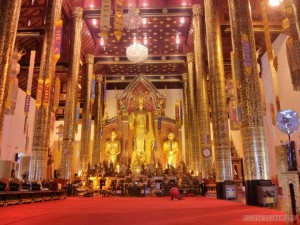 However, it's got this stupa, supposedly damaged by an earthquake.  The way I see it, however, clearly Godzilla took a vacation from destroying Tokyo, came to Chiang Mai, and took a huge bite out of this stupa.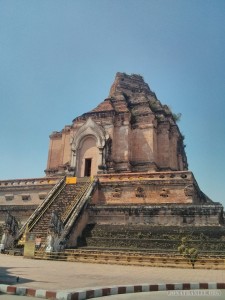 And what about this?  This is the fattest Buddha statue I have ever seen.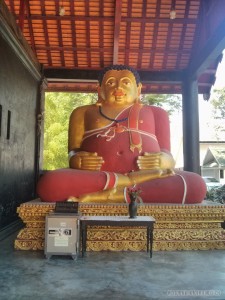 Oh, and there's this!  They were soliciting folks to sign a giant banner of sorts for the temple.  Which one was mine?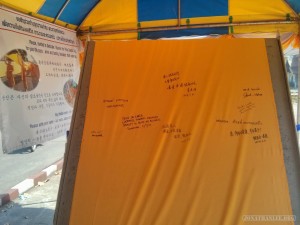 – Wat Chiang Mon: Eh, a temple.  Supposedly noteworthy, but I didn't find it particularly interesting.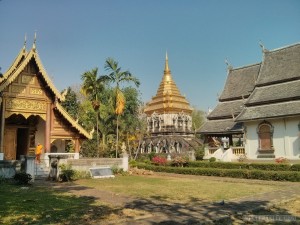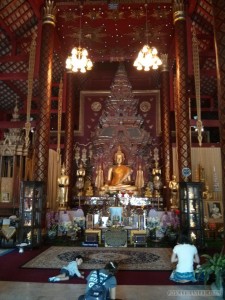 – Wat (Phrathat) Doi Suthep: temple on a hill.  It takes a while to get to (you've got to take a songthaew, up a winding mountain road), but it's undoubtedly the best and more interesting temple of the Chiang Mai region.


But first, to get to the temple itself, you have to climb up a massive flight of stairs: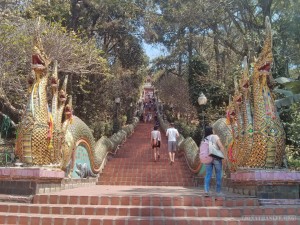 Seriously, a billion steps.  I counted, as I ran / jogged / walked / trudged up.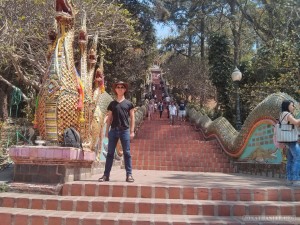 Once you get to the top, it is…. a temple!  Quite big, but otherwise unimpressive.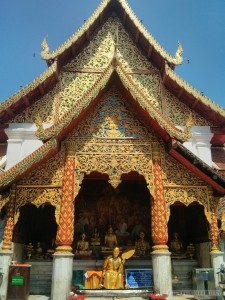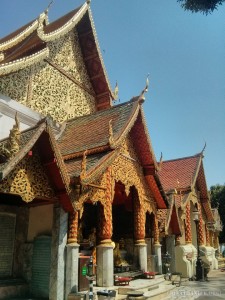 Inside, it's got this thing – a golden spire of sorts.
And Buddhas!  What would a temple be without Buddhas?  The green one is pretty cool, but it's not jade.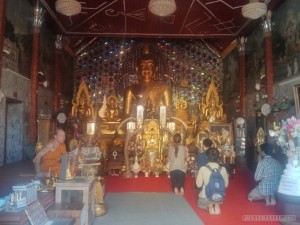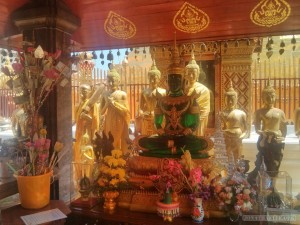 On a good day, you can supposedly get a very nice view of Chiang Mai, but it was a bit hazy during my visit.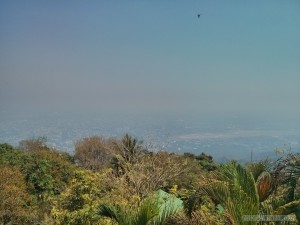 – Wat Pra Singh: supposedly, a notable temple.  And it's not bad, but most of it is pretty unremarkable.
However, it's got this pretty cool gold on red design / motif thing going on, that I haven't seen anywhere else before.  Unfortunately, my camera phone is not entirely suited to taking these types of photos.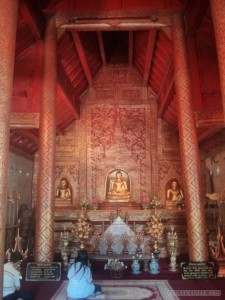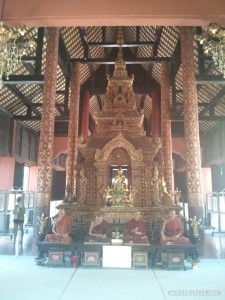 Museums
– Arts and Culture Center: This museum is probably the most interesting one in Chiang Mai.  It's got this pretty cool map on the city layout, showing how it's laid out astrologically, with a center and 8 cardinal directions.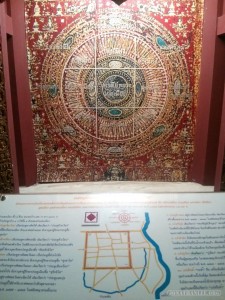 It's also got some cool displays of everyday street life:
– Chiang Mai History Center: teaches a bit about Chiang Mai history.  Apparently, it used to be the center of the Lanna empire, but then lost almost everything in a war with Burma.  One of the great kings of reconquered the territories back, but once the British started being imperialistic in southeast Asia, the Lanna kingdom entered into a protectorate with the Bangkok, eventually becoming part of modern day Thailand.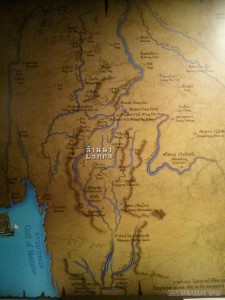 The history center also has displays of culture – and an archaeological dig underneath??!?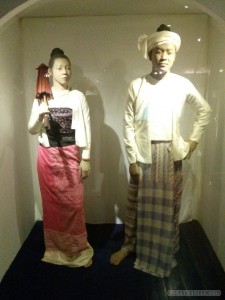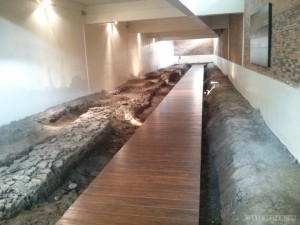 – Lanna Folklife Center: folklife displays.  Buddha's huge footprint, traditional foods, religious ceremonies, and some kind of auspicious prop-up-the-tree thing.
– 3 Kings statue: three kings that contributed to the founding and success of Chiang Mai.  I don't know who these folks are though.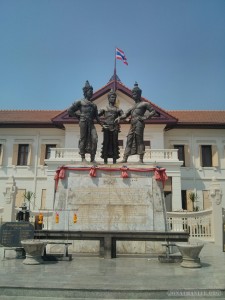 Night Bazaar.  How much do you like tourist tchotchkes?  It's basically a night market that opens every night, with a huge bazaar of tourist goods.
For much of the bazaar, the theme seemed to be art – so many people painting and selling art!  And while most of it was pretty good, none of it was original – it was mostly paintings of famous paintings, paintings of photographs, portrait paintings.  For once, I missed modern art.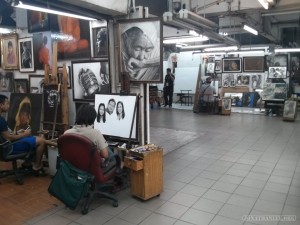 The food at the night bazaar was rather bad (there was a food court, filled with tourists, with not a single local eating.   All of it fried, all of it expensive.  Instead, I walked a couple of streets over, and had all this amazing food from a more local place, all for $2.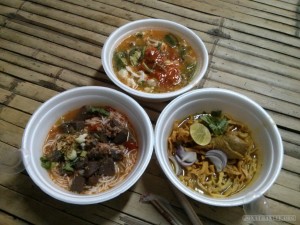 Sunday Walking Market.  Very famous, but somewhat disappointing.  It's slightly better than the night bazaar, which is every night and filled with tourists; since the Sunday walking market is only on Sundays, it's a bit more special (and more crowded), but it's not *solely* for tourists – though they're still in the majority.  There's not much to do here other than shop, eat (mostly reasonably priced and decent meals), and get massages.
Trekking – gets its own topic!
Food:
– Fish balls? I think these are fish balls, at least. Grilled and eaten with vegetables, they are pretty good.  They remind me of prayer beads.  There's an Eat, Pray, Love joke here, but I can't find it.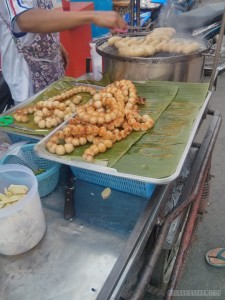 – Hainanese chicken and rice. Holy shit, I did not think I could find this outside of Singapore. And it was pretty good, too! So I went for a couple days where I had chicken and rice every day for breakfast.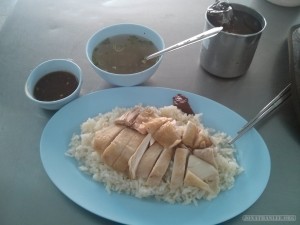 – Ice cream is always good.  Especially when only a dollar.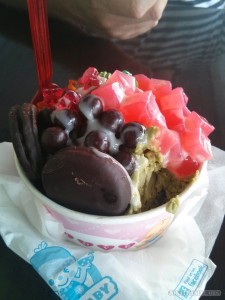 – Some kind of noodles, with weird animal parts! Like Chinese cooking!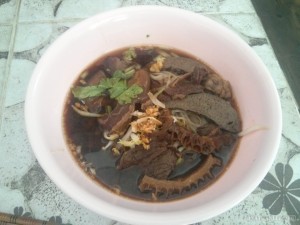 – Khao Soi: is delicious.  Just delicious.  I stumbled upon the best Khao Soi of all of CHiang Mai.  Not in a restaurant, but street food near the northeast corner of the old city.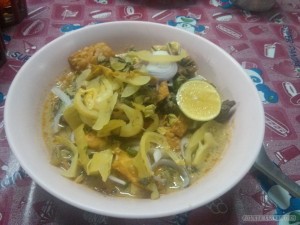 Bits and bobs:
– This was the best guesthouse I have ever stayed at, Aoi Gardens Home. Full of plants and flowers, cheap dorms (almost fully booked every day), and off in a quiet section of Chiang Mai. Lots of mosquitoes though.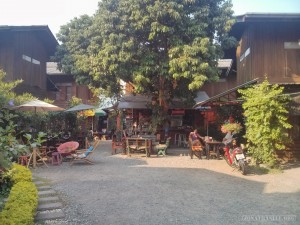 – In Chiang Mai, I noticed a lot of reverse osmosis water vending machines around. Pop in one baht (3 cents), and out comes a liter of water – great for filling up one's water bottle on the cheap!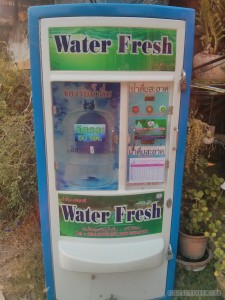 – I don't know why this caught my eye, but this caught my eye.  Perfectly symmetrical trees, in the middle of nowhere?  Am I the only one who cares about this type of stuff?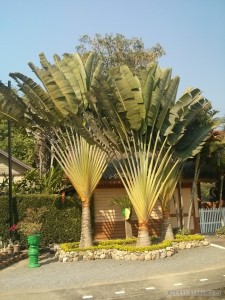 p