Everyone I've met raves about Pai, a little hippie town near Chiang Mai.  Yes, there's not much to do there, but the vibe! The people! The ambiance! Then I visited Pai for myself, and found the town to be rather boring. Yes, it's a little hippie town, but no, it's not particularly interesting. It's also chock full of Chinese tourists, which is an automatic strike in my book. Talking with some locals, a couple of years ago a Thai movie named Pai in Love came out, it was a hit in China, and an endless stream have been coming here ever since.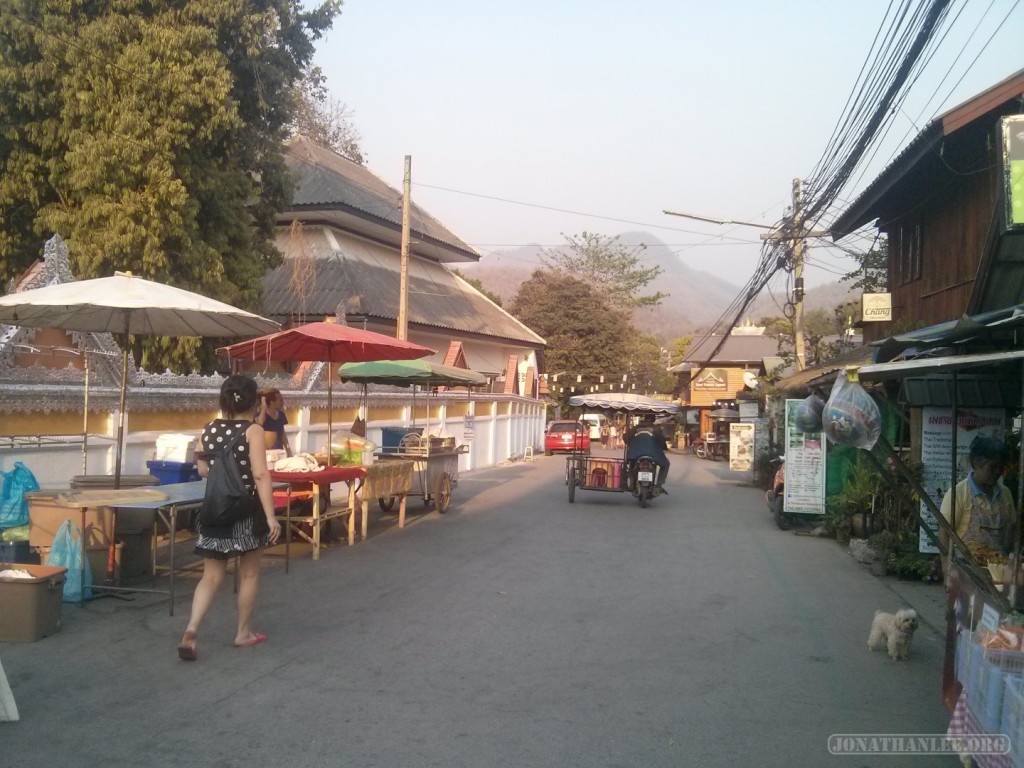 Local market: one of the few things I liked about Pai was the local market – small, delicious, and almost devoid of tourists.  I got myself some lunch and fruit here, and found it to be quite satisfactory.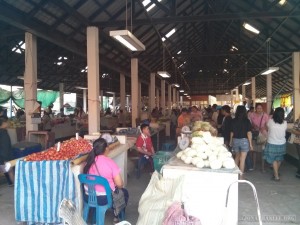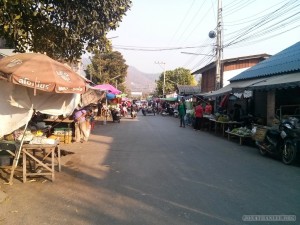 I had a pad thai omelette!  An omelette with pad thai inside!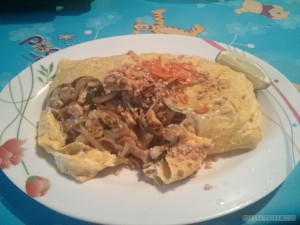 Bamboo Bridge and Huts. This was pretty cool. I didn't want to stay in Pai proper (a bit too loud and hippie), so I stayed at a guesthouse of sorts outside the city, across a rickety bamboo bridge.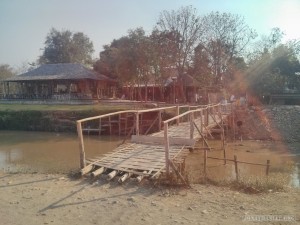 It was pretty basic – I basically slept in a big one room hut, with a single light, a mattress on the floor, and no toilet or internet access. Fancy.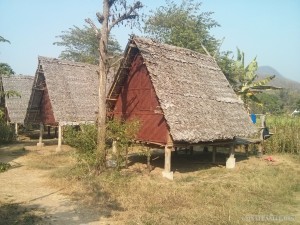 Great view though!


Motorbike riding.  This seemed to be the main thing to do around Pai – rent a motorbike, and visit the "landmarks" around the area.  There isn't terribly much to do (other than eat and shop) around the city, so you have to get a motorbike to get around and see the sights.  Or, god forbid, you could go with a tour group.  But why would you do that?  Especially when you can rent a motorbike for about $5 per day, and enjoy the freedom, the wind through your hair.  Though that's not to say the food wasn't amazing – check out this breakfast!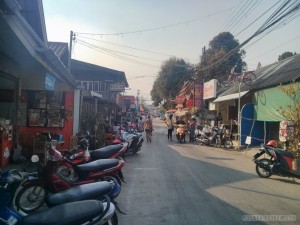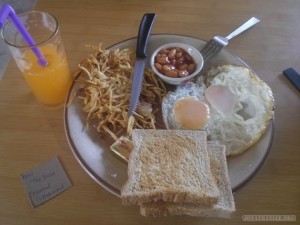 So that's why I found Pai to be full of Chinese tourists, none of which have ever driven a motorbike before, all renting them for the first time.  And they are all horrible, just horrible at driving motorbikes.  I saw a group struggle to start the bikes, to step on the gas, to brake.
Okay, so every has to start somewhere.  I started in Lombok, Indonesia, practicing on an empty road until I was comfortable.  These idiots are starting on a crowded street, with lots of pedestrian and motorbike traffic.  Probably not the smartest move.
But once you get on the motorbike and get out of the city, you can start visiting the landmarks, enjoying the countryside.  The views are quite nice, but the freedom is even better.


Waterfall: Pai boasts a couple of waterfalls, but as I visited during the dry season, there was very little to see. Hiking to the 'waterfall' was quite nice though.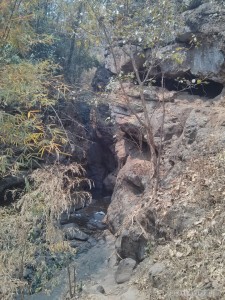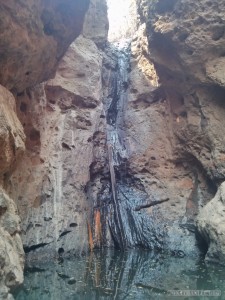 There was an elephant camp selling rides, but prices were quite steep.  Plus, I had already had an elephant ride while trekking.  Though, the elephants here did not seem too happy.  Apparently elephants are classified as livestock in Thailand, so there are no standards for treatment.
Pai treehouse: A hotel with a treehouse.  It actually looked really nice, and quite reasonably priced (by western standards) – $20 per night?  I would have tried staying here, but it was quite a ways away from the town center.
Coffee in Love: A somewhat hippie / classy coffee shop.  I suppose it's from that movie, Pai in Love.
Love Strawberry: A strawberry themed cafe.  Likely also related to the movie.  They were selling strawberry juice though, which I tried – and it was quite nice!
Pai Canyon: Billed as Pai's answer to the Grand Canyon, it's not. The Grand Canyon is huge, a massive gorge in the earth.  This canyon is a set of dusty ridges.  Very pretty and fun to climb around, but not terribly remarkable.  Still, quite worth a visit, probably the most interesting landmark around the area.



Here at Pai Canyon, I spent some time hiking around on the ridges, with some rock climbing thrown in!  Hiking barefoot was pretty awesome.



Pai Bridge: it's famous, but I have no idea how. Billed as Pai's answer to the Bridge over River Kwai, once again it is not.  It's just this tiny bridge by the side of the road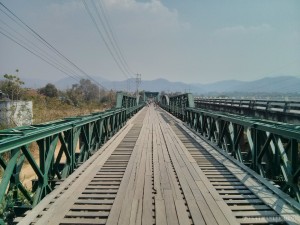 It's got these decorated bicycles and pedibikes, so it was probably featured in a movie?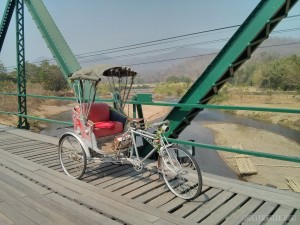 "Chinese village": it's a "Chinese village", but not terribly authentic – and totally not worth the visit.  Seriously, it's just a couple of Chinese-looking buildings.  Rather like visiting an unimpressive Chinatown without any restaurants.
Wat Luang: temple, like any other, but somehow an attraction?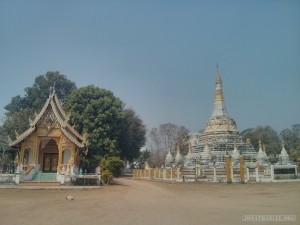 Chedi Phra That Mae: temple on a hill, also somehow an attraction.  The main attraction is that to get to the temple, you have to climb up a fairly long flight of stairs, and you get a remarkable view of the Pai region.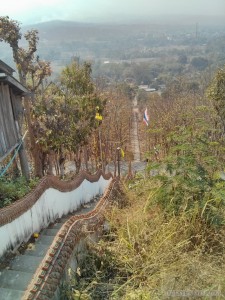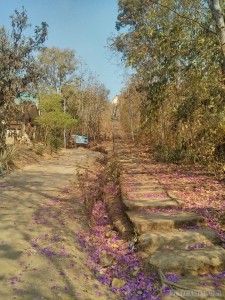 The temple itself isn't anything special though…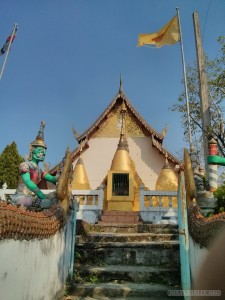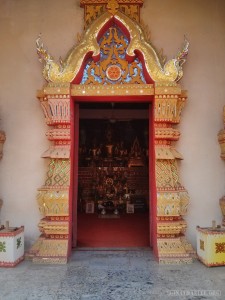 Other bits and bobs:
– Pink flamingos!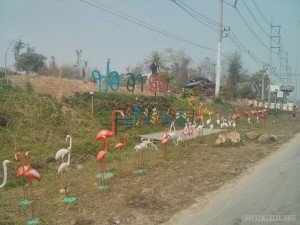 – During the wet season, there seems to be bamboo rafting opportunities, but I visited during low season, so the rafts were rather useless.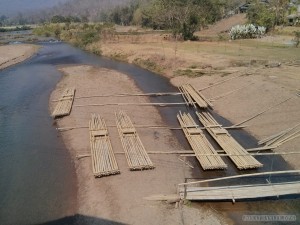 – How terribly hipster: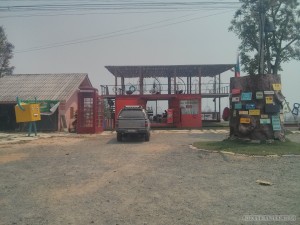 – The sunset over Pai, as viewed from my motorbike: