Luang Prabang is the old capital of Laos, from before the communists took over and moved the capital to Vientiane.  As such, it has all the museums, most of the culture, and is probably the most popular tourist destination of Laos.  And in hindsight, Luang Prabang is probably the only place really worth visiting in Laos.



The thing about Luang Prabang that makes it special, is that it was built in the European style.  Walking down the streets, you can't feel like you were in an old European city.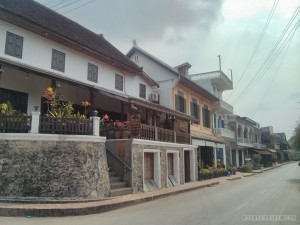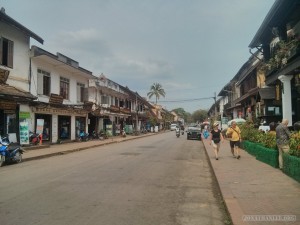 And the views are second to none, especially of the Mekong river.



There's a mountain right in the middle of Luang Prabang, named Mount Phousi, almost home to a temple, where you can get a 360 degree view of the city.  On a good day with low cloud coverage, the view is phenomenal, especially if you arrive around sunset: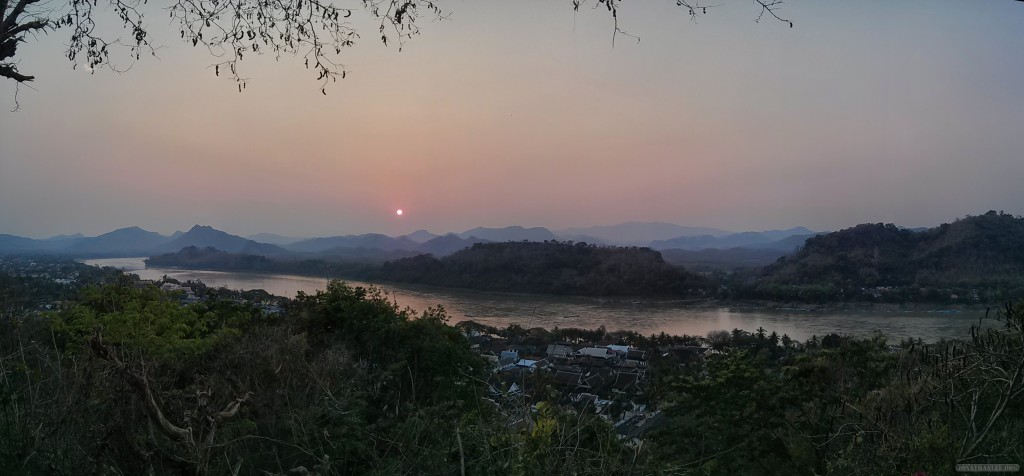 The temple itself is also nice – not terribly special, but lots of photo opportunities:
Of course,  it is a looooong walk up to the top of the mountain, a lot of stairs: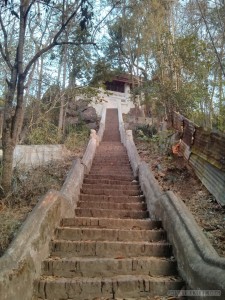 There's a bunch of architecturally interesting temples in Luang Prabang.  I'm sure these places have deep and stories histories, but I was just feeling all templed out during my time in Luang Prabang:
– Wat Mai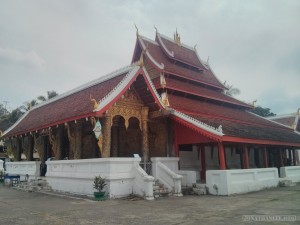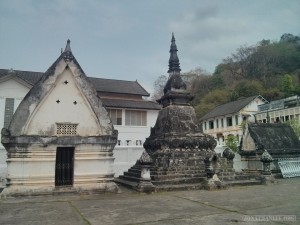 – Wat Nong Sikhounmuang:
The Royal Palace:
Kuang Si waterfall: A set of waterfalls an hour or so away from Luang Prabang, these are some amazingly beautiful waterfalls.  It's not just one waterfall, but a whole set along a short hiking trail.  A very short trail.
As part of the trail, there was also a… bear rescue sanctuary?  With a playground!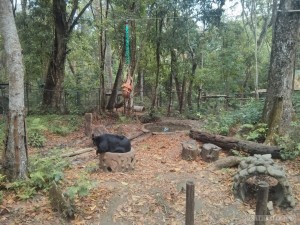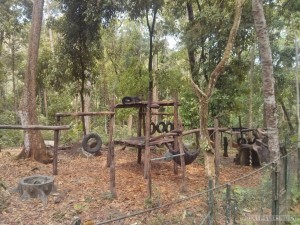 And finally, a whole set of amazing waterfalls!
From the bottom of the last waterfall, you could also climb up to the top of the waterfall, a 10 minute hike?  There, you can see the surprisingly tranquil top edge of the waterfall, right before all the water started to drop down into the falls below.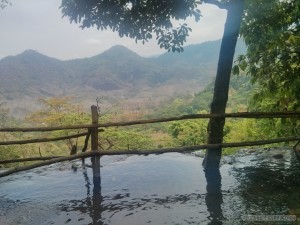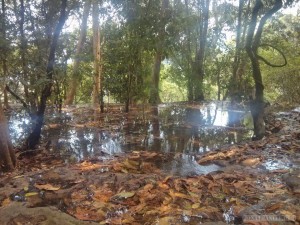 Did I mention swimming in the pools?  There is swimming in the pools.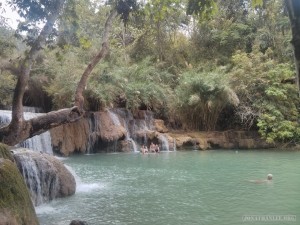 On the way back to Luang Prabang after the waterfall (by tuk-tuk, half an hour away), it started absolutely pouring rain, monsooning even, and everybody got absolutely soaked. It's just life, I might as well have jumped into the waterfall pools.   What's really notable though, is that we had a Yemenese guy riding with us in the tuk-tuk.  He's smart about it, and jumps into the driver's carriage, while the rest of us are getting drenched outside.
And that's cool, I admire his thinking.  But then, he starts chatting with the driver, who makes a phone call, and stops at a random shack along the road.  "Wait a minute," he says, "I'm picking something up."  Five minutes later, he comes out with a huge bag of weed, which he sells to the Yemenese guy.   You meet all sorts of people while traveling.
Alms ceremony: quite famous in Luang Prabang is the daily alms ceremony, where the monks from the monasteries make their morning rounds, asking for donations of food.  It's a lovely cultural practice, which I had previously witnessed in Cambodia – individual monks will just be strolling around, street vendors will give them them some food, and the monks will reciprocate with a short prayer.  But in Cambodia, this was just a random sight I would see while exploring the cities.
In Luang Prabang, the alms ceremony is a giant tourist attraction.  Every morning, a line of monks ventures out for the morning ritual…
Only to be greeted by a massive crowd of tourists, all of whom are taking photos, some with their flash photograph enabled.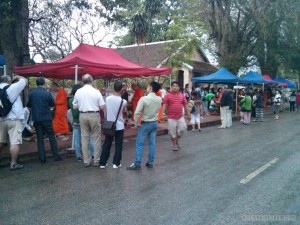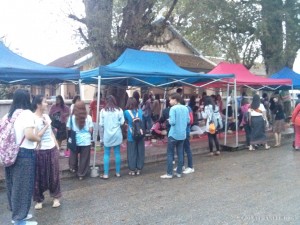 There is just something wrong about tourists waking up in their hotel, climbing into a pre-booked van, and going to see the monks, probably thinking that wow, what a quaint custom, man these people are backwards, I better take photos to show my friends back home.  And yes, I also take photos, but at least I have the good sense to be discreet, and turn off my damn flash!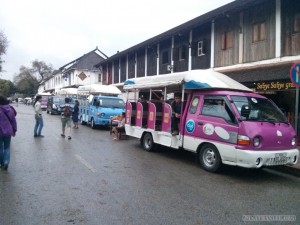 And while there were some locals there giving alms to the monks, most of the people doing so were tourists.  Again, there's something wrong with this picture – paying money so that you can pretend to be pious and help the monks.   Especially when you don't even bother following custom – standing up while giving to the monks, giving food that you're buying, etc.
The entire experience left a bad taste in my mouth, the fact that this custom has become so commercialized and targeted at westerners.
UXO Museum
It's not very well advertised, and quite small at just a single room, but the UXO (unexploded ordnance) museum is one of the most informative that I have ever seen.  During the Vietnam War, as the US illegally dropped a whole mess of bombs on Laos, aiming to shut down the Ho Chi Minh trail.  If that wasn't bad enough, a good number of these bombs failed to detonate on impact, polluting the landscape with millions upon millions of unstable explosives that can still detonate decades later.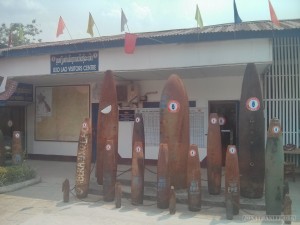 And it's not just part of the country that's covered in UXO either – the US military bombed a good third of the country!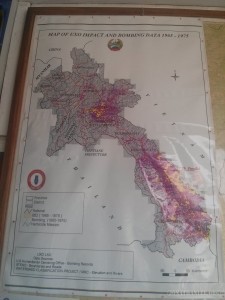 As a result, even after four decades of UXO clearance efforts, it's estimated that about 1% have been cleared, whereas there have been 20,000 casualties from the explosives going off.  But it's not just the direct effects of the UXO going off either, it's the fear factor – if there are UXO potentially buried all over a piece of land, how can you use it?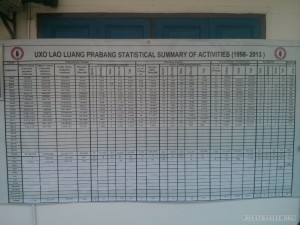 There's a pretty big range in the type of UXO too – rockets, mortars, shells, mines, grenades, fuzing.  Actually, I'm not sure why there are shells, rockets, etc.  The US bombed the hell out of Laos, but I don't remember any ground invasions?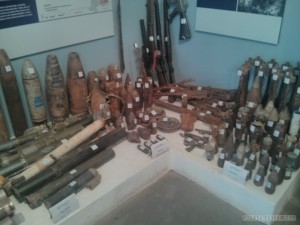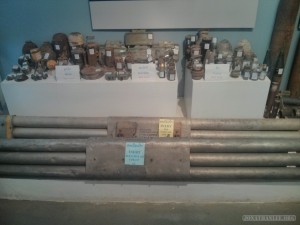 But what's really dangerous are the cluster bombs, where a large bomb detonates to spread out a large number of smaller "bombies" all throughout a much larger area.  Unfortunately, these smaller clusters are extremely prone to detonation failure, living on as UXO.  After learning more about these things, I'm not terribly surprised there's a movement to ban them!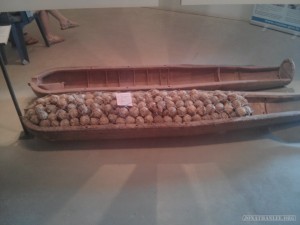 And of course, UXO clearance gear.  Surprisingly low tech.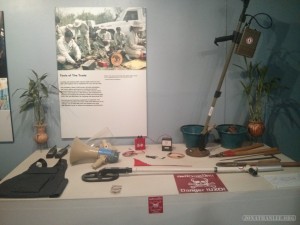 Ethnology Museum:
Similar to the Ethnology museum in Hanoi, it talks a bit about the different cultural and ethnic groups that make up Laos – the Katu, the Kmhmu (famous for their baskets), the Tai Lue (famous for their weaving), the Hmong (famous for their costumes), and the Akha, among others.  Worth a visit, especially if one has not seen the Ethnology museum in Hanoi.
Markets:
There's a whole bunch of markets in Luang Prabang, spanning the whole gamut:
– There's the morning market, almost exclusively for locals, that sells all sorts of meat and produce.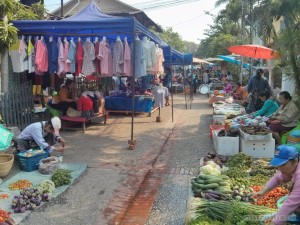 – There's the night market, almost exclusively for tourists, selling all sorts of tourist knickknacks: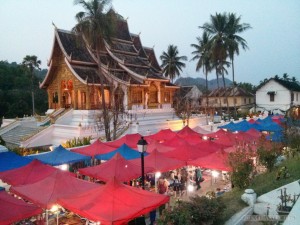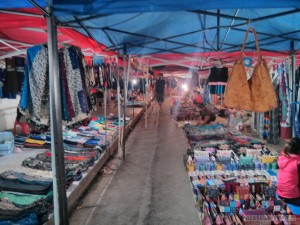 I'm not sure who would wear this type of hat: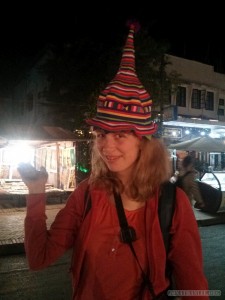 And there's Phosi market, a couple miles out of the center of town, serving as the main market of all of Laos.  It's pretty cool for somebody who has never seen a SE Asian market before.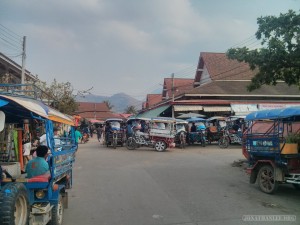 Food in Luang Prabang:
Honestly, there's not much special about food in Laos.  They've got Khao Soi, which is Thai, but with buffalo.  It's not very memorable.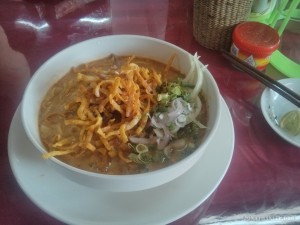 There's also buffalo sausages, which were okay but not terribly special.  The presentation was better than the taste, honestly.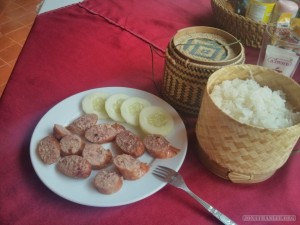 That's not to say there wasn't good food, just not any special Laos food.   For instance, there was an excellent barbecue buffet for just $7, which I went to with my Swedish friends Sofie and Helena from Thailand:
Bits and bobs:
– This sight really made me think – a wheel clamp for an improperly parked car – in Laos!  Of course, I had seen wheel boots before, in the US, but seeing one in Laos, of all places?  That just blew my mind.  It shouldn't be surprising, technology is ubiquitous, but in Laos, one of the poorest countries in the world, wheel clamps.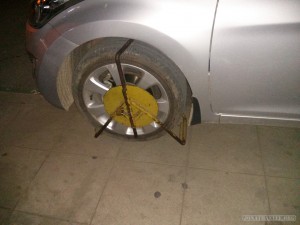 – Boules seemed to be quite popular in Laos, especially in Luang Prabang, but I've seen it all throughout SE Asia.  It's a game that you play on a small gravel lot.  First, you stand on one side of the lot, and throw a small marker ball to the other side of the lot.  Then, you take turns with your opponents, throwing heavy metal balls to the other side of the lot, aiming to land as close to the marker ball as possible.  Of course, this can be done in one of two ways – either an upwards toss to land close to the marker, or a more horizontal pitch to knock away a competitor.  Fun times.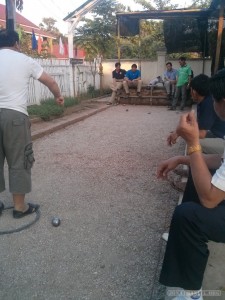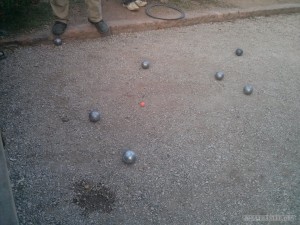 – The appropriately-named Utopia bar, a place to chill, recline on cushions, have a beer and maybe some hookah, and just watch the Mekong: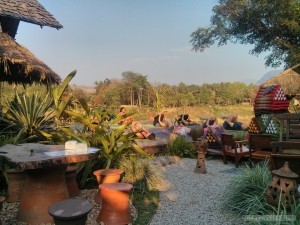 – The tuk-tuks in Luang Prabang are very colorful!  Very hippie, even!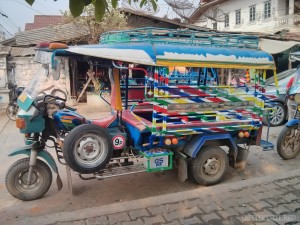 – Interestingly, Luang Prabang is actually really small – there's a small town center, but if you bike just a mile out of town, you see almost empty country roads – there's no suburbs of the city.