Vang Vieng is quite a unique place.  It is famous, and infamous.  It is a backpacker mecca, and a backpacker hell.  There's everything to see, and there's nothing to see.  Faced with a place like this, of course I had to go take a look!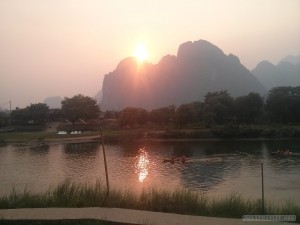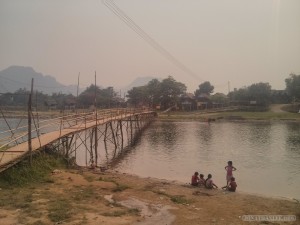 So Vang Vieng is this nice little town built right next to a river – the town itself is actually decently sized, but all the tourists congregate on a the part of town right by the river, with some pretty damn good views:


Did I mention the views, especially at sunset?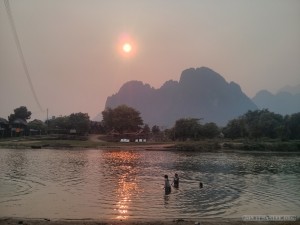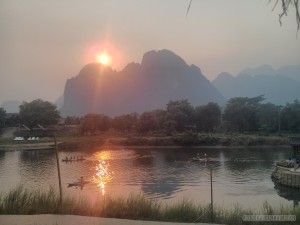 For some reason, there was also a hot air balloon during my visit.  This one dipped surprisingly close to a power line, and I was seriously worried there might be an fiery explosion.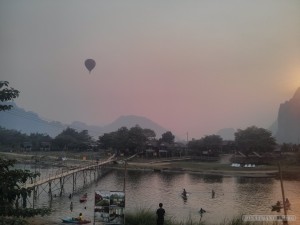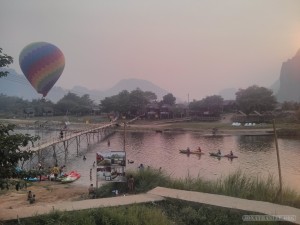 Tubing on the River:
The main thing to do here in Vang Vieng is tubing on the river.  First, you rent an inner tube.  One of these things.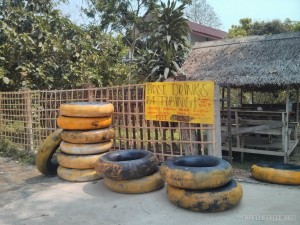 You get a tuk-tuk to bring you up the river to a small beach, where you're free to push off into the water, letting the gentle currents sweep you downstream for a couple of miles, back to Vang Vieng.  Unfortunately, I visited during the dry season, so the current was very weak, but it was still a fun ride.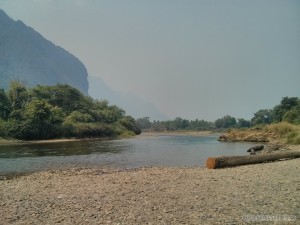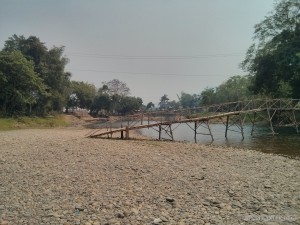 Floating down the river, there are some pretty nice views.  Fortunately, the stores in Vang Vieng sell mini dry pouches, so I could bring my camera along to take photos:


And of course, there are bars along the track.  A couple years before me, there was a bar every 5 meters or so, as well as lots of swings set up over the river.  However, such a huge supply of alcohol combined with swings over rocks hidden in the water led to a huge number of injuries and deaths – at its heyday, several people per day were getting killed!  As such, eventually Western countries pressured the Laos government into closing most of the bars, so only four remain – those owned by the chief of police, etc.
Bar zero, where you get a free shot of Laos liquor before starting your tubing journey: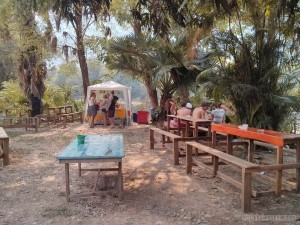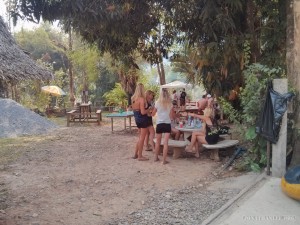 Bar two, this is where the party was at!
Bar three, I don't think most of the drinking crowd got this far.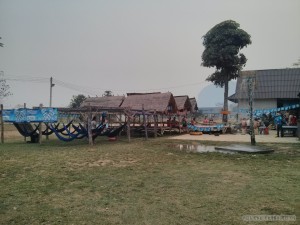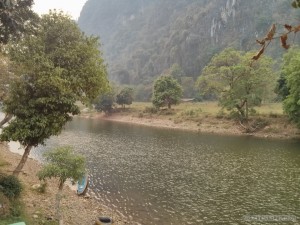 In the dry season, it takes a couple of hours to float down the river.  It's quite relaxing, but it can also get somewhat boring.
TV Bars:
And here's something in Vang Vieng I have seen nowhere else on my travels: TV bars.  Basically, it's a chill restaurant / bar, where you lounge on a pillowchair, sip a smoothie, and watch endless reruns of TV shows like Friends.   Presumably, this allows each new wave of backpackers to "discover" Friends.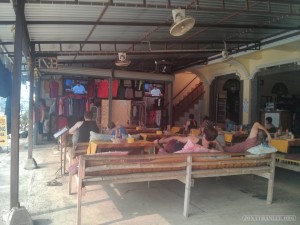 And while it sounds retarded, it's actually not bad – decadence on the cheap!  Sitting down for an afternoon, having all three meals without moving, watching TV, playing with the free but slow wifi, and just chilling.  I tried it for an afternoon, and was pleasantly surprised.  So it's not surprising that some backpackers come to Vang Vieng, and then just never leave.
My favorite part of Vang Vieng was one of the more peaceful lounge restaurants – no TVs, fairly few customers, just me lounging while overlooking the river, reading a book on my kindle, all peaceful in the world: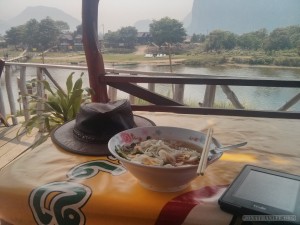 I sat here and just read for an entire day, having all three meals here – western style breakfast, Lao style fish stew, and Lao style beef stew.  Very nice.
At night, there's also a huge drinking scene going on, but I wasn't terribly a fan of that.
Pha Poak peak:
A bit of a hike away from Vang Vieng is Pha Poak, a mountainish hill (a huge pile or rocks on an otherwise flat plain).  It's a bit of a climb: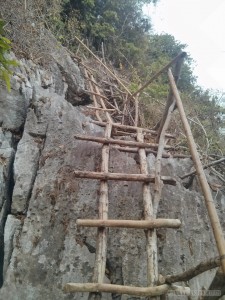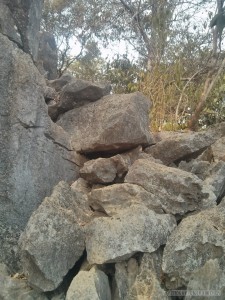 But once you get to the top, the view is top notch:



Overall, Vang Vieng seems to be a good place to use as a base, to explore the countryside.  From this city, I rented a bike, and went out to explore the surrounding countryside:
Blue Lagoon:
It's not a lagoon.  If anything, it's more of a river, or a creek, but it's called the Blue Lagoon, probably because it sounds better than Blue River or Blue Creek.  But it's a cool place – a couple miles away from Vang Vieng, accessible by tuk-tuk, motorbike, or bicycle (over the bumpiest road ever).  But it's a pretty good place to spend an afternoon: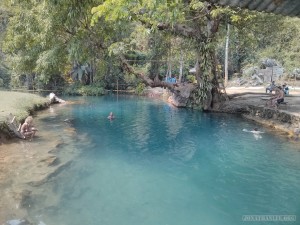 The main thing to do here is to go swimming!  The water is nice and cool, especially awesome on a hot day.  But for the more adventurous, there's a swing!  And unlike the old swings over the tubing river, there are no dangerous rocks lurking underwater – or at least, the water is clear enough for you to see any hazards.  I tried doing some flips on the swing, but could't get the physics of it to work.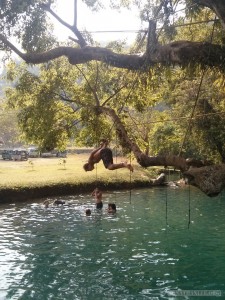 For those extra adventurous souls, it's also possible to climb the tree and jump down: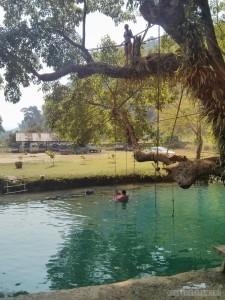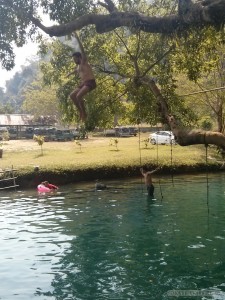 Oh, and for those who can't swim, or tired of having prune fingers, there's also sunbathing, as well as volleyball.  Such a decadent place, Vang Vieng.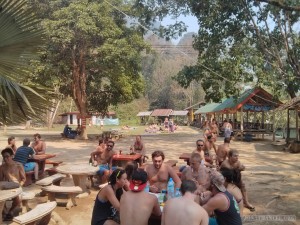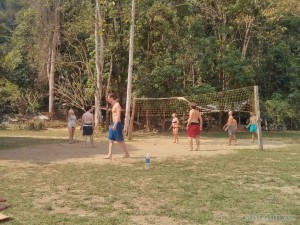 Lots of fish in the water too: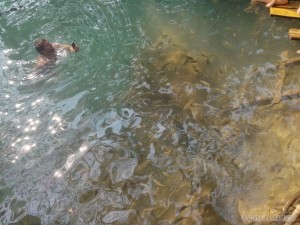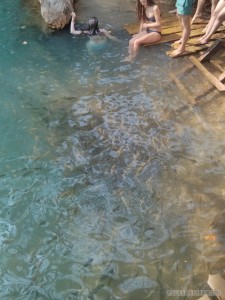 There's also this small cave right near the Blue Lagoon, which takes about half an hour to explore.  Of course, there's a buddha statue inside:
From some vantage points, it's almost a Lost World scenery: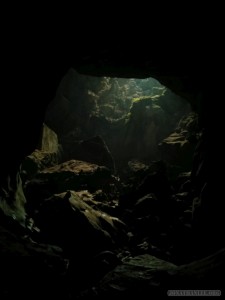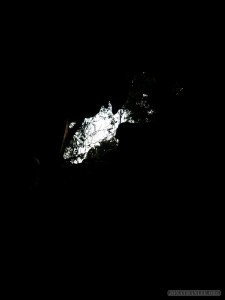 Handprints!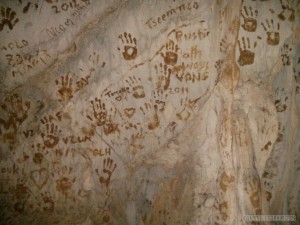 In the end, I only spent a couple of days in Vang Vieng.  I can certainly see how this place might be a backpacker hell, with endless parties, drinking, and drugs, but I enjoyed the quiet, tranquil aspect of the city.