For my first stop in the Philippines, I spent some time in Cebu (city), a city on Cebu (island), an island in the middle of the Philippines.  Most people fly into Manila, the capital of the Philippines, but I've heard nothing but bad things about Manila airport, so I figured I'd start out in Cebu, the second largest city (and having the second largest airport terminal) in the Philippines, and make my way towards Manila.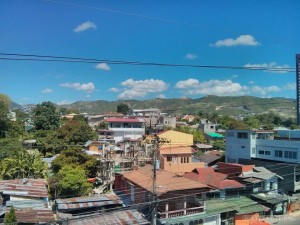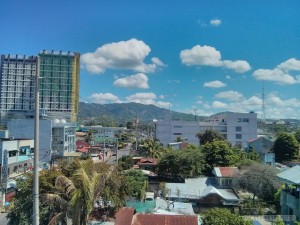 Arriving from Myanmar, my first thoughts were, damn, it's good to be in a proper Westernized city.   My second thoughts were, damn, it's really nice to be in a proper city where English is spoken!
My third thoughts were, damn, these Jeepneys are pretty cool.  So what's a jeepney?  It's mass transit in Cebu, the Philippine version of the bus.  Back-loading with bench-style seating, eye-catchingly decorated to the point of being gaudy, they are distinctly Philippine.  You really have to know the route and the city though, since directions are somewhat scarce.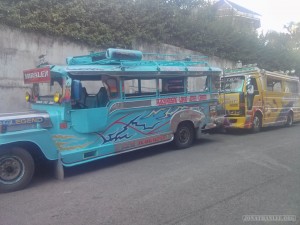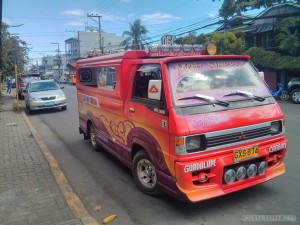 Another thing I noticed in Cebu, is that there are security guards everywhere.  Each bank has a minimum of five shotgun-toting security guards, every mall or department store has some folks on security duty, and even fast food places have a security guard at the door!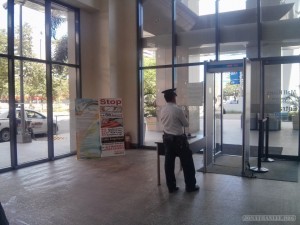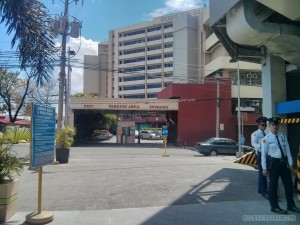 Also interesting is the number of peddlers around the main shopping district.  Not proper stalls or anything, just people set up with mobile platforms – including this foot-powered knife sharpening vendor!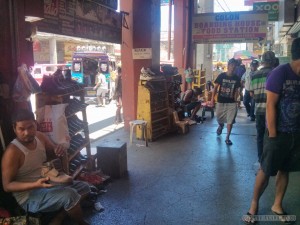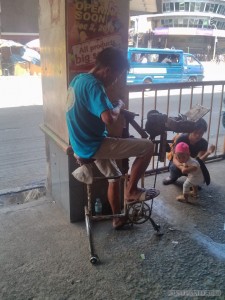 Speaking of which, when walking around, you can't help but notice that it's quite poor in the Philippines – there are check cashing and payday loan shops, remittance storefronts, and pawnshops all over the place.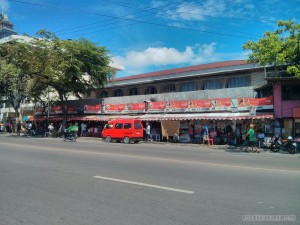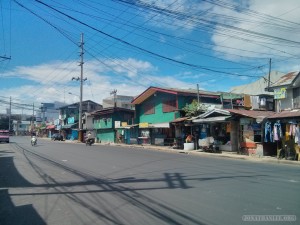 Tops: a outdoor observation post on top of a nearby mountain, from which you can get great nighttime views of Cebu.  Technically, you can also get great daytime views of Cebu, but it is scorching hot during the day, and so most people only visit at night.  To get there, you typically hire a motorbike (scooter) driver to bring you up the mountain.  I went a little bit late, right at sunset, so I had some great views going up.
Tops itself is pretty simple – just a platform with great views of Cebu city.  Even arriving at dusk, you can feel the residual heat absorbed into the ground.  With the distinct lack of shade, I can imagine it would be completely unbearable to be here in the afternoon.
And as darkness fell, you get an amazing nighttime view of Cebu City.  My phone camera was somewhat lacking and not up to the job, but the view really was fantastic.  There were even fireworks going on, which you can barely make out in some photos.
And after I spent some time enjoying the dark tranquility of Tops, I went back down with my motorbike driver – who didn't have any working headlights on his bike, and so went down basically blind, trusting his past experience going up and down the mountain.  Holy shit, that was scary.
And then, once we get to the bottom, he invited me to come to his church the next day – a born-again church!
Magellan's Cross: Magellan is a name that every schoolchild should know, for being the first to circumnavigate the world.  But prior to coming to the Philippines, I had not know that Magellan had landed in the Philippines, or that he lost his life here, at the hands of Chief Lapu-Lapu (Lapu-Lapu island, home to the Cebu airport, was subsequently named after said chief).
While he was here though, he 'converted' the natives, including a local queen, building a cross that supposedly survives to this day – though a protective outer shell has been added.
Basilica of Santo Nino: When Magellan landed, his party converted the natives to Christianity, but didn't really teach them how to be Christians, and so the natives screwed up and just worshiped a doll of the baby Jesus.  Christianity then shortly died out in the Philippines.  However, the Spanish came to the Philippines again, re-established Christianity property, and 'miraculously' rediscovered the doll, establishing the future Basilica of Santo Nino.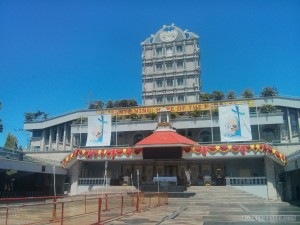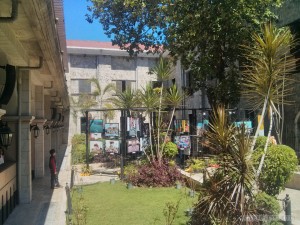 The Basilica has this this huge array of candles, a 3d pop-out mural, and a bunch of paintings:
The doll is still on display, and there's actually a line of people to see it and cross themselves in front of it!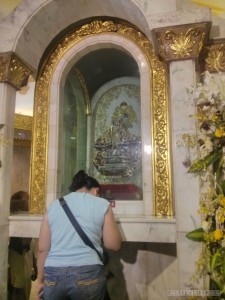 Fort San Pedro is like the eco-fort.  It's an old fort, but it's very pleasantly overgrown with plants, becoming an eco-fort.  There's not terribly much to see, but it's a nice place place to sit and relax.  Probably the least threatening fort I have ever seen.
From right nearby, I got some pretty good views of the Ocean – and a young kid mooning me.
Heritage of Cebu Monument: a montage / monument to the history of Cebu, containing images such as Magellan's cross and Christian missionaries.  It's worth a visit.
The Capital Building: is unremarkable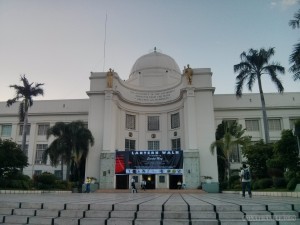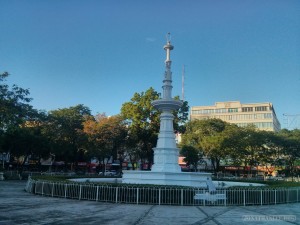 Larsian barbeque: right near the capital building area, it's this area dedicated to barbecue, with at least 20 barbecue stands.  Delicious, as well as cheap!
Carbon Market: the main market of Cebu, it's this big market area: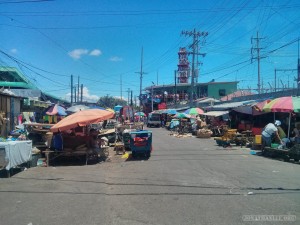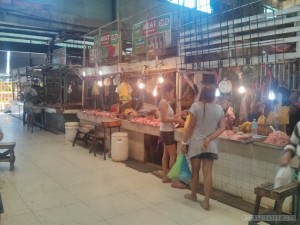 It's got all sorts of specialty shops, like a shop selling 47 varieties of rice, or a ton of dried fish.  I did not know there were so many varieties of rice!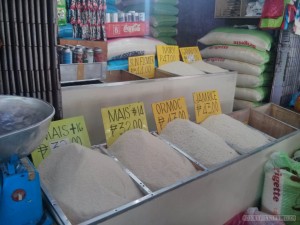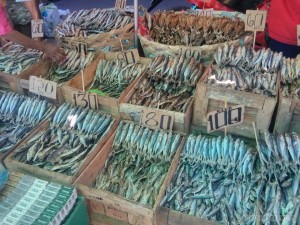 Casa Gorordo: an old Cebu rich family residence, converted into an open museum.  I'm not a fan of the lack of privacy, but I love the openness, the sunlight, the glass-less windows allowing the breeze to come in.  Being rich is pretty nice, even in poor places like the Philippines.
Queen City memorial gardens: it's a cemetery, with Chinese influences, but also a park.  People seem to be… living?  playing?  in the cemetery, which is rather odd.
It does, however, has some nice sunset views, though I would later see these are nothing compared to other sunset spots in the Philippines.
Food in Cebu: before coming to Cebu, I had heard a lot of bad things about cuisine – bland, deep fried, and unhealthy.  But it turned out to be pretty good!  Cebu's specialties are Lechon (roast suckling pig) and Liempo (grilled chicken) – both VERY delicious.
Regular street food in Cebu was inexpensive and pretty good, if nothing special.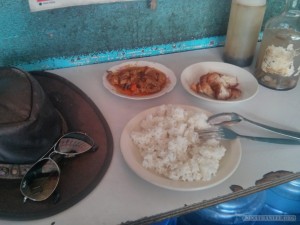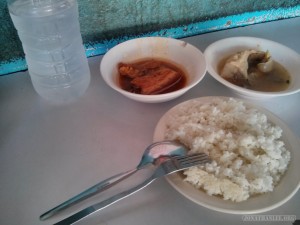 Bits and bobs:
– A Taiwanese bakeshop!  It didn't look very good, but it still brought a smile to my lips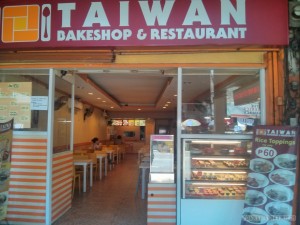 – Ragnarok Online!  I remember playing this video game, like 10 years ago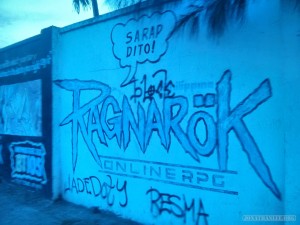 – On display at my hostel's bathroom.  Something to think about while taking a shit?