After spending a day or two in Puerto Princesa to get tickets to the Underground River, I hopped on a bus at PP's 'market' bus terminal, and rode three hours to Sabang, home of the Underground River.  Sure, there are also day tours that leave from PP going to the underground river, but why take a tour if you can go yourself?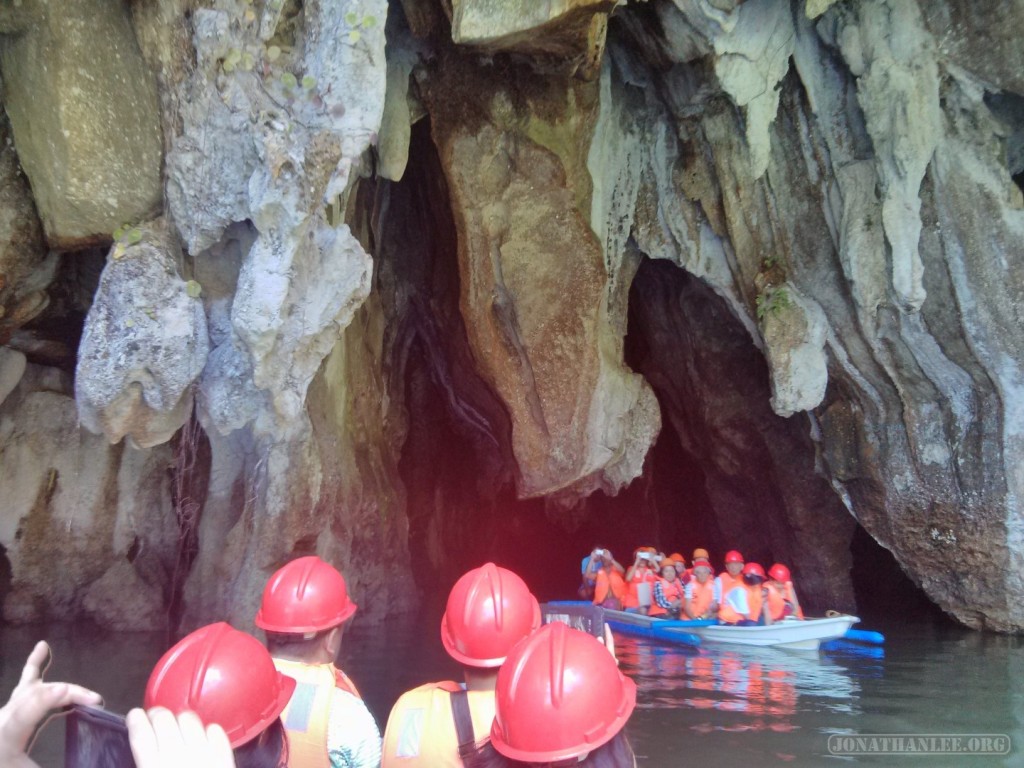 What I didn't expect, was for Sabang to be an unexpectedly small town, with barely any internet and electricity only available from 6-10pm.  Still, it was quite a picturesque town, and one with some pretty great sunsets.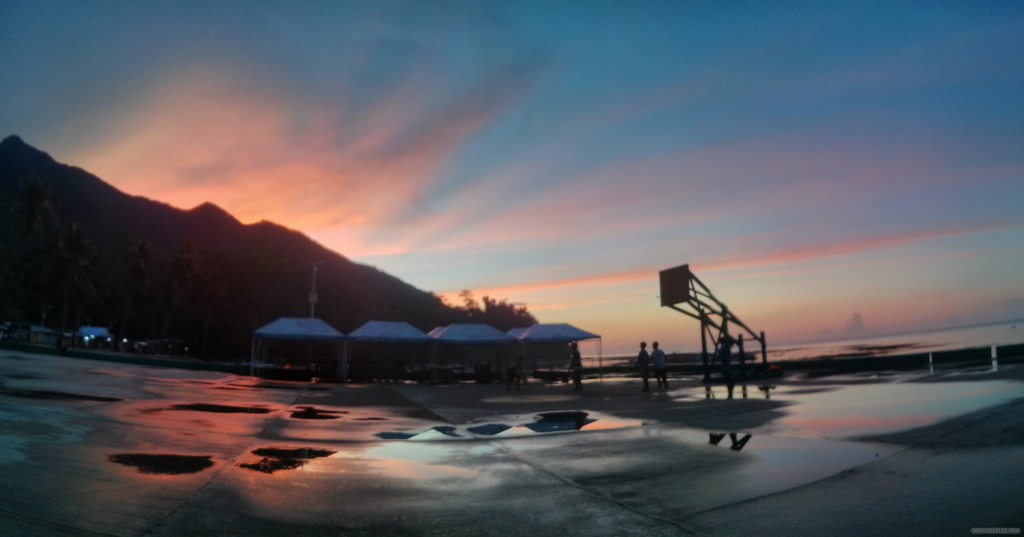 It's also a bit of a tricky process, to get into the underground river.  First, in Puerto Princesa, and only PP, you have to get a permit to enter on a certain date.  You can't get the permit elsewhere, and you must visit on that designated date.  Then, once you get to Sabang, you must find a building near the pier, and stand in line to actually pay for a ticket!  Before that, I grabbed some breakfast, right on the beach.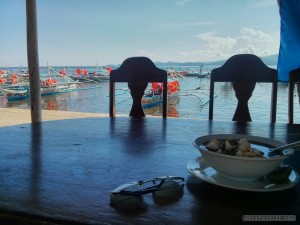 Then, after paying and holding on to your stamped ticket, you have to go to the pier, and register for a boat going out from Sabang to the underground river.  And of course, you can't just register by yourself and get put on the next open boat, you have to find a group of 8-10 people to go with – otherwise, you have to pay for the entire boat yourself.  And then you wait, and wait, until finally, your number is called, and you can finally set off.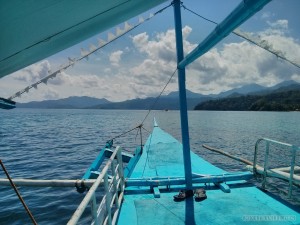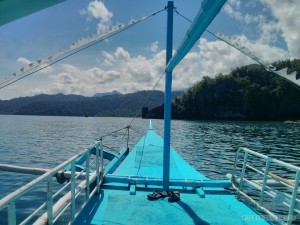 The river is a bit away from Sabang – you can supposedly walk through in half an hour on a forest trail, but the trail was closed for repairs during my visit.  So instead, we take a boat to beach near the river – where we disembark, and wait to transfer to another boat.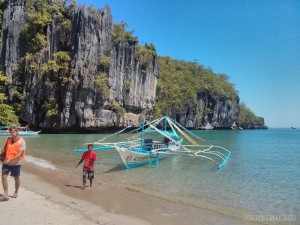 So then we've got another hour or so of waiting, sitting on the beach and watching earlier groups go in.
It's not terribly bad wait, just that you're stuck waiting for quite some time.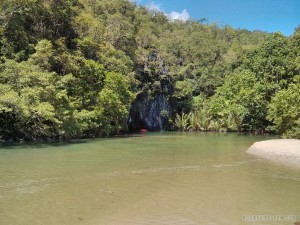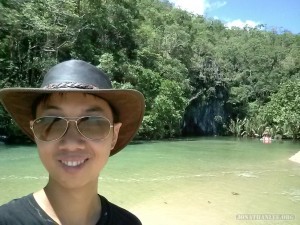 Finally though, your group number gets called, you climb aboard the boat, pose for the souvenir photo that they'll try to sell you for a billion dollars, and head into the underground river!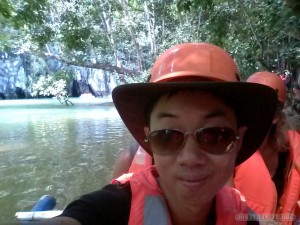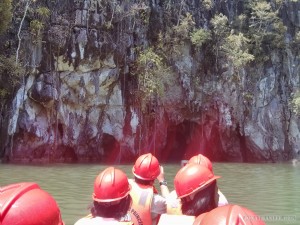 And then, you discover that the underground river, really isn't.  Or at least, you can't see most of it.  Supposedly, the river goes in some 80 kilometers, with waterfalls, sinkholes, and oxygen deprivation in the deeper parts of the river.  However, since the tourist boats only go in about a kilometer or two, all we get is to look at funnily-shaped rocks (it's a cross!) and to listen to the guide's jokes.  And while I understand that bringing silly tourists into the more vulnerable and dangerous parts of the cave is a lawsuit in waiting, I wish could be part of the team that gets to go in and explore!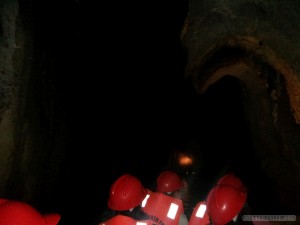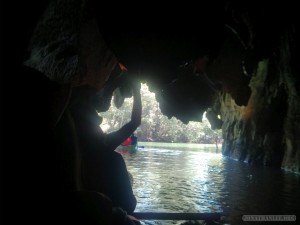 Other than being the home of the underground river, Sabang is a curious town.  On one hand, you've got a town that lacks electricity outside of 6PM – 10PM.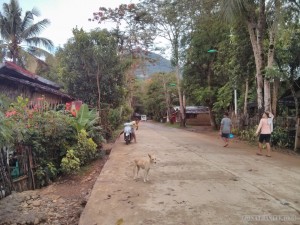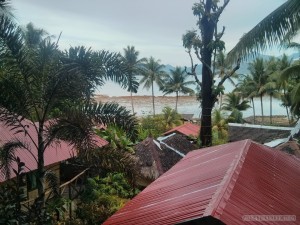 On the other hand, you've got luxury hotels for the rich tourists and massages on the beach.  Quite a contrast.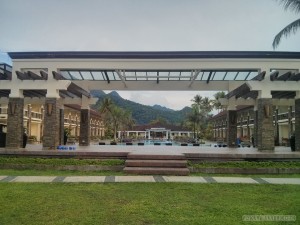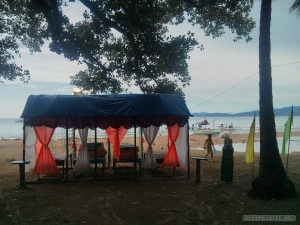 There's not much to do in Sabang, besides the Underground River – apparently there's a waterfall on the southern side of Sabang, but it's a bit of a hike, and dusk fell before I could make it.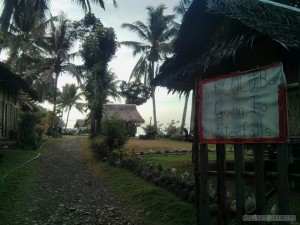 The path to the waterfall is quite interesting though!  It's a rocky path along the beach, and I was walking along, jumping from rock to rock, I would constantly hear what sounded like small pebbles falling down the rocks.  If I stood though, it would fall silent.  I couldn't figure it out, until I searched around and found small limpet shells all over the rocks.  And suddenly, it made sense – the limpets would cling to the rocks until a potential predator came along (me and my shuddering footsteps), then it would simply detach itself and fall down into the rocks!
There were also a lot of sand crabs.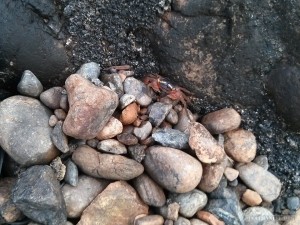 Since I visited Sabang during the wet season, during the evening it would absolutely pour.  You can see the approaching clouds here: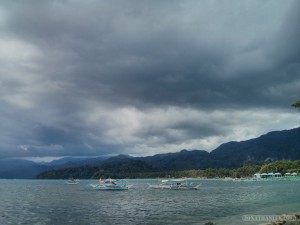 I've never seen it pour like it did it Sabang.  If I put down an empty cup, it would certainly be filled within a couple of minutes.  No joke.  Fortunately, it was around dinnertime, so I just sat down at a nearby roadside restaurant, and had myself some delicious grilled… something.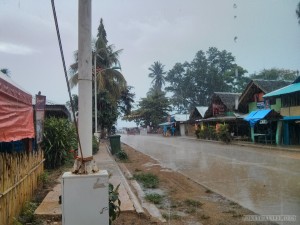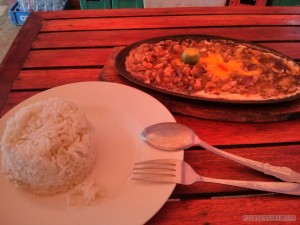 The beaches of Sabang itself are rather unremarkable: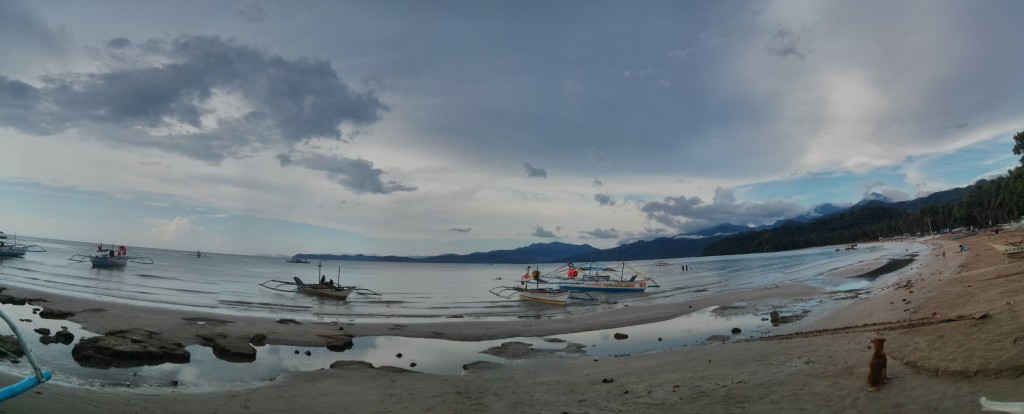 But the sunsets?  The sunsets are quite nice.
Especially this photo.  It made me think of the Northern Lights, of bands of light stretching across the sky.  I'd like to see the northern lights firsthand someday.