Queenstown in the south island is known to be the adrenaline rush capital of New Zealand – from here, you can go skydiving, bungee jumping, swinging over a gorge, or whitewater rafting.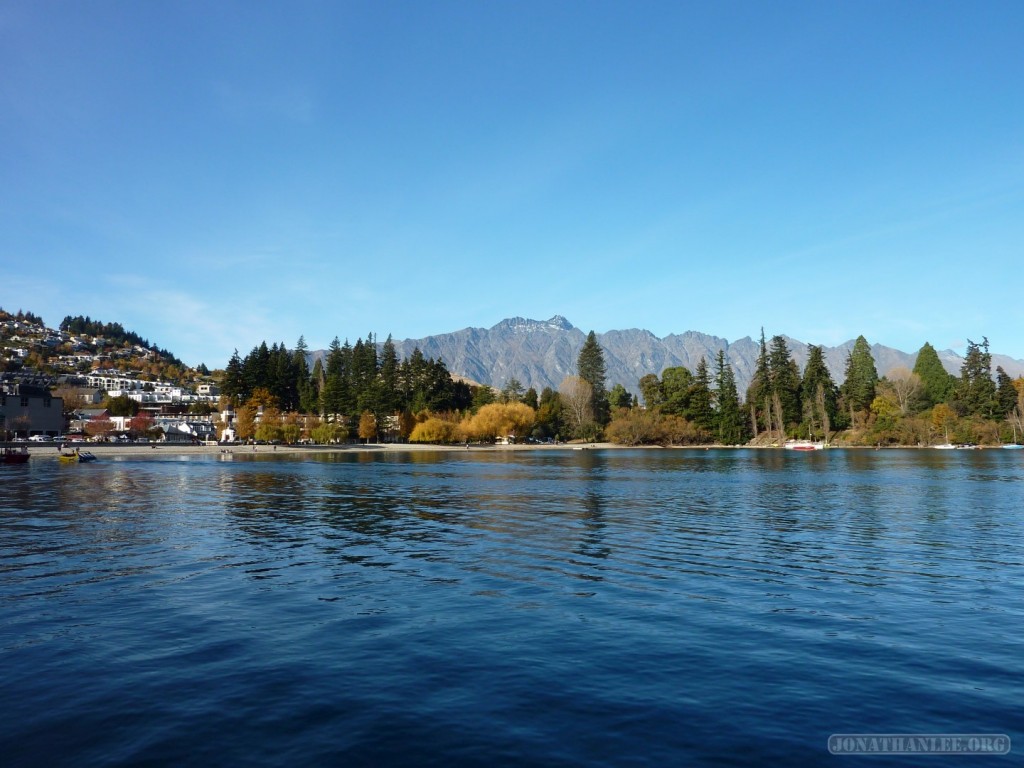 Personally, I found the entire place to be over-hyped, over-priced, and under-impressive, but you can do all sorts of crazy things here – if you have the cash. For example, I'm not crazy enough to do this, but there are a variety of ways you can swing across a canyon – jumping off, tipping over backwards while sitting on a chair, riding a tricycle over the edge, etc: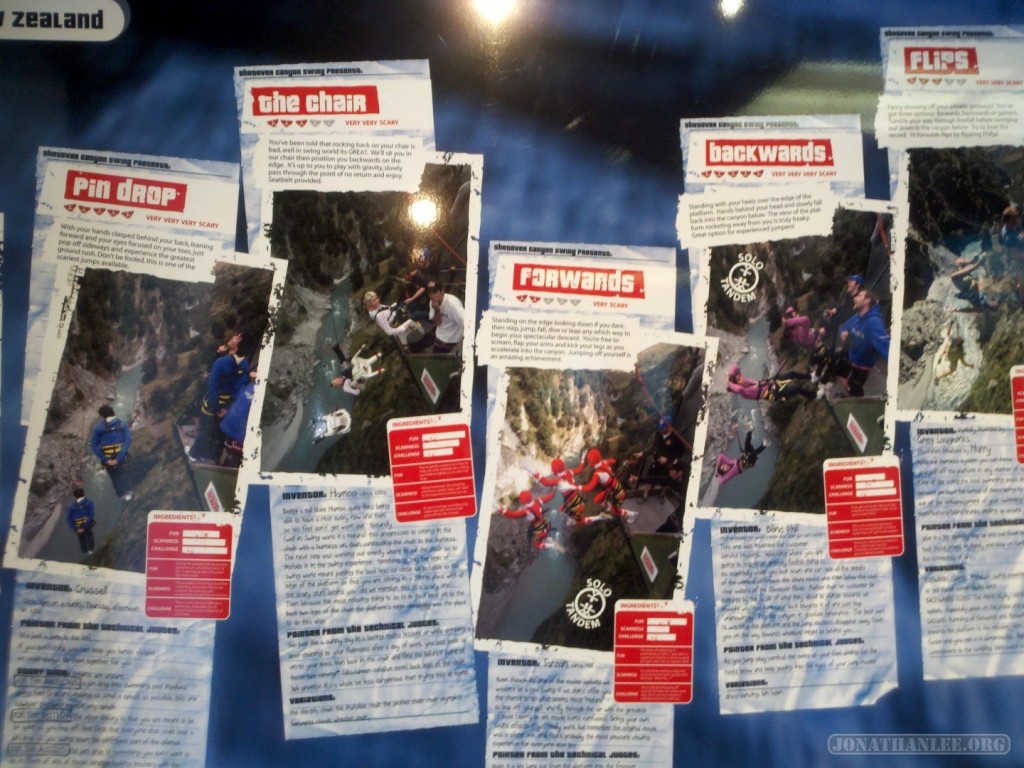 White water rafting down through Skippers Canyon down the Shotover River.  I was looking forward to this adventure my entire time in New Zealand, but it was a major flop – there was maybe 30 seconds worth of excitement in 2 hours of rafting.
Honestly, the best part of the trip was taking a bus into Skippers Canyon – it's this unpaved dirt road that creeps along the edges of the Shotover Canyon.  One errant twitch, one wrong turn, and the bus could go plunging down a hundred feet to its certain doom – and there weren't even any guardrails on the road!  No wonder it was one of three roads that car rental company prohibited us from driving on.
No photos, unfortunately – on top of charging us $200 for a distinctly boring whitewater rafting experience, the company wanted to charge another $50 for four (4) photographs.  Eff that!
Disk Golf: it's like golf, but with a disk (frisbee) instead of golf equipment.  Starting from the tee-off location: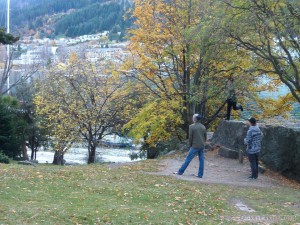 You throw the disk with all your might, aiming at this target (the disk is supposed to hit the chains and fall into the basket):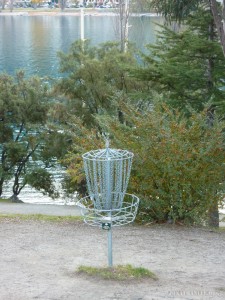 And like golf, there are 18 'holes' in a round.  After the first couple holes, you can't even see where the goal is!  And my god, the trees!  Maybe 20% of my view is covered with tree trunks, but I had a 80% chance of having my disk bounce off a tree.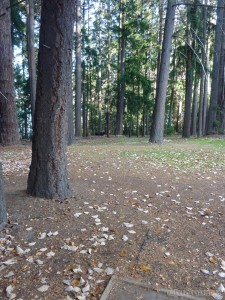 My score was pretty miserable.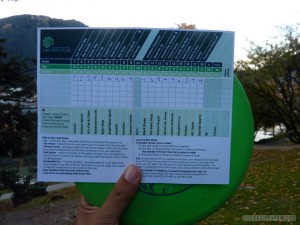 Par x 3
Bogey x 8
Double Bogey x 3
Triple Bogey x 3
Unspeakable x 1
At least my disc didn't end up in the nearby lake…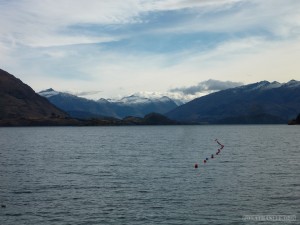 It was terribly fun, but I'm taking this as a sign that I shouldn't quit my job and join an ultimate frisbee team.
Amusingly, shops in the area charged $5 per day for a frisbee rental, and sold them for $40.  $40 for a frisbee!
And finally in Queenstown, there is the Earnslaw, a 100-year old steamship that still sails – though it seems to have been retrofitted with a lot of modern technology.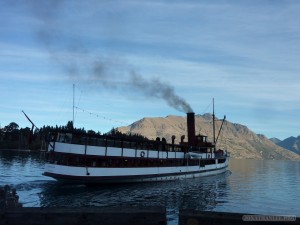 Puzzling World: not actually in Queenstown but nearby (which probably explains why it's awesome), I spent an entire day working on, admiring, and raging at puzzles.
The best part was this ridiculously awesome 3D maze that you can get lost and wander through: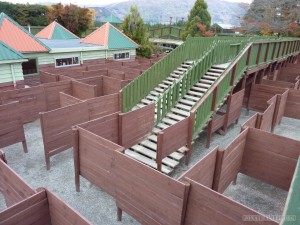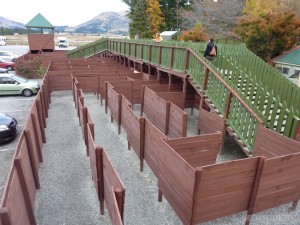 The challenge is to make it to all four corners of the maze before finding your way back out again.  The expected clear time is an hour to 1.5 hours, but I cleared it in 40 minutes!  I rock!

The attraction boasts some quite… unusual (novelty) toilets: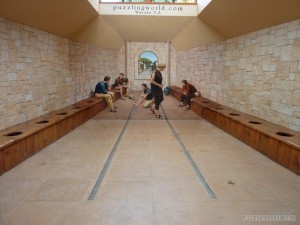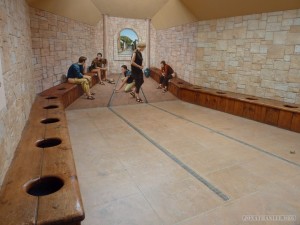 The eyes of the Mona Lisa seem to follow you as you walk, but Puzzling World has an entire room full of faces, all of which follow you!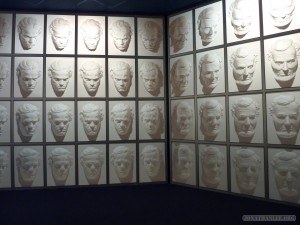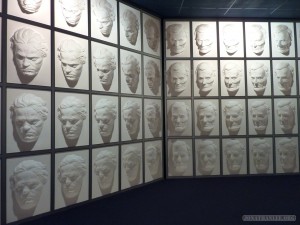 I found these paintings to be quite Eschesque: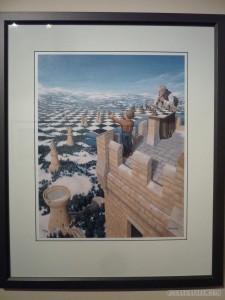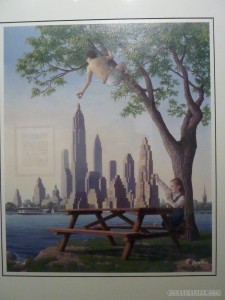 Supposedly, at one move per second, it would take trillions of years to finish this Towers of Hanoi puzzle: