From Cebu, I decided to visit Bohol, see the Chocolate Hills, and go scuba diving in the amazing reefs off of Panglao Island.  So, I took the boat from Cebu to Bohol at Tagbilaran, then stayed on Panglao Island to the southwestern corner if Bohol, using that as a base to explore the rest of the island.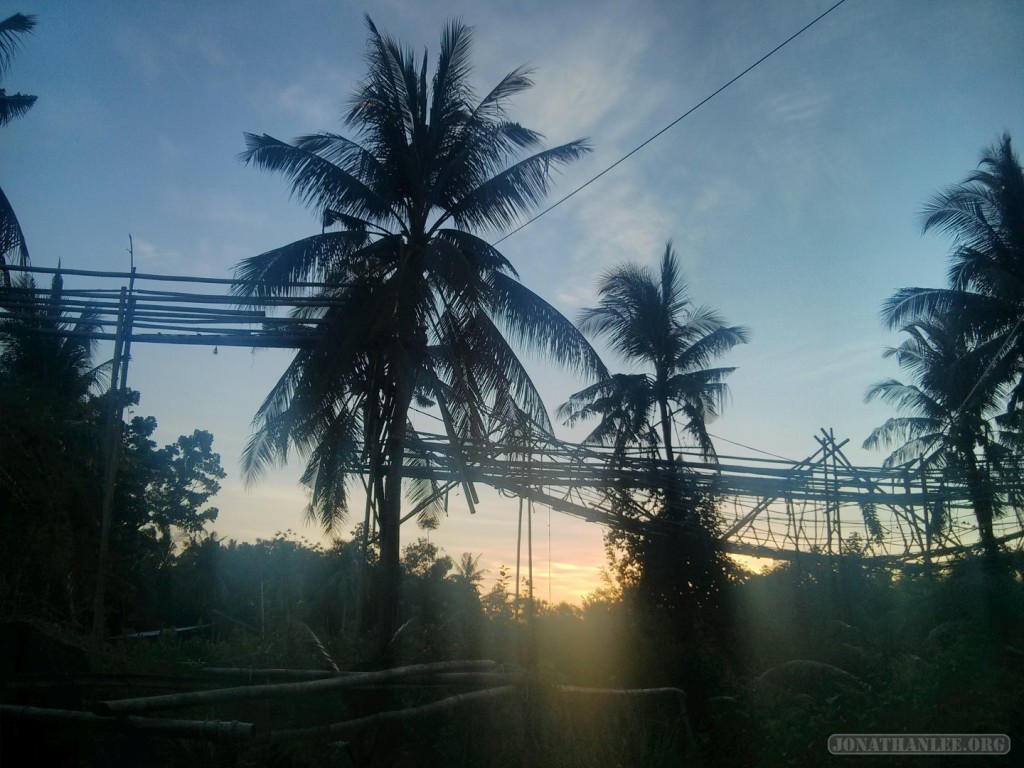 The boat ride from Cebu to Tagbilaran was a lot nicer than I expected – it's like the boat version of economy seating on an airplane, but with more isle space.  A whole lot more comfortable than the ferry between Bali and Lombok – though not quite as exciting.
And once we landed at Tagbilaran, wow, check out these harbor views!


Tagbilaran itself is a pretty unremarkable city, much smaller than Cebu.  Unfortunately, it didn't have any hostels or other cheap accommodation, so I didn't stay long.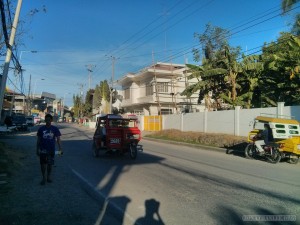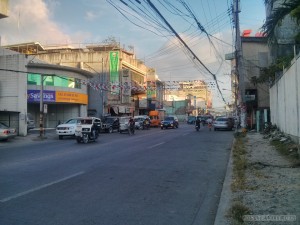 Exploring Tagbilaran for a bit, right next to the capital building is a museum showing off the history and ecology of Bohol.
There's also the St. Joseph cathedral, which looks nice enough.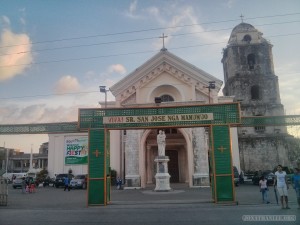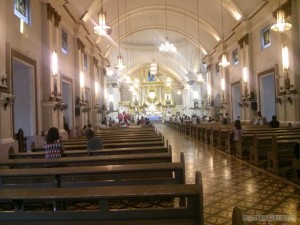 Since I couldn't find any cheap but decent places to stay in Tagbilaran, I stayed most of my time in Panglao, and island to the southwest of Bohol (but connected by bridge).  Here, I found a place called Bohol Coco Farms, which is a combination of an organic coconut farm and a hostel.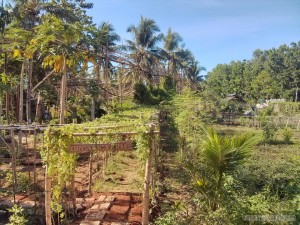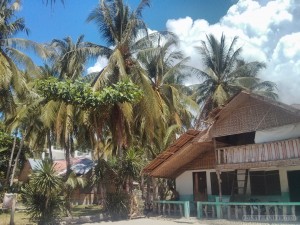 Check it out!  These are the dorms, the common / dining rooms!
As a coconut farm, they had this awesome bamboo skywalk set up, where you could climb up for a great view of the surrounding countryside.  Not something you want to do if you're afraid of heights, though!
The owner of the farm is this really awesome guy – he's showing me how they take a green coconut and strip away its shell here.  Another time, he came up to me, and asked if I wanted to try the world's bitterest herb.  And of course, I said yes.  It was extremely bitter – after chewing on a single leaf, I could taste the bitterness in my mouth for the next hour!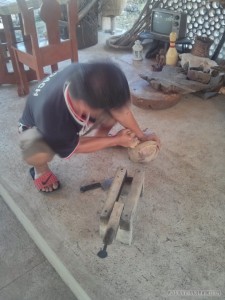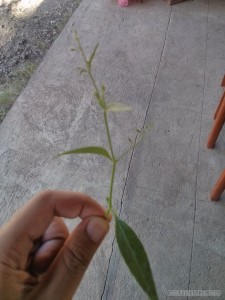 Their restaurant is pretty good too – I got myself some fried eggplant fritters, as well as some other delicious food with a mysterious name that I have forgotten: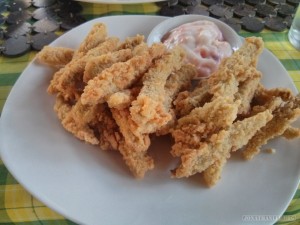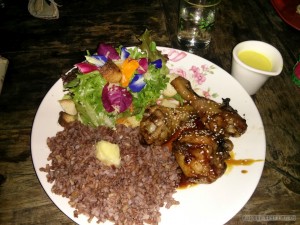 From Bohol Coco Farms, I also went on a tour of Bohol, which will be detailed in a later post!
Nearby, there was a place called Bohol Bee Farm, which is a combination of a bee farm and hotel!  It's a bit more upscale compared to Coco Farms, and seems to be a lot more popular.  It's very nice.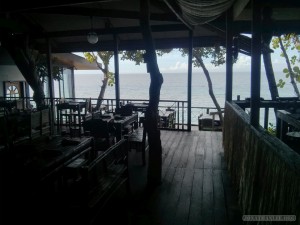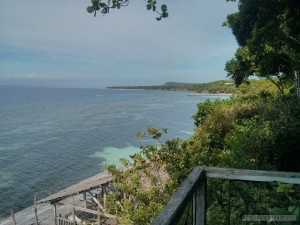 This is a… pizza?  From the bee farm?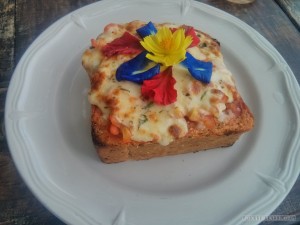 They've got this really delicious ice cream, with all sorts of unconventional flavors like spicy ginger (meh), guyabano (awesome), and malunggay (amazing).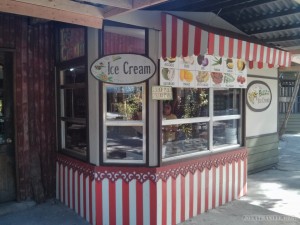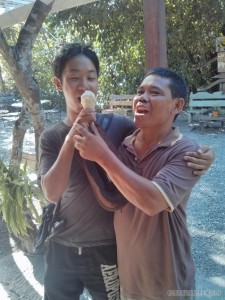 After spending a couple days just hanging around Panglao, going on the Bohol tour, I finally got around to visiting Panglao beach.  It's one of the more famous beaches of the Philippines, but it's also very touristy.  Walking around, you get accosted by an endless line of touts, trying to sell you boat tours, snorkeling trips, and other services.  Still, nice beaches.
At night, Panglao Beach becomes like any other tourist-populated Southeast Asian beach – fire shows, bars, restaurants, and massages.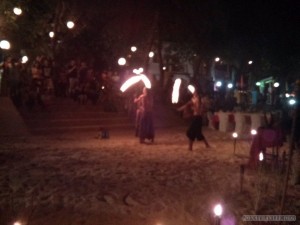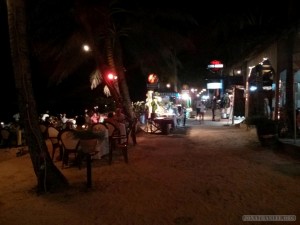 One of the bars had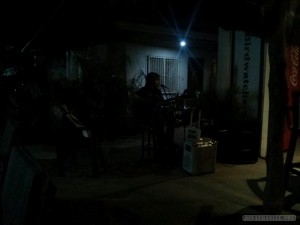 Really though, the only thing that makes Panglao beach worth it is the scuba diving.  Especially nice was the turtle sanctuary dive spot – so many turtles!  During downtime while waiting for other divers to come up, I grabbed a snorkel and fins, and went freediving!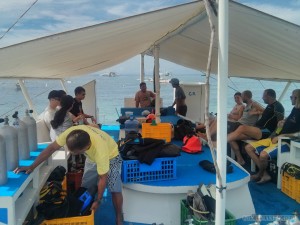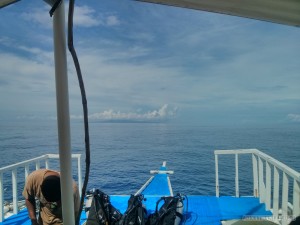 But while Panglao Beach is quite famous, I really enjoyed a smaller, hidden beach, on the southern edge Panglao, directly south of Coco Farms.  I'm not sure what it was called, but it was definitely a hidden gem.  Walking along the beach, I saw very few fellow tourists, and very few accompanying touts trying to sell me junk.  Just me, my thoughts, and the sky, sand, and sea.


Parts of this hidden beach were quote popular with the local folks, and there were a lot of families bringing their kids to play on the beach.
Instead of the usual tourist shops, the majority of the buildings on this hidden beach were these lunch huts – a picnic table with a roof, great for families bringing food to eat on the beach, protected from both the sun and any rain!  Walking along, a local family out celebrating a grandkid's birthday invited me to join them for lunch, and it was delicious.  They had this "Filipino sushi" dish that was quite nice.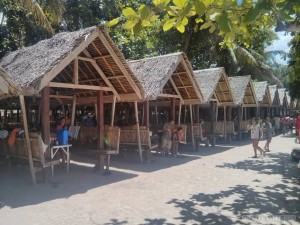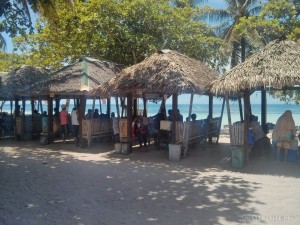 Throughout the entire beach, there was only one resort, which seemed like a great place to stay, well away from all the touts of Panglao Beach.  Get out of my photos, topless sunbathers!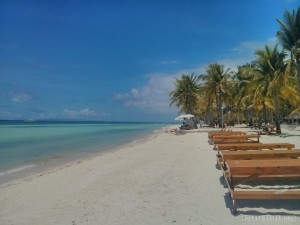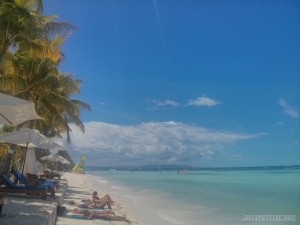 I found a puffer fish!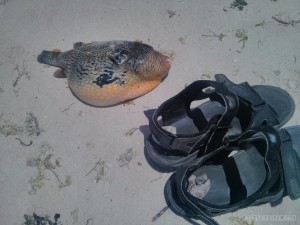 Channeling my inner child, I collected some colorful shells, and a weird seed-looking thing.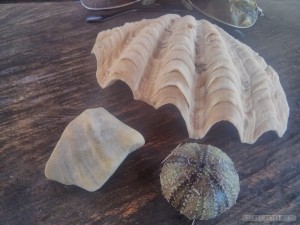 So overall, I'd say that Panglao, outside of Panglao Beach, is quite scenic and relaxing.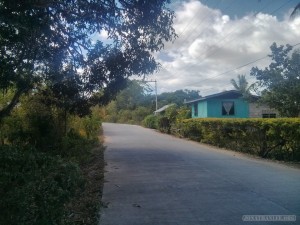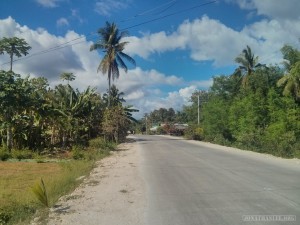 Walking along, I randomly came across a pig.  Sup, pig?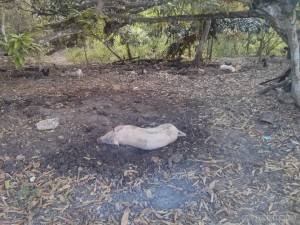 I missed every single beach sunset while staying in Bohol, but the dusk view was also quite beautiful.